Are you interested in a modern country/farmhouse table lamp available for reasonable prices?
If you are, then keep reading, this article contains all relevant info about modern farmhouse desk lamps.
There is plenty of fantastic lamps with budget-friendly prices worth taking a peek at if you looking for great lighting but also don't want to break the bank. The reviewed models are divided into categories, so you'll find your perfect lamp quickly.
Our Top Picks
Best 6 Modern Farmhouse Desk Lamps
BEST OF BEST MODERN FARMHOUSE DESK LAMP
Haitral Modern Table Lamp
Black & White
Haitral is a popular table lamp among many other brands. This model features a black base and white lampshade. if you don't like these colors, check the models with gold base and white shade, black base and grey shade and rose gold base with white shade.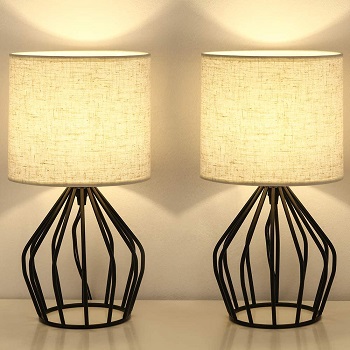 Ideal Lamp Size
It features an ideal lamp size that fits on any table, desk, coffee table, end table because it occupies a small space. Haitral modern farmhouse desk lamp requires a CFL bulb with a maximum wattage of 60W. The bulb isn't included in the package.
UL-listed Components
The power cord is 70 inches long. Also, the cord and plug of the lamp are UL-listed, meaning they meet safety standards. An on/off button is located on the power cord. Haitral requires assembly, but you need to follow the instruction for quick installation.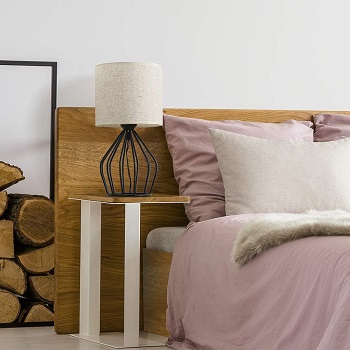 Fabric Lampshade
This minimalist light features a black metal basket cage-style base and fabric lampshade. The base is combined with spray finish and high-temperature furnace fixation technology. Haitral provides a romantic and elegant atmosphere wherever you put it.
Highlighted Points:
simple and minimalist design
black metal cage style base
available in four colors
E26 base bulb isn't included in the package
UL-listed cord and plug
BEST BEDROOM MODERN FARMHOUSE DESK LAMP
Dungoo Modern Industrial Lamp
Stylish Lamp
Dungoo is an attractive desk lamp that will make your space modern and stylish. Its overall height is 22 inches, the lamp base diameter is 4 inches and the lampshade measures 9 x 9 x 11 inches. It comes with a power cord that is 5.6 feet long.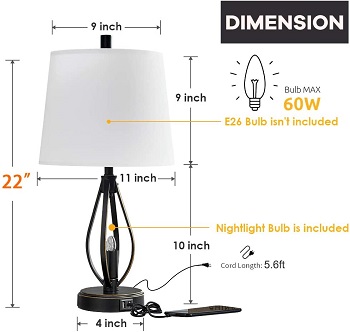 Main & Night Light
For the main light, this modern farmhouse desk lamp requires a standard E26 base bulb, not included in the package. But the nightlight bulb which is located in the lamp base is included in the box. When the lamp arrives, you need to install it, check the instruction.
Dual USB Ports
This nightstand lamp with a USB port is tested and its cord, plug and socket meet UL safety standards. Dungoo desk lamp features dual 5V/2A USB ports on the lamp base. Charge your mobile phone, tablet, laptop, e-reader quickly and conveniently.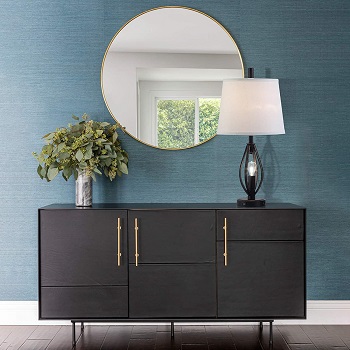 Warm Atmosphere
These USB ports will work whether the lamp is on or off. The 4-way switch is located on the socket, use it for top light on, night light on, both on, both off. This lamp is perfect for bedroom, guest room or living room. It provides a warm and cozy atmosphere.
Highlighted Points:
metal base with fabric lampshade
4-way switch on the lamp base
two USB ports for charging your devices
UL-listed plug, cord and socket
night light bulb is included in the package
requires easy installation
BEST LED MODERN FARMHOUSE DESK LAMP
Gaines Farmhouse-style Table Lamp
Tall Lamp
Gaines is an eye-catching table lamp with a unique design. The lamp dimensions are 28.5 inches in height, the base measures 6.5 inches and the shade has 15.5 x 17 x 10 inches. This isn't a small lamp, so check its dimensions twice before ordering.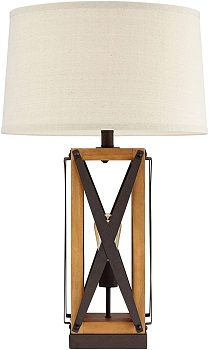 Pricey Item
It weighs 8 pounds, so stands stable and won't tip over easily. Gaines modern farmhouse desk lamp is inspired by farmhouse lighting designs and the look of vintage warehouses. It offers both style and function for your home. The price is high.
Drum Shade
Gaines features main light and small night light. The night light can be used independently of the top light. Its drum lampshade is made of quality fabric and comes in off white color. The square base is made of quality wood and metal. A small nightlight is in the lamp base.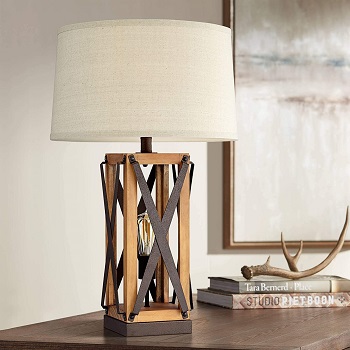 Easy To Use
This modern LED desk lamp features a 4-position socket switch, you can turn the top light on, turn the night light on, turn both lights on and turn both lights off. It is very convenient and simple to use. The brown power cord is 8 feet long.
Highlighted Points:
large table lamp
it weighs 8 pounds
offers style and functions
main light and night light
square base made of wood and metal
4-position socket switch
BEST GLASS MODERN FARMHOUSE DESK LAMP
Hudson Glass Table Lamp
Set Of Two
The set includes two Hudson table lamps in the package. You can put them on the nightstands in your bedroom or somewhere else in the house. Each lamp is 23 inches tall, bases are 6 inches wide and the shades measure 13 x 13.7 x 10 inches. They have an acceptable price.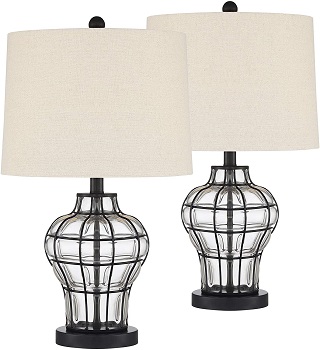 Steady Lamp
Each lamp weighs 9.4 pounds. They have heavy-duty bases that provide stability. The power cord is 8-foot long. Hudson lamps require a standard-medium base bulb with a max of 150-watt. The fabric lampshades are available in a gentle off-white color.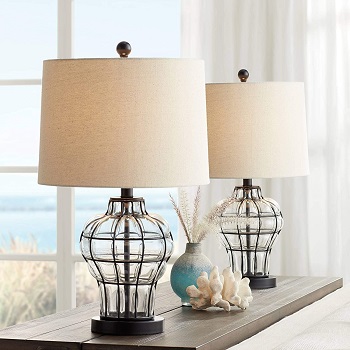 Glass Lamp Body
These modern farmhouse desk lamps are made of clear glass with dark bronze finish metal frames. These stylish desk lamps have a bit unusual design. They are perfect for contemporary, industrial and even vintage style settings. Hudson lamps feature rotary switches.
Highlighted Points:
the set includes two lamps
acceptable price
heavy-duty bases
clear glass bases with dark bronze frames
off white fabric lampshades
require standard-medium base bulbs
BEST METAL MODERN FARMHOUSE DESK LAMP
Matthew Modern Nightstand Lamp
Tall Lamp
Matthew is an elegant and stylish table lamp that is 29 inches tall, its base is 5.7 inches wide and the shade is 15 inches wide. This lamp weighs 11 pounds, it is heavy and won't tip over. Matthew comes with an 8-foot power cord and plug.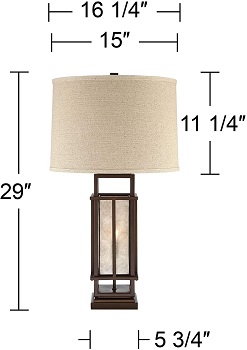 Candelabra Base Bulb
It uses one maximum 150-watt standard medium E26 base bulb for the main light. This bulb isn't included in the package. But the package includes a 2-watt candelabra base LED bulb that provides night light. It emits warm and cozy light ideal for relaxation.
Metal Body
This modern farmhouse desk lamp has a quality metal body with a warm brown finish. Its lampshade is made of durable fabric and comes in beige color. This bright desk lamp features a cage-style base, it looks attractive and adds a touch of style into any room.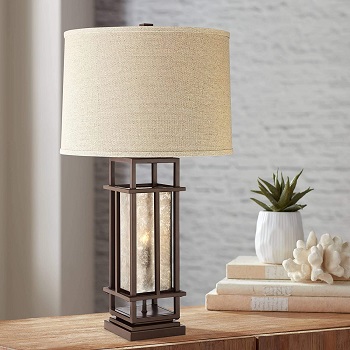 4-way Switch
This energy-efficient LED doesn't require replacement, it is able to last for many years. There is a 4-way switch, the first turn of the switch turns on the night light, the second turn turns off the night light, the third turn of the switch turns both nightlight and main light on and the fourth switch turns off all lights.
Highlighted Points:
quality metal body with fabric lampshade
unique cage-style base
4-way switch
main light requires a standard E26 base bulb
nightlight comes with an energy-efficient LED
it weighs 11 pounds
BEST SMALL MODERN FARMHOUSE DESK LAMP
Krasty Modern Square Lamp
Compact Lamp
Krasty lamp is a small table lamp that suits any nightstand, table, desk, end table, coffee table. Its overall height is 14.1 inches and the lamp width is 7.1 inches. When this lamp arrives at your address, you need to install it. You can assemble it within 15 minutes.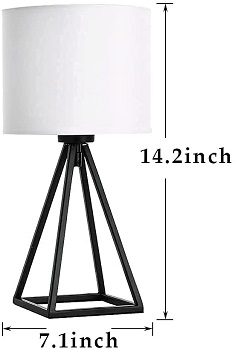 UL-listed Lamp
This modern farmhouse desk lamp is a UL-listed product, meaning, it is tested and safe for use. Krasty requires 110V-120V outlets. The maximum wattage of the bulb can be 60W, buy an E26 are bulb because it isn't included in the package.
Pyramid Base
Krasty small desk lamp with shade features a unique black rectangular pyramid base which is made of quality metal. It makes the lamp stable and prevents falls. The white shade is made of durable fabric, it provides a warm and cozy atmosphere.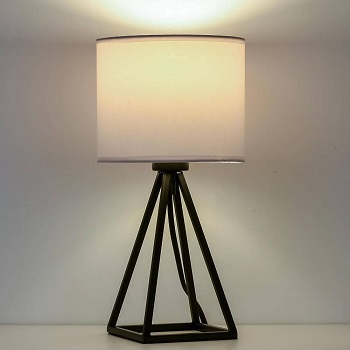 Fits Anywhere
This small and unique lamp is suitable to be placed in your living room, bedroom, dining room, guest room, etc. It fits on any table. Krasty modern lamp provides unique lighting in your room. It isn't designed for reading, more as ambiance lighting.
Highlighted Points:
a small table lamp that fits anywhere
UL-listed lamp
black rectangular metal base
white fabric shade
provides a warm and cozy atmosphere
Things To Know About Modern Farmhouse Desk Lamp
After you check our list and selection of the best modern farmhouse desk lamps, it is necessary to consider some factors before purchase. Here you'll learn about lamp size, light bulb, lampshade and other features.
Shade Materials – Before buying, you also want to consider the material that the shade is made out of. Here are some primary options – fabric/linen, glass, paper and plastic. These lamps above usually come with fabric/linen lampshade. Mostly, they are light-colored.
Drum Shade – There are as many lamp shade styles and shapes in the market. But these small modern desk lamps usually have classic drum shades. Also, there are models with sharp corner square shade, classic empire, classic oval and tapered drum shade. Pick the style you like.
Base Material – What the lamp base is made of, doesn't just affect how the lamp looks. The most popular materials are wood, metal, ceramic, resin, glass, chrome, plastic. The wooden base lamps are often associated with a more rustic style, while the metal base is sturdy and complements modern styles.
Light Bulb Type – Even if these are modern lamps, they usually require traditional incandescent bulbs. They have some advantages – these bulbs are inexpensive, have warm light and dim settings. But they aren't energy-efficient and don't last long, unlike the LEDs.
Additional Features – Some modern farmhouse desk lamps come with additional features like a USB port. Meaning, you can charge your mobile phone, tablet, laptop or e-reader and keep it in your arm's reach. Pick the lamp with a 2A outlet, it will charge your phone faster.