Are you looking for a floor desk lamp that you can place next to your work desk?
If you are, then this article is for you! Here you can find six top-rated models with a variety of features, they are all quality and durable. Also, you can check out our tips and tricks for a successful purchase and equip your space with a suitable lamp.
Our Top Picks
Best 6 Floor Desk Lamps
BEST OF BEST FLOOR DESK LAMP
Brightech LightView Pro Lamp
3-in-1 Lamp
This model is called LightView Pro and it is made by Brightech, a popular lamp brand. It is 3 in 1 lamp that is available in black and white color. The manufacturer provides a 3-year warranty so it will cover any defects within these years.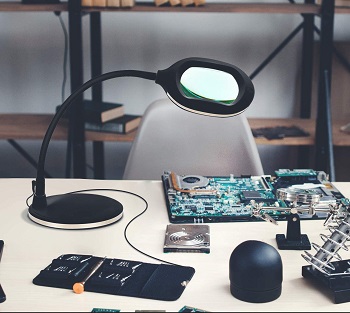 Easy To Convert
You need to install and extend the pole to convert this lamp from floor to desk lamp. The package includes instruction and a sturdy desk clamp. There is a built-in LED bulb of 9 watts that provides a cool white color temperature of 6,000 Kelvin.
Diopter Glass Lens
Under that color temperature, you can do any precise work. Also, there is a magnifying lens and it is made from real diopter glass. It is 1-inch thick and ensures 1.75x magnification. This floor desk lamp is plugging operated and works with 110v to 220v.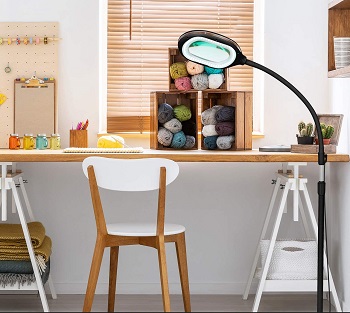 Touch Button
This LED lamp magnifier has a simple touch button on the lamp head, above the lens. Use it for on/off and if you want to change the brightness, just tap the power button. The Brightech head can be modified between 51 to 24 inches, just remove the additional pole.
Highlighted Points:
compact 3 in 1 lamp
change it from floor to desk lamp
simple touch button for control
a magnifying lens with 1.75x magnification
requires 110v or 220v
built-in LED bulb with 6,000K
BEST SET FLOOR DESK LAMP
Lavish Floor And Table Lamp
Three Lamps
This is a set of two table lamps and a floor lamp. But you can buy just these two table lamps. The floor lamp is 62.5 inches tall and the table lamp measures  22.5 inches in height. Their shade is made from polyester cotton fabrics. The small table lamp has a 68" cord, while the floor lamp has a 97" cord.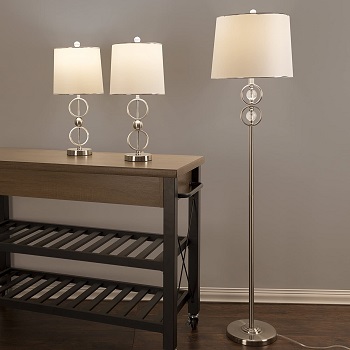 400 Lumens
The package includes three replaceable LEDs, they last longer and use less energy than traditional bulbs. Each LED bulb has 400 lumens and a color temperature of 3000 Kelvins. It is CE/RoHS certified. But if you want, you can use regular bulbs.
Crystal Accents
All three lamps are equipped with glass crystal ball accents for a more elegant look. They are perfect for contemporary decor styles. You can place a large floor desk lamp near or behind your sofa. Put these small bright desk lamps on your desk or table.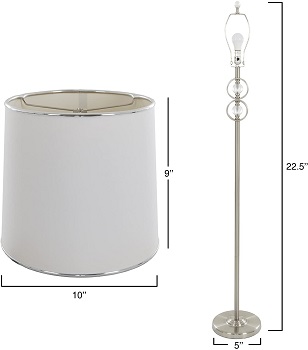 Tested Products
These Lavish lamps passed a rigorous control process, so don't buy them from some unauthorized seller. Check if the package contains the Lavish logo. Then you can be sure you are buying the right product with all certificates and warranties.
Highlighted Points:
set of three lamps
two desk lamps and a floor lamp
look for the Lavish logo on the packaging
all lamps are equipped with crystal accents
come with LED bulbs
BEST OVER DESK FLOOR DESK LAMP
Archiology Arc Floor Lamp
Medieval & Industrial Mix
Archiology is a modern and stylish arc floor lamp that matches contemporary homes and offices. This floor lamp comes in antique brass and sand black colors. There is a medieval modern style with industrial elements. It blends into a wide range of environments.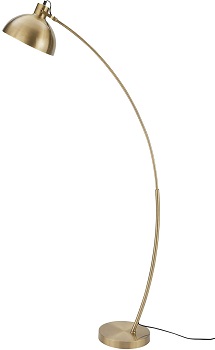 Simple Installation
When this floor desk lamp arrives at your address, you need to install it before use. It takes approximately 10 minutes to complete it. No additional tool is needed. Archiology features a flexible gooseneck, so you can set it according to your current needs.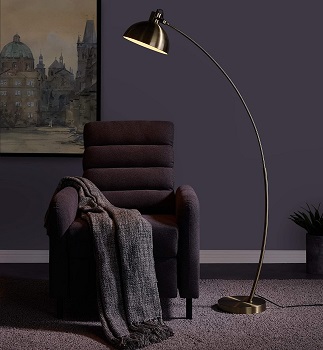 Convenient Footswitch
Made of sturdy metal material, there is a heavy base, so won't tip over. This adjustable floor lamp for reading is 42.3 inches tall. There is a foot switch for easy turn on/off. Its maximum wattage is 9-watt. The bulb isn't included in the package. Use the LED bulb, it's energy-efficient.
Highlighted Points:
medieval style with industrial elements
simple installation – it takes 10min
flexible gooseneck
sturdy metal construction
heavy and stable base
BEST LED FLOOR DESK LAMP
Taotronic LED Floor Lamp
Wide Base
TaoTronic is a very quality and popular floor lamp with great performances. It measures 66.9 inches in height, the light head diameter is 6.1 inches. Available in black and white color. There is a wide square base that prevents the lamp from falling.
Memory Function
It features a rotatable gooseneck designed to direct the light on your desk, sofa, couch or wherever you need. The memory function will remember your last used setting, so you don't have to adjust this floor desk lamp every time your turn it on.
Customizable Illumination
You can choose between four color temperatures and four brightness levels. Set your favorite option and relax, this LED reading lamp delivers safe, non-flickering light. It is gentle for your eyes. There is no eye strain and eye fatigue, you can read or work for hours.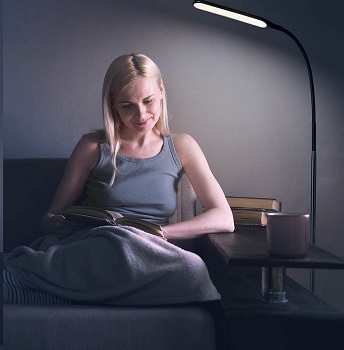 Touch Control
The power adapter is included in the package, the cord is 2 meters long. There is a touch control on the light head, touch the M button to cycle through the color temperatures. Tap the power button to go through brightness levels. A long press on the power button will turn off the lamp.
Highlighted Points:
quality and durable floor lamp
available in black and white color
wide and sturdy lamp base
choose between a variety of options
eye-protected light
touch control with two buttons
BEST GIANT FLOOR DESK LAMP
Major-Q Arc Floor Lamp
Double Drum Shade
This is a giant floor lamp that is available in a few colors – black, white, silver and others. Its height is 85 inches and there is an adjustable arched body. It ranges from 35" to 75". The shade dimensions are 12" H x 17" W. There is a double drum shade for a unique appearance.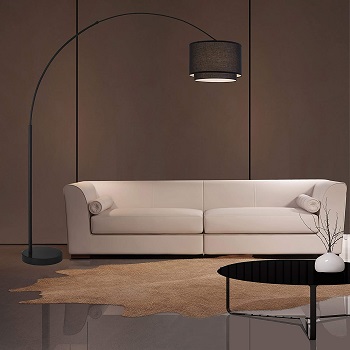 Marble Base
This overarching floor lamp is an ideal floor lamp over the sofa, desk, couch. If you don't have free space next to your desk, this arched lamp is a perfect solution. Major-Q is a very stable lamp, there is a large marble base that prevents tipping accidents.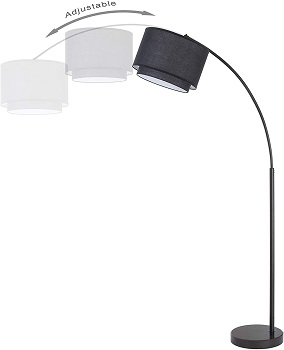 Solid Construction
Except for its great features, this floor desk lamp will add a touch of elegance to your home office, living room or guest room. You can turn it on by pressing the footswitch. This best lamp for the home office requires 110v – 220v outlets. It is made of solid black metal.
Highlighted Points:
large standing floor lamp
sturdy marble base for stability
adjustable arched body
requires 110v – 220v
unique double drum shade
BEST NEXT TO DESK FLOOR LAMP
Dodocool Floor Lamp
For Small Spaces
Dodocool is a compact lamp that perfectly fits into small and limited-spaced rooms. Available in green, white and black. When it arrives, you need to assembly it, it takes few minutes. Use this lamp for arts and crafts, reading, sewing and any other hobbies.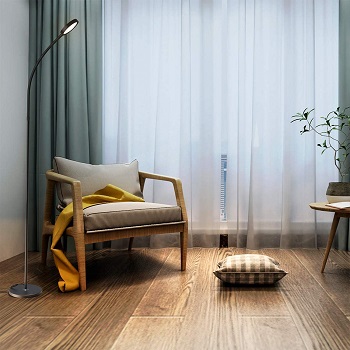 Adjustable Gooseneck
The assembled lamp is 67 inches tall. Place it next to your desk, its steady base provides good stability from falling. You can adjust different light angles, the gooseneck is 360-degree rotatable. Put the light close to your desk if do some precise work, like drawing.
Four Color Temperatures
There are four color temperatures you can choose from. They range from 3000K to 6000K – white, cool white, yellow and warm yellow. This floor desk lamp comes with a 9-watt energy-efficient LED lamp. This LED bulb lifespan is around 6000 to 50,000 hours, depends on use.
Six Scene Modes
This adjustable reading lamp comes with remote control, you can control it from your couch. It features a 15 range. There are six scene modes to choose from – leisure mode, entertainment mode, reading mode, breastfeeding mode, office mode and night light.
Highlighted Points:
simple design available in three colors
smart control mode and touch control
long-lasting LED – around 50,000 hours
the steady and heavy base provides good stability
6 scene modes
4 color temperature modes
Things To Know About Floor Desk Lamp
There are many different floor desk lamps on this list. For more useful information, check out these guidelines below and buy the best lamp for your needs.
Adjustable Design – There are many different lamps on this list. But they have something in common, you can adjust the light depends on your needs. Some models have rotatable light, extendable arms, etc. That will help you to direct the light wherever you want.
Bulb Type – It isn't easy to find a floor reading light that isn't compatible with LED bulbs. LEDs use 80% less energy than traditional bulbs. Also, the LEDs last 25 years longer. One more advice, you can connect your lamp with a smart outlet and control it remotely.
Color Temperature – This feature is measured in Kelvin. the color temperature depends on your task, it is different for reading, working, relaxing. If you need task lighting, it should be at least 4000K, that's cool white, and up to 6000K.
Switch Types – Many floor desk lamps have rotary switches, which is just a knob. Some models come with three adjustable light levels. This is very useful if you want to adjust the light level throughout the day. The footswitches are a great choice for living rooms.
Shade Types – The market is full of different shade types, so it isn't easy to decide which is the best one. That depends on the activity or hobby you want to do. If you buying a lamp for work, choose lamps without shade, or those with a glass shade. The lamps with drum shades don't provide enough bright light.