Are you looking for a tournament foosball table that would be perfect for home or pub tournaments?
If this is the case, continue reading this article.
We have prepared a list of some of the best tournament foosball tables available at the moment. Pick a table based on your needs and wishes – commercial, antique-looking, or a cheap one which won't be a blow to your budget.
Our Top Picks
Best 6 Tournament Choice Foosball Tables
BEST OF BEST TOURNAMENT CHOICE FOOSBALL TABLE
Tornado Elite Foosball Table
Attractive Design & Natural Solid Wood Handles
This beautiful foosball table made by Tornado, the very first foosball table manufacturer in the US, is very popular among tournament players. The table itself looks very attractive due to Victorian Cherry laminate which was used in the production of its 1 ½" thick cabinet. Its handles are made of natural solid wood.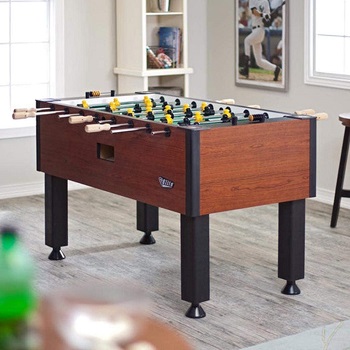 Dual Side Ball Returns For Fast Game
Known for its professional performance, it is the perfect table for soccer tournaments. It boasts dual side ball returns which are very useful both in competitive games and single-player practice. Tornado's split bearing design combines function and durability. It also provides hassle-free replacement and removal when cleaning.
Redesigned Players & Adjustable Leg Levelers
The yellow and black foosball men allow more precise ball control thanks to their redesigned rectangular foot. They are attached to 156″ hollow steel rods. The leg levelers are adjustable and provide high stability. 3/4″ laminate playfield enables professional ball movement so even beginners will feel in control while playing.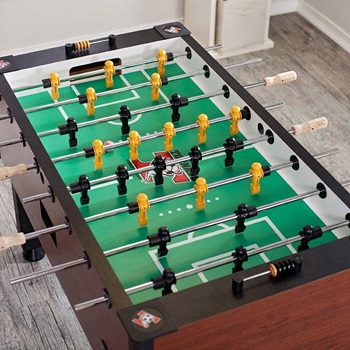 Perfect For Tournaments
Keen players of table football who dream of organizing small tournaments at home will find this table perfect. This table will also bring so much fun to every family gathering or house party. If you own a bar or a pub and plan on buying a foosball table for your guests, this is the table you should go for. It will fit especially well into a wooden interior.
Highlighted Points:
popular among tournament players
handles made of natural solid wood
dual side ball returns for keeping the game fast
adjustable commercial-grade leg levelers
redesigned players for more control
perfect for both home use and pubs
BEST ANTIQUE TOURNAMENT FOOSBALL TABLE
Tornado Worthington Foosball Table
Unique Antique Looking Tournament Table
This antique looking soccer table stands out from the majority of tournament foosball tables. It boasts a classic two-tone black and brown design which will fit perfectly into traditionally decorated houses or pubs. The fiberboard cabinet is 1.5-inch thick and the assembled dimensions of the table are 56 L x 30 W x 36 H inches.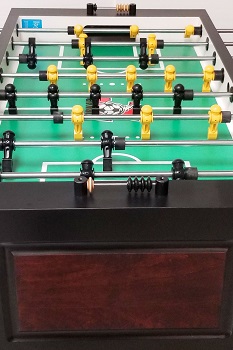 Adjustable Leg Levelers & Thin-Wall Bearing Design
Adjustable leg levelers and down corner construction contribute to durability while thin-wall bearing design improves the quality of playing.  The urethane textured balls which come with the table smoothly roll across the 0.75-inch foosball playing field with amazing graphics.
Strong Steel Rods With Wooden Handles
The handles are made of natural wood and they are equipped with strong steel rods that are hollow in the center and therefore lighter. New split bearings help the rods move easily and smoothly. The table is very heavy (350 pounds) and stable, meaning it will not move during a fierce game.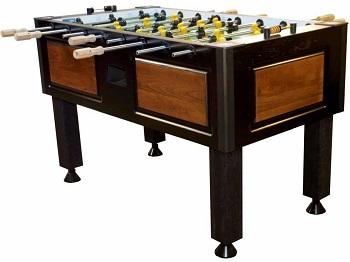 Redesigned Foosball Players For More Precision
Tornado Worthington Foosball Table features unique foosball players with a new cross-hatch foot design for more precise ball control. There are three-man goalies on each side of the table which contributes to the professional quality of the game. The table also features a dual side ball return for easy retrieval and fast game.
Highlighted Points:
antique looking two-tone classic design
high durability and stability
comes with urethane textured balls
adjustable leg levelers & thin-wall bearing design
strong steel rods with wooden handles
unique redesigned foosball players
BEST FOR HOME TOURNAMENT FOOSBALL TABLE
WYKDL Foosball Table
Photorealistic Playfield And Players
WYKDL Foosball Table is constructed of high-quality medium-density fiberboard in a brown color that mimics wood. The green playfield with white lines is photorealistic and simulates real football fields and players. It features black scoreboards on each side of the table. Its dimensions of 123 x 61.5 x 82cm making it a perfect foosball table for home tournaments.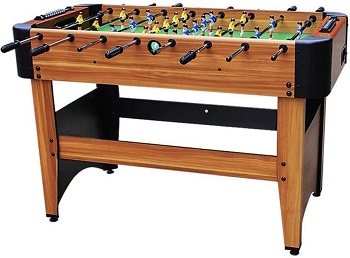 Comfortable & Non-Slip Handles
The stainless steel rods are rust-proof and can be flexibly rotated while the handles are non-slip, easy to control, and very comfortable to play with. The smooth playfield makes the ball slide easily for the best playing experience. You will get two balls in the package along with everything you need for a fun game of table football.
Portable, Light & Easy To Install
This foosball table is portable due to its light weight and easy assembling and disassembling. With foot pads on the bottom, it can be placed on any surface without leaving scratches. A portable foosball table like this one, apart from playing at home, enables you to bring it to any party or a family gathering for extra fun.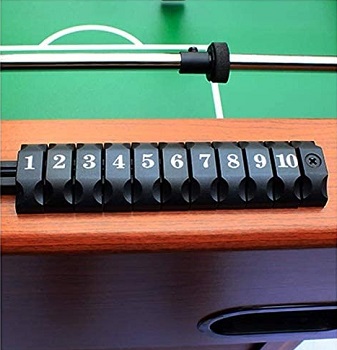 Great Choice For The Whole Family
WYKDL Foosball Table is a great choice both for adults and kids aged 7 and older. Playing table soccer, kids can exercise their reactivity and strategic thinking. If you decide on this table, you will have the possibility to organize a table soccer championships for the whole family whenever you want, without leaving your house. It will bring extra excitement and joy into every household.
Highlighted Points:
simulates real playfields and players
rust-proof stainless steel rods
non-slip comfortable handles
portable, light, and easy to install
suitable for kids and adults
BEST CHEAP TOURNAMENT CHOICE FOOSBALL TABLE
T&R sports 55″ Soccer Foosball Table
High-Quality But Affordable
Nicely designed and affordable, this tournament foosball table is a great choice if you don't want to spend too much money. It is made of high-density MDF and high-quality metal hardware which makes it really durable. The oak finish gives it an elegant look. It is also available in black color.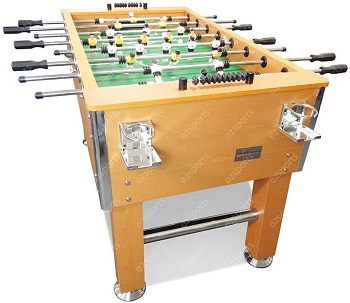 Internal Ball Return At Each Side
Chrome-plated steel rods with plastic handles allow the players to easily kick or block the ball. The goals are guarded by one man goalies. This cheap foosball table features an internal ball return and score counters on each side. The goals are guarded by one man goalies.
Four Cup Holders For Thirsty Players
Another cool feature of this table are the cup holders – two on each side. This is great and very practical for parties and tournaments because players may get thirsty during a fierce game of table soccer. Foosball tables with cup holders are especially convenient for pubs or bars.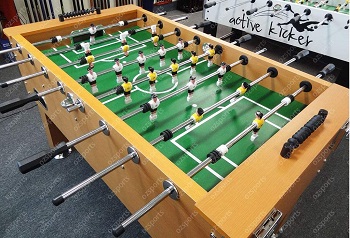 Great Gift For Any Occasion
T&R sports 55″ Soccer Foosball Table makes an amazing gift for any occasion. It has adjustable legs so the person you gift it to can adjust the table to the appropriate height. Both kids and adults will love this fun and exciting addition. You will for sure participate in creating happy memories if you decide to gift this table to your loved ones.
Highlighted Points:
affordable but boasts high quality
features internal ball return on each side
four practical cup holders for thirsty players
adjustable height leg levelers
great gift for any occasion
BEST COMMERCIAL TOURNAMENT FOOSBALL TABLE
Tornado Tournament 3000 Foosball Table
Certified Tournament Foosball Table
Tornado Tournament 3000 Foosball Table comes in three colors: black, red, and silver. It has a thick commercial-grade split cabinet which is extremely durable and can withstand the most intense matches. Its durability is probably the reason why this foosball table is the official game foosball table of the Tornado National Foosball League as well as the International Table Soccer Foundation.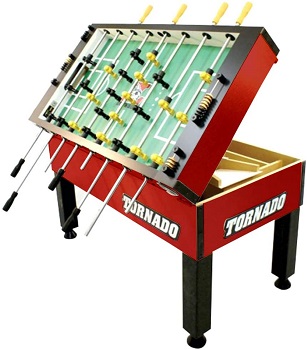 Counterbalanced And Redesigned Players
The patented Tornado players are counterbalanced and have a redesigned foot for better ball control. Black and yellow teams of players have a single goalie to guard the goals. Thick chrome-plated steel rods that are hollow in the center are heat treated in order to provide the smoothest game possible. Non-slip handles add to the comfort and better grip.
Packed With Free Accessories
This soccer table comes with three high-quality precision balls, an abacus scoring unit, bearing wrench, pin punch, rule book, and a bottle of silicone, and that's not all. You will also get a complimentary spare pack, which consists of one yellow man, one black man, one bumper, 4 roll pins, and a Tornado sticker.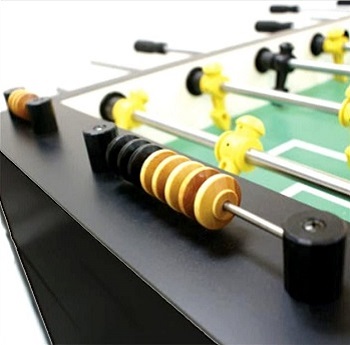 Great For Intense Foosball Tournaments
Tornado Tournament 3000 Foosball Table was built for competitive play and it is the best commercial tournament foosball table available on the market at the moment. If you like a fierce and more intense game of table football and plan to organize tournaments pretty often this table is a great choice for you!
Highlighted Points:
official game table of International Table Soccer Foundation
counterbalanced players with a redesigned foot
heat-treated steel rods for the smoothest game possible
packed with amazing free accessories
perfect for intense tournaments
BEST BLACK TOURNAMENT CHOICE FOOSBALL TABLE
Warrior Table Soccer Pro Foosball Table
Official Tournament Table
This elegant black foosball table is an official tournament table, recognized by The International Table Soccer Federation. It measures 56″ L x 30″ W x 36″H and weighs 200 lbs. Even though Warrior Table Soccer made it for professional players, it is available for the general public.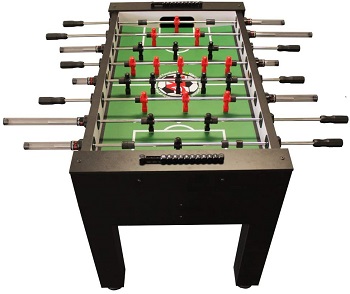 Improved Pro Style Ball Return System
The pro quality of this tournament black foosball table is obvious – it features redesigned counterbalanced foosball men that ensure excellent ball control. Split bearings enable faster and smoother shots. Most importantly, this table boasts an improved Pro style ball return system provides a more consistent and faster ball return.
Swivel Foot Levelers For Maximum Stability
The construction of the table is solid and very durable. Swivel foot levelers ensure maximum stability on any surface. Their rubber base prevents unwanted movement when playing table soccer matches. It is also possible to raise or lower each corner for the ideal playing height.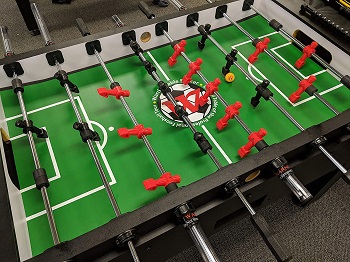 Rod Guard System For Safety
To keep the players safe, there is a Rod Guard System which helps prevent possible injuries from fast moving rods. The rods are made of solid steel and don't require assembly. They are complete with handles, bumpers and foosball men. The rest of the table requires assembly, however, it is fast and easy.
Highlighted Points:
official tournament table made for professional players
redesigned counterbalanced foosball men
improved Pro style ball return system
Swivel foot levelers for maximum stability
Rod Guard System for extra safety
Simple and fast assembly
Things To Know About Tournament Foosball Tables
A tournament foosball table is a perfect choice if you are a keen player of table soccer and you play it regularly with your friends or family. This kind of table was built for competitive play and we know that even home tournaments can be very competitive at times. Here are some tips to help you choose the best foosball table for your needs:
Size, stability & Durability – Tournaments foosball tables must be durable, heavyweight and maximally stable. These are some of the most important features of tournament tables because the competitive matches are very intense and fierce – the table must stay in place. Also, pay attention to the table size. Official dimensions of tournament tables are 56 Inches (L) x 30 Inches (W) x 36 Inches (H).
Dual Side Ball Returns – This is a great feature and you may want to buy a foosball table with dual side ball returns if you want easy retrieval of the ball and a fast game. This is especially useful in tournaments so take this into consideration if you like competing in table soccer.
Adjustable Leg Levelers – Foosball tables for home and tournament with the option of adjustable leg levelers are a good idea if both adults and kids will play tournaments using the same table. You will have the possibility to adjust the table to the appropriate height. Leg levelers also add to stability.
Counterbalanced Players With Redesigned Foot – Unlike traditional foosball players with realistic human design, redesigned modern players with one rectangular foot provide more precise ball control. Keep in mind that tables with counterbalanced players, which stay in the same position we leave it, are considered high-quality tables.
Universal Replacement Parts – Since tournaments involve a lot of playing, you should go for a durable and stable tournament table. However, even the most durable tables will need replacement of certain foosball table parts after some time. To avoid problems with finding particular parts, we recommend buying a table that fits universal parts.
Final Verdict
The Tornado Elite Foosball Table is the best tournament foosball table because it is great for intense and less intense stable soccer tournaments. It is not a certified tournament table but has almost all the characteristics of one. It offers the best value for money. If playing table soccer tournaments isn't in your area of interest, you may check out high-end foosball tables. Or, if you want to feel like a real pro, take a look at our post about best professional foosball tables.