Are you looking for a small foosball table that will fit into smaller spaces?
If that's the case, continue reading this post.
We have found a number of small-sized foosball tables for you to choose from. Pick a suitable table based on your needs and wishes – a small tabletop foosball table, a foldable one, or maybe a cheap one that will fit your budget.
Our Top Picks
Best 6 Small Foosball Tables
BEST OF BEST SMALL FOOSBALL TABLE
DRM 36in Foosball Table
Perfect For Limited Spaces
This compact table measures only 36.2Lx 20W x 28.7H in and it is the perfect option for small apartments and rooms. Even though it's smaller than standard foosball tables, it offers a spacious enough playing surface (31Lx 18W in) for fun and exciting matches of table soccer.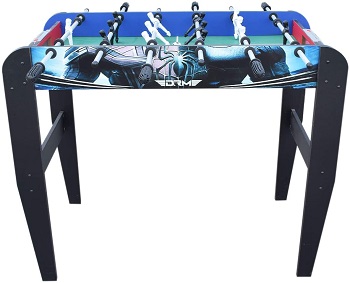 Kids Will Love It
If you are looking for a small foosball table that will fit your kid's room and you don't want a tabletop or a folding table but a solid soccer table that can't be easily moved, this is the table you should buy. Also, it features a cool superhero design which will be a hit among kids.
Rounded Corners For Safety
DRM 36in Foosball Table is made of durable engineered-wood which guarantees long-lasting use. Its 0.6-inch-thick-legs provide high stability while playing. The table has rounded corners that are much safer for the kids than the standard sharp ones.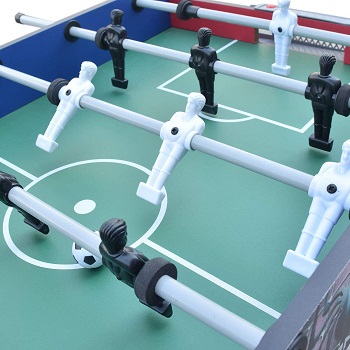 Counterbalanced Foosball Men
It features six coated steel rods with slip-resistant handles. The counterbalanced black and white foosball men have one goalie on each side of the warp-resistant playfield, and the goal boxes look like real goals. On top of each goal, there are manual scoring devices.
Highlighted Points:
perfect for apartments and kids' rooms
cool superhero design
made of durable engineered-wood
rounded corners for safety
coated steel rods with slip-resistant handles
counterbalanced foosball men
BEST 3-IN-1 SMALL FOOSBALL TABLE
HaxTON 3-In-1 Multi-Use Game Table
Compact Multi-Game Table
This cool table includes foosball, hockey and pool table options. And it is still pretty small and compact, measuring only 41″x 23″ x 27.5″. It offers an endless amount of fun and entertainment for both kids and adults who enjoy playing table sports.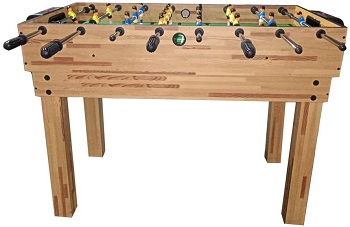 Easy Switch Between Games
The small foosball table is made of MDF and plastic, and it weighs 40 pounds. It is very easy to switch between the different games, you will need only a few seconds thanks to the easy-to-convert tabletops. Manual scoring devices on each side of the table help you keep track of the action.
Saves A lot Of Space
If you get easily bored playing only one game, this table is a great choice because it offers triple amounts of fun and excitement. At the same time, it saves so much space because you have only one table instead of three tables. We guarantee there won't be a dull moment in your home if you buy this table.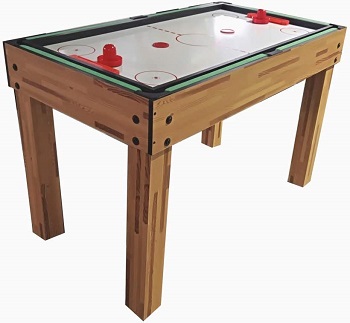 Built-In Storage For Accessories
haxTON 3-In-1 Multi-Use Game Table features built-in storage where you can keep all of the game essentials when you're not using them. It includes all the necessary accessories for all three games: 2 x cue sticks, 16 x billiard balls, 1 x pool table brush, 1 x triangle, 1 x cue stick chalk, 2 x footballs, 2 x strikers and 2 X pucks.
Highlighted Points:
foosball, slide hockey and pool playing surfaces
very easy to switch between games
two manual scoring devices
saves a lot of space
endless amount of entertainment
comes with all necessary accessories
BEST TABLETOP SMALL FOOSBALL TABLE
Sport Squad FX40 Table Top Foosball Table
Comes In 2 Versions
This small kid's foosball table comes in two versions: Original and Refresh. The only difference between these two versions is the color. The Original model is covered with vibrant soccer graphics, which will be especially appealing to kids, while the Refresh features more toned down colors.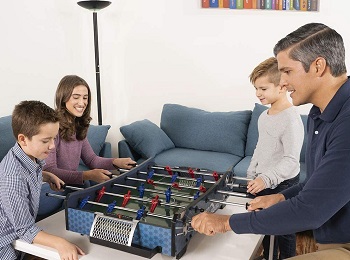 Features Protective Rubber Pads
The small foosball table measures 40″L x 20″W x 8″H and weighs 15 lbs so it is easy to take it with you to birthday parties, barbecues or family gatherings. It is made of MDF in order to withstand the toughest and most competitive games. It also features rubber pads to protect your table from unwanted scratches.
Ergonomically Designed Handles
Red and blue foosball men are molded directly onto the chrome-plated steel which makes the assembly even faster and simpler. The ergonomically designed handles are made of rubber and they provide a comfortable and strong grip. This is especially important if you plan to play table soccer often.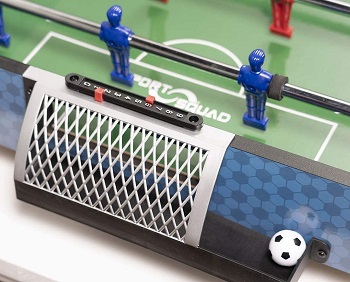 Dual Ball Return For Smooth Game
Sport Squad FX40 Table Top Foosball Table features two-goal boxes with ball return which is very convenient and makes the game run smoothly and quickly. You will also get two traditional black and white soccer balls. This foosball table is a great idea for a birthday or Christmas gift so take it into consideration.
Highlighted Points:
comes in two versions
rubber pads for preventing scratches
chrome-plated steel rods
ergonomically designed rubber handles
dual ball return for smooth game
great gift for any occasion
BEST FOLDING SMALL FOOSBALL TABLE
Win.Max Preassembled Folding Foosball Table
99% Preassembled Foosball Table
This foldable foosball table is 99% preassembled, which means you'll need no more than one minute to assemble it. Made of high-quality MDF and odorless PVC, this table is sturdy and ensures high durability. Its bright orange and blue colors will be especially appealing to children.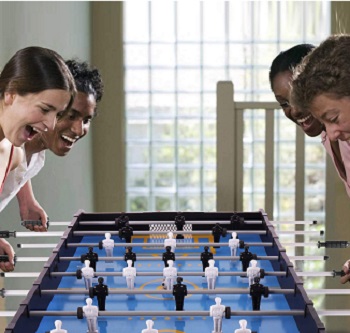 Sturdy Legs With Leg Levelers
The foldable but strong legs with leg levelers and a triangle structure offer maximum stability for intense table soccer matches and competitive tournaments. Both kids and adults can have a great time playing with this small foosball table that will bring so much fun and excitement to any home.
Ligh Hollow Iron Rods
The black and white foosball men are attached to iron rods which are hollow in the center and therefore light and easy to turn. Not only for the adults but for the kids too. The handles are comfortable and their non-slip surface allows a strong grip.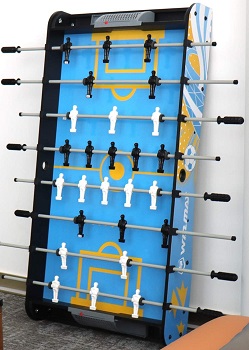 Moderate Space-Saving Size
Win.Max Preassembled Folding Foosball Table is safe for children and it would be a great gift for any kid that loves football and table sports. It won't take up much space wherever you put it thanks to its moderate size (47.64 x 24.02 x 31.89 inches). Also, you can always fold back the legs and put it away.
Highlighted Points:
extremely fast and easy assembly
fresh and bright colored design
foldable legs with leg levelers
great for both kids and adults
light iron rods hollow in center
easy to store and saves space
BEST CHEAP SMALL FOOSBALL TABLE
Playcraft Sport Free Kick 40ʺ Foosball Table
Easy To Store & Transport
This compact and cheap foosball table is the latest addition to the 40″ series of tabletop foosball tables from Playcraft. It is made of MDF material that boasts a nice wooden design. It measures 39.5" x 20.5" x 10.5" (L x W x H) which makes it really easy to store and transport.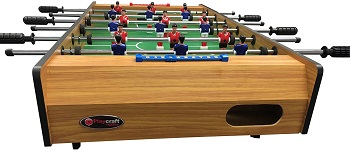 Spacious Playing Surface
Even though it's a tabletop foosball table, it still has a spacious enough playing surface and it is suitable for 2-4 players. The green playfield with white lines mimics a real soccer playfield. Realistically designed foosball men are divided into two teams – red and blue.
Chrome-Plated Rods
Three goalies guard the goal on each side of the small foosball table, which features six chrome-plated rods with rubber grooved handles for a strong grip. Color-coordinated sliding scoring units can also be found on each side of the table. You will get two soccer balls.
Great For Kids
If you need something to keep your kids away from their cell phones, maybe you should consider buying this affordable foosball table, especially if they like playing table sports or are football fans. It will keep them occupied but they will also practice their motor skills and strategic thinking.
Highlighted Points:
nice wooden design
easy to store and transport
spacious playing surface for 2-4 players
three-goalie configuration
chrome-plated rods with rubber handles
great toy for kids
BEST PORTABLE SMALL FOOSBALL TABLE
Hathaway BG1028T Sidekick Portable Foosball Table
Dazzling Design & Exciting Graphics
This portable foosball table boasts a dazzling design. Children will love its colorful soccer graphics. The photo-realistic playing surface looks like real grass which adds to the excitement. This tabletop table measures 38-in L x 20-in W x 9-in H and weighs 15 pounds which makes it really easy to take anywhere with you.

Rugged L-Shaped Legs
The cabinet is made of engineered wood and it stands on rugged, L-shaped legs that will provide enough stability for intense matches, while rubber pads will prevent your furniture from getting scratched. The slick and glossy green playfield allows the ball to move fast.
ABS-Molded Foosball Men
9 blue and yellow ABS-molded foosball men with 3-goalie setup are tough and durable. They are attached to high-quality chrome-plated steel rods that won't bend or twist, and offer precise ball control. The handles are ergonomic and therefore comfortable for the wrists.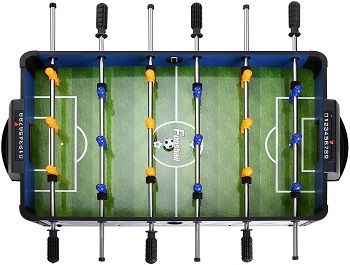 EZ-Spin Bearings & Automatic Ball Return
Other cool features of this table we must mention are EZ-spin bearings which enable easy turning of the rods, and automatic ball return which keeps the game going at a quick, competitive pace. You will get also get 2 high-quality foosballs with the table.
Highlighted Points:
compact & easy to transport
dazzling design & exciting graphics
rugged & stable L-shaped legs
ABS-molded foosball men
steel rods with ergonomic handles
EZ.spin bearings & automatic ball return
THINGS TO KNOW ABOUT SMALL FOOSBALL TABLES
A small foosball table is great for people who have limited space or want to be able to move it around the house and take it with them to parties and family gatherings. When buying such a table, you should first consider what kind of small table would be the most suitable for your needs. To help you choose the ideal one, we are giving you a few tips below:
Tabletop Foosball Tables – Such tables are the best choice if you really lack space in your home, or you don't need a full-size table because you don't plan on playing that often. Tabletop tables are suitable for any flat surface, from your dining, kitchen, and office table to the floor. You can take your tabletop table anywhere with you, especially the mini versions that will probably fit your backpack. Most of these tables are suitable for kids and could be a great gift for them.
Foldable Foosball Tables – If you want a small soccer table that can stand on its own and doesn't require a table to be able to play comfortably, go for a foldable table. Such tables are smaller in size but big enough to provide a spacious playfield. The most common size of such tables is 48″. You also don't need to have a permanent spot reserved for such a table at your home. When you're done playing, just fold back the legs and store it away.
Portable Foosball Tables – all tabletop and foldable foosball tables that are compact and relatively light qualify as portable. However, if you're looking for such a table, we recommend you find one with preassembled parts for easier transport and faster assembly.
Small Size Doesn't Mean Less Fun – Even though they are smaller in size (anywhere from 15″ to 48″) than the full-size table (56″), they provide the same amount of fun and excitement. However, if you want to feel like a real pro when playing, and organize tournaments for more people, you should probably buy a full-size high-end foosball table.
FINAL VERDICT
The DRM 36in Foosball Table is the best small foosball table because it boasts high-quality features like counterbalanced men and slip-resistant handles. Besides that, it features an exciting superhero design that will be a hit among both kids and adults and round corners for additional safety. However, if you have plenty of space and don't have to worry about the size of your foosball table, check out regulation size foosball tables. Also, if you're not sure which table would be the best fit for your home, read out post on best foosball tables for home.