Are you looking for a functional desk lamp with an organizer that helps you keep your desk tidy?
Then look no further! Here is the list of the best desk lamps with storage, so check it and pick the model with the shape, size and function you like. Those models are divided into categories to be easier for you to find what you need.
Our Top Picks
Best 6 Desk Lamps With Storage
BEST OF BEST DESK LAMP WITH STORAGE
Aduro Wireless Table Lamp
Quality Lamp
Aduro is a high-quality desk lamp that meets all your lighting needs. This space-saving lamp is available in three colors – white, black and blue. It comes with a lifetime limited warranty and friendly customer service. Contact it if you notice any defect.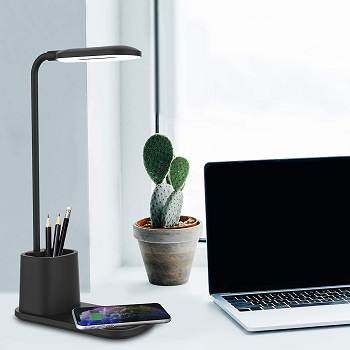 Set Lighting Angle
This desk lamp with storage is 12 inches tall, the base diameter is 6 inches and the lamp head length is 4.5 inches. It features a flexible gooseneck, allowing you to find a perfect lighting angle. Move the light source closer or farther away depending on your needs.
Wireless Station
Aduro wireless phone charging lamp has a convenient organizer for your desk supplies, keep your pens, pencils, scissors handy. Also, it is equipped with a wireless charging station, meaning you can charge your iPhone or Samsung Galaxy smartphone quickly.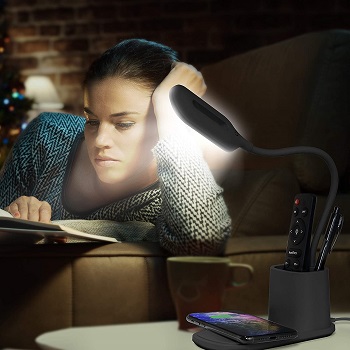 Touch-control Lamp
There is a touch-sensitive button on the lamp head, allowing you to customize the brightness level. Pick the high light when reading, doing homework or crafting. A low brightness level is perfect for casual reading or relaxation. Aduro LED lamp emits flicker-free light.
Highlighted Points:
available in three colors
touch-sensitive lamp
customizable brightness levels
flicker-free and glare-free light
wireless charging station
organizer for pens, pencils and other accessories
BEST READING DESK LAMP WITH STORAGE
Ottlite Compact Desk Lamp
Popular Brand
Ottlite is a very popular brand that produces quality and durable des/table lamps. This model has a base diameter of 8.5 inches. The lamp height is adjustable. You can extend it from 13.5 to 25 inches. Also, the lamp neck is flexible, rotates and bends in the way you want.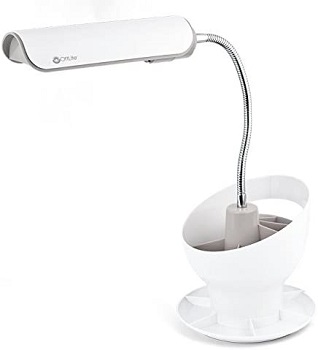 CFL Bulb
This desk lamp with storage comes with a 13W type E bulb. This CFL bulb is rated for up to 10,000 hours. After that time, you can replace it easily. CFL bulb type emits soft, flicker-free and glare-free light which isn't harmful to your eyes.
Two Organizers
Ottlite is the best reading lamp for any dorm, children's room or study room. It makes your reading, working or studying much easier and keeps you productive. Also, it is equipped with two storage compartments, there are upper and lower storage spaces.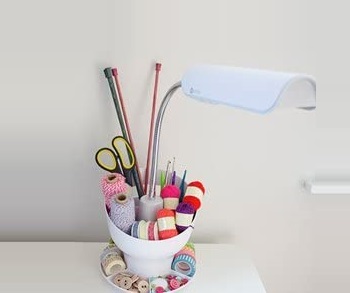 UL-listed Lamp
The upper storage space is designed for pens, pencils, scissors and other writing tools. While the lower storage space is ideal for small accessories. With this lamp, you can have a tidy and organized desk. Ottlite is a UL-listed lamp coming with a 1-year warranty.
Highlighted Points:
the tested lamp comes with a 1-year warranty
meets many safety standards
two storage compartments
ideal for reading or studying
equipped with a 13W CFL bulb
adjustable height
BEST BATTERY OPERATED DESK LAMP WITH STORAGE
Gerintech Rechargeable Desk Lamp
Fits Anywhere
Gerintech is another white desk lamp at an affordable price. The lamp's overall height is 18 inches and the lamp base measures 4.8 x 3.8 inches. This is a small lamp that fits on any nightstand, end table, coffee table, shelf, workbench and other table types.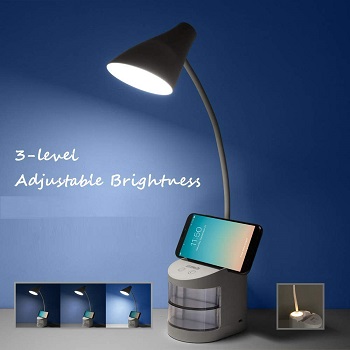 Powerful Battery
This desk lamp with storage saves desk space and keeps your desk accessories well organized. Moreover, there is a phone holder, so place your mobile phone on the lamp base. Gerintech is a portable desk lamp, it is equipped with a 2200mAh battery.
Portable Lamp
When fully charged, this battery-operated reading lamp will run for three hours at the maximum brightness level. You can place it where you need it at the moment. The flicker-free and glare-free light is provided by LED beads, they are very energy efficient.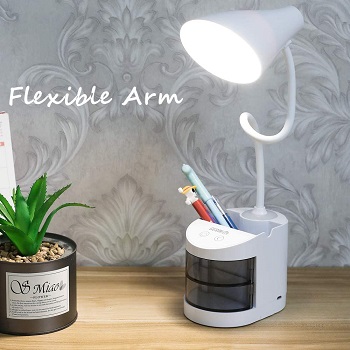 Flexible Gooseneck
It doesn't cause harmful effects on your eyes, so you can read or work for longer than before. Set different lighting modes when reading, relaxing or working. There are low, medium and high light levels. Thanks to the flexible gooseneck, you can direct light where needed.
Highlighted Points:
affordable white table lamp
built-in 2200mAh battery
phone holder on the base
pen holder for desk supplies
three lighting modes
flexible gooseneck
BEST STUDYING DESK LAMP WITH STORAGE
Axx LED Desk Lamp
Modern Lamp
Axx is a modern white lamp that fits in any room interior. This lamp is lightweight and portable, you can use it anywhere in your house or office. It fits on any desk, table, nightstand, end table, coffee table, shelf or workbench. The price is affordable.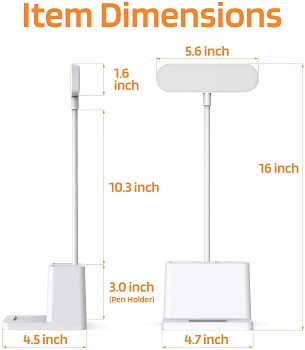 Built-in Battery
The box includes a LED table lamp, user manual and power cord. Axx desk lamp with storage is a perfect study, bedside and reading lamp. Built-in 1200mAh battery can last 2-4 hours when fully charged. Charge it and use it wherever you want.
Pen Holder
This white LED desk lamp is lightweight but stable, the base is equipped with an anti-slip pad. It comes with two storage compartments, so use it for pens, pencils, scissors, sticky notes, rulers and other desk accessories. It keeps your desk tidy.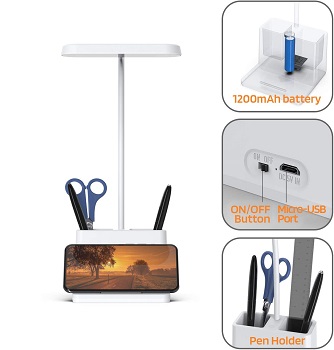 LED Beads
Also, there is a mobile holder on the lamp base. Place your smartphone on it while watching videos. Axx lamp is equipped with quality LED beads. They are rated for up to 50,000 hours. This lamp emits soft, flicker-free light which is safe for your eyes.
Highlighted Points:
modern white table lamp
equipped with long-lasting LED beads
two storage parts for desk accessories
lightweight and portable lamp
mobile holder on the lamp base
battery operated desk lamp
BEST USB DESK LAMP WITH STORAGE
NovoLido White Desk Lamp
Small Lamp
NovoLido is a small white table lamp also available in pink color. The lamp head measures 3.9 inches in length, the lamp base has 4.3 x 4.7 inches and the lamp height is adjustable. When fully extended, it reaches 12.8 inches. Perfect lamp for kids and students.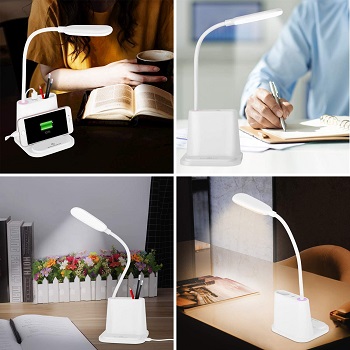 Touch Control
The manufacturer guaranteed a 12-month warranty for this desk lamp with storage. If you aren't satisfied, you'll get a free replacement or refund. NovoLido lamp is equipped with a touch-sensitive base, which allows you to control the lighting modes easier.
LED Indicator
You need to charge this white desk lamp with a USB port before you use it for the first time.  Charge it with an adapter or USB cable, it takes up to three hours. NovoLido is equipped with an LED indicator – it blinks red when charging and the red light is on when fully charged.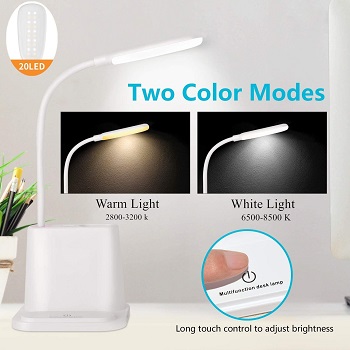 Two Compartments
You can choose between two lighting modes and few brightness levels. Set the light level depends on your activity. NovoLido has two storage compartments for your writing tools, tapes, scissors, etc. You can have all the necessary equipment handy.
Highlighted Points:
available in white and pink color
equipped with LED indicator
customizable lighting modes
two storage compartments
USB charging port
flexible gooseneck
BEST LED DESK LAMP WITH STORAGE
Golspark Dimmable Desk Lamp
Affordable Lamp
This affordable lamp is available in pure white color. It features a sleek and modern design that doesn't take up much space on your desk. It is ideal for reading, studying and working. Golspark lamp adapts to the office and home settings with ease.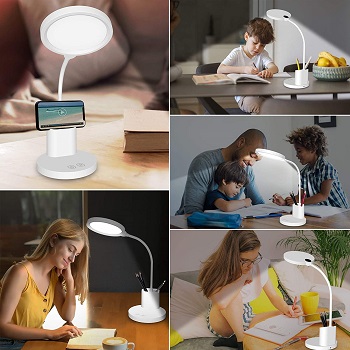 Pen Holder Design
Use the pen holder to store your desk accessories, such as pencils, scissors, sticky notes and others. Keep your desk tidy and well organized. Also, you can use it as a phone stand when watching videos or listening to music. This is a very practical product.
Large-capacity Battery
This desk lamp with storage has a flexible gooseneck, it can be freely twisted for 360-degree. It allows you to direct the light exactly where needed. Golspark doesn't use a power cord, it is battery operated lamp with a built-in 1500mAh, large-capacity lithium-ion battery.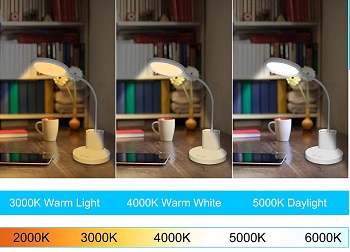 Lighting Modes
Golspark is an adjustable LED desk lamp that supports three color modes – natural light, soft light and daylight. Set for the daylight where you need to study, reading or working. High-quality LED beads will last for a long time and keep your eyes protected.
Highlighted Points:
pure white modern lamp
equipped with a large-capacity battery
energy-efficient LED beads
flexible gooseneck
three color modes
pen holder for desk accessories
Things To Know About Desk Lamps With Storage
These desk lamps with storage are very practical and functional. To help you find the best lamp for your workbench, we've made this guide with few important factors, such as light bulb types, lighting modes, USB ports and others.
Lamp With Storage – This desk lamp with an organizer will keep your desk well organized and tidy. Some models have a single or two storage compartments for your writing tools – scissors, pens, pencils, rulers, etc. Very convenient to have all accessories in your arm's reach.
LED Vs CFL – Almost all new lamps are compatible with LED light bulbs, they provide many advantages – low energy consumption, long lifespan, low heat, no UV emissions, etc. But some lamps use CFL bulbs which provide high contrasting light similar to natural daylight.
USB Charging Port – Modern lamps don't just illuminate your desk area, but come with some additional features. There are few models on the list above with built-in USB ports. It allows you to charge your mobile phone, tablet or e-reader and keep it handy.
Lighting Modes – If you want to be able to use a desk lamp for different occasions, like reading, studying, working and relaxing, you should consider a lamp with lighting modes. Choose warm light of 3000K when relaxing and high light of 5000K for reading or working.
Flexible Gooseneck – You might notice that some desk lamps with storage on the list above come with flexible gooseneck. That neck flexibility allows you to rotate and maneuver the lamp in various positions. You can change the light direction without moving the whole lamp.