Do you want to buy a modern LED lamp that will make your room cozy and comfortable?
Then the white LED desk lamp will fulfill your needs! Here you can read about the best desk lamps that provide perfect lighting and feature many other useful specifications. Also, check out our buying guide and learn how to choose a suitable lamp for your needs.
Our Top Picks
Best 6 White LED Desk Lamps
BEST OF BEST WHITE LED DESK LAMP
Ottlite LED White Desk Lamp
Attractive Design
This is a quality and durable desk lamp with many useful features. Ottlite Thrive LED lamp has a unique and attractive design. It won't take up much desk space. It is available in white color only, so it suits any home or office decor.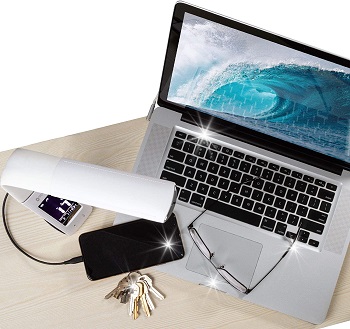 SpectraClean Technology
Ottlite white LED lamp has a flexible neck, you can adjust its height from 10 to 18.7 inches. Its base measures 2.5 x 3.6 inches. This adjustable LED desk lamp uses SpectraClean technology. This is a patented technology that kills potentially harmful bacteria and keeps your desk clean.
Three Modes
You can choose three modes from – ClearSun Only, ClearSun + SpectraClean and SpectraClean Only mode. Choose the ClearSun mode, it reduces eye strain up to 51%, so you will be able to can read, work or crafting for a longer time.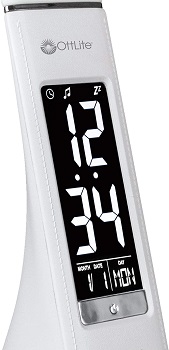 USB Port
You can keep your mobile phone, tablet or e-reader fully charged with a built-in USB port. This white LED desk lamp has a 5V/2.1A USB port that will charge your devices quickly. Moreover, a smart digital display shows the time, date, and day of the week.
Highlighted Points:
small and compact desk lamp
uses patented SpectraClean technology
reduces eye strain
equipped with a USB port
smart digital display
BEST SMALL WHITE LED DESK LAMP
Costube Dimmable Desk Lamp
Modern Design
Costube lamp features a modern and simple design, it fits any office, home office, living room interior. This lamp is 17 inches high, the lampshade diameter is 5.5 inches and the lamp base is 2 inches high. It comes with a transparent power cord that is 5.1 feet long.
White Daylight
Place it on your nightstand, end table, coffee table, workbench, it fits anywhere. This white LED desk lamp comes in two versions – with white daylight or with a warm light. For those who looking for ambient light, the model with the warm lamp is a better solution.
LED Bulb Included
This small desk lamp with shade features a brushed nickel base with a white linen shade. That lamp style blends any room decor. The lamp base is made of quality and durable metal, it won't tip over easily. A single LED bulb is included in the package.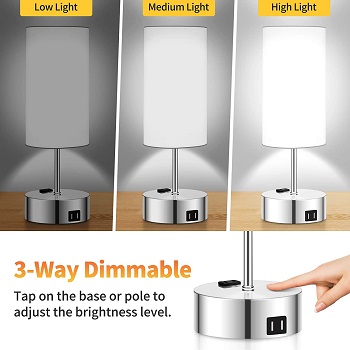 Two USB Ports
Costube features two USB charging ports and a power outlet. You can charge your mobile phone and tablet at the same time. If you want to adjust the brightness, just tap on the lamp base or pole. There are three brightness levels, set the highest level when reading.
Highlighted Points:
modern and simple design
comes with a transparent power cord
provides eye-caring white daylight
three brightness levels
two USB charging ports
BEST WIRELESS WHITE LED DESK LAMP
Trustown Wireless Charging Lamp
Versatile Lamp
Trustown lamp is a versatile and multifunctional item that comes with a user manual and power adapter. Available in pure white only. It doesn't take up much desk space, so you can place it on your table, desk, workbench, end table, shelf, etc.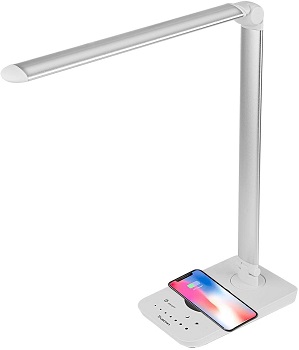 Wireless Charger
The white LED desk lamp features a fast wireless charger on its base. It is compatible with iPhone 8, 8 Plus, X, XR, XS, XS Max and Samsung Galaxy S9, S9+, S8, S7, Note 8 and all Qi-enabled devices. Just place the mobile phone on the lamp base.
Additional USB Port
Before you want to use a wireless charger, move all metal and magnetic objects away from the lamp. Trustown wireless phone charging lamp also has a convenient USB port, if your devices aren't compatible with this wireless charging station.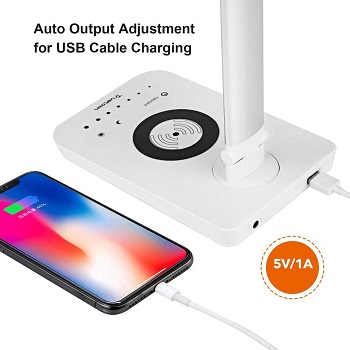 Multiple Color Modes
You can charge your mobile phone while you're reading or relaxing. Set the suitable lighting, Trustown offers seven brightness levels and nine color modes. Set the cool white light if you are reading, crafting or do other precise work, it will illuminate your desk properly.
Highlighted Points:
comes with a user manual and power adapter
space-saving desk lamp
fast wireless charger
convenient USB port
7 brightness levels and 9 color modes
BEST MODERN WHITE LED DESK LAMP
Renook LED Desk Lamp
ABS Material
Renook desk lamp is very quality and provides a great amount of lighting. It is made of reliable ABS material, there aren't toxic and harmful materials. It is safe for the environment. Renook has an affordable price and suits any office or home decor.
Unique Texture Design
There is an adjustable arm and rotating axis base, so you can adjust the lamp in a variety of positions. Adjust the light exactly where needed. This white LED desk lamp features a unique texture design, the manufacturer uses non-slip imitation leather.
Foldable Lamp
This modern LED desk lamp has a foldable and compact design, you can store it easily. The box includes a lamp, USB cable, user manual and adapter. It uses eye-friendly light that is soft for your eyes. You can adjust the color temperature from 3000K to 71000K.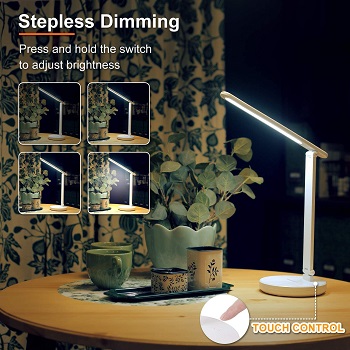 Rechargeable Battery
Ideal for reading, working and crafting. Create a perfect ambiance with three color modes and brightness levels. The memory function will remember your previous settings. There is a built-in rechargeable battery, so it's a portable lamp. Charge your mobile phone with a fast USB charging port.
Highlighted Points:
made of quality ABS material
adjustable arm and rotating axis base
unique texture design
customizable color temperature
built-in rechargeable battery
USB port
BEST CLAMP WHITE LED DESK LAMP
Alisr Desk Lamp With Clamp
Flexible Design
Alisr is a practical desk lamp with a clamp. You can easily clip it on your desk and move it to another place if needed. It is made of quality materials and the manufacturer provides after-sales service. It features flexible metal swing arms suitable for different positions.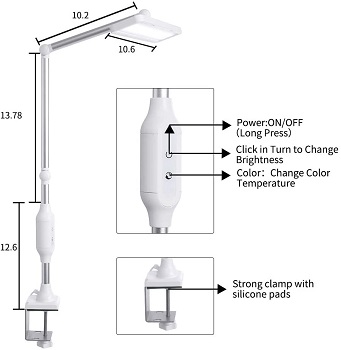 Wide Clamp
Perfect for reading, working, craft, homework, studying, etc. This white LED desk lamp features an oversized wide clamp that supports up to 2.9 inches. It is a heavy-duty clamp that firmly holds onto a desk, shelf, edge. Alisr is a space-saving lamp.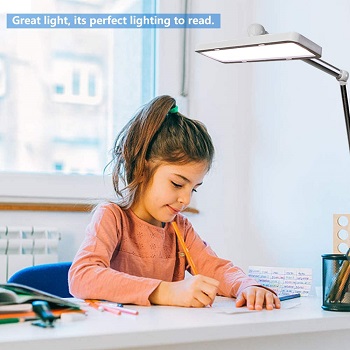 Professional Eye Protection
Alisr adjustable desk lamp has a memory function, it will remember your previous settings, so you don't have to set it every time. Alisr has a high-quality LED with PC board eye care shield, it reduces eye strain. It provides flicker-free and anti-glare light.
Highlighted Points:
practical desk lamp with wide clamp
made of quality materials
flexible metal swing arms
memory function
high-quality LED
BEST READING WHITE LED DESK LAMP
Lapeort LED Desk Lamp
1-year Warranty
Lapeort lamp is a perfect lamp for reading, studying and working. It is available in two colors – black and white. The lamp base measures 4.1 x 7 inches, the pole is 13.6 inches tall and the lamp head is 12 inches long. Lapeort is covered with a 1-year warranty.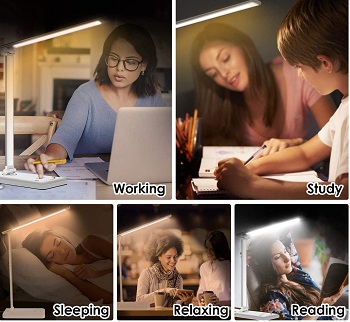 Portable Lamp
The package includes a desk lamp, user manual, power adapter and USB cable. Constructed of aluminum, Lapeort is a sturdy and durable lamp. It features a foldable design, doesn't take much space. Moreover, you can fold it, store and carry it with you.
USB Port
This white LED desk lamp uses non-flickering light that won't cause eye strain or eye fatigue. It is gentle for your eyes. The white task lamp comes with an additional USB charging port on the backside. You can charge your mobile phone, tablet, e-reader.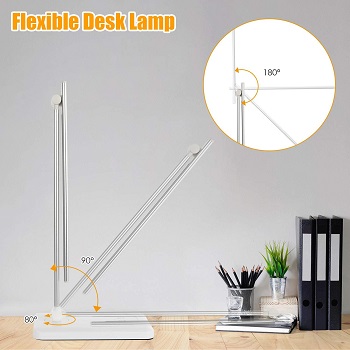 Five Lighting Modes
Choose between five lighting modes, the color temperature range from 3000K to 6500K. Choose low color temperature before sleeping. For reading, set the higher color temperature, it will boost your energy. Control the settings on the touch panel.
Highlighted Points:
portable white desk lamp
equipped with a convenient USB port
five lighting modes
eye-friendly light
foldable design
Things To Know About White LED Desk Lamp
The white LED desk lamps come in a variety of sizes and shapes. They are equipped with different features. To help you to find the best desk lamp for your place, we've collected the most important factors you need to consider.
Lamp Purpose – Before you buy a modern white desk lamp, you need to answer this question. Do you want to use it as ambient lighting, reading, crafting, sewing, studying? The reading lamps don't have the same features as ambient lamps. They have direct and more powerful light.
LED Lamps – There are many bulb types in the market, but the LED bulbs are very popular nowadays. That's because they have a lot of advantages. LED lamps produce low heat, so you won't burn your fingers, they last much longer and they are energy-efficient.
Color Temperature – It is a good idea to buy a lamp with more available settings. Then you can adjust the lighting modes according to your current needs. The color temperature measures in Kelvin (K). The higher the color temperature, the cooler the light is.
Eye-caring Light – If you looking for a reading or studying lamp, check if the lamps provide eye-friendly light. Lamps with non-glare and flicker-free light won't cause eye strain and eye fatigue. meaning, you can read under a lamp for many hours without harmful effects.
Flexible Design – There are white LED desk lamps with flexible gooseneck or adjustable arm and lamp head. Usually, they are suitable for larger desks and workbench, but these lamps are ideal for any precise tasks. You can adjust, rotate and maneuver the lamp in multiple positions.