Are you looking for strip lights that add rainbow or multi-colored hues to your room or your desk?
Then the desk light strips are the solution for your needs!
There are a lot of models worth buying on the market and you can see the selection of the best light strips in this article. Read the reviews and learn more about these lights in our buying guide at the end, so you'll find the right model easier.
Our Top Picks
Best 6 Desk Light Strips
BEST OF BEST DESK LIGHT STRIP
Jadisi LED Lights
4 Rolls Of Strips
Jadisi is a very popular light strip, the package includes 4 rolls of 16.4 feet, remote control receiver, 24-key remote control, an AC/DC adapter and a user manual. These light strips are eco-friendly and don't have harmful effects on human health.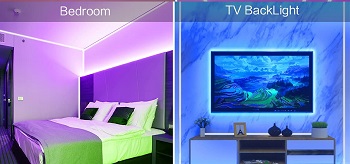 Powerful Adhesive
There are 8 clips with 8 LED strip hooks and powerful 3m adhesive double-sided tape. Due to strong adhesion, you can stick the light strips on the irregular surfaces and they won't fall. All four desk light strips have a cutting line, adjust them to your needs.
28 Pre-programmed Modes
You can install these Jadisi LED lights anywhere, they are ideal for parties, under desk lighting, family events, birthdays and relaxation when watching movies or playing games. Jadisi offers 16 million colors and 28 pre-programmed style modes. Practical and easy to control.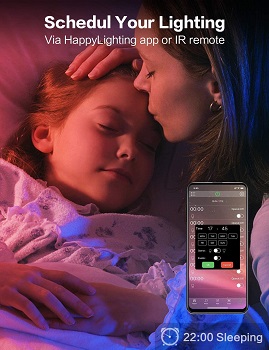 HappyLighting App
Download the HappyLighting app on your smartphone, turn the Bluetooth on and the strip lights will automatically connect to the app. Then you can choose between many options – timing mode, music mode, style mode, mic mode, color changing, etc.
Highlighted Points:
4 rolls of 16.4 feet
remote control included
very powerful adhesive
28 pre-programmed modes
HappyLighting app
many modes available
BEST RGB DESK LIGHT STRIP
Goove LED Strip
Easy To Install
Goove light strip is available in two sizes, longer – 32.8-ft and shorter – 16.4-ft. The package includes an ETL-listed adapter, strong adhesive and five support clips. It is easy to install it, attach the light strip to the clean and dry surface and reinforce them with clips.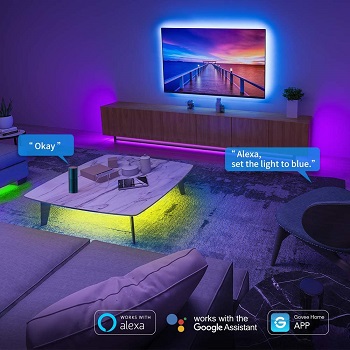 5050 LEDs
This desk light strip isn't waterproof, it is designed for indoor use. These strips are equipped with 5050 LEDs making them bright enough to illuminate your home office, bedroom, living room, dining room, children's room, desk, etc. It's perfect for parties.
Voice Control
Goove light strip works with both Google Assistant and Alexa. That means you can power lights on/off, change colors and adjust brightness with your voice. There is no need for remote control. You can download Goove Home app and control lights.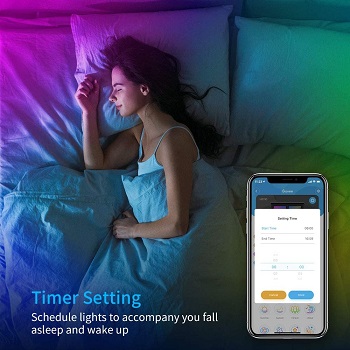 Many Options
This RGB desk lighting offers seven scene options, so change the vibe in your home easily. Also, there are more interesting options, such as a timer setting, four DIY modes, music mode, etc. You can choose between 16 million colors.
Highlighted Points:
designed for indoor use
ETL-listed adapter
equipped with 5050 LEDs
download Goove Home app
compatible with Google Assistant and Alexa
timer setting, 4 DIY modes
BEST LED DESK LIGHT STRIP
Philips Hue Light Strip
Industry Standards
Philips Hue has a bit higher price than other light strips on this list. But there are many reasons for that – it is the only smart lighting with Energy Star Certificate, it has a long lifespan, so you can use it for decades. Philips Hue meets many industry standards.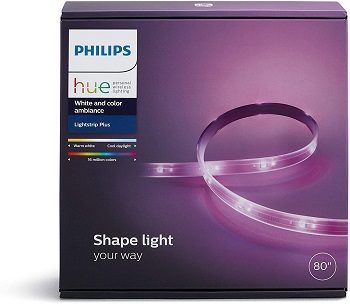 For Solid Surfaces
Install this desk LED strip under bars, bed frames, cabinets, behind your TV, under desk, wherever you want. You can shape, bend and attach it to any solid surface. Moreover, you can cut the strip on cutting markings to fit any shape. Or use the extension if needed.
Smart Outlets
You can pair this desk light strip with any voice or smart home assistant. Philips Hue works with Alexa, Apple Homekit, Google Assistant, Microsoft Cortana, Smart Things, IFTT. Sync it with music, gaming and movies, using Hue Sync App.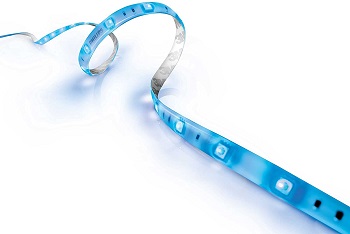 Find A Scene
This bright desk light has smart features, it remembers your light routines. Personalize your home or desk and find a  scene to match your current mood.  You can instantly change the atmosphere in the room with a touch of a finger, ideal for parties and birthdays.
Highlighted Points:
pricey light strip
compatible with voice and smart home assistants
Energy Star certificate
cut or extend the strip
sync it with music, movies and gaming
control it with the app
BEST GAMING DESK LIGHT STRIP
Lewentech LED Strip Light
Three Sizes
Lewentech strip light comes in three sizes – 9.8 feet, 16.4 feet and 32.8 feet. You can use it in your bedroom, office, guest room, living room, dining room, on your desk, under the desk, etc. Except for the light strip, the package includes an adapter and remote control.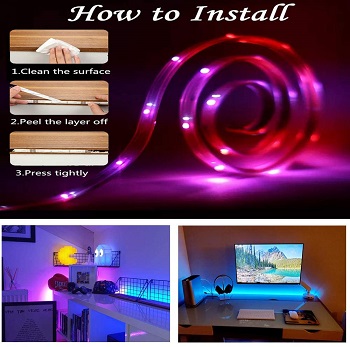 For Gaming Desk
Use this strip light as gaming lights for desk and create a more exciting atmosphere. Before installation, you need to clean the surface, then peel the layer off and pres the strip tightly. This desk light strip will turn your room into an adventuristic space.
150 SMD LEDs
You can cut the light strip as you want if it's too long for where you want to use it. Lewentech strip light features 150 SMD 5050 LEDs, they provide 20 multicolored options. It is important to note that the power adapter and control box aren't waterproof, so use them indoors.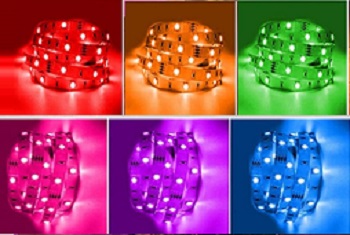 Auto-color Changing
The box includes a 44-key remote control, manage color-changing and brightness levels. Use the remote in a range of 5 meters. You can choose between 20 colors, there are quick and slow modes, auto-color changing and there are 6 DIY modes.
Highlighted Points:
decorate your gaming desk
available in three sizes
easy to install and control
remote control with 44 keys
150 SMD LEDs
power adapter and remote control included
BEST REMOTE DESK LIGHT STRIP
Daybetter Flexible LED Strip
5A Power Adapter
Daybetter light strip is 32.8 feet long, which is pretty enough for any occasion. The package includes 2 rolls of 16.4 feet light strips, a 5A power adapter and a remote controller. Use it in your home office, children's room, kitchen, backlight decoration, bedroom, ceiling, etc.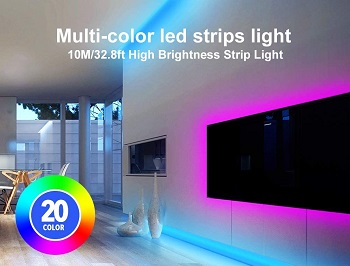 Strong Adhesive
Here is a quick installation guide – first, test the light before installation, clean the surface, find a suitable outlet, then tear the double-sided tape, press the strip and turn the power on. Don't use these strips on the conductive metal surfaces, white walls or unfinished wood.
6 Dynamic Modes
Each light roll has one connector that you should link with the controller box. Daybetter desk light strip comes with remote control, you can choose between multiple colors and brightness. There are six dynamic modes and two-speed modes on the remote controller.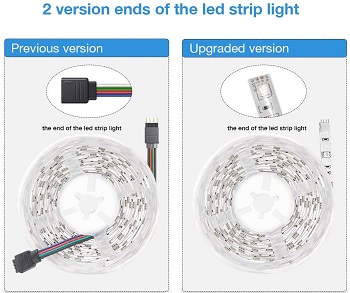 Cutting Marks
Save six DIY colors on the remote control that you like the most. That could be the best light for the home office if you have a creative job. This light strip is equipped with 300 LEDs. There are cutting marks on the strip if you don't need that long light.
Highlighted Points:
two light rolls of 16.4-ft
don't use it on the conductive metal surface
included remote control
6 dynamic modes and 2 speeds
300 LEDs
instruction included in the box
BEST HOME DESK LIGHT STRIP
Minger LED Strip Light
Indoor Use
You can choose between two sizes – 16.4 feet and 32.8 feet long light strip. First, there are some useful tips – don't roll up when using it to avoid overheating. Minger light strip isn't waterproof, so use it in your home, not outdoor. The rain will damage it.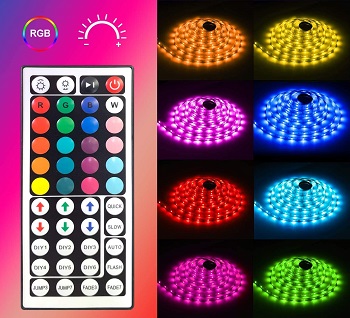 Widely Used Item
Use it for your room, desk, home office, kitchen, bedroom decoration. It is easy to create a relaxing and warm ambiance. Also, you can use it as a TV backlight to reduce eye fatigue caused by bright TV and dark room. Put the light strip around your desk and create an attractive space.
ETL-listed Adapter
This desk light strip comes with ETL listed power adapter which is tested and meets high-security standards. The working wattage for this ambient desk lighting is 12V. Minger light strips emit low heat, so this product is very safe for use.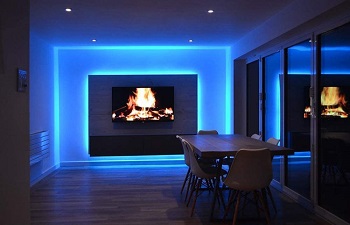 16 Multicolored Options
Minger doesn't have any RGB colors, but 16 multicolored options. The light strip comes with a remote control that works within 10 meters range. It is easy to install, just stick the strip on a dry and flat surface. You can change its length by cutting the strip.
Highlighted Points:
available in two sizes
comes with an ETL-listed adapter
designed for indoor use
remote control included
easy to install and control
adjust the strip length
Things To Know About Desk Light Strips
Before you decide to buy a desk light strip, we recommend you read those few guidelines, they will help you to pick the perfect model for your room or desk. Read about some safety tips, remote control, color options, modes, etc.
Multi-color Options – These RGB (red, green and blue) light strip provides vibrant and bright colors that meet your need for colorful home or desk decoration. It brings a variety of effects to your space. Many models offer 16 colors plus their brightness.
Remote Control Or App – Almost all light strips come with remote control, you can change the colors and brightness from your couch or sofa. But modern models are controlled by an app, so, control the lights from any place, also, they come with way more options.
Widely Use – You can use these light strips as ambient lighting in your living room, decoration in the dining room, excellent TV backlight, romantic light in the bedroom, you can decorate your gaming desk, children's room or use it as a computer monitor light bar.
Light Strip Length – You might notice that models come in one of two sizes – 16.4 feet or 32.8 feet. Keep in mind how long strip do you need to use. But it is possible to cut many LED strips in size, or even extend them. Don't cut the tail off your light strip.
Safety Tips – There are some safety tips that help prevent potential accidents and prolong desk light strip lifespan. When using, don't roll up the light strip, it will start overheating. Usually, these strips are designed for indoor use, meaning, they aren't waterproof.