On the search for an organizer lamp that can keep your accessories handy and your desk well organized?
Then just keep reading!
Here you can find high-quality table lamps that save space on your desk and provide storage space for all these small accessories that keep your desk messy. Read the reviews and don't forget to check our tips and tricks for successful shopping.
Our Top Picks
Best 6 Desk Lamps With Organizer
BEST OF BEST DESK LAMP WITH ORGANIZER
Ottlite Space Organizer Desk Lamp
Quality Lamp
Ottlite is a quality desk lamp, very popular in the market. Its base diameter measures 8.5 inches and the height is adjustable. You can extend it from 13.5 to 25 inches. Thanks to its flexible gooseneck, you can position the lamp at many different angles.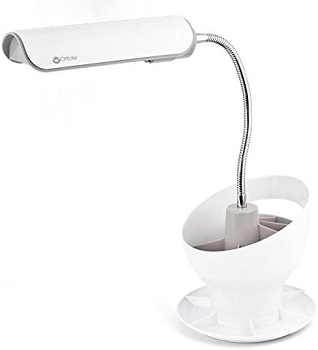 CFL Bulb
This organizer lamp is equipped with a 13W type E bulb, which is rated for up to 10,000 hours. It is easy to replace this bulb. Ottlite provides bright light, without any harmful effect to your eyes, like flickering or glaring. You can read, do your homework or study longer.
Two Organizers
This desk lamp has two organizers – one is useful for pens, pencils, tapes while the organizer on the lamp base is designed for small accessories, like buttons, erasers and others. Ottlite will help you keep your desk tidy and well organized.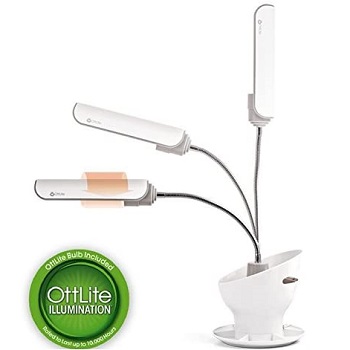 UL-listed Lamp
Ottlite adjustable reading lamp is suitable for reading, homework, crafting and other activities. It is a multifunctional lamp that suits different needs. This is a tested lamp that comes with a UL certificate that proves its quality. The warranty lasts 1 year.
Highlighted Points:
small white table lamp
covered with a 12-month warranty
UL-listed lamp
adjustable gooseneck
two small organizers
uses 13W CFL bulb
BEST CHARGING ORGANIZER LAMP
Briever USB Table Lamp
Elegant Look
Briever is an elegant lamp with many modern and traditional features. It features a black solid wood base with an elegant beige lampshade. It is made from durable and quality fabric. The overall lamp height is 17.3 inches and the lampshade diameter is 9.8 inches.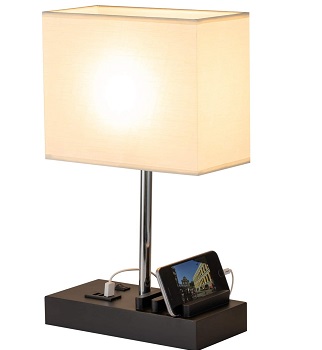 1-year Warranty
This organizer lamp adds a touch of elegance in any home office, office, bedroom, living room or dining room. It is important to mention that the manufacturer provides a 1-year warranty, so if there is any defect within that time, contact customer service.
Three USB Ports
There are three convenient 5V USB ports, they can charge your mobile phone, tablet or e-reader quickly. You can charge three devices at the same time. Also, it doesn't matter if the lamp is on or off. The LED desk lamp with a USB port is multifunctional.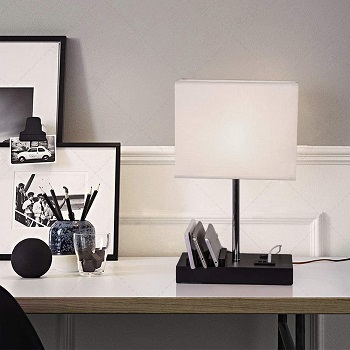 Warm Light
On the lamp base, there are three solid wood mobile phone stands. This is a nice organizer for your phone, put it on the lamp base when charging. Briever delivers soft and warm light through this cream lampshade, it creates a cozy and comfortable ambiance.
Highlighted Points:
elegant desk lamp with cream lampshade
solid wood lamp base
three 5V USB ports
three mobile phone stands
emits a soft and warm light
covered with a 1-year warranty
BEST BATTERY-OPERATED DESK LAMP WITH ORGANIZER
Gerintech Rechargeable Desk Lamp
Affordable Lamp
Gerintech is an affordable desk lamp available in white color. The lamp base measures 4.8 x 3.8 inches and its overall height is 18 inches. Meaning this is a small lamp that suits any nightstand, coffee table, end table, desk, shelf and other places.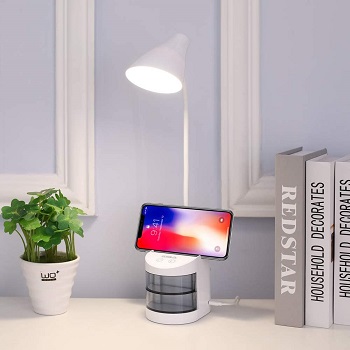 2200mAh Battery
This desk lamp with an organizer saves your desk space and keeps your desk supplies well organized. Also, there is a lamp holder for your smartphone. You can use it anywhere, it has a built-in 2200 mAh battery which runs for three hours at the highest brightness.
Soft Light
Gerintech uses energy-efficient LED beads. They last for decades and don't require replacement. Also, this battery-operated reading lamp emits soft, flicker-free and glare-free light. It doesn't cause harmful effects on your eyes. There is no eye strain or fatigue.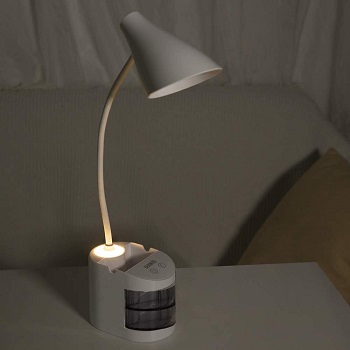 Three Brightness Levels
Choose between three brightness levels – low, medium and high and adjust it to your current needs. Also, you can move the light without moving the whole lamp, Gerintech features a flexible gooseneck, bend it, rotate and move in any direction.
Highlighted Points:
desk lamp with low price
energy-efficient LED beads
soft and flicker-free light
three brightness levels
built-in powerful battery
mobile holder and pen organizer
BEST LED ORGANIZER LAMP
Axx LED Desk Lamp
Lightweight Lamp
Axx lamp features a modern white look that blends any room's interior. It is a lightweight and portable lamp, so you can use it wherever you want. Moreover, Axx lamp fits anywhere, on the end table, coffee table, desk, shelf, workbench, etc.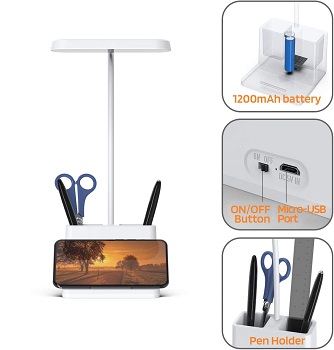 Portable Lamp
The package includes an LED desk lamp, power cord and user manual. Use it as a bedside lamp, study lamp or desktop lamp. It features a built-in 1200 mAh battery, that can last 2-4 hours after fully charged. This desk lamp with the organizer is portable, use it anywhere.
Mobile Phone Holder
Axx rechargeable led table lamp has a non-slip mat on the bottom. It comes with two pen holders for your pens, pencils, scissors and other small accessories. Also, there is a mobile phone holder on the lamp base, place your smartphone here while watching videos.
Variety Of Color Modes
LED beads are rated for up to 50,000 hours, they will last for decades. It emits soft, flicker-free and glare-free light, safe for your eyes. You can set different color modes and brightness levels for different occasions. Control the light modes by touch.
Highlighted Points:
lightweight and portable desk lamp
built-in 1200 mAh battery
long-lasting LED beads
flicker-free and glare-free light
pen holders and mobile phone holder
touch-control lamp
BEST WIRELESS DESK LAMP WITH ORGANIZER
Aduro Eye-caring Desk Lamp
Lifetime Limited Warranty
Aduro is a space-saving table lamp available in three colors – black, white and blue. This lamp comes with a lifetime limited warranty and friendly customer service. Aduro lamp is 12 inches tall, the base diameter is 6 inches and the lamp head is 4.5 inches long.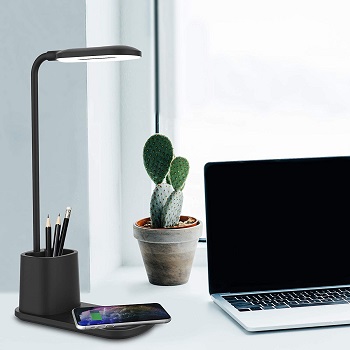 Flexible Gooseneck
This desk lamp with an organizer has a flexible gooseneck, it is easy to direct the light in any direction. That is very useful when reading, crafting, doing homework. On the lamp base is a convenient organizer that keeps your pens and pencils handy.
Wireless Charger
Aduro is made of quality materials and its price is affordable. It is suitable for any dorm, children's room and workbench. Aduro lamp is equipped with a wireless charging station, it's compatible with many iPhone and Samsung Galaxy smartphones.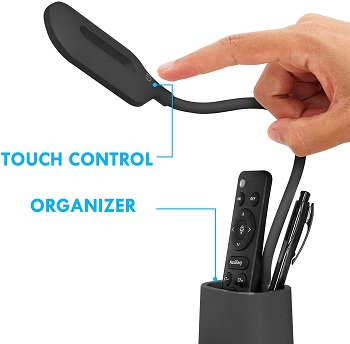 Eye-caring Light
This LED lamp with a wireless charger has a touch control on the lamp head for convenient use. It offers fully customizable brightness, so set a high light for reading and low light when relaxing. The eye-protecting LED provides natural and soft light.
Highlighted Points:
black desk lamp with organizer
equipped with a wireless charging station
compatible with iPhone and Samsung Galaxy phones
touch-control
fully customizable brightness
convenient organizer for pens, pencils, etc.
BEST USB PORT ORGANIZER LAMP
NovoLido Small Table Lamp
White Lamp
NovoLido is a small table lamp available in two colors – pink and white. Its base measures 4.3 x 4.7 inches, the lamp head is 3.9 inches long and when the gooseneck is fully extended it has 12.8 inches. This lamp is a perfect gift for children.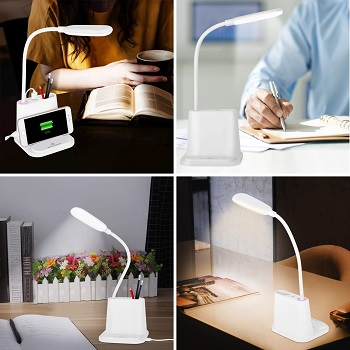 12-month Warranty
The manufacturer provides a 12-month warranty, so contact customer service if you aren't satisfied. You'll get a free replacement or refund. Before using the desk lamp for the first time, charge the lamp with an adapter or USB for three hours.
Touch-Control Base
It is equipped with an LED indicator, the red light flashes when charging and the red light is on when the lamp is fully charged. This desk lamp with organizer features a touch-sensitive switch on the lamp base. You can set different lighting modes.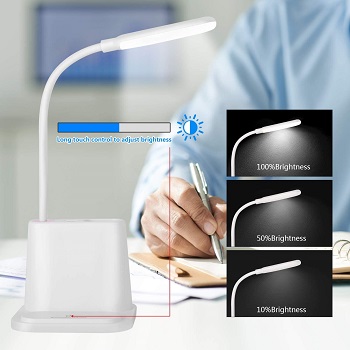 Pen Holder
This desk lamp with a USB port and outlet offers two-color modes and brightness levels. There is a memory function that remembers your last-used settings. Also, you can charge your mobile phone with this lamp. The pen holder store your writing equipment.
Highlighted Points:
small white table lamp
available in white and pink color
LED indicators
offers 2 color modes and brightness levels
pen holder for writing tools
USB port for phone charging
Things To Know About Desk Lamp With Organizer
After you reading those desk lamps with organizer reviews, let's check some factors you should consider before buying. In the section below, we talk about this lamp type, additional lamp features, LED bulbs and more.
Lamp Organizer – These lamps on the list above come with an organizer. Some of them have an organizer for one or two mobile phones and some have pen holders. These holders are suitable for office accessories, like pens, pencils, scissors and others. The pen holder keeps your desk tidy.
USB Port – Some desk lamps with storage come with a built-in USB port or even two ports. It is a very useful feature that allows you to charge your mobile phone, tablet, e-reader and other small electronic devices. there is a small tip – choose the lamp with 2A output, it will charge your phone faster.
Flexible Gooseneck – It is a very good idea to buy a desk lamp with a flexible or adjustable gooseneck or arm. Meaning, if you need to move the light source closer or farther away, you don't have to move the entire lamp. Just adjust its gooseneck in the direction you need.
Battery Operated Lamps – These lamps have many advantages, you can use them anywhere. You don't have to think about power cord length. Usually, the package includes a USB cable for charging. Buy a lamp with a rechargeable battery, that will save you money.
LED Lamps – Modern organizer lamps usually use LED as a light source. They could be equipped with LEd bulbs, panels or beads. These lamps with LED are energy efficient, produce very low heat, there aren't UV emissions and last much longer than traditional bulbs.