Did you find yourself getting hot while you're working or studying, so looking for a lamp with a fan?
If you do, then keep reading this review on a desk lamp with a fan!
These lamps have double duty – illuminate your desk or table and keep you cool. Here are top-rated desk lamps models currently available in the market. Read more about their specification and pick a suitable lamp for your office or dorm.
Our Top Picks
Best 6 Desk Lamps With Fan
BEST OF BEST DESK LAMP WITH FAN
Ottlite LED Fan Lamp
Adjustable Height
Ottlite is a grey desk lamp that blends perfectly with any home or office decor. The base size is 4 x 4.2 inches and its height is adjustable. You can extend it from 15 to 26.5 inches. Suitable for small and large desks or workbenches. Its price is high.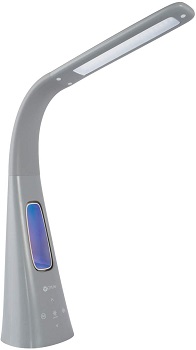 Three Speeds
The bladeless fan is integrated into the lamp base. This fan has three speeds, it will keep you cool while working, reading or crafting. Ottlite uses LED that is rated for up to 40,000 hours. It meets strict standards for color temperature, light output and brightness.
Lighting Modes
Choose between three color modes – warm white, bright white and natural daylight. Each color mode comes with five brightness settings. Warm white (2700K) is ideal for relaxation while natural daylight is suitable for reading and working.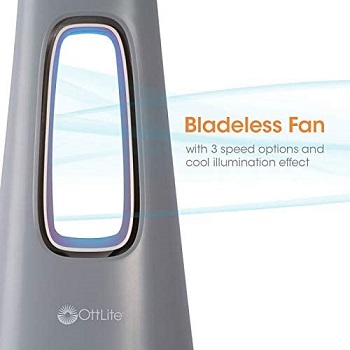 Touch-activated Icons
This modern task lamp has a touch-sensitive lamp base, it is easy and convenient for use. Its gooseneck is flexible making it easy to direct the light exactly where you need it at the moment. Ottlite provides flicker-free and glare-free light that helps you read or work longer without eye strain.
Highlighted Points:
grey desk lamp with adjustable height
integrated bladeless fan
fan with three speeds
LEDs are rated for up to 40,000 hours
three color modes and many brightness levels
touch-sensitive lamp base
BEST BLADELESS DESK LAMP WITH FAN
PureOptic LED Desk Lamp
Compact Lamp
PureOptic is a modern desk lamp available in two versions – with grey or lime-colored parts. The lamp dimensions are 5 x 7.5 x 15 inches. It is a compact lamp suitable for any workbench, office desk, table or dorm desk. Its price is acceptable.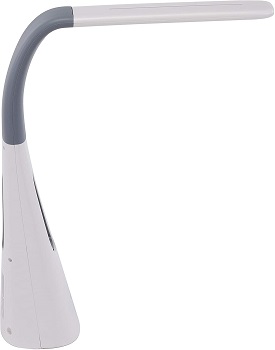 Quiet Fan
This desk lamp with a fan is made of durable and quality metal. The manufacturer provides a 1-year warranty. It features a bladeless fan that is quiet and ultra-efficient. PureOptic is suitable for the office, it doesn't produce loud noise and disturbs other people in the room.
Multi-levels Of Cooling
Choose between multi-levels of cooling and set the right level that will make your work or reading easier. PureOptic gray desk lamp uses energy-efficient LEDs that last longer than traditional bulbs. It provides flicker-free light that protects your eyes from fatigue.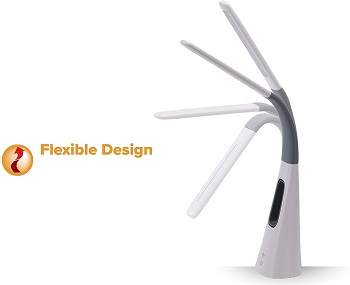 Dimmer Switch
PureOptic lamp has a flexible gooseneck made from silicone, you can easily direct the light where needed. This is touch activated lamp with a light dimmer switch. Customize the level of brightness and choose a perfect color temperature for your current task. They range from 3000K to 4000K.
Highlighted Points:
space saving desk lamp
available in two colors
made of metal and silicone
flexible gooseneck
adjustable color temperature and brightness
bladeless fan with two modes
BEST LED DESK LAMP WITH FAN
Bostitch Office Desk Lamp
Contemporary Design
Bostitch is a compact desk lamp with fan suitable for offices, dorms and homes. It is available in white color and features a contemporary style that blends any modern interior. This is a small and lightweight lamp made from plastic and silicone.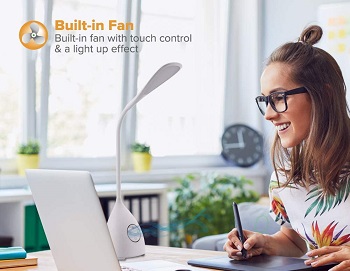 Flexible Gooseneck
This table lamp is covered with a 3-year warranty if there is any defect within that time, contact customer service. It features adjustable height thanks to its flexible gooseneck. The lowest height is 14.5 inches and you can extend it for up to 24 inches.
Built-in Fan
Meaning, direct the light exactly where needed. Bostitch white LED desk lamp has a built-in fan, this is a bladeless type of fan. It will keep you cool during your work or reading. Control the lamp features with a touch-sensitive base, there is a ring with icons. Just tap them with your finger.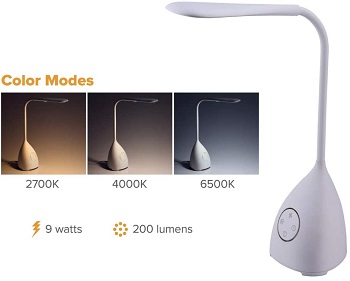 Integrated Timer
Bostitch also includes a timer, after 40 minutes of use, both the lamp and fan will automatically shut off and save energy. Also, it offers three color temperatures for different tasks. The energy-efficient LED produces flicker-free illumination that reduces eye strain and keeps you focused.
Highlighted Points:
small but highly efficient desk lamp
covered with three years of warranty
three color modes
built-in fan with timer
energy-efficient LEDs
touch-control base
BEST MODERN DESK LAMP WITH FAN
Storl White Table Lamp
Small Lamp
This is a small and compact desk lamp that really fits any desk, table, end table, nightstand or other places. It is available in white color and features a modern, minimalist design. Storl desk lamp is affordable and suitable for dorm, children's room and home offices.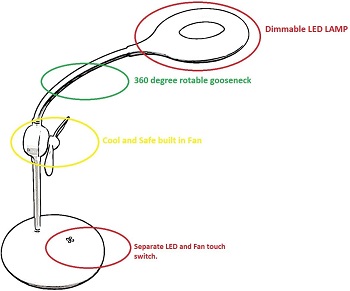 Gentle Light
Storl modern LED desk lamp uses LED as a light source. It is more energy-efficient, lasts longer than other light bulbs, produces low heat and doesn't emit UV emissions. It provides flicker-free and glare-free light which is safe for your eyes.
Rotatable Gooseneck
It uses dimmable LED, so you can adjust the lighting mode depends on the tasks you're performing. Storl is made of high-quality materials and meets many safety standards. There is a 360-degree adjustable gooseneck allowing you to direct light where you need it.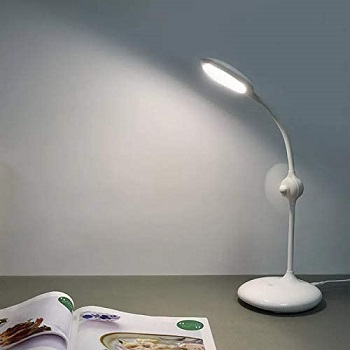 Small Fan
This desk lamp with a fan has a touch-control switch on the lamp base. There are two switches – for LED and fan. Hold the LED switch for 3 seconds to adjust the brightness level. The built-in fan has two blades and provides a light refreshing breeze when it's hot in the room.
Highlighted Points:
modern white desk lamp with round base
touch control switch
adjustable gooseneck
high-efficient LEDs
small fan with two blades
adjustable brightness settings
Things To Know About Desk Lamps With Fan
These desk lamps with fans will cool you off during warm days. But before buying, it is necessary to take some factors into account. Therefore, you can learn more about this lamp type, LEDs, lighting modes and more.
Lamp With Fan – There are two main lamp versions – lamps with blades and bladeless lamps. Some lamps offer multi-level cooling, so you can set the cooling level depending on room temperature. Before buying check if the lamp with a fan is silent, you don't want to disturb other people.
Bladeless Fan – The other version is a lamp with a bladeless fan. For people who use this bladeless lamp at home, it is safer for their kids and children. This lamp has a built-in fan that you can control by touch or switch. Some models have timers that automatically shut off the fan, so you don't have to worry about it.
Lighting Modes – Traditional desk lamps come with fixed color temperature and brightness that you couldn't change. Modern desk lamps usually offer at least three color modes. Meaning, you can adjust white light when working/reading or warm light for relaxation.
Flexible Gooseneck – The desk lamps with a fan on the list come with an adjustable design. Meaning there are lamps with flexible gooseneck or adjustable arm desk lamp. That's very useful if you need to move the light closer or farther away depends on your tasks.
High-efficient LEDs – Almost all modern desk lamps are compatible with LED bulbs or beads. LED lighting offers many benefits for both industrial and residential use. They have a long lifespan, energy- efficiency, no heat or UV emissions, dimming capabilities and many others.