Do you want to own a desk lamp that provides double duty – bright task light and soft ambient lighting?
Then the desk lamp with a dimmer switch is a solution for your needs!
They are ideal products for both office work and casual reading. In order to find a perfect desk lamp for your requirements, we've reviewed few lamps and categorized them, so you'll be able to find a suitable lamp easier. Check our guidelines before the final decision.
Our Top Picks
Best Desk Lamps With Dimmer
BEST OF BEST DIMMABLE DESK LAMP
Amazlit Adjustable Desk Lamp
Ideal For Office
Amazlit is a sturdy and versatile desk lamp that maximizes workspace. It is ideal for home offices and offices. Its strong clamp is equipped with silicone pads, so it won't damage or scratch your desk. Amazlit comes with a power cord that is 71 inches long.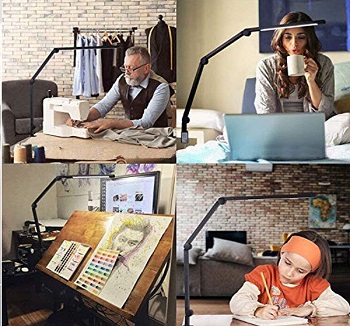 Aviation-grade Aluminum
The package includes a lamp, UL-listed power adapter and user manual. Amazlit dimmable desk lamp is made from aviation-grade aluminum alloy with a brushed matte black finish. It uses highly efficient 98 LED beads that consume less power and last longer than traditional bulbs.
Memory Function
This aluminum desk lamp is compatible with wall switches and smart plugs. Amazlit lamp has a flexible design, so you can extend it, bend it and direct the light exactly where needed. It is equipped with a memory function that remembers your last-used settings.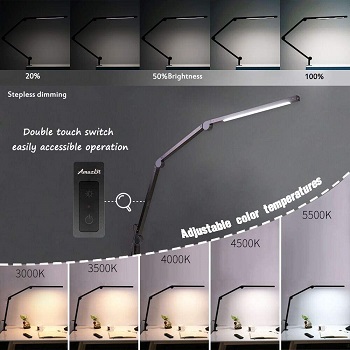 Suitable Brightness Level
With flicker-free and glare-free illumination, your eyes will be protected from fatigue and strain. The color temperature is adjustable, choose from the wide range (3000K to 5500K). Set different brightness when reading, studying, working and relaxing.
Highlighted Points:
an ideal lamp for office
suitable for large workbenches
compatible with smart outlets
made from aluminum allow with a black matte finish
flicker-free and glare-free light
adjustable design
multiple lighting modes
BEST CLAMP DESK LAMP WITH DIMMER
Enoch Architect Desk Lamp
Clamp Design
Enoch is a space-saving lamp with a clamp design. It comes with a strong metal clip that supports a desk thickness of up to 2.2 inches. This clip is equipped with a silicone pad to prevent desk scratching. The lamp arms measure 14.5 x 14.5 inches and the lamp bar is 12.5 inches long.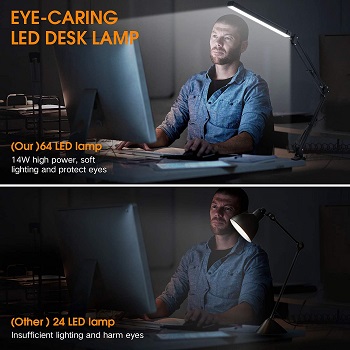 Aluminum Lampshade
The manufacturer provides a 2-year warranty, if there is any defect within that time, contact customer service. Enoch dimmable desk lamp comes with a power adapter and 78-inch long power cord. The lamp's construction is made of metal while the lampshade is made from aluminum.
Metal Joints
There are three flexible sturdy metal joints that allow you to extend, bend and rotate the lamp in various positions. This office desk lamp is controlled by a button switch. Choose between three color modes – warm, warm white and white light.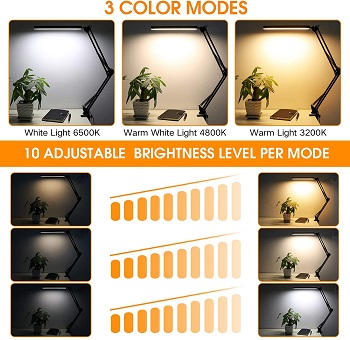 High Color Rendering Index
Also, there are 10 dimmable brightness levels, set suitable brightness for different occasions. Enoch has a high Color Rendering Index (over 90), providing you to see true and accurate colors. This clamp lamp is equipped with 64 LED beads. They are rated for 50,000 hours.
Highlighted Points:
space-saving lamp with clamp
covered with a 2-year warranty
comes with a power adapter
three flexible metal joints
equipped with 64 LED beads
3 color modes and 10 dimmable levels
BEST READING DIMMABLE DESK LAMP
BenQ E-reading Desk Lamp
Best For Eyes
If you looking for the best lamp for your eyes, then you should consider the BenQ lamp. Choose between blue, gold and silver colors. The light head is 15.2 inches long, the base diameter is 8.7 inches and the lamp arms measure 14.7 x 14.7 inches.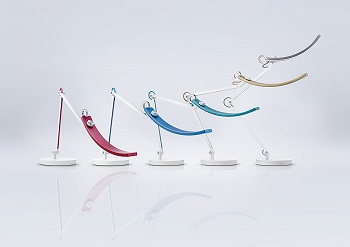 Long LED Panel
This dimmable LED desk lamp is the world's first lamp designed for e-reading. It provides flicker-free illumination and constant and even lighting. There is a quality and long LED panel whose expected lifespan is rated for up to 50,000 hours.
Aluminum Alloy Material
BenQ lamp has a smart feature – it automatically detects your ambient light level and adjusts accordingly. This best reading lamp is made of aluminum alloy, this material efficiently eliminates the heat caused by LED. It meets many EU restrictions and international safety standards.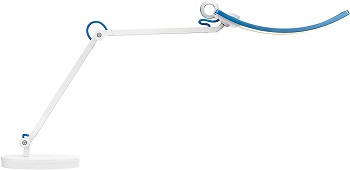 Lighting Modes
This desk lamp with a dimmer features a flexible design, you can extend it and illuminate your entire desk. BenQ has a wider light range than others lamps. Also, you can change the lighting modes from warm tones for casual reading to cooler tones for working and studying.
Highlighted Points:
first world's lamp for e-reading
long LED panel provides safe light for eyes
smart feature – detect ambient lighting
meets many safety and quality standards
adjustable design
many lighting modes
BEST LED DESK LAMP WITH DIMMER
Gladle Cordless Desk Lamp
Battery-operated Lamp
Gladle is a compact and space-saving desk lamp available in black and white color. The package includes an LED desk lamp, user manual and USB charging cable. It is a lightweight lamp with a built-in 3500 mAh battery. This battery provides 6 hours of use at the max brightness.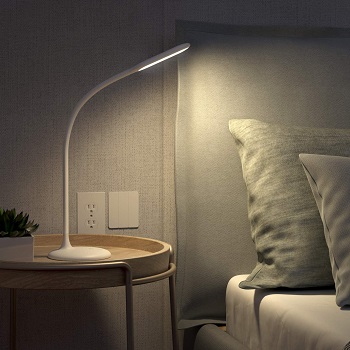 5W LED Light
It's battery operated lamp, so you can place it wherever you want. The 5W LED bulb is integrated, it uses less power and it lasts much longer than traditional bulbs. LED emits soft and even light which is safe for your eyes and doesn't cause eye fatigue.
Customizable Brightness
Gladle desk lamp with dimmer is a white LED desk lamp that has a full range of color temperatures, from 2700K to 6500K. Adjust the color temperature by pressing the timer button. Lon press on the power button will change the brightness. Customize the brightness according to your needs.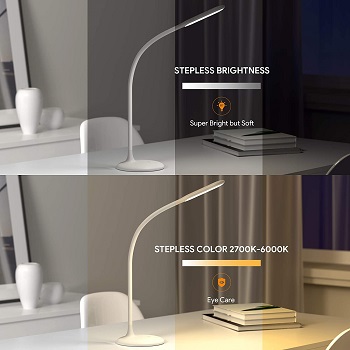 Auto-off Timer
There are more useful features – an auto-off timer, which will shut off automatically after 30 minutes. The smart memory function will remember the last light setting when you turn the lamp on. Adjustable gooseneck allows great flexibility, so Gladle is perfect for reading, homework or crafting.
Highlighted Points:
available in white or black color
5W LED bulbs integrated
provides soft and flicker-free light
customizable color temperature and brightness
built-in 3500 mAh battery
auto-off timer and memory function
BEST BEDSIDE DIMMABLE DESK LAMP
Litosky Dimmable Nightstand Lamp
Variety Of Colors
The reviewed Litosky table lamp arrives with a silver lamp body and white shade. But you can choose another model, there are lamps with blue, black, pink and green lampshades. Choose the lampshade color you like the most and uplift your bedroom decor.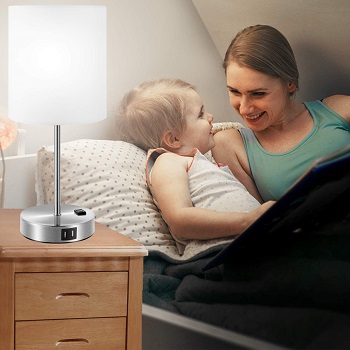 Quick Installation
When the lamp arrives at your address, you need to assemble it, that task takes up few minutes. You need to unscrew the fixing ring, fix the lampshade on the lamp holder, tighten the fixing ring and finally install the bulb. Now, turn the lamp on, it's ready to use.
2 USB Ports & Outlet
This dimmable desk lamp is 16.4 inches high, the lampshade diameter is 7.2 and the base diameter is 5.5 inches. Litosky is a bedside lamp with a charging station, there are two fast-charging USB ports and a power outlet. Meaning, you can charge up to three devices at the same time.
2-year Warranty
Litosky is covered with a 2-year warranty, it is a quality and durable table lamp. It features a touch-sensitive base and pole, so tap and turn the lamp on/off and change the brightness. There are three levels of brightness – low, medium and high light.
Highlighted Points:
small silver table lamp with white shade
requires simple installation
equipped with 2 USB ports and power outlet
covered with a two-year warranty
three levels of brightness
touch-control lamp
BEST INDUSTRIAL DESK LAMP WITH DIMMER
Mlambert Industrial Table Lamp
Industrial Style
Mlamber is an attractive and industrial-style table lamp that is available in black and gold color. It matches urban, vintage, modern and industrial room or office interior. The overall lamp height is 16.1 inches and the base diameter measures 5.9 inches.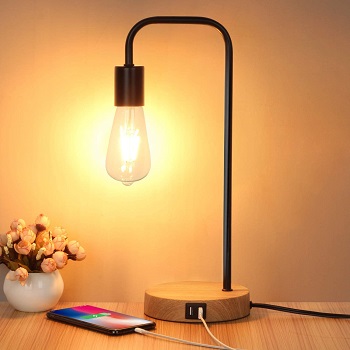 Vintage Edison Bulb
If there is some defect when the lamp arrives at your address, contact customer service, they provide a replacement or refund. This dimmable desk lamp requires a standard E26 base bulb. A vintage Edison E26 LED bulb is included in the package.
Dual USB Ports
Mlambert lamp provides flicker-free and glare-free light and protects your eyesight. Ideal for a nightstand in your bedroom or coffee table in the living room. This touch control table lamp has dual USB charging ports, charges your mobile phone or tablet with ease.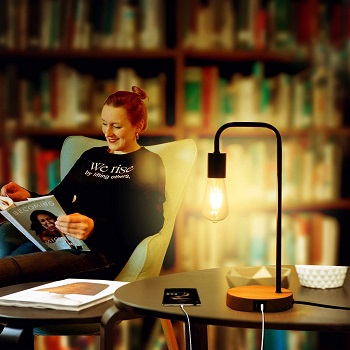 3-way Dimmable Pattern
The lamp comes with a dimmable pattern, there are three modes – low light, medium light and high light. Set the high light while reading. It features a touch-sensitive base, so tap anywhere of the base to turn the lamp on/off and to dim the light level.
Highlighted Points:
attractive industrial table lamp
touch-sensitive lamp base
flicker-free and glare-free light
included dimmable LED bulb
dual USB charging ports
three levels of brightness
Things To now About Dimmable Desk Lamp
The dimmable desk lamps will completely change the light output, so let's learn something about this kind of lamp. here you can find relevant info about lamp design, dimmable settings, flexibility and additional features.
Dimmable Settings – Dimmable lights have become very popular over the past decades. There are a variety of reasons for that – they save electricity and allow you to set different light intensities. Many types of bulbs can be dimmed – LED, incandescent, fluorescent.
Color Temperature – Whether you need a lamp for reading, working or relaxing, a lamp with a wide range of color temperatures is a good choice. Color temperature is a measurement of the visual warmth or coolness of white light. The higher the color temperature, the colder the illumination.
Flexible Design – If you looking for a desk lamp with a dimmer for reading, working, crafting, studying, then models with adjustable arms or flexible gooseneck will provide you best experience. They allow you to move the light source closer or farther away, rotate and maneuver the lamp in various positions.
USB Port – Many new desk lamps aren't designed just to illuminate your desk or room. They are equipped with additional features. On the list above, there are few models with built-in USB ports. You can charge your mobile phone, tablet or e-reader and keep them in arm's reach. Choose a lamp with 2A output, it's faster.
Lamp Size – There is no specific rule on how to choose the perfect sized lamp for your office desk or table. But you can follow this simple rule –  the bigger the desk, the larger the lamp should be. If you own a large desk, find a tall and adjustable reading lamp allowing you to extend, bend and rotate it.