Are you looking for a suitable wireless phone charging lamp for your smartphone?
We've reviewed top-rated models currently available in the market. Read the reviews and our buying guide and you'll be able to find the best lamp for your office, living, room, bedroom or other space. There is a lamp for any taste and needs.
Our Top Picks
Best 6 Wireless Phone Charging Lamps
BEST OF BEST WIRELESS PHONE CHARGING LAMP
Lecone Lamp With Wireless Charger
Beautiful Beige Lampshade
Lecone is an elegant lamp inspired by vintage-designed lamps. It is 16.9 inches tall, the lamp base measures 7" x 7" x 1.5". The lampshade measures 6.5" x 6.5". Its beautiful beige-colored lampshade and wooden base will fit any office or home decor.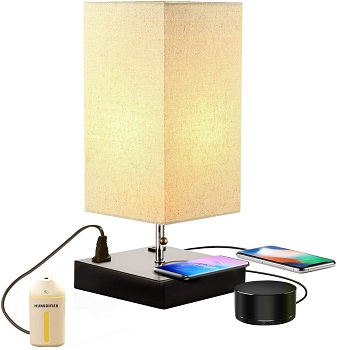 Linen & Wood
It is made of quality and durable linen and wood. This wireless phone charging lamp fits on any nightstand, end table, coffee table, shelf, and so on. Lecone requires a standard E26 base bulb, but it's important to note that the bulb isn't included in the package.
Dual AC Outlet
The base of the lamp contains two USB ports, so you can easily charge your laptop, tablet, e-reader. This small desk lamp with shade also has a dual AC outlet, you can use a speaker or desk fan. On the lamp base surface is a wireless charger for your smartphone.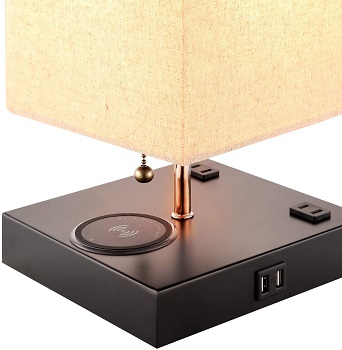 Qi Wireless Enabled Devices
Lecone is compatible with iPhone SE 2020/11/XS MAX/XR/XS//8/8 Plus, Samsung mobile phones and other Qi wireless charging enabled devices. This lamp arrives unassembled at your address, just follow the detailed instruction.
Highlighted Points:
beautiful beige lampshade and wooden base
requires standard E26 bulb base
equipped with two USB ports
dual AC outlet
compatible with iPhone and Samsung phones
wireless charger on the lamp base
BEST BEDSIDE WIRELESS PHONE CHARGING LAMP
Blonbar Bedside Lamp
Unique Appearance
This square-shaped lamp comes with a power adapter, user manual and 12-month warranty. It is 8.7 inches tall, 8.9 inches wide and its base is 3.7 inches deep. It is a small lamp that fits anywhere, in your office, living room, end table, coffee table, nightstand, etc.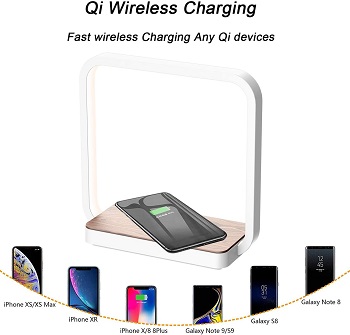 Standard Light Bulb
It comes with a standard E26 base bulb included in the package. This light bulb delivers comfortable and eye-caring light with a color temperature of 4000K. This wireless phone charging lamp provides three color modes, reading light, night light and ambient light.
Brightness Levels
Also, you can adjust the brightness, from dim to bright. If you want to charge your mobile phone, place it in the middle of a slide-proof pad. This wireless charging bedside lamp has light indicators, red means charging, the green light will turn on when the device is fully charged.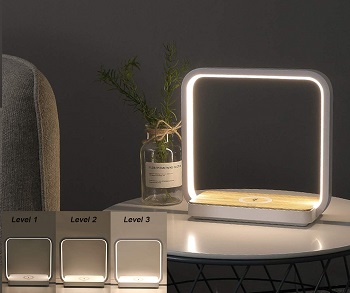 Light Indicators
Blonbar is compatible with Qi devices. It supports iPhone XS/XS Max/XR/X/8/8 Plus models. If you notice red light flashing, check if there is some metal part on the wireless station or around it. Blonbar features overheating and overcharging protection.
Highlighted Points:
unique square-shaped light
covered with a 12-month warranty
compatible with the standard E26 bulb base
delivers a color temperature of 4000K
light indicators
overcharging and overheating protection
BEST LED WIRELESS PHONE CHARGING LAMP
Hoxiya Desk Lamp With Charger
Two Colors
Hoxiya lamp is available in white and black color. This is a modern lamp that fits in offices as well as living rooms. The lamp base measures 7.48" x 4.33", that lamp is 14 inches tall and its light head is 13 inches long. It is made of quality aluminum alloy.
26 Double-color LED Beads
It features a multi-axis rotation and can be adjusted from left to right, up and down to meet different lighting needs. Hoxiya wireless phone charging lamp has 26 double-color LED beads that deliver soft and comfortable lighting, gentle for your eyes.
Energy-efficient Lighting
This iPhone charging lamp uses 75% less energy than traditional light bulbs. Its lifespan is up to 40,000 hours. Hoxiya supports five color modes and five brightness levels. Before sleeping, set low-level lighting. If you want to work or read, set the high-level brightness.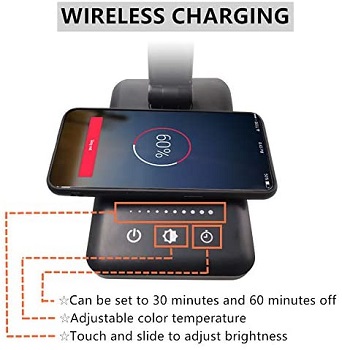 Timing & Memory Function
Hoxiya supports both wireless charging and wired charging. Use the standard 5V/1A USB port for wired charging. There are more functions, you can set the timing function for half an hour or 1 hour. The memory function will remember your last used settings.
Highlighted Points:
timing and memory function
energy-efficient LED light
made of quality aluminum alloy
supports wired and wireless charging
standard 5V/1A USB port
BEST IPHONE WIRELESS PHONE CHARGING LAMP
Jodno Wireless Charger Stand Lamp
Round-shaped Lamp
Jodno lamp features a modern and unique design. It is a round-shaped desk lamp that fits contemporary and stylish living rooms, bedrooms, offices, guest rooms, etc. The box includes a lamp, power line, user manual, 1-year warranty and after-sale service.
Cable Slot
Jodno comes in white color only. This wireless phone charging lamp comes with a cable slot, so your table will be tidy. You need to tidy up and fix the charging cable on the back of the lamp. Its lampshade is made of quality and durable silicone.
Compatible With iPhone
There are two USB ports for fast charging. Use them for tablets, laptops, e-readers, etc. This LED lamp with a wireless charger offers 7.5W for iPhone, 10W for Samsung mobile phones. This wireless charging station is compatible with iPhone 8/8 plus/11 and 11 pro models.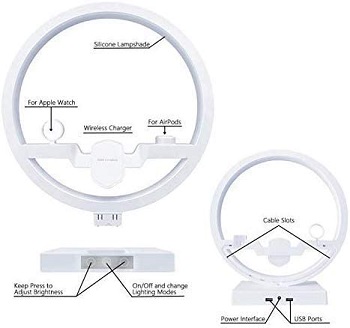 Adjustable Color Modes
Jodno desk lamp features three light modes you can choose from, just press the on/off button and adjust the color mode. The brightness is also adjustable, keep pressing +/- on the lamp and customize the brightness. You can work or read for hours, Jodno is safe for your eyes.
Highlighted Points:
unique design with the round-shaped lamp body
cable slot keep your desk tidy
two USB fast charging ports
wireless charging station for iPhones and Samsung
adjustable color modes and brightness
BEST DESK WIRELESS PHONE CHARGING LAMP
Genetic Qi Wireless Charger Lamp
Certified Lamp
Genetic lamp features a modern, stylish and space-saving design. It is available in silver and black color. This lamp is safe for use, it has QI/CE/FCC/ROHS/REACH certificates. Thanks to its compact design, it fits on your table, desk, workbench, end table, etc.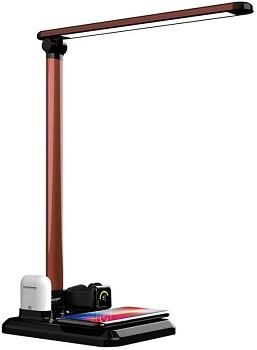 Adjustable Lamp
This wireless phone charging lamp features a foldable design, it is easy to store anywhere. Also, you can adjust the lamp in multiple positions. There is a 180-degree flexible arm and a 90-degree rotatable base. The built-in USB charging port is practical for wire-charging devices.
Safe For Use
Place your smartphone or apple watch on the Genetic wireless charging area. This LED desk lamp with a USB port might overheat during a long time of charging, but don't worry. It will cool down automatically and continue to charge your device.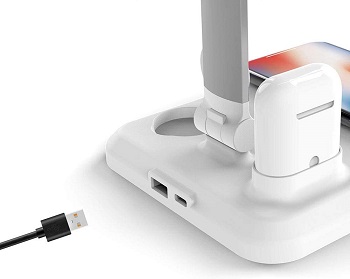 Customizable Lighting Settings
Genetic uses eye-caring LED light with non-flickering and non-glare light. This light is safe for your eyes, there is no eye fatigue or eye strain.  There are three brightness levels you can choose from. Select the cold white light when you are working or reading.
Highlighted Points:
modern and foldable design
available in two colors
certified and safe lamp
adjustable lamp arm and base
built-in USB charging port
wireless charger for smartphones
BEST MODERN WIRELESS PHONE CHARGING LAMP
Taotronic LED Desk Lamp
Revolutionary Technology
Taotronic is one of the most popular lamps on the market. The box includes a lamp, power adapter and user manual. It is made of durable and quality plastic. Taotronic comes with revolutionary wireless charging, it uses RavPower's groundbreaking Hyper Air technology for fast charging.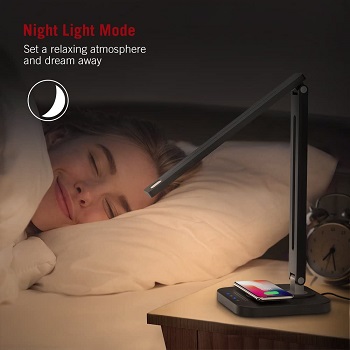 USB Charging Port
It is compatible with iPhones and Samsung devices with up to 7.5W and 10W respectively. Before you place your phone on the wireless charging area, remove the phone case. Also, the wireless phone charging lamp comes with a USB charging port.
Eye-caring Light
On the left bottom of the table lamp, there is a 5V/1A USB port for all-wire charging devices. Taotronic modern LED desk lamp eye-caring LED light, there is no flickering or glaring. Also, it has a fully customizable color mode and brightness levels.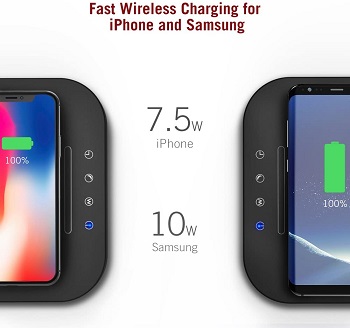 Adjustable Lighting Conditions
Choose between five lighting color temperatures and five brightness levels, so adjust the light according to your current tasks. Except for the lighting condition, you can adjust the lamp body and rotate the lamp base. There are more useful features – timer and memory function.
Highlighted Points:
modern and quality desk lamp
equipped with eye caring LED lights
wireless charging area for iPhones and Samsungs
USB charging port for wire-charging devices
customizable color/brightness settings
adjustable lamp body and base
Things To Know About Wireless Phone Charging Lamp
The wireless phone charging lamps are available in a variety of sizes, colors and features. Before you buy a lamp for your office or home, there are some factors you need to consider, so check these tips below.
Lighting Options – Whether you need to lamp for work, homework, reading or ambient light, it's a good idea to buy a lamp with some useful features. The models from this list offer few color temperatures and brightness levels for your convenience.
Charging Speeds – If you want to buy a lamp that is suitable to charge your phone, you can choose among two ways – a USB charging port and a wireless station. Charging speed is measured in watts. Every mobile phone has a different speed, older iPhones require 7.5W, while new models require 15W.
Wireless Charging Pad – The lamps with a wireless charging pad allow you to charge your smartphone at arm's length. Most of the lamps ranging from 5W and 10W. Lay your mobile phone on the lamp base while you're working or reading.
Bulb Type – Not only for wireless phone charging lamps but you can choose between multiple light bulbs for all types of lamps. For example, there are halogen, LED, incandescent, CFL, etc. LED bulbs have an average lifespan of over 50,000 hours. They are energy efficient, produce a little heat and delivers direct illumination.
Lamp Type – There are many lamp types in the market, such as adjustable arm desk lamps, gooseneck lamps, clip-on lamps, magnifying lamps, banker lamps and others. The lamps with flexible designs allow you to move the light source wherever you need it.