Do you want to buy the best reading lamp for costing up with a good book?
This article covers detailed reviews of the best reading lights currently available in the market. Also, you can learn about the most important criteria for a good model, there is some basic knowledge for a successful purchase.
Our Top Picks
Best 6 Reading Lamps
BEST OF BEST READING LAMP
AmazLit Desk Lamp With Clamp
Aluminum Alloy Material
AmazLit is a great desk lamp with a clamp that suits any decor and desk size. It is made of aviation-grade aluminum alloy and a brushed matte black finish. The package includes a desk lamp, UL power adapter and user manual. It comes with a warranty.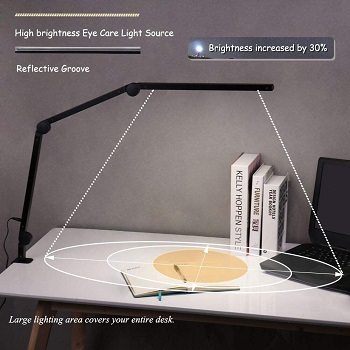 Silicone Pads
It features a sturdy metal clamp with two silicone pads. Meaning, AmazLit best reading lamp won't scratch and damage your floor. The cord is 71 inches long, so you can place your lamp anywhere. There are three flexible sturdy joints, direct the light where needed.
Double Touch Switch
This architect lamp clamp is ideal for reading, working, drawing, knitting, sewing, crafts, etc. AmazLit features a double touch switch for easy operation. You can adjust the color temperatures from 3000K to 5500K. Set the brightness from 20% to 100%.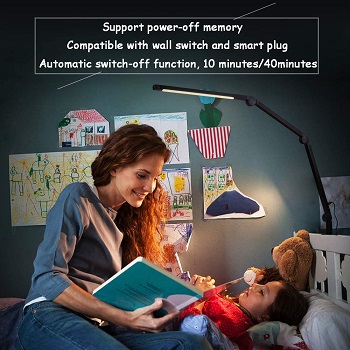 Delay-off Function
If you want to read, choose the 4000K and 100% brightness. There is a built-in automatic delay-off function that can be set to 10 minutes or 40 minutes before it will automatically turn off. The flicker-free and glare-free illumination are safe for your eyes.
Highlighted Points:
wide metal clamp with adjustable arm
flicker-free and anti-glare illumination
adjustable color temperatures and brightness
metal clamp with silicone pads
built-in delay-off function
high-efficient LEDs
BEST BEDSIDE READING LAMP
Oyears Midcentury Lamp
2-year Warranty
Oyears is a USB desk lamp that comes with 2 years warranty. It is 18 inches high overall, the metal base is 7 inches long and 3.7 inches wide. The 5-ft cord is included in the package. Its cord and plug are UL-listed, they meet safety standards.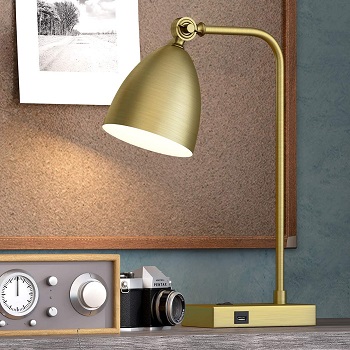 Gold Lamp
This best reading lamp comes in matt gold color. Its lampshade diameter is 5.5 inches and it is adjustable. You can rotate the lamp head and direct the light where needed. Oyears is suitable as a work lamp, reading lamp for your bedside table, etc.
Vintage-inspired Item
It is a vintage reading lamp that comes with a USB charging port. You can charge your smartphone and other devices. Whether the lamp is on or off, you can charge your device. Oyears is made of metal and inspired by classic European table lamps.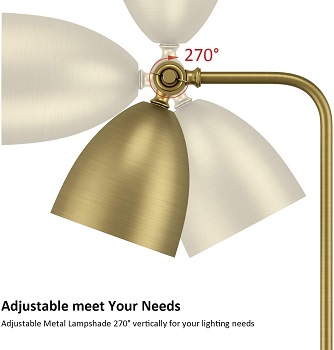 Max 40 Watts
There is a rocker switch for on/off. Its 26 base socket is compatible with LED, CFL, RBG and incandescent bulbs. Oyeras supports up to 40 watts. The package includes a bulb. Use a LED bulb, it is eye-caring light with a long-lasting lifespan.
Highlighted Points:
vintage-inspired lamp with matte gold finish
the lamp head is adjustable
covered with 2 years warranty
comes with the USB charging port
UL-listed cord and plug
BEST FLOOR READING LAMP
TaoTronic Standing Lamp
Easy To Assemble
TaoTronic is one of the most quality lamps in the market. There are white and black colors you can choose from. It is 66.9 inches tall if the gooseneck is expanded. You need to assemble this lamp, but you can complete it within three minutes. Its price is affordable.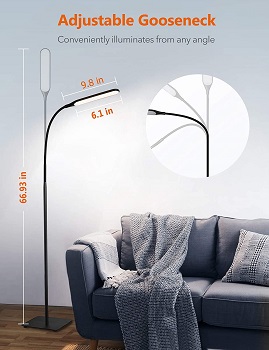 81 Bulbs
The box includes a floor lamp, user manual and power adapter. The power cord is 2 meters long. Taotronic weighs 3.8 pounds and it's made from iron and ABS materials. Perfect for reading, knitting, sewing, precise work, 81 bulbs provide a larger lighting area.
Wide Base
This best reading lamp features a wide, sturdy square base that keeps the lamp stable. Its rotated gooseneck allows you to direct the light where needed, without moving the lamp. The floor reading light uses a long-lasting LED bulb that projects up to 450lm.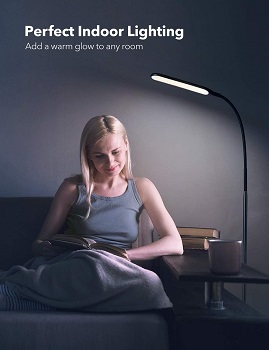 Lower Electricity Bills
It produces less heat than traditional bulbs and reduces electricity bills. Choose between four color temperatures (from 3000K to 6000K) and four brightness levels. The touch control allows you to adjust the light with ease. There is an M button for color temperatures and a power button that controls other functions.
Highlighted Points:
quality floor lamp for reading
power adapter included in the package
provides larger lighting area
sturdy base with flexible gooseneck
4 color temperatures and 4 brightness levels
eye-caring light
BEST FOR ELDERLY READING LAMP
Lancosc Magnifying Lamp
Glass Lens
Lancosc is a perfect reading lamp for elderly, it will help them with their poor vision. There is a sturdy metal clip, so you need to fix the lamp to the table, desk, bed, shelf, or other flat surfaces. The glass lens is 4.3 inches wide, it is adjustable, such as both swivel arms.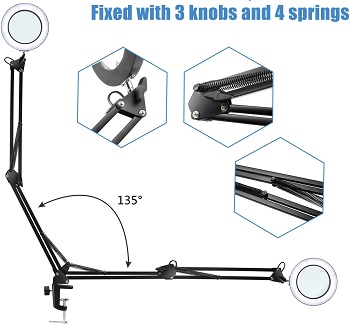 Real Diopter Glass
This lens is resistant to scratches and heat, it magnifies up to 500%, without distortion. Providing clear visual experience, so you can read even the smallest letters and fine details in the books, newspaper, medications. Except for reading, it is ideal for close, precise work.
Up To 1500 Lumens
Moreover, it reduces eye fatigue and there is no dizzy feeling while you using the lamp. Lancosc lamp is made of aluminum and plastic. The LED magnifier desk lamp features three color modes – white, white/warm and warm.
Adjustable Lamp
Also, you can adjust the brightness levels from 10% to 100%. Lancosc lamp max up to 1500 lumens, but it delivers eye-friendly light. You can adjust the glass lens and extend the swivel arms. There is a high-quality spring that will keep the arm stable in any position.
Highlighted Points:
high-quality real glass with a magnification of 500%
distortion-free visual experience
long-lasting LED illumination
adjustable swing arm with clamp
three color modes and adjustable brightness
sturdy metal clip and quality spring
BEST TABLE READING LAMP
Litom Table Lamp
Foldable Design
This sleek and modern lamp is available in black and white color. Litom features a foldable design with a 180° adjustable arm and 90° rotating axis base. it provides flexible illumination, you can direct the light wherever you need it.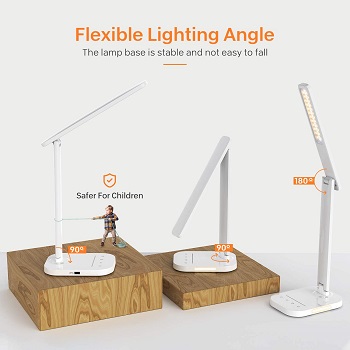 Touch Control
Because of the foldable lamp head and arm, it is a space-saving lamp. Litom comes with a USB charging port so you can charge your smartphone with ease. Also, it is designed with touch control, there are an on/off button, color temperature, timer and night mode buttons.
Night Light
It uses LED bulbs, so this best reading lamp can last for up to 50000 hours. This bulb type uses 20% less energy than traditional bulbs, you don't have to change it for 25 years. If you want to create a warm atmosphere, turn on the soft night light.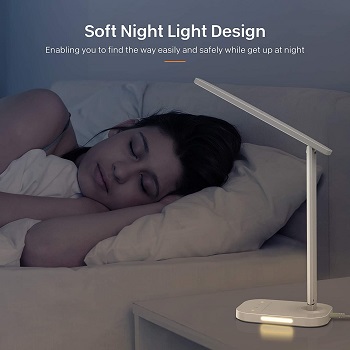 1-hour Timer
The adjustable reading lamp featuring a 1-hour timer, set it and the light will automatically turn off after one hour. Litom offers five color modes and ten brightness levels, just slide the bottom from left to right if you want to have a brighter light. The memory function will remember your last setting.
Highlighted Points:
LED desk lamp with charging port
soft night light for a warm atmosphere
five color modes and ten brightness levels
foldable arm and rotating axis base
last for up to 25 years
touch control panel
BEST BOOK READING LAMP
Honwell Book Reading Lamp
Lightweight Lamp
Honwell is a compact and practical lamp at an affordable price. It is a lightweight item, there are 2.1 ounces only. The package includes a USB book light, micro USB charging cable and user manual. This lamp comes in black color and it's made from plastic.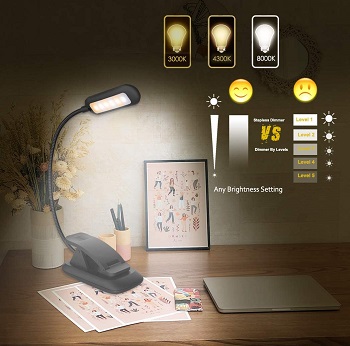 Eye-caring Light
You can use it for camping, reading, study, bed headboard, on the shelf, for any tasks and hobbies. Honwell is an eye-friendly lamp, there is non-flickering light that protects your eyes from hurt and fatigue. It is a perfect lamp for bookworms.
Rechargeable Battery
This best reading lamp features a built-in rechargeable 900 mAh high-capacity Li-ion battery. It provides up to 60 hours of lighting time. Charge it with an 18-inch micro USB cable. The adjustable desk lamp requires three hours to secure recharge.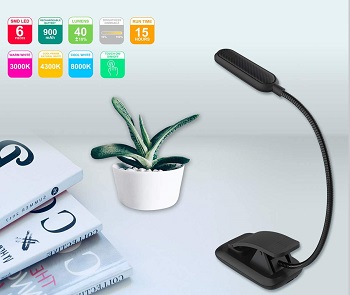 Touch Switch
There is a touch button on the light head, first press turn on the color temperature of 4300K, second press turn on warm white light (3000K) and third press turn on cool white light. If you want to adjust LED lighting color temperature, press and hold the touch button.
Highlighted Points:
practical lamp with clamp design
available in black color
built-in rechargeable battery
comes with a USB charging cable
three lighting modes
adjustable design
Things To Know About Reading Lamp
It isn't easy to find the best reading lamp, some criteria should be considered before you buy any model. For example, check the lamp design, color temperature, brightness levels, etc.
LED Bulbs – If you want to reduce your electricity bills and avoid bulb replacing, the LED bulbs are the perfect solution for your needs. They have a long lifespan, some models last for 25 years, they're energy-efficient and don't overheat.
Color Temperature – This feature is measured in Kelvin. The color temperature range from warm white to daylight, or 2700K to 6500K. The whole spectrum includes warm white, soft white, neutral, cool, soft daylight and daylight. Choose the warm white or soft white for a cozy atmosphere.
Brightness Levels – Meaning, how many lumens the lux figure can emit on a square meter. For normal, visual tasks (reading included) we need the illumination of 250 to 500 lumens. For the more precise or detailed work, look for 1000 lumens and more.
Flexible Design – The lamp with an adjustable arm allows you to direct the light where needed. This design is ideal for tasks that require focused light. That means you can adjust the adjustable task light in different angles and positions by moving its arm.
Table Lamp/Floor Lamp – There are many factors you need to consider before buying a reading lamp. If you work or read in a small room, the desk lamp with an adjustable arm is a better choice. If you don't have space problems, choose the floor lamp, you can place it anywhere.