Are you interested in elegant desk lamps that provide a sophisticated look for your office/home?
Then check out his article about the best chrome desk lamps!
There are plenty of fantastic lamps available for reasonable prices worth taking a peek at. Each of these models is made of quality material and provides great functionality. Moreover, don't forget to check our tips and tricks for the best shopping.
Our Top Picks
Best 5 Chrome Desk Lamps
BEST OF BEST CHROME DESK LAMP
Pure Optic LED Desk Lamp
Ultra-thin Profile
Pure Optic desk lamp is available in two sizes, as desk lamp and floor lamp. This is an ultra-thin, modern profile with a minimalist aesthetic. It is a space-saving lamp that fits on any workbench, desk, table, etc. Pure Optic lamp has a high price.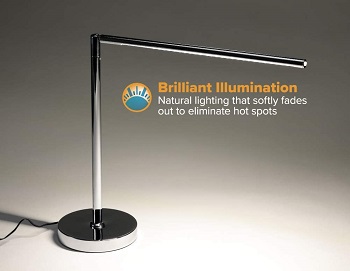 Professional Look
This chrome desk lamp is made of quality metal and polished with chrome. That chrome finish provides a professional and sophisticated look. Its weighted base is stable and provides extra support. Pure Optic cool office lamp is perfect for task lighting or ambient lighting.
LED Bulbs
It uses energy-efficient LEDs, that can last up to 25,000 hours. Meaning, you don't have to worry about bulb replacement. Pure Optic emits cool white light with a  color temperature of 5000K. This color temperature is ideal for working or reading.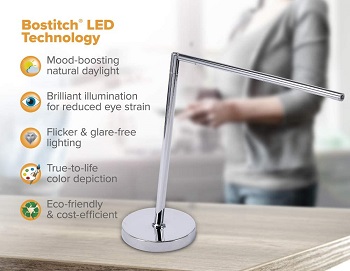 Eye-friendly Light
Pure Optic delivers eye-friendly light, it's flicker-free and non-glare light. So it doesn't cause eye fatigue or eye strain, read or work for a long time without harmful effects. Also, this desk lamp has a high color rendering index, it's 80, you can see true and accurate colors.
Highlighted Points:
ultra-thin and modern desk lamp
delivers a color temperature of 5000K
perfect as task lighting
quality metal lamp with polished chrome finish
emits eye-caring light
high color rendering index
BEST MODERN CHROME DESK LAMP
Elegant Design Table Lamp
Unique Design
Elegant Design lamp features an attractive design, as you can see in the images below. Its overall height is 26 inches and the shade diameter is 14 inches. It requires one 60W type A medium base bulb. Unfortunately, this bulb isn't included in the package.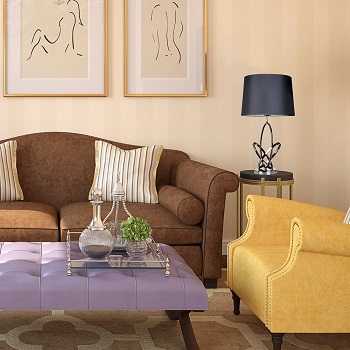 Flawless Chrome Finish
It features a metal art base with a flawless chrome finish. Also, there is a contrasting black fabric shade, so this lamp will upgrade your room or office with elegance and a sophisticated look. The lamp dimensions are 14.2 x 27.5 inches. Its price is higher.
1-year Warranty
This modern black desk lamp with chrome lamp body matches all modern, urban, contemporary and industrial room interiors. Elegant design chrome desk lamp is covered with a 1-year warranty against defects. If there is any issue, contact the seller.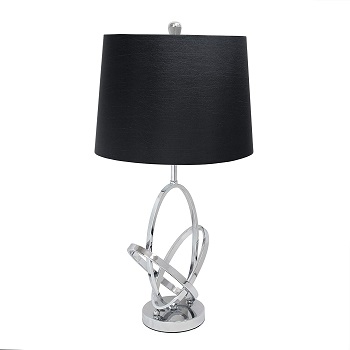 Rotary Switch
There is a rotary switch for convenient use. Elegant Design fits normal voltage, which is 110V to 120 volts. Place the lamp on your nightstand, in your office, end table, coffee table, etc. Because of the black shade, it emits soft and warm light that creates a cozy atmosphere.
Highlighted Points:
elegant desk lamp with metal art base
finished in chrome
black fabric shade
covered with a 1-year warranty
matches modern and industrial styles
requires 110V to 120V outlets
BEST LED CHROME DESK LAMP
Oneach Crystal Table Lamp
Set Of Two
The package includes two Oneach table lamps, so you can put them on nightstands in your bedroom. These desk lamps are backed by a 2-year warranty. No matter what kind of problem you have, contact customer service and they will help you.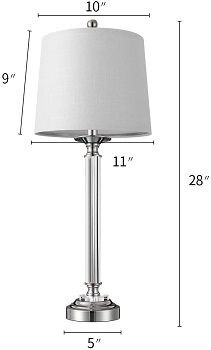 UL-listed Components
Each chrome desk lamp has an overall height of 28 inches, the base diameter is 5 inches and the lampshade measures 10 x 9 x 11 inches. Its plug, socket, cord and USB port are tested and UL-listed. They are very quality safe for use.
Minimalist Design
These white LED desk lamps require one 60W maximum bulb. The bulbs aren't included in the package, so you need to buy them separately. With their modern and minimalist design, these two lamps match well with most styles, such as contemporary, urban, mid-century, etc.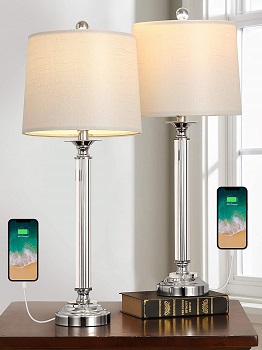 USB Ports
They feature open-top fabric shades that emit diffused light and provide a warm soft atmosphere. Oneach desk lamps are equipped with 5V/2A USB charging ports. Charge your mobile phone, tablet, e-reader or other small electronic devices quickly.
Highlighted Points:
perfect bedside lamps
modern and minimalist design
UL-listed plug, cord, socket and USB port
require 60W maximum bulbs
fast-charging USB ports
emit soft and warm light
BEST BEDSIDE CHROME DESK LAMP
Cadence Modern Table Lamp
Popular Lamp
Cadence is an elegant desk lamp with both modern and traditional elements. It is made by Postini which is a very popular brand thanks to its quality and beautiful designs. This lamp has an overall height of 30 inches and weighs 9.5 pounds.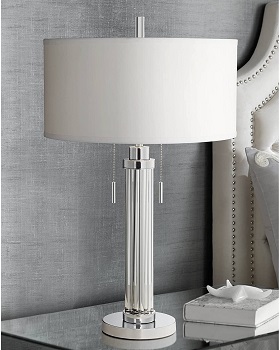 White Drum Shade
Because of its weight, the Cadence lamp will stay stable and won't tip over easily. There is a white drum shade made of quality and durable fabric. This drum shade measures 9 inches in height and 18 inches in width. Cadence isn't s small end table lamp.
Glass Pole
This chrome desk lamp has a glass pole and its base is finished in chrome. Cadence is a decorative desk lamp that suits any room or office decor, from modern, contemporary, urban to industrial. It requires two maximum 75-watt standard medium base bulbs.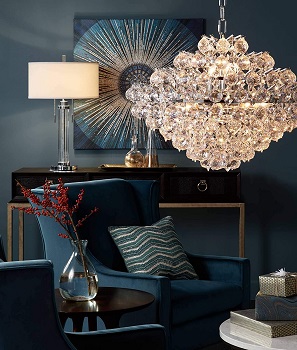 Two Pull Chains
It is compatible with incandescent, LED, halogen or CFL light bulb types. When you want to turn on/off the lamp, just pull the chain, it is very convenient for use. Cadence lamp is inspired by Art Deco lighting, it will upgrade your room decor.
Highlighted Points:
elegant desk lamp with white drum shade
glass pole and chrome accents
compatible with LED, CFL, incandescent and halogen
two pull chains
inspired by Art Deco lighting
BEST SMALL CHROME DESK LAMP
Hoyt Collection Table Lamp
ETL-listed Lamp
This elegant and sleek lamp comes in two colors bronze or chrome. Hoyt Collection is made by Brooklyn Bulb Co. They produce ETL-listed lamps, meaning, they are tested and safe for use. It is 20 inches high and the base measures 5.5 x 7 x 0.2 inches.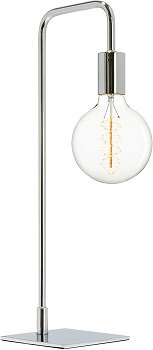 6-ft Power Cord
This metal chrome desk lamp comes with a power cord that is 6 feet long. Hoyt table lamp is covered with a 1-year warranty. If there is any damage within that time, contact customer service and they will solve the problem. Hoyt has a higher price.
Full Range Dimmer
Hoyt small modern desk lamp features a contemporary design that complements most home or office styles. There is an exposed bulb and an elegantly curved neck. Hoyt lamp has an on/off switch located on the power cord, also there is a full-range dimmer.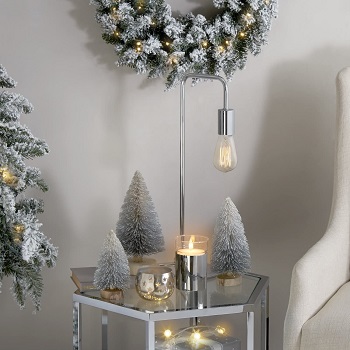 Incandescent Bulb
With dimmer, you can control the lamp brightness according to your preferences. Hoyt desk lamp comes with a standard-sized E26 incandescent bulb. It produces warm white light with a color temperature of 2200K. This bulb is rated for up to 3000 hours.
Highlighted Points:
made of quality metal and finished in chrome
exposed bulb and elegant neck
requires standard base bulb – E26
the warm white light of 2200K
adjustable brightness
Things To Know About Chrome Desk Lamp
On the list above, you can check the bunch of the best desk lamps made of chrome currently available in the market. Here you can learn more about their features, such as light bulb types, build quality, design, etc.
Chrome Finish – The chrome finish or also known as chromium plating, is a finishing process that includes the application of chromium onto the surface of a metal lamp. It is used for a variety of manufacturing applications. It protects the lamp from corrosion while improving its aesthetic.
UL-listed Lamp – UL certification is a valuable marketing tool that tells the customers they're buying products that successfully meet stringent requirements. Some lamps have UL-listed plugs, cords, USB ports, electronic components, etc. They are very safe for use.
Lamp Shade – You can choose between lamps with or without shade. Usually, people who buy lamps with shades want more ambient lighting in their rooms or offices. The dark-colored shades provide soft and warm lighting that creates a cozy atmosphere.
Incandescent Bulb – There are CFL, incandescent, halogen or LED bulb types. Despite the LEDs are very popular nowadays, many people choose incandescent light bulbs. These bulbs are inexpensive, provide warm light and have dim settings.
LED Bulb – As we mentioned above, LED chrome desk lamps are very popular, many modern task lamps require LED bulbs or beads. LED bulbs have many advantages – they don't heat that much, use less power and last much longer than traditional light bulbs.