On a search for a new stylish and functional desk lamp for your office?
Then keep reading, this article about cool office lamps offers a perfect solution for your needs!
There is a huge variety of desk lamps with incredible features, so finding a perfect lamp isn't an easy task. Therefore, we've reviewed the best 6 desk lamps for office and prepared a guide with useful tips and trick that makes your purchase easier.
Our Top Picks
Best 6 Cool Office Lamps
BEST OF BEST COOL OFFICE LAMP
BenQ LED Reading Lamp
First E-reader Lamp
BenQ is a very specific lamp, this is the world's first lamp for e-reading. Choose between models in silver, gold and blue colors. Its construction is made of aluminum alloy, this material dissipates the heat made by LED and extends the lamp lifespan.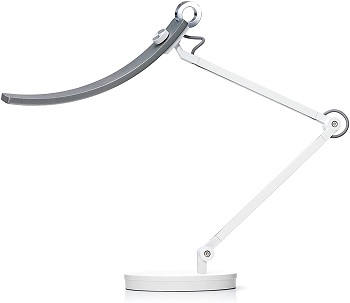 Flicker-free LED
BenQ cool office lamp has ball joints to optimize the flexibility of the lamp cap. Therefore, you can easily adjust this aluminum desk lamp to the angles that you need. Flicker-free LED light offers and even lighting, it is compiled with safety regulation, so it doesn't harm your eyes.
Safety Lamp
This lamp meets many restrictions and has passed international safety standards to ensure your safety. benQ is a highly flexible desk lamp, you can extend it and covers a workspace with multiple monitors. There is a long LED panel, which provides a wider lighting range.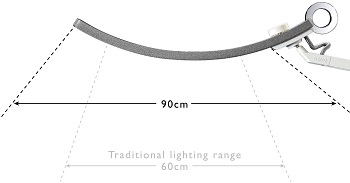 Smart Features
It is equipped with smart technology that detects the ambient lighting and automatically adjusts the light. Also, you can set the color temperature and brightness level by turning the rotary knob. Go with warmer tones for relaxing and cooler tones for work.
Highlighted Points:
first lamp designed for e-reading
highly-flexible design
available in few colors
smart features
meets many safety and quality standards
made of aluminum alloy
BEST SWING ARM COOL OFFICE LAMP
Otus Architect LED Desk Lamp
Timeless Appearance
Otus is a stylish desk lamp made of quality metal and available in black/grey color. Its small base of 8" in diameter fits on any desk, workbench or table. It features timeless contemporary and vintage design that fits perfectly in any urban, modern, vintage and industrial office.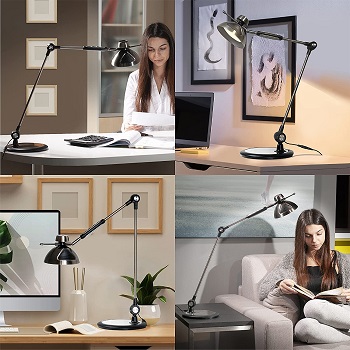 Tall Lamp
It stands on the heavy-duty stand, but you can replace it with an Otus desk clamp. Otus cool office lighting lamp is tall, so it's perfect for large desks. It is able to illuminate a larger desk area. There is a built-in infrared sensor, wave your hand over the lamp and you'll turn it on.
Vintage Lampshade
This adjustable arm desk lamp has a vintage rounded lampshade equipped with high-efficient LEDs. These LEDs deliver uniform light that is flicker-free and glare-free. In other words, it is safe for your eyes. There are three color modes you can choose from.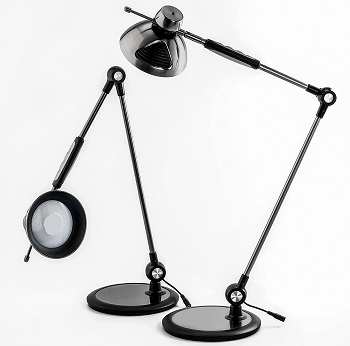 Three Modes
The reading mode, study mode and relax mode. Whichever mode you use, the memory function will remember your previous setting, so it isn't necessary to set it again. Also, you can change the brightness and customize exactly how much light you want to use.
Highlighted Points:
tall desk lamp with timeless design
three lighting modes
customizable brightness
memory function
integrated infrared sensor
use high-efficient LEDs
BEST CLAMP COOL OFFICE LAMP
Phive Workbench Desk Lamp
1-year Warranty
Phive is a very popular brand that produces quality and durable office lamps. It is made of high-quality aluminum, metal and finished in silver. The silver color adds a touch of elegance to any office. The manufacturer provides a 1-year warranty for this lamp.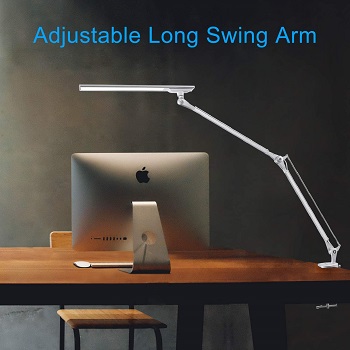 Clamp Design
This adjustable reading desk lamp is a space-saving lamp that fits on any workbench, office desk or table. The strong clamp with rubberized pads protects your desk from scratches and other damage. That clamp supports up to 2.36 inches tabletop.
Highly Adjustable
Phive is a cool office lamp with elegant design and function features. Adjust the flexible arms and direct the light where needed at the moment. Its LED panel provides larger lighting coverage and its lifespan is up to 50,000 hours. There is no bulb changing.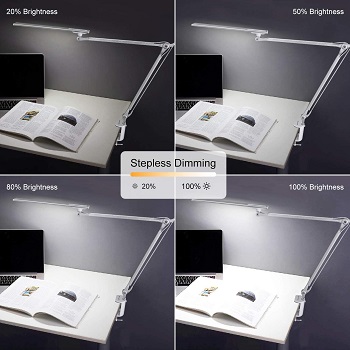 Touch Panel
Phive LED panel emits close to daylight illumination, this is soft, flicker-free and glare-free light. Perfect for a long time studying and reading. With a sensitive control touch panel, you can change lighting modes. There are four modes and four brightness levels.
Highlighted Points:
elegant silver desk lamp
comes with a strong clamp
made of high-quality aluminum
covered with a 1-year warranty
highly adjustable design
covers large desk area
BEST LED COOL OFFICE LAMP
Litom Eye-caring LED Lamp
Grey Lamp
Litom lamp features a sleek and modern design that comes in a grey color. It is suitable for offices, home offices, studios and dorms. Made from high-quality aluminum that makes it sturdy, durable and stylish. The price is affordable.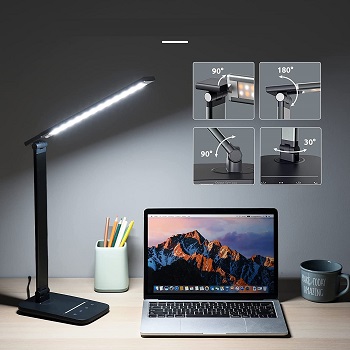 Adjustable Design
The quality aluminum provides better heat dissipation. Litom features an adjustable design, so move the lamp head and body where need. This eye-caring adjustable LED desk lamp is equipped with anti-blue light bulbs. They block 99% of blue light.
High Color Reproduction
Litom is able to cover a larger desk area than other similar lamp models thanks to its full spectrum beads and longer arm. Its color rendering index is 96, meaning the lamp emits light closer to natural daylight, you'll see true and accurate colors.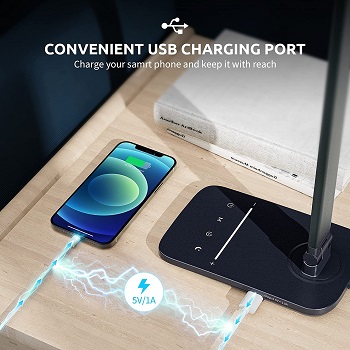 Auto Timer
This cool office lighting offers five color modes, from 1800K to 6000K. There is a light mode for every occasion. Also, there are 10 brightness levels. With the touch control panel, set the adequate lighting. Litom comes with a USB port for charging devices and a 1-hour auto timer.
Highlighted Points:
made of quality aluminum material
5 color modes, 10 levels of brightness
high color rendering index
built-in USB port and auto timer
adjustable design
BEST MODERN COOL OFFICE LAMP
Lepower Adjustable Desk Lamp
Elegant Lamp
Lepower is an elegant desk lamp that suits modern, contemporary and urban offices. It is available in few colors – sandy black, brass, silver, white and others. The power cord is 59 inches long, the base diameter measures 9 inches, the arms have 15.3 x 15.7 inches and the lampshade diameter is 6.4 inches.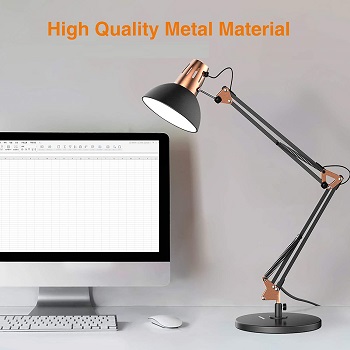 Stand & Clamp
Construction is made of quality metal, so it's a durable and sturdy lamp. Lepower cool office lamp comes with a stable stand and clamp. The maximum gap of the clamp is up to 1-inch. You can the lamp onto the table, desk, shelf, it fits anywhere.
E26 Sized Base
This modern black desk lamp has E26 sized screw base, install the LED bulb (4W-6W), energy-saving (8W-16W) or incandescent bulb (20W-40W). The bulb isn't included in the package. Lepower emits soft, flicker-free and glare-free light, safe for your eyes.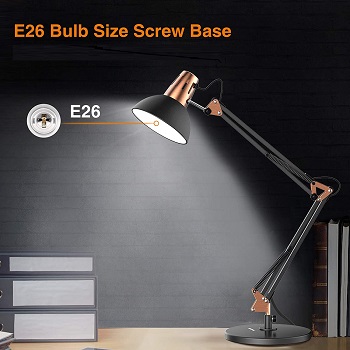 Adjustable Arms
Lepower desk lamp is flexible and features adjustable arms. You can focus the light on any area you want. That is great for precise tasks, such as reading, crafting or studying. Also, it is a space-saving lamp that doesn't take up much space on your desk.
Highlighted Points:
comes with a stand and clamp
made of quality metal
available in several colors
compatible with LED, incandescent and energy-saving bulb
flexible lamp head and arms
emits flicker-free light
BEST VINTAGE COOL OFFICE LAMP
Mlambert LED Desk Lamp
Attractive Lamp
Mlambert is a mix of modern, vintage and antique styles. The lamp base diameter is 6 inches, arms have 8.7 x 10.2 inches and the lampshade diameter is 4.5 inches. Constructed of high-quality metal and covered with brass, it provides an elegant and attractive look.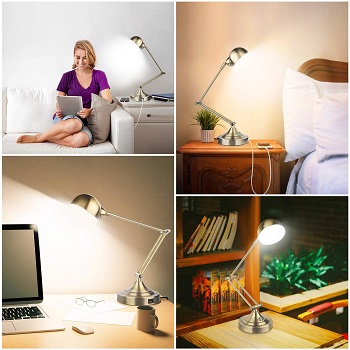 USB Port
Its weighted metal base comes with an anti-slip pad making the base more stable. This cool office lamp is designed with a built-in USB port, that allows you to charge your mobile phone, tablet and other devices with ease. Use the port whether the lamp is on or off.
Adjustable Design
Mlambert brass task lamp features an adjustable lamp head and two flexible arms. Extend and direct the light exactly where needed at the moment. When not in use, fold the lamp head and arms and save your valuable desk space.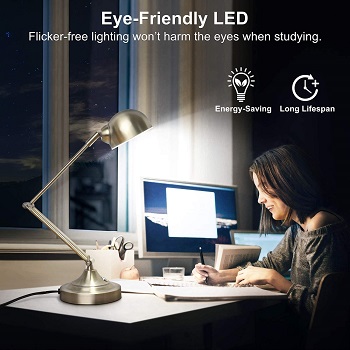 Touch-sensitive Switch
This vintage lamp adopts advanced LED technology, the LEDs will last about 20,000 hours. That non-flickering light is safe for your eyes. With a touch of a finger, you can turn the lamp on/off and change the color modes. Its color temperature is adjustable from 3000K to 6000K.
Highlighted Points:
attractive desk lamp made of metal
finished in antique brass
adjustable lamp head and arms
advanced LED technology
built-in USB port for charging electronic devices
touch-sensitive switch
Things To Know About Cool Office Lamps
There are several cool office lamps in the list above. Before you decide to buy one, read these guidelines that help you to take some important features into the account and find a perfect lamp easily. Read about lamp design, additional features, flexibility, etc.
Lamp Design – Good lamp comes with practicality and style following right after. There are numberless options in the market. Choose the lamp that will fit your needs, has an eye-catching appearance and goes perfectly with the design of your office.
USB Charging Port – Many new modern lamps come with additional features. That includes a built-in USB port that allows you to charge your mobile phone, tablet, e-reader and other electronic devices. We recommend buying a lamp with 2A output, it will charge your device faster than the 1A outlet.
Flexibility – If you don't want to use a lamp for decoration only, but for reading, working, crafting or other precise tasks, you should look for lamps with adjustable designs. They have flexible lamp heads, arms or bases to allow you to adjust the perfect lighting angle.
Light Bulb – Many modern office lamps are equipped with LED bulbs, panels or beads. There are a couple of reasons for that – LEDs are more energy-efficient, they produce low heat, last much longer than other bulbs and have dimmable settings.
Lighting Modes – Do you want to use a lamp just for decoration, or reading, working, crafting? If you looking for a decorative desk lamp, then the aesthetic is the most important. But for some precise tasks, check if the cool office lighting has dimmable settings, then it will meet your different lighting needs.