Do you want to have a compact tabletop file cabinet that you will place on your tabletop?
If you do, then check out our desktop filing cabinet selection and pick the best model for your office desk. We recommend you to read our buying guide where you can find a lot of useful information.
Our Top Picks
Best 6 Desktop Filing Cabinets
Best Of Best Desktop Filing Cabinet
Bisley Desktop Cabinet
Full-welded Construction
The bisley desktop cabinet 5 drawer is a very quality and reliable product. It is fully welded and features all-steel construction. This is a sturdy file cabinet that is resistant to impact and scratches. You can use it for a long time. The price is high.
Five Drawers
There are multiple colors available – black, green, navy, orange, red and white. Pick the model that fits into your home office or office environment. Bisley features five shallow drawers that you can use for small office supplies, crafts and paperwork.
Label Holders
Each drawer is equipped with solid chrome pull handles. Moreover, there are built-in label holders. Write some keywords on it and you'll easily identify the drawer contents. On the bottom of the filing cabinet, there are rubber feet that protect your desk from scratches.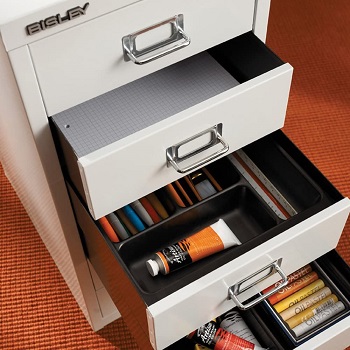 Drawer's Tray
There are small trays in the drawers that are intended for pens, pencils and other office accessories. The Bisley file cabinet is ideal for desktop and under-desk storage. If you need more drawers, there are Bisley models with six and eight drawers.
Highlighted Points:
sturdy file cabinet made of durable steel
fits on any office desk
equipped with five drawers
fully extend drawers with chrome handles
powder-coated paint is rust-resistant
Best Small Desktop Filing Cabinet
Pag File Cabinet
Eco-friendly Board
The Pag is a small tabletop filing cabinet that is made of eco-friendly and sturdy melamine board. It is available in black, brown, retro brown retro white and dark grey colors. The dimensions of this file cabinet are 13.86 inches in length, 10.24 inches in width and 13 inches in height.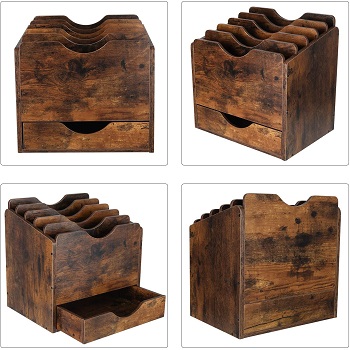 Six Compartments
This small wood file cabinet doesn't contain toxic materials like formaldehyde. It is tested and safe for use. Moreover, this product is 100% recyclable. The Pag features six compartments plus four adjustable clapboard boards.
One Drawer
Pag file cabinet features one drawer. Use this product to store books, documents, magazines, notebooks, mail, letters, papers and office supplies. All your frequently used items will be next to you, neatly organized in this compact filing cabinet.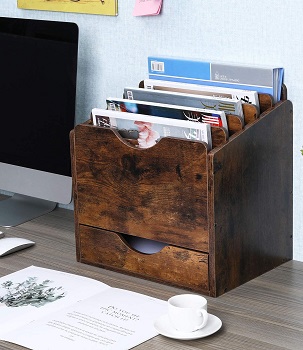 All-In Package
The Pag has a user-friendly design, there are rounded corners and a curved drawer board. The surface is flat and smooth, there aren't sharp edges. You need to assembly this product, the package contains instructions, screws and a screwdriver. You don't have to spend more than 10 minutes.
Highlighted Points:
eco-friendly and durable melamine board
there are no toxic materials
six compartments and four adjustable boards
one drawer for office supplies or papers
user-friendly design – rounded corners
Best 3-drawer Table Top Filing Cabinet
Fanousy File Cabinet
Faux Leather
Fanously file cabinet is a flat and elegant item that is made of faux leather. You can choose between two colors – black and brown. This tabletop filing cabinet measures 7.8 inches in height, 9.4 inches in width and 12.6 inches in depth. It is lightweight, there are 6 pounds.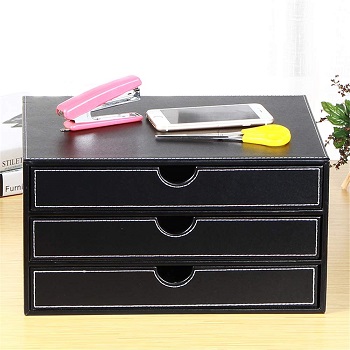 Standard-size Files
This filing cabinet looks expensive and fits great into the professional decor. There are three drawers for documents, files, office supplies, etc. It has just the right size for standard size papers, or 8.5" x 11". You can place it on your office desk, on the shelf, study bookcase,…
Stackable Item
If you want, you can purchase multiple Fanously file cabinets and stack them on top of each other. This shallow file cabinet has an internal wooden structure while the exterior is covered with black PU leather. Moreover, there are sewn thread decorations that increase elegance.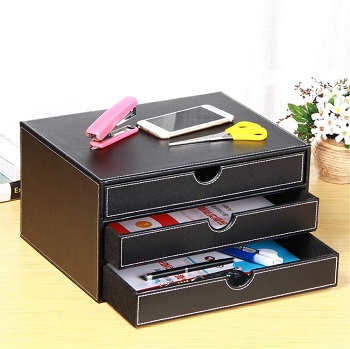 Easy To Maintain
You can pull the drawers all the way out. That ensures better access to drawer's content. The maintenance and cleaning are pretty simple. Don't use any aggressive cleanser, just wipe the filing cabinet with a damp cloth. You don't want to damage the leather and wood.
Highlighted Points:
multi-functional file cabinet made of faux leather
easy to clean and maintain
clean it with a damp cloth only
it fits in any professional environment
three drawers hold standard size files
two colors available – black and brown
Best Locked Table Top Filing Cabinet
Storex Filing Cabinet
Lightweight Item
The Storex is a functional and lightweight desktop filing cabinet. It weighs 7.6 pounds and has 14.7 inches in width, 18.25 inches in depth and 12.75 inches in height. It is available in black and grey color. This model is designed for desktop use, but there is a version with casters.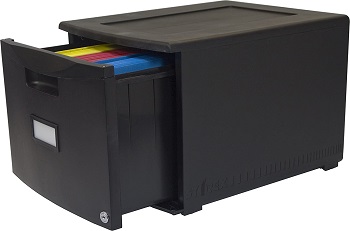 TAA Compliant
This plastic file cabinet is TAA compliant, which means, it isn't produced in China but in the USA or other TAA compliant countries. The Storex is made of durable polypropylene, so it is hard to damage it. This file cabinet is stackable, you can create a vertical file cabinet.
Key Included
The surface is moisture and rust-resistant. The top of this modern locking file cabinet can handle the weight of a standard office printer or scanner. If you need to store private or confidential documents, use the key. Lock the drawer and protect your sensitive files.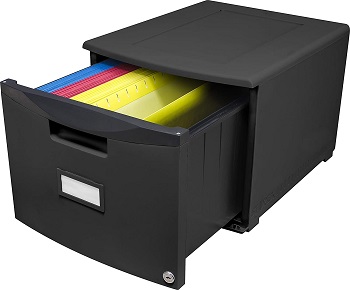 Label Holder
The drawer has a retracted handle, you can easily pull the drawer out. The label holder is also there, mark the content of your file cabinet and you'll always know what is in the box. The Storex features pads on the bottom that protect your desk from scratches.
Highlighted Points:
made in the USA or other TAA compliant country
lightweight single drawer for office supplies and documents
lock the drawer and protect your files from damage
choose between stationary feet and casters
mark the inside content with label
Best Home Office Desktop Filing Cabinet
Atbay File Cabinet
Collapsible Item
The Atbay file cabinet comes in a single pack or 2-pack. It is a compact item that fits anywhere. This is a multi-functional product and its price is low. Also, it is collapsible, when you don't need it anymore, just fold it and store it. It doesn't take too much space.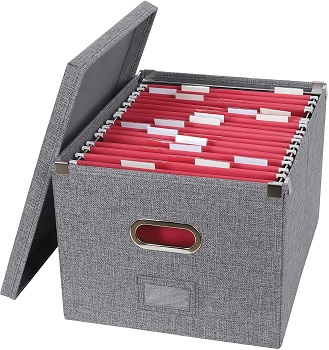 Double Frame Construction
The frame is made of a wooden board or MDF (medium-density fiberboard). On the outside is linen fabric. There is a durable double frame that holds your things well. Moreover, it is non-distortion. Inside this tabletop filing cabinet is stainless steel bracket.
Handle Design
The Atbay dimensions are 10.8 inches in height, 17 inches in depth and 13.9 inches in width. It is able to accommodate legal and letter size file folders, which is necessary for any home office. This stackable file drawer comes with handles on two sides.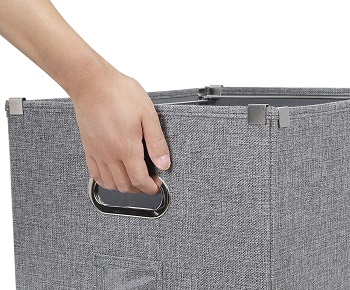 Lift-off Lid
The package includes a lift-off lid, it will protect your files and other office essentials from any kind of damage. You can easily carry the filing cabinet, your documents will be safe. On the front side of the item, there is a label holder for file identification.
Highlighted Points:
sturdy construction with a linen fabric exterior
you can stack one file cabinet on another
lift-off lid protect your files from damage
big enough for letter and legal-size files
convenient handles for easy carrying
collapsible file cabinet for simple storage
Best Cheap Desktop Filing Cabinet
Prandom Filing Cabinet
Versatile File Cabinet
The Prandom desktop filing cabinet is available in three colors – navy, ivory and grey. This item has a low price and you can place it wherever you need. Prandom is 11.2 inches high, 14 inches wide and 17 inches deep. The package includes a file cabinet, bottom board, lid, long and short rail.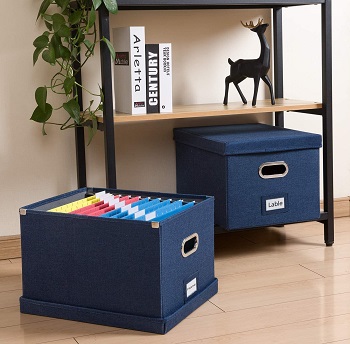 Foldable Product
When it isn't in use, you can fold it and store it anywhere. The Prandom is made of linen and cotton blend. But it is very durable and sturdy, you'll get a 3-year warranty. Organize your notebooks, office accessories, files, documents and other things with this item.
Metal Brackets
If you want to store legal size files, place them vertically. For letter-size file folders, use the horizontal position. Prandom is equipped with metal rails and smooth metal brackets. They provide the file folders to slide freely and the lid to be closed.
Stainless Steel Handles
The trendy file cabinet has handles on two sides. They are made of stainless steel. Also, there are labels on both sides. The labels are very practical because you can mark your documents and find them easily when you need them. The folders aren't included in the package.
Highlighted Points:
low price and 3-year warranty
it is made of quality linen and cotton blend
collapsible file cabinet provides easy storage
it holds letter and legal-size files
the metal brackets and rails are included
two handles and label on two sides of the item
Things To Know About Desktop Filing Cabinet
The table top filing cabinets are very practical products. They can be made of different materials, in various shapes and sizes. Check out the following guidelines and buy the best model for your office requirements.
File Cabinet Material – If you already read those reviews, you probably notice that not all file cabinets made of the same materials. They are made of sturdy plastic, medium density fiberboard and even linen and fabric. If you looking for the most durable file cabinet, then check out stainless steel file cabinets.
Label Holders – If you need to organize multiple file cabinets and their drawers, look for label holders. They will make your job much easier. If each drawer or compartment has its own label, you'll know at any moment what's in your file cabinet. That spares your time.
Handles – The desktop filing cabinets are usually lightweight. But if you need to carry them or relocate, the handles will make that easier. There are a variety of different styles. For example, there are molded handles, D-shape handles or retracted handles.
Drawer Size – What do you need to store? Is it office supplies like scissors, pencils, pens, or files? For those who looking for file drawers, there are two different types – drawers for letter-size or legal-size files. The legal size files are bigger and require more space.
Foldable Products – There aren't just sturdy, steel or metal file cabinets. You can find collapsible/foldable file cabinets on the market. These models are usually made of linen and fabric and feature metal brackets. When the file cabinet isn't in use, fold it and store it anywhere.