Do you want to upgrade your workspace or living room with a timeless desk lamp?
Then check out this article about classic desk lamps!
These are the best desk lamps for illuminating your workspace and decor your room or office. Check these models divided into six categories. It is easier for you to pick a suitable lamp that will meet your needs. Furthermore, find out which factors you need to consider before buying.
Our Top Picks
Best 6 Classic Desk Lamps
BEST OF BEST CLASSIC DESK LAMP
Torchstar Architect Desk Lamp
Three Colors
Torchstar is a high-quality desk lamp at a reasonable price. Available in black, red and white color. There are lamp dimensions – base diameter is 6 inches, the lampshade is 5.5 x 5 inches and the lamp arms have 9.1 x 9.1 inches. It comes with a 12-month warranty.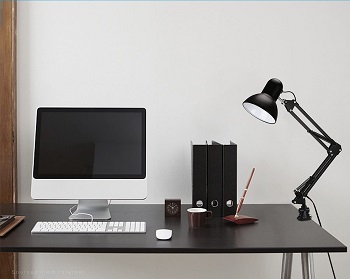 Power Cord
This classic desk lamp is compatible with E26 and E27 base bulbs. The maximum wattage you can use is 40W. Buy an LED bulb, it will reduce your electricity bills and last for a long time. The cable length is 5.1 feet, so you can easily reach any outlet.
Metal Lamp
Torchstar black metal desk lamp has an on/off rocker switch. Its power plug is UL-listed, it is tested and safe for use. Made of quality metal with a black finish, this lamp will fit into any room decor. Also, there is a weighted base, so it is the stable desk lamp.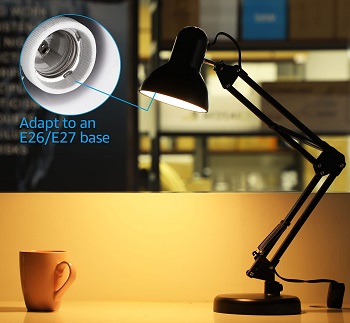 2-in-1 Lamp
This lamp comes with a sturdy and stable base and clamp. You can choose whether use clamp or base. This lamp allows you to clamp it into any vertical or horizontal surface. Moreover, there is a flexible spring balanced arm that can be extended for up to 18 inches.
Highlighted Points:
comes with a stable base and clamp
clamp it onto a vertical or horizontal surface
flexible lamp arm
UL-listed power plug
compatible with E26/E27 base bulbs
made of quality metal with a black finish
BEST BANKERS CLASSIC DESK LAMP
Asoko Traditional Bankers Lamp
Hand-made Glass
Asoko features a traditional and popular banker's lamp look. It arrives well packaged, so the lamp will be protected well. Also, this lamp comes with a 1-year warranty. The manufacturer uses first-class cutting glass, it is selected strictly.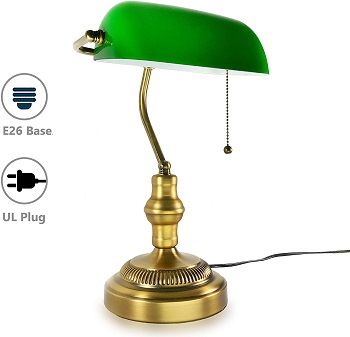 Metal Body
This is hand-made glass, so there are some little spots on the surface. This brass bankers lamp features a decent and stable lamp base. It is made of glass, metal and brass. Asoko is 15 inches tall, its width is 10 inches and the base diameter is 6.7 inches.
Rotatable Shade
This classic desk lamp weighs 5 pounds, it will stay stable. Asoko requires a standard E26 base bulb, it is compatible with LED, incandescent and halogen bulbs. You can rotate the lampshade for 350 degrees, set the light exactly where you want.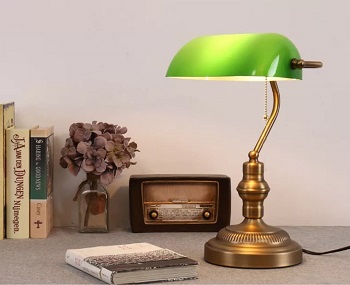 Pull Chain Switch
There is a pull chain switch for convenient use. Asoko banker's lamp is widely used in bedrooms, living rooms, offices, it brings mid-century style into your space. Asoko lamp provides warm white light with a color temperature of 2200K.
Highlighted Points:
made of glass, brass and metal
first-class hand-made glass
compatible with LED, incandescent and halogen
rotatable lampshade
standard E6 base bulb
arrives well-packaged
BEST VINTAGE CLASSIC DESK LAMP
Co-Z Rustic Table Lamp
Vintage Lamp
This is a beautiful vintage desk lamp that uplifts any living room, dining room, guest room or children's room. The lampshade measures 5 x 8 inches, the lamp base is 1.5 inches tall. It features adjustable height, you can extend it from 25 to 29 inches.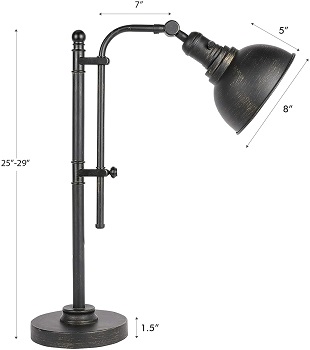 Outstanding Quality
Co-Z classic desk lamp comes with 5 feet long power cord for your convenience. It is covered with a 1-year warranty, so if there is any damage or defect within that time, constant customer service. Co-Z provides outstanding quality which is proven by the ETL certificate.
40W Bulbs
This vintage task lamp is compatible with the E26 socket type A bulbs, which include LED and CFL bulbs with a  maximum wattage of 40W. The bulb isn't included in the package. The lamppost and lampshade are made of quality and durable iron.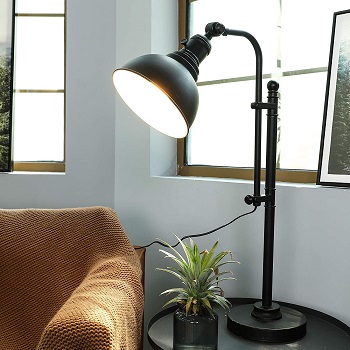 Aged Bronze Finish
Also, this lamp is slightly distressed and finished in aged bronze with gold highlights. It is a unique and attractive lamp. You can create custom lighting direction by swiveling the lamp head. The on/off socket switch is located on the lamp head.
Highlighted Points:
beautiful vintage table lamp
ETL certificated lamp
made of iron with aged bronze finish
compatible with LED and CFL bulbs
adjustable lamp head and height
covered with a 1-year warranty
BEST SWING ARM CLASSIC DESK LAMP
Lepower Metal Desk Lamp
Silver Lamp
Lepower is a popular and quality brand that produces durable lamps. It is available in black, brass, silver and white color. The lamp base diameter is 9 inches, lamp arms measure 15.7 x 15.3 inches and the lampshade diameter is 6.4 inches.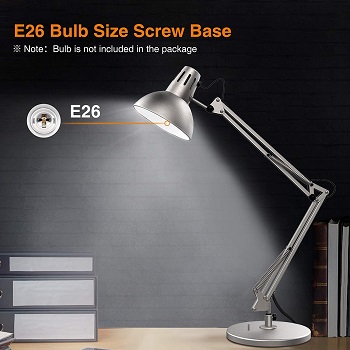 Two Ways Of Using
This classic desk lamp comes with a strong base and clamp, so there are two ways of using it. If you want to have a portable lamp, use it with a stable base. But if you have permanent space for work, craft or read, clip the lamp on, it will stay stable.
LED Bulb
The bulb isn't included in the package, so you can choose between several options. Buy LED (4W-6W), energy-saving (8W-16W) or incandescent (20-40W) bulb. If you don't want to replace bulbs often, choose an LED bulbs, they last for many years.
Flexible Design
This swing arm clamp lamp features flexible lamp arms and a head. You can easily direct the light exactly where needed. Lepower is a nice and functional lamp that will meet your basic lighting needs. The 1.5m AC cord is included in the package.
Highlighted Points:
available in multiple colors
comes with a strong base and clamp
compatible with LED, energy-saving and incandescent bulbs
flexible lamp arms
adjustable lamp head
meets your basic lighting needs
BEST LED CLASSIC DESK LAMP
Newhouse Classic Table Lamp
Space-saving Lamp
Newhouse is a small and space-saving desk lamp that perfectly fits on any coffee table, end table, workbench, dorm, office, etc. It is available in white and black colors. This classic desk lamp is backed by a 5-year warranty. The best part is its low price.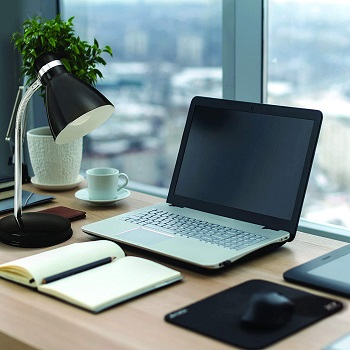 LED Bulb
This modern LED desk lamp is constructed with high-quality materials. Its metal base and shade will last for a long time. The standard E26 medium base 40W LED bulb is included in the package. Also, this lamp accepts A19 E26 medium base bulbs with a max wattage of 60W.
Flexible Neck
If you don't want to use LED bulbs, you can buy a 40W incandescent bulb. Newhouse is a simple and lightweight lamp that features a flexible neck. It is easy to adjust the light in the angle you need. Direct the light in your book, notebook, desk, etc.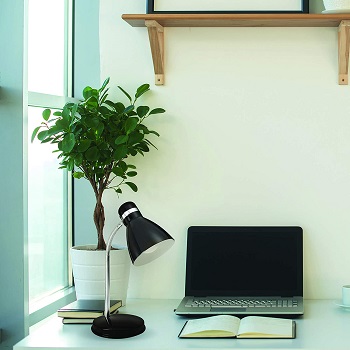 High Color Rendering Index
Newhouse lamp is 13 inches high, the base measures 5.7 x 5.7 inches. It delivers a color temperature of 3000K, which is warm white light. Also, its color rendering index is very high, 90. You can see true and accurate colors when the lamp is on.
Highlighted Points:
the LED bulb is included in the package
compatible with incandescent bulbs, too
delivers warm white light
high color rendering index
simple and lightweight desk lamp
covered with a 5-year warranty
BEST GREEN CLASSIC DESK LAMP
Carro E Table Lamp
Classy Design
Carro USA made E brand, that produces elegant and attractive lamps. Its overall height is 28 inches, the overall width is 14 inches. This lamp is made of quality glass and it comes in green and gold colors. Carro E lamp features an eye-catching design.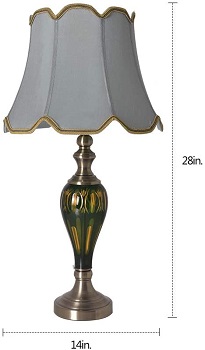 Fits Anywhere
It is perfect for bedrooms, nightstands, coffee tables, bookcases, living rooms or dining rooms. This classic desk lamp style matches vintage, rustic and modern room interiors. Carro E brings a touch of contemporary style to any room or office.
E26 Base Bulb
This stylish desk lamp features UL-listed components, it is tested and safe for use. Carro E lamp requires a 6oW standard base E26 bulb. But you need to buy a bulb separately, it isn't included in the package. Through green shade, it emits a soft and warm light.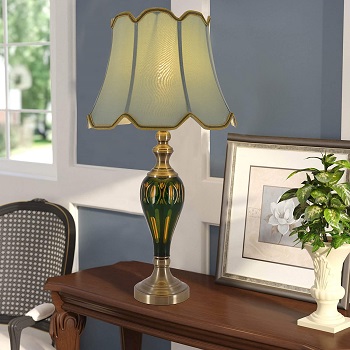 Relaxing Atmosphere
Carro E provides a relaxing atmosphere, ideal for watching movies, casual reading, etc. furthermore, this elegant lamp could be a perfect gift for the person who loves rustic-inspired, classy and unusual lamps. Its price is acceptable.
Highlighted Points:
attractive lamp with glass shade
features green and gold colors
provides relaxing atmosphere
U-listed components
requires standard E26 base
Things To Know About Classic Desk Lamps
Here you can find out how to pick the best desk lamp that meets your needs. You need to check product size, style, materials it is made of and bulb compatibility.
Classic Design – When we talk about iconic desk/table decorative desk lamps, there are a couple of names that spring to mind. That includes banker's lamps, buffet lamps, Tiffany lamps, country/cottage lamps, industrial lamps and vintage lamps. Match the lamp with your room's interior.
Lamp Size – Size is very important when choosing a desk/table lamp. The overall height of the lamp will depend in part on where you are using it and the size of the desk, table, workbench or shelf you set the lamp on. The larger the desk, the higher the lamp should be.
Lampshade Styles – There are several classic desk lamp shade styles you can find in the market. That includes a classic drum, tapered drum, shallow drum, classic oval,  classic empire, bell, horn, sharp corner square, gallery empire and many others.
Shade Materials – Before purchase, you need to consider the material that the shade is made out of. Many lampshades are made of fabric and linen. Silk and cotton are often used for lampshades. But the lampshades could be made of paper, glass and plastic.
LED Vs Incandescent  – While many desks or table lamps use LED technology, you can buy lamps that are compatible with incandescent bulbs. They are inexpensive, provide warm light and don't cause eye fatigue, also they create a cozy ambiance.