Are you looking for an iconic lamp to light up your home with luxury?
Make your home or office glow with these beautiful decorative desk lamps!
Here you can find top-grade lamps made by popular designers, they feature attractive and unique designs with excellent and functional features. Check out our top 6 list and learn more about these kinds of lamps in our buying guide.
Our Top Picks
Best 6 Decorative Desk Lamps
BEST OF BEST DECORATIVE DESK LAMP
Lazzaro Black Copper Desk Lamp
Black/Copper Lamp
Lazzaro lamp is available in two sizes – as a desk lamp or floor lamp. Moreover, you can choose between two colors – black/copper and black/grey. This designer desk lamp has a high price. Design Team Leko made this attractive Lazzaro collection.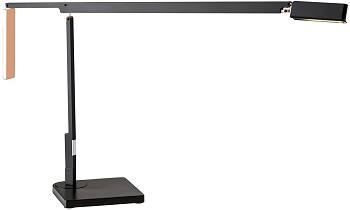 Adjustable Design
It features a modern matte black finish with beautiful shiny copper accents. This copper desk lamp features straight lines and sharp edges. Lazzaro lamp is covered with a 1-year warranty. Set the lamp at different angles and a copper counterweight will keep it stable and balanced.
Certified Lamp
This beautiful and simple lamp is tested and it meets UL and ETL standards, they prove its quality and safety. Lazzaro lamp weighs 10 pounds and measures 18 x 36 x 13 inches. It is very stable thanks to its solid base. There are adjustable joints, so you can extend the lamp from 14 to 24 inches.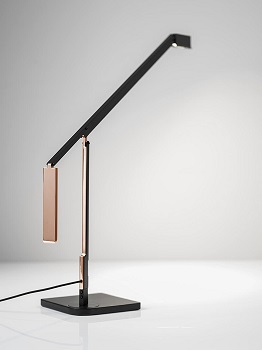 6W LED Bulb
Rotate the lamp left and right and adjust the light exactly where needed. This feature makes it perfect lamp for precise tasks such as studying, working, reading, crafting, etc. The 6W LED bulb is included in the package and there is a 4-way switch for brightness adjustment.
Highlighted Points:
stylish desk lamp with clean lines
meets UL and ETL standards
adjustable lamp height
flexible design
matte black with copper accents
4-way switch for dimmable settings
BEST SCANDINAVIAN DECORATIVE DESK LAMP
LongTN Mushroom Modern Lamp
Elements Of Design
LongTN is a modern architect desk lamp inspired by Scandinavian designs. Scandinavian design is focused on clean, simple lines, minimalism and functionally without sacrificing the product's beauty. These design elements have become very popular on the market.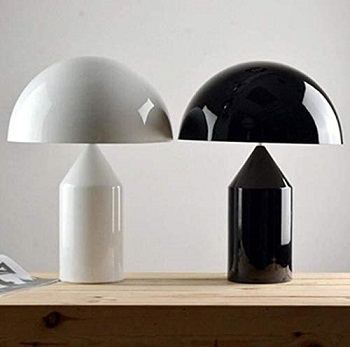 Big Black Lamp
This decorative desk lamp is available in two sizes – small and big. Also, you can choose between black, gold and white color. The reviewed lamp is black and its size is 19.6 inches in height and the lampshade diameter is 14.5 inches.
Premium Materials
LongTN scandinavian desk lamp is made of premium quality material, it is made of metal, iron and the lampshade is finished in chrome. It meets security certifications, this modern black desk lamp has passed the authentication of CCC. It proves quality and safety.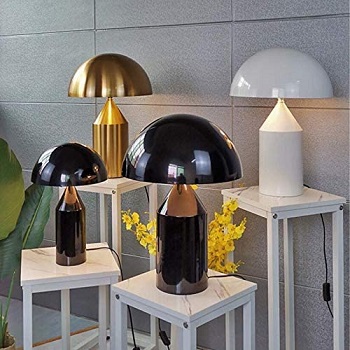 3-year Warranty
This mushroom-shaped table lamp provides warm and soft lighting and creates a romantic and cozy atmosphere. It emits soft and harmless light, that is safe for your eyes. LongTN lamp is covered with a 3-year warranty and it uses an energy-efficient LED bulb.
Highlighted Points:
made of premium materials
mushroom lamp style
covered with a 3-year warranty
compatible with LED bulbs
contains Scandinavian design elements
BEST TIZIO DESIGNER DESK LAMP
Artemide Tizio Table Lamp
Awarded Designer
The Tizio desk lamp was designed by Richard Sapper in 2008. Many of Sapper's designs received different awards and numerous renowned museums have included his work in their permanent exhibitions, including MoMA in New York.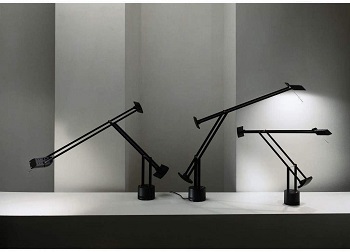 Wide-reaching Arm
This designer used technical innovations and clear designs. He made a Tizio desk lamp for the Italian manufacture Artemide. This designer lamp features a wide-reaching arm is balanced out by a counterweight that is attached at the end of the arm.
Flexible Design
It is a space-saving lamp for work desks and tables, the light directly illuminates the working surface. This adjustable arm desk lamp features a timeless design that blends into any design concept. The 8W LED is integrated into the lamp, it's rated for up to 50,000 hours.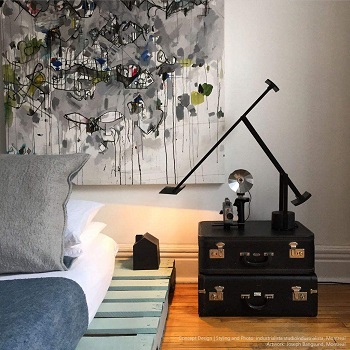 High Color Rendering Index
Tizio designer desk lamp has high color rendering index, it is 94 out of 100. It allows you to see clear and accurate colors. It features a lightweight appearance and a solid stand. Tizio is highly adjustable due to three joints. With an integrated dimmer you can adjust the brightness to your taste.
Highlighted Points:
lightweight appearance and solid stand
attractive black desk lamp
highly adjustable lamp
integrated 8W LED that last for decades
high color rendering index
integrated dimmer
BEST BAUHAUS DESIGNER DESK LAMP
Qinx Bauhaus Table Lamp
Ideal For Ambient Lighting
Qinx is a simple but effective desk lamp that features a geometric shape design. This Bauhaus desk lamp is ideal for ambient lighting. The overall lamp height is 14.2 inches, the lamp base diameter is 6.3 inches and the lampshade width is 7 inches.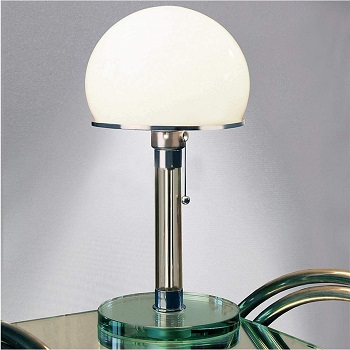 Uplift Your Room
Whether the lamp is on or off, it has decorative and functional purposes. Place it in your living room, bedroom, guest room or office. Thanks to its space-saving design, Qinx designer desk lamp fits on any table, desk, coffee table or end table.
E27 Base Bulb
This stylish desk lamp is made from glass and stainless steel. Qinx desk lamp is smooth and easy to clean. It requires 110V-220V outlets and uses an E27 base bulb. The bulb isn't included in the package, so you need to buy it separately.
Eye-friendly Light
It is suitable for any room style or color scheme of your room or office. Use an LED light bulb that emits flicker-free and non-glare light. That light is safe for your eyes, it doesn't cause eye strain or eye fatigue. Also, it prevents a feeling of dizziness.
Highlighted Points:
attractive desk lamp with mushroom shade
compatible with LED bulbs
requires E27 base bulbs
perfect as ambient lighting
made from glass and stainless steel
easy to clean
BEST PABLO DECORATIVE DESK LAMP
Urbanest Pablo Table Lamp
High-quality Materials
Pablo is a brand founded by Venezuelan-born designer Pablo Pardo. It made sophisticated and contemporary yet simple products using cutting-edge technology and high-quality materials. The reviewed small desk lamp is available in black and white color.
Lamp Size
This decorative desk lamp is 18.5 inches high, feet of lamp measure 8 x 6.5 inches and the lampshade dimensions are 5 x 5 inches. Urbanest Pablo lamp is tested and meets many safety and quality standards, that includes UL certification.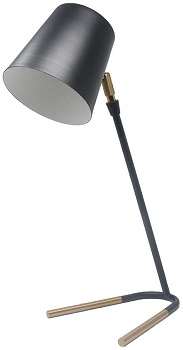 Long Power Cord
Urbanest lamp is a small modern desk lamp that fits on any nightstand, table, desk, end table or coffee table. You need to plug it and it's ready for use. There is a 60-inch long power cord. Also, the on/off switch is located on the cord for convenient use.
Swivel Head
It is a black lamp, the inside of the shade is white and there are burnished brass accents. The entire construction is made of quality metal, so it's very durable. It uses a standard type A bulb with a maximum wattage of 40W. Its swivel lamp head allows you to adjust the perfect lighting angle.
Highlighted Points:
elegant and sophisticated desk lamp
high-quality metal construction
black lamp with brass accents
uses standard type A bulb
on/off switch on the power cord
UL-listed lamp
BEST GEORGE KOVACS DECORATIVE DESK LAMP
George Kovacs LED Table Lamp
About Designer
George Kovacs started a lighting store in Manhattan and soon become a renowned designer. Now, this brand designs decorative lamps in mid-century and contemporary styles. Their lamps have clean lines and unexpected twists and curves. All creations are functional and aesthetic.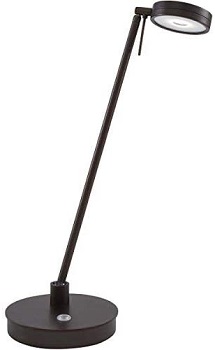 Copper Bronze Lamp
This decorative desk lamp is available in four colors – chrome, honey gold, brushed nickel and copper bronze. George Kovacs lamp is 18.7 inches tall and 6.2 inches wide. This LED reading lamp complements any work, study or dorm, also, it doesn't take up too much space.
Task Lighting
Made of steel, aluminum and brass, this lamp will last for a long time. One 8W LED is included in the package, it provides 442 lumens. George Kovacs lamp ensures quality task lighting, so you can use it for reading, working studying and other precise tasks.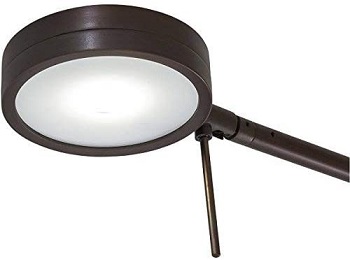 UL-listed Lamp
It features a fully adjustable design, meaning you can adjust the lamp height, lighting angles and lamp head. There is an on/off dimmer switch that creates the illumination you need at the moment. Kovacs's lamp is UL-listed and environmentally sustainable.
Highlighted Points:
made from steel, aluminum and brass
available in four colors
designed for reading and working
8W LED included in the package
fully adjustable design
on/off dimmer switch
Things To Know About Decorative Desk Lamp
In these short reviews on attractive and decorative desk lamps above, we mention some info about designers. In the section below, you can learn more about these lamps, which will help you to choose the best lamp that meets your needs and style.
Popular Designer's Lamps – Delivering stylish design and function, popular designer's lamps are intended for people who want to make their homes or offices unique with a touch or elegance and functionality. These lamps are made of premium materials that last for your lifetime.
Scandinavian Design – Every few years it seems like a new design takes over the market. Scandinavian design has become very popular through the last years. So the main elements of Scandinavian design are clean and simple lines, minimalism, functionality yet beauty.
Lamp Price – Most of us can't afford to decorate our homes or offices with modern designer lamps. These table lamps bearing designer's names/names, so they're out of civilian's reach. These lamps are pricey items, so not affordable for everyone.
LED Bulb – All decorative desk lamps in the list above use LED bulbs or beads. There are many reasons for that. The modern LED desk lamps have many advantages, LEDs are highly energy-efficient, produce low heat, last much longer than traditional bulbs.
Light Bulb Options – If you want to have a lamp that allows you to change the light conditions, then you should buy a lamp with dimmable settings. Dimmable bulbs let you do that, by adjusting the brightness. Then you can set the high light for reading or low light when relaxing.
Final Verdict
All of these lamps are beautiful and attractive, choose the one you like. We recommend the Lazzaro designer desk lamp. It is made of premium materials and meets many safety and quality standards, plus it features a minimalist design. Also, you can check other attractive models in the posts on aesthetic desk lamps and brass bankers lamps.