Are you looking for a practical task lamp that will light up your workbench properly and make it easier to see what you're reading, working or typing?
Then you should check this article, it talks about modern task lamps that will illuminate your workspace properly. There are six models divided into categories, so you can choose between battery-operated, LED, vintage, adjustable and other types.
Our Top Picks
Best 6 Modern Task Lamps
BEST OF BEST MODERN TASK LAMP
AmazLit Modern Desk Lamp
Wide Clamp
AmazLit is a modern, space-saving lamp available in black color. This sturdy lamp maximizes your workspace, it features a strong clamp design. Extra-wide metal clamp comes with silicone pads. Strong clamp supports up to 2.1 inches of thickness.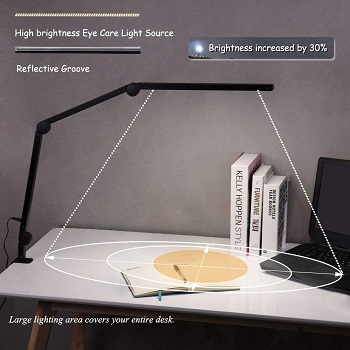 Quality Material
This modern task lamp won't scratch your desk. The package includes a lamp, UL power adapter and user manual. AmazLit is made of aviation-grade aluminum alloy and finished with brushed matte black. The cord length is 71 inches.
Three Flexible Joints
You can adjust the lamp in multiple directions, thanks to three flexible joints on the lamp. The long 15.8-inch swivel lamp head provides flicker-free and glare-free illumination. Ideal adjustable reading lamp suitable also for working, crafting and drawing.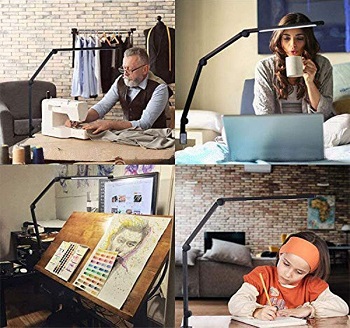 Automatic Delay-of Function
Adjust the color temperature, it ranges from 3000K to 5500K. It features a built-in automatic delay-off function, it can be set for 10 or 40 minutes. Then the lamp will turn off automatically. Also, there is a memory function, it will remember your last used setting.
Highlighted Points:
memory function
automatic delay-off function
adjustable design
flicker-free and anti-glare light
extra wide metal clamp
BEST BATTERY OPERATED MODERN TASK LAMP
Luxe Cordless Desk Lamp
Attractive Desing
Luxe lamp features a modern and attractive design, it is available in silver, gold and grey colors. This lamp is made of high-grade aluminum, while the bar is water-resistant, it is made of soft material. Luxe uses quality LED light that reduces eye strain.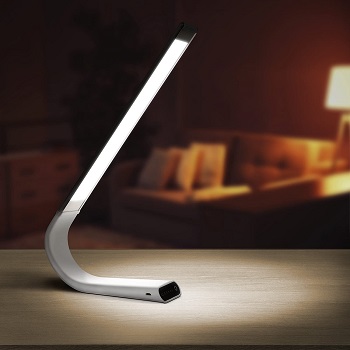 Glare-free Light
This LED light emits glare-free, flicker-free light. Also, it doesn't emit UV, there is no harmful blue light. You can read or work for a longer time. Luxe modern task lamp features 28 LEDs rated for up to 50,000 hours. It is battery operated lamp.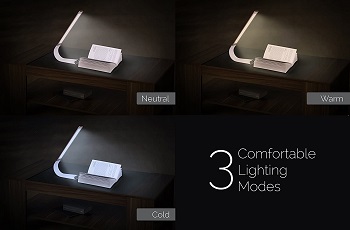 Built-in Battery
There is a built-in 2000 mAh high-quality Li-polymer battery that supports up to 3 – 40 hours runtime. This cordless reading lamp comes with included charging cable. It offers three lighting modes and six levels of brightness, all controlled by a touch panel on the base.
Highlighted Points:
desk lamp with a unique design
built-in rechargeable battery
three color modes and six brightness levels
eye-friendly light
28 LEDs lasts up to 50,000 hours
BEST MID CENTURY MODERN TASK LAMP
OttLite Antique Desk Lamp
Elegant Lamp
OttLite is a modern lamp inspired by a vintage design. It features a sturdy metal base with a classic lampshade. This lamp covers a large desk area, so it is suitable for offices, dorms, workbenches, etc. You can adjust the lamp height from 4 to 18 inches.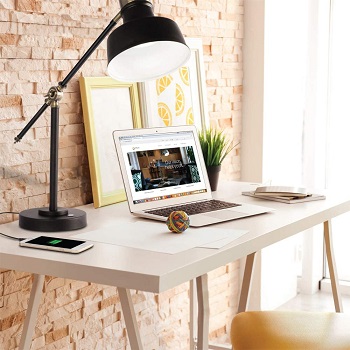 USB Charging Port
You can easily lock the lamp in the desired position with a turnkey. This mid-century modern task lamp has a powerful 5V, 2.1 A USB charging port. Charge your mobile phone, tablet and other devices quickly. On the lamp base, there is a touch-sensitive switch.
Natural Daylight Mode
This vintage task lamp offers three color modes with three brightness settings. There is a warm white (2700K), ideal for ambient lighting. Choose the bright white (3500K) mode for casual reading and relaxing. The third is ClearSun natural daylight (5000K) – excellent for focus and reading.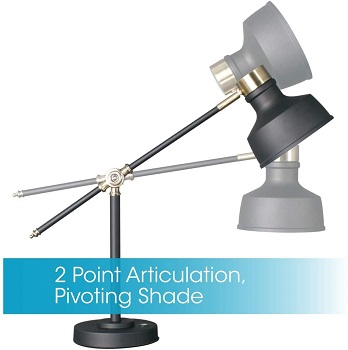 ClearSun Technology
OttLite lamp uses patented ClearSun technology, it reduces eye strain by up to 51%. You will be able to read or work longer than before. These LEDs are rated to last up to 40,000 hours. OttLite provides uniform light with a high color rendering index of 97.
Highlighted Points:
modern lamp inspired by vintage design
three color modes and three brightness levels
ClearSun technology reduces eye strain
high color rendering index
powerful 5V, 2.1A USB port
BEST SWING ARM MODERN TASK LAMP
Niulight Swing Arm Lamp
Aluminum Alloy Lamp
Niulight lamp is available in black matte color, so it suits any office or home decor. It comes with a cord that is 71 inches long. This space-saving lamp has a wide clamp that supports up to 2 inches. Niulight is made of quality aluminum alloy material.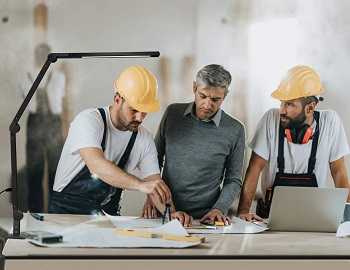 UL-listed Adapter
The package includes a lamp, strong clip-on metal clamp, ETL or UL listed power adapter, user manual and 12-month warranty. You can mount it on an office desk, workbench, bedside table, headboard, shelf or other horizontal surfaces.
98 LEDs
It features an adjustable lamp head, flexible metal body and rotating base. You can easily position the light in the direction you need for your tasks. This modern task lamp uses 98 high-efficiency LEDs that consume less energy than traditional bulbs.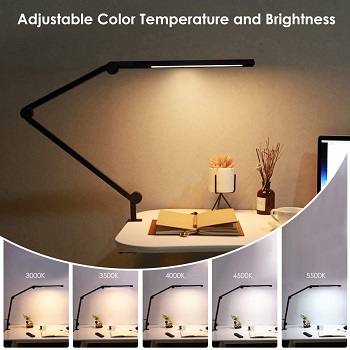 Auto-off Timer
This adjustable arm desk lamp emits soft light, without flickering and glaring. You can adjust the color temperature and brightness level. There is a sensitive touch control on the lamp head. Also, there are a memory function and a 10/40 min auto-off timer.
Highlighted Points:
available in black matte color
coms with ETL listed adapter and clip
easy to mount it
adjustable lamp head, lamp body and base
uses 98 LEDs
memory function and auto-off timer
BEST LED MODERN TASK LAMP
MXMOO LED Desk Lamp
Clamp Lamp
Mxmoo is a modern desk lamp with a clamp, available in black and white color. This lamp comes with a 12-month warranty. Its construction is made of aluminum alloy, so Mxmoo is a lightweight, portable and sturdy lamp. It has an affordable price.
Flexible Arm
This modern task lamp has a long swing arm that is flexible. There are three adjustable points, so you can quickly change the light direction. Mxmoo adjustable LED desk lamp has a clamp design and the maximum clamping distance is 2 inches.
Up To 50,000 Hours
It uses 80 LEDs that are rated for up to 50,000 hours. Plus, they use less energy. Mxmoo lamp care for your eyes, it delivers soft, flicker-free and non-glare light. It doesn't cause eye strain, which means you can work or read longer than before.
Three Color Modes
Choose between three different color modes and 10 levels of brightness. There are warm light, warm white light and cold white light. It is easy to find a mode that is suitable for different occasions. Mxmoo comes with a memory function for convenient use.
Highlighted Points:
made of aluminum alloy
clamp lamp with swing arm
covered with a 1-year warranty
80 LEDs rated for up to 50,000 hours
flicker-free and non-glare light
multiple color modes
BEST CLAMP MODERN TASK LAMP
Phive LED Desk Lamp
Ultra-wide Panel
Phive is a quality and popular desk lamp for working. It is available in black and white color. There is an ultra-wide LED panel of 31.5 inches. It delivers 300% wider and larger lighting coverage. Phive desk lamp is suitable for large workbenches or as a monitor light.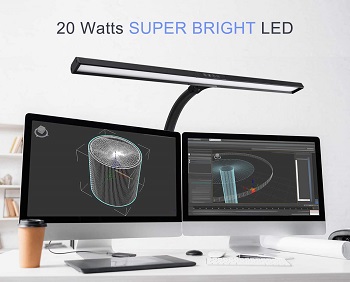 20W LED Panel
The overall modern task lamp height is 37 inches and the maximum clamping distance is up to 2.2 inches. Phive adjustable desk lamp is widely used in offices, home offices or dorms. There is a 20W high-quality LED, designed for multi-screen professionals.
Universal Gooseneck
Phive provides soft light, flicker-free and non-glaring light which doesn't cause eye strain or eye fatigue. You can work or study for hours without harmful effects. Also, you can adjust the lamp height and angle, there is a universal gooseneck.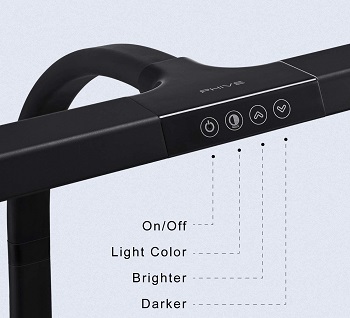 Lighting Modes
You can choose between four color temperatures and five brightness levels. They suit all situations. If you set high brightness and cold color temperature, that light will improve your productivity and work efficiency. There is a memory function that remembers the previous mode.
Highlighted Points:
lamp with extra-wide light panel
ideal for large desks
memory function
four-color temperatures
five brightness levels
20W high quality LED
Things To Know About Modern Task Lamp
A proper modern task lamp is your trusty sidekick partner, so in this section, we will show you how to choose the right desk lamp for your needs. You need to check the lamp size, its power type, bulb compatibility and few other factors.
Lamp Type – There are several lamp types on the market you can choose from – adjustable arm lamps, gooseneck lamps, clip-on lamps and others. All these lamp types are perfect for task lighting, they have a flexible design, so you can adjust the light directly where needed.
Lamp Position – Many people ask where they should place a task lamp. The position of the lamp is a crucial element for good work. A good rule is to place your light about 15 to 16 inches away from your work area. If you are a right-handed person, place the lamp on your left side and vice versa.
Lighting Adjustments – Some modern reading lamps come with color temperature and brightness control. If you can adjust the lighting, then you can use your lamp for different occasions. For example, set the highest color temperature and high brightness while reading or working. Low brightness is ideal for relaxation.
Power Type – If you don't want to have a modern task lamp with a cord, there are many other options you can choose from. There are many lamps that come with rechargeable USB ports. Also, you can find a battery-operated desk lamp. Both lamp types are portable.
LED Light – Traditional lamps used incandescent light bulbs, which provide warm light but they are less energy efficient. The newer desk lamps use LED bulbs, which have more benefits. They don't heat that much, don't cost too much, use less power and last much longer.