On a search for attractive mushroom desk lamps that will accent your room decor?
Then keep reading!
Here you can find a list of the six best-rated desk lamps available in various styles, with different functions and features. Read the reviews and check out our buying guide which contains useful info important to know before shopping.
Our Top Picks
Best 6 Mushroom Desk Lamps
BEST OF BEST MUSHROOM DESK LAMP
Haydel Matte Brass Desk Lamp
Matte Brass
Globe Electric is a popular brand that produces this Haydel desk lamp. It is available in blackened steel, brass, matte black with clamp, matte brass and matte rose colors. All these models look attractive and modern, bringing a touch of elegance to your home.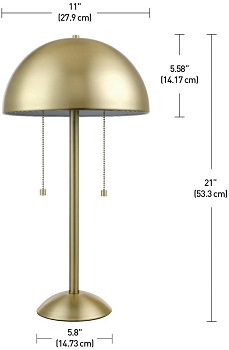 Long Power Cord
The overall lamp height is 21 inches, the lampshade dimensions are 5.5 inches in height and 11 inches in diameter, the lamp base width is 5.8 inches. It comes with a long and clear power cord that allows you to place this mushroom desk lamp wherever you want.
Two Bulbs
This brass reading lamp requires two E26 medium base bulbs. They aren't included in the package, so you need to buy them separately. Haydel desk lamp features two pull chains, each pull chain operates one lightbulb. If you need more light, turn both bulbs on.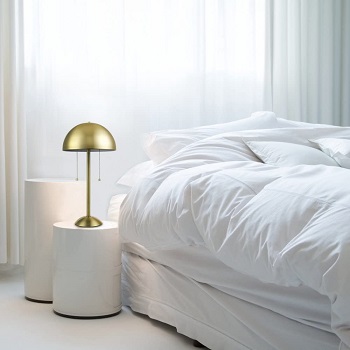 Sturdy Construction
It creates the perfect ambiance or light direction in your room. Haydel lamp is made of high-quality metal, so it features durable and sturdy construction. It weighs 4.7 pounds, this gold desk lamp is stable and won't tip over easily.
Highlighted Points:
made of high-quality metal
available in many matte colors
requires two E26 medium lightbulbs
stable and durable lamp
comes with a long transparent power cord
double on/off pull chains
BEST LED MUSHROOM DESK LAMP
Bepuzz Bedroom Table Lamp
White Model
Bepuzz is an attractive desk lamp available in pure white color. It suits modern and contemporary designed living rooms, dining rooms, home offices, bedrooms, children's rooms. The lamp size is 21.6 inches in height and 11.8 inches in width.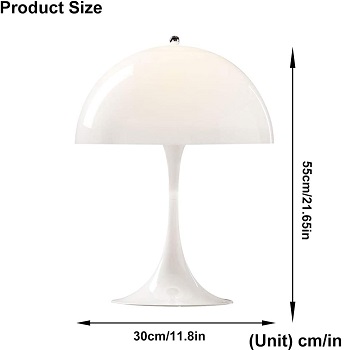 For Small Spaces
Made of solid and thick metal with a baking varnish finish, it is a durable, stable and strong lamp. Its surface is smooth and easy to clean and maintain. Bepuzz desk lamp with mushroom design is suitable for rooms of 5-10m2, so use it in small space for maximum effect.
E27 LED Bulb
The lightbulb isn't included in the package, but the manufacturer suggests a standard E27 LED lightbulb. LED provides flicker-free light without harmful effects on your eyes. Bepuzz desk lamp is ideal for casual reading, watching movies and similar activities.
Great Gift
This white LED desk lamp has a small and round footprint, so place it on your nightstand, coffee table, end table, dining table, etc. Bepuzz lamp has a high price but it is very quality and lasts for a long time. It is a perfect gift for your friends and colleagues.
Highlighted Points:
available in pure white color
suits modern and contemporary interiors
thick metal with baking varnish finish
requires standard E27 LED bulb
fits on any nightstand, coffee table and end table
BEST FOR READING MUSHROOM DESK LAMP
OUMC Postmodern Desk Lamp
Professional Brand
OUMC is a professional lighting manufacturer that produces high-quality and modern desk and table lamps. Choose between three colors – black, white and gold. Its overall height is 19.7 inches while the lampshade diameter is 14.9 inches.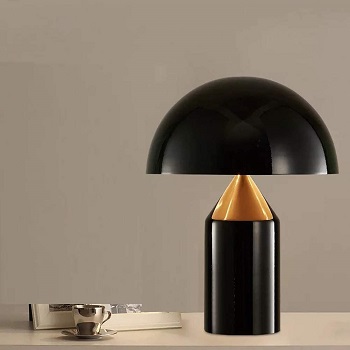 Quality Assurance
This mushroom desk lamp has passed the national CCC certification standard. It is safe for use. If you receive a broken lamp, contact customer service and they will solve the problem and send you a new lamp. The simple and stylish desk lamp fits the living room, bedroom, dining room.
Max 60W
OUMC lamp is made of quality and durable metal making it sturdy and ideal for long-lasting use. The bulb isn't included in the package, so you need to buy an incandescent, energy-saving or LED lightbulb. The maximum wattage is 60W.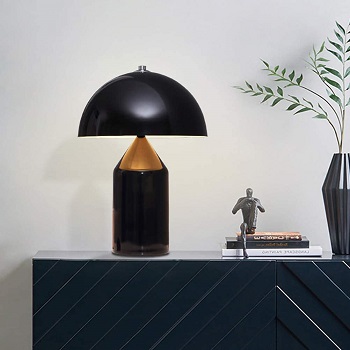 Anti-rust Surface
The small reading lamp requires 110V-240V. It features an on/off switch on the lamp body for convenient use. The lamp surface is treated with baking paint and polished to prevent rust, corrosion and any other damage. It is simple to assemble.
Highlighted Points:
high-quality and modern desk lamp
passed many quality and safety tests
compatible with incandescent, energy-saving and LED bulb
the maximum wattage is 60W
on/off switch on the lamp body
smooth and anti-rust surface
BEST MODERN MUSHROOM DESK LAMP
Lapden Gold Table Lamp
Gold Finish
Lapden is an eye-catching desk lamp available in gold, white and black color. White lamp suits modern interiors, black is ideal for more serious and professional environments while the reviewed gold model brings a touch of elegance and modernity.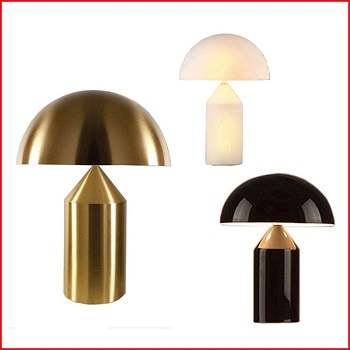 Postmodern Design
This mushroom table lamp combines postmodern, minimalist and nordic styles. Because of its small footprint, Lapden fits anywhere, on your workbench, end table, coffee table, shelf and other places. It creates a perfect and comfortable atmosphere.
Warm White Light
It requires an E14 LED bulb whose average lifespan is 80,000 hours. Meaning, you can have to replace it for decades. This modern LED desk lamp provides a warm white light that is pleasant for your eyes. There isn't flickering or glaring.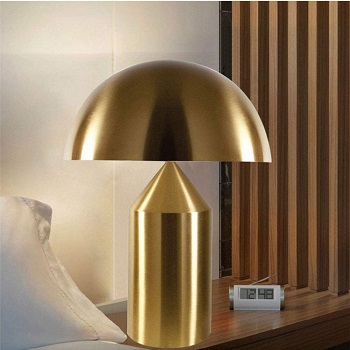 Thick Metal
The gold lampshade helps soften the light to create a cozy and comfortable environment. Lapden is made of high quality and thick metal with nano metal baking varnish. Its surface is smooth and easy to clean. Lapden is a stable and decorative table lamp.
Highlighted Points:
available in gold, white and black color
combines postmodern and nordic styles
fits on any table or desk
made of durable and thick metal
uses an E14 LED bulb with a long lifespan
flicker-free and glare-free light
BEST METAL MUSHROOM DESK LAMP
LongTN Mushroom Table Lamp
Black Desk Lamp
LongTN made this elegant and stylish desk lamp, you can choose between three colors – black, gold and white. They are all beautiful but pick the model that complements your current room decor. Moreover, choose between two sizes – small and big.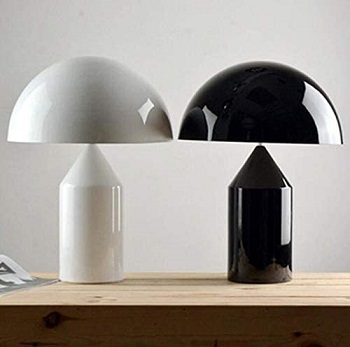 Lamp Size
The big desk lamp measures 19.6 inches in height, 14.5 inches in width and the lamp body height is 13.7 inches (without lampshade). LongTN is a tested desk lamp, it meets many safety and quality standards, such as CCC authentication.
Metal Construction
LongTN lamp with mushroom shade is made from iron and metal and the lamp body is made of metal. This material makes the lamp durable and sturdy. The black metal desk lamp features uniform light dispersion. Soft light is safe for your eyes, there is no ultraviolet and infrared radiation.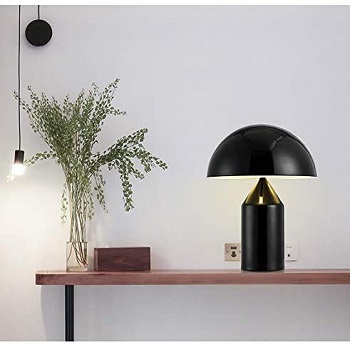 Romantic Atmosphere
This elegant desk lamp creates a cozy and romantic atmosphere in any room when turning on. When turned off, it is an attractive room detail. The three-year warranty is provided by the manufacturer. It requires E14 LED light bulb as a light source.
Highlighted Points:
beautiful black desk lamp
made of metal and iron
provides uniform light dispersion
requires E14 LED bulb
creates cozy atmosphere
tested and certified product
BEST SMALL MUSHROOM DESK LAMP
Krasty Small Table Lamp
Eye-catching Lamp
Krasty is an attractive table lamp suitable for the living room, dining room, home office and other spaces. The overall lamp height is 16.1 inches and the lampshade is 7.1 inches wide. This desk lamp is tested and has UL certification of US.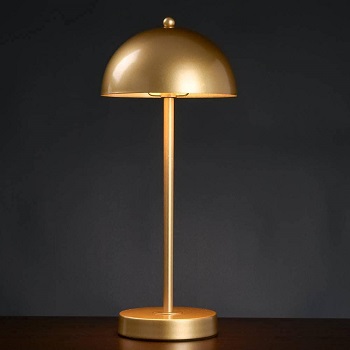 G9 LED Bulb
This mushroom desk lamp features a G9 lamp holder. Krasty lamp doesn't come with a light bulb. It is compatible with a maximum wattage of 60W. The manufacturer recommends the small G9 LED bulb. It is energy efficient and lasts for a long time.
Gold Finish
Krasty desk lamp is made from quality metal and finished in elegant gold. This small gold desk lamp brings elegant and sophisticated touch into your room, the gold will never be out of date. Krasty lamp complements modern and contemporary designed rooms.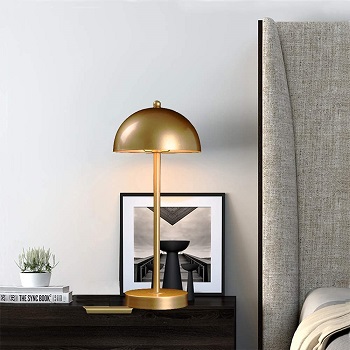 Soft Light
This table lamp is perfect for children's room and bedroom. It doesn't have an exposed light bulb that usually disturbs your sleep, but offers soft and warm light ideal for relaxation or casual reading. The solid gold shade softens the illumination.
Highlighted Points:
attractive table lamp suitable for bedrooms
made of durable metal with a gold finish
compatible with G9 LED bulbs
adds a touch of elegance
features UL certification
Things To Know About Mushroom Desk Lamp
These mushroom desk lamps come in a variety of styles and features, so it isn't an easy task to find the best lamp for your needs. So, we prepared several guidelines about these lamps, light bulbs, illumination levels and more.
Mushroom-shaped Lamps – This type of lamp isn't designed for task lighting but ambient illumination. They fit in your bedroom, living room, dining room as ambient lighting or decoration. Their lampshade softens the light making it comfortable for your eyes.
Attractive Design – Before you buy a first nice-looking desk lamp, think about your room, home office or office where you want to place your future lamp. Find a lamp with an eye-catching appearance that goes perfectly with your home/office interior.
LED Light Advantages – Even if many modern desk lamps are still suitable with incandescent, LED, halogen and CFL light bulbs, the LED have much more advantages. That includes energy efficiency, long-lasting use, no UV emissions and low heat production.
Warm Lighting – These decorative desk lamps don't use powerful and ultra-bright light bulbs. Usually, they are compatible with incandescent, CFL and LED bulbs. The low-wattage light bulbs are safe for your eyes, they produce flicker-free and glare-free illumination.
Maintenance – The mushroom desk lamps usually don't require high maintenance. If you buy a desk lamp with LED, it will last longer than an incandescent lightbulb, so you don't have to worry about changing it now and then.