Are you looking for a colored desk lamp with an impact on your emotions and interior?
Then this article about colorful desk lamps is ideal for you!
There are listed white, blue, red, purple, and other colored lamps with a variety of styles and functions. Read those six reviews and pick the suitable lamp for your requirements. In the buying guide, we will give you some useful tips and tricks.
Our Top Picks
Best 6 Colorful Desk Lamps
BEST OF BEST COLORFUL DESK LAMP
ForeverLighting Nordic Desk Lamp
Yellow Desk Lamp
ForeverLighting is a beautiful yellow table lamp. This nordic desk lamp 20.5 inches tall and the lampshade is 8.6 inches long. The construction is made of durable metal and painted yellow. After 90 days from purchase, you can replace or refund it if you aren't satisfied.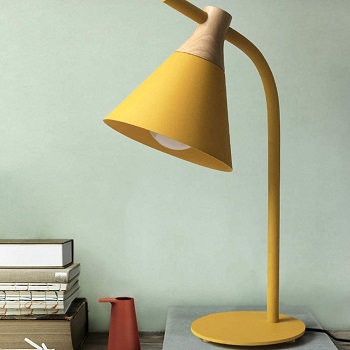 Nordic Design
This colorful desk lamp features a simple and nordic design, it suits modern, urban and contemporary room interior. It fits on a desk, table, workbench, end table, coffee table, shelf, etc. The 5W LED bulb is included in the package. ForeverLighting requires an E26 base bulb.
UL-listed Lamp
ForeverLighting is a decorative desk lamp that doesn't require assembly. It arrives well-packaged, you need to unpack it and plug the lamp in the socket. This lamp passes UL certification that proves high-quality and safe. It is safe for children, too.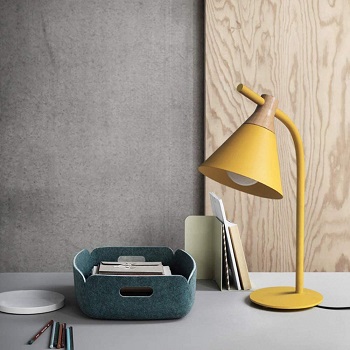 Max 60W
The brightness of this lamp depends on the wattage of the bulb. The maximum wattage is 60W. Yellow belongs to warm colors, it is the most energetic color, associated with optimism, energy and happiness. It is perfect for the living room or children's room.
Highlighted Points:
simple nordic designed lamp
comes with a 5W LED bulb
no assembly needed
covered with a 6-month warranty
made from metal with yellow paint finish
BEST ORANGE COLORFUL DESK LAMP
ZXS Orange Table Lamp
Multiple Colors
This table lamp features a modern space-saving design. Its orange color brings refreshment into any room. You can use it for office, your home workroom, bedroom and more. It is made from plastic that is safe for the environment and makes the lamp completely insulated.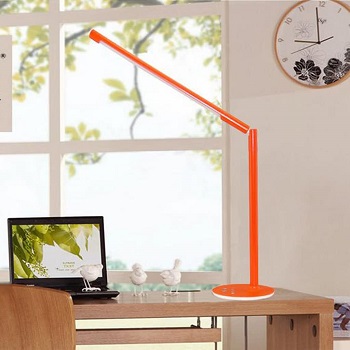 Quality Materials
The lamp body provides efficient heat dissipation. The package includes an LED desk lamp and a user manual. The lamp includes a touch panel with 8 keys. You can use touch control with 6 speeds to adjust the brightness. It's possible to change the color temperature. The lamp offers 3 kinds of color temperature: white light, warm light or neutral light.
Wireless Charger
ZXS modern LED desk lamp has an adjustable arm. The overall height of the lamp is about 15 inches while the round base is about 0,5 inches long in diameter. You can fold the upper part of the lamp for 90 degrees maximally.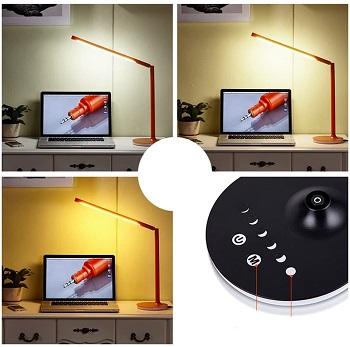 Foldable Design
ZXS orange desk lamp features a 360-degree dual-axis rotatable arm that meets different lighting needs. It delivers uniform and soft light, without flickering and glaring. You can fold this lamp so it looks like a straight line. Therefore, you can store this desk lamp easily in any place.
Highlighted Points:
modern and space-saving orange lamp
adjustable lamp arm
offers 3 brightness levels
foldable design
BEST BLUE COLORFUL DESK LAMP
ShineTech Touch Control Table Lamp
Blue Desk Lamp
ShineTech is a modern blue desk lamp that is 16.8 inches tall, the base measures 5.5 x 1.1 inches and the lampshade width is 7.3 inches. The cord is 5.1 feet long. ShineTech requires a standard E26 base bulb. The LED bulb is included in the package.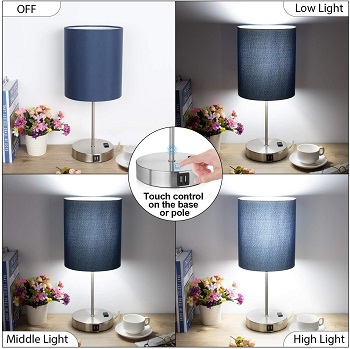 Silver Metal Base
The blue color evokes feelings of calmness and relaxation. ShineTech features a silver metal base and pole and classic linen blue lampshade. Use it as a desk lamp, office table lamp, coffee table lamp or dining table lamp. This blue desk lamp takes up little space.
Natural Light
It comes with a UL-listed safety plug and a 120V AC outlet. LED bulb provides more natural light, it features a color temperature of 5000K. ShineTech emits flicker-free and non-glare light, perfect for reading. On the lamp base, there are two built-in USB ports.
Touch-sensitive Base
This colorful desk lamp allows you to charge your mobile phone and other small electronic devices. Use the USB ports whether the lamp is on/off. ShineTech lamp offers three brightness levels – low, medium and high. Just tap on the base and switch the level of brightness.
Highlighted Points:
silver metal base
classic blue linen lampshade
UL-listed plug
one AC outlet and two USB ports
flicker-free and glare-free light
the color temperature of 5000K
BEST PURPLE COLORFUL DESK LAMP
TW Lighting Ivy Desk Lamp
Low Price
Purple makes you feel creative, so the TW Lighting Ivy desk lamp is a perfect item for workbenches, dorms and study rooms. The lamp dimensions are 14 x 4.2 x 16 inches. Its power cord is 76 inches long. This attractive purple desk lamp has a low price.
Energy Star Certificate
It comes with a UL-listed plug, it is tested and safe for use. Ivy colorful desk lamp uses LED as a light source, it provides 500 lumens. The lamp features an Energy-Star certificate that proves its low power consumption. Also, LEDs last much longer than traditional bulbs.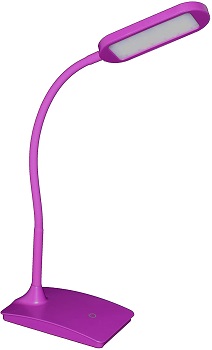 High Color Temperature
This stylish desk lamp has a high color rendering index, it is 80. Meaning, you can see true and accurate colors. Its color temperature is 4000K, which is perfect for reading, crafting, working and other precise tasks. Ivy lamp will adequately illuminate your desk.
Flexible Gooseneck
Choose between three levels of brightness – low, medium and high. Set cool light for reading and low light as ambient light. You can adjust the light wherever you want thanks to its flexible gooseneck. Charge your mobile phone with a USB charging port on the lamp base.
Highlighted Points:
compact purple desk lamp
high color rendering index
three brightness levels
the color temperature of 4000K
built-in USB charging port
affordable price
BEST RED COLORFUL DESK LAMP
Torchstar Architect Desk Lamp
Attractive Red Lamp
Torchstar is a popular brand that produces durable and quality desk lamps. This red desk lamp is available in black and white colors, too. Red is a warm color that makes you feel energized. Wherever you want to use it, this red lamp will draw attention.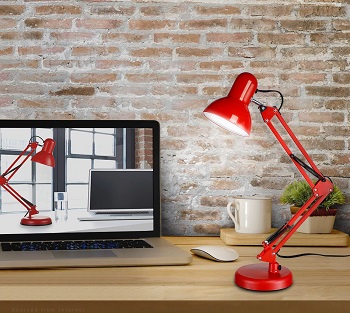 2-in-1 Lamp
This colorful desk lamp comes with both, stable stand and clamp. If you want to move this lamp from one desk to another, use the stable stand. But if you have a permanent spot for reading, working or crafting, or just need more desk space, clip the lamp on.
Lamp Size
Torchstar base diameter is 6 inches, the lamp arms have 9.1 x 9.1 inches and the lampshade measures 5.5 x 5 inches. The cable length is 56 inches. If you are using a clamp, the max clamping distance is up to 1.9 inches of the tabletop. You can clamp it on vertical and horizontal surfaces.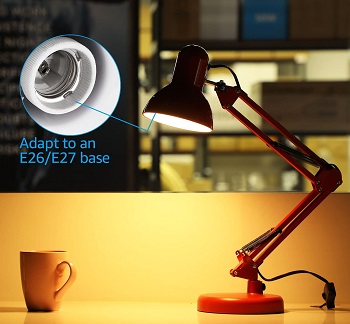 Adjustable Lamp Arm
Torchstar adjustable desk lamp has a flexible spring balanced adjusted arm that you can extend up to 18 inches. Also, you can rotate the base and shade and direct the light where you want. This lamp is made of solid metal and comes with a UL-listed plug.
Highlighted Points:
solid metal with a red finish
comes with a stable stand and clamp
available in three colors
flexible arm and rotatable base and shade
clamp it onto vertical and horizontal surfaces
BEST WHITE COLORFUL DESK LAMP
Ottlite Command Desk Lamp
Minimalist Aesthetic
Ottlite desk lamp is available in white color only. White means minimalism and simplicity, so this lamp gives a simple, fresh and clean look. There is a space-saving round base that fits on any workbench, desk, table or nightstand.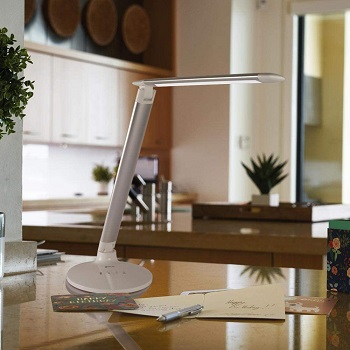 ClearSun Technology
This colorful desk lamp uses advanced ClearSun LED technology which provides unparalleled light output. This technology reduces eye strain by 51% and minimalizes eye fatigue. Ottlite emits natural light, closer to the sun's natural spectrum.
Three Color Modes
Ottlite is a modern white desk lamp that offers three color modes – warm white (2700K), bright white (4000K) and ClearSun natural daylight (5000K). This natural daylight is suitable for reading, working, crafting and focus. It is bright enough for precise tasks.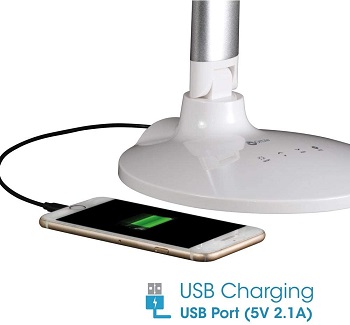 Compatible With Alexa
Charge your mobile phone and other small devices via a powerful 5V/2.1A USB port, it will charge your device quickly. Ottlite features an adjustable design, adjust the lamp height and lamp head direction. Plus, this desk lamp is compatible with Amazon Alexa.
Highlighted Points:
available in white color only
space-saving desk lamp
uses advanced ClearSun technology
three color modes
powerful 5V/2.1A USB port
adjustable lamp design
Things To Know About Colorful Desk Lamp
Here you can learn more about the psychological effects of colors and how they impact on our emotions. Furthermore, there is more useful info on how to choose a suitable lamp, like lamp purpose, size, additional features.
Color Impacts – It is proven that colors and emotions are linked. Warm colors will evoke different emotions than cool colors. So warm colors, like red, orange, yellow evoke feelings of happiness, optimism and energy while cool colors like green, blue and purple, are calming and soothing. The white LED desk lamp provides minimalism and freshness.
Light Bulb – Almost all modern desk lamps use LED light bulbs. These light bulbs have many advantages. LEDs are energy-efficient, produce low heat and they are able to last for 20 years and even more. Check for eye-friendly LED light that doesn't cause eye strain.
Task Lighting Or Ambient Light – There are differences between lamps for tasks and ambiance. Lamps for task lighting offer more powerful light that allows you to read and work. Lamps for ambiance usually come with a classic shade that softens the light.
Flexible Design – There are lamps with adjustable design and flexible gooseneck. If you want to buy a lamp for reading, working or hobbies, choose the lamp with a flexible design. Then you can direct the light exactly where needed at the moment.
USB Port – Some modern colorful desk lamps come with additional features like a USB port. They allow you to charge your mobile phone, tablet or e-reader via a USB port. Look for a 2.1A USB port, which is way faster than other USB ports. Moreover, there is another option – a wireless charger base for Qi-enabled devices.