Are you looking for a sturdy and durable desk lamp that will last for decades?
Then you should definitely check these metal desk lamps!
Here you can read about the best-rated metal desk/table lamps that suit any home or office decor, provide a high-quality build and feature useful specifications. Read more about these models and check our guidelines for the best purchase.
Our Top Picks
Best 6 Metal Desk Lamps
BEST OF BEST METAL DESK LAMP
Possini Bentley Modern Desk Lamp
Stylish Design
Possini Euro Design produces this premium Bentley modern desk lamp. The lamp base is 8 inches wide and 5.5 inches deep. When fully extended, the lamp is 21 inches tall. It is crafted in lightweight aluminum material, making it durable and resistant.
Bronze Finish
This desk lamp metal model comes in a beautiful French bronze finish that will nicely accent any modern, contemporary, industrial and urban home or office interior. Bentley aluminum desk lamp weighs 6 pounds, it's very stable and won't tip over easily. The 10W LED bulb is included.
Non-replaceable Bulb
This LED bulb is non-replaceable, but it has an approximate lifespan expectancy of 30,000 hours. Under normal use, you can have it for decades. It emits flicker-free and glare-free light without ghosting and other harmful effects for your eyes.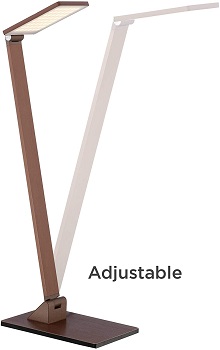 Touch Control
Bentley is an adjustable LED desk lamp, meaning it features an adjustable arm and flexible head that allows you to target light exactly where needed. It comes with innovative touch control. On/off switch is located on the back of the lamp base.
Highlighted Points:
elegant and attractive lamp design
made from lightweight aluminum
sturdy and stable lamp base
French bronze finish
non-replaceable LED bulb
adjustable arm and lamp head
BEST BLACK METAL DESK LAMP
Lepower Metal Desk Lamp
Various Colors
Lepower is a compact desk lamp available in multiple colors, such as black, bronze, gold, green, silver and white. Pick the model that suits your office or home environment. The lamp dimensions are 8.5 x 5.5 x 13.2 inches. Also, the 1.5m power cord is included in the package.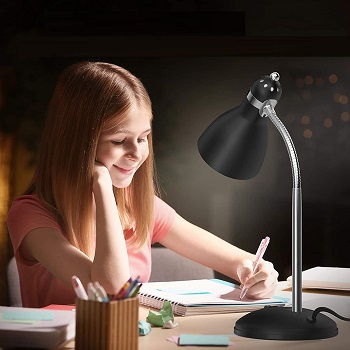 Compatible With LED
It features a standard E26 size screw base, but the bulb isn't included in the package. To avoid overheating, you can choose between these bulbs – LED bulb (4W-6W), energy-saving bulb (8W-16W) and incandescent bulb (20W-40W). The 40W is the maximum wattage.
Quality Material
This black metal desk lamp has a nice and simple design that suits all home or office interiors. The lampshade and the base are made of high-quality metal that improves durability and sturdiness. Lepower will meet your basic lighting needs.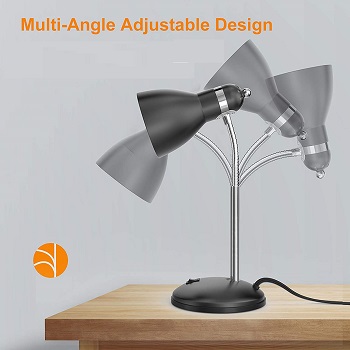 Flexible Gooseneck
There is a small round lamp base and flexible gooseneck, move the lamp in any direction and illuminate the area you want. It is well made and well-balanced when fully tilted. Lepower desk lamp is tested and safe for use. The 12-month warranty is provided by the manufacturer.
Highlighted Points:
simple and functional desk lamp
small round base fits on any desk
flexible gooseneck for various lighting needs
compatible with LED, energy-saving and incandescent bulb
backed by a 1-year warranty
available in multiple colors
BEST STAINLESS STEEL METAL DESK LAMP
Tom-shine Spiral Desk Lamp
Spiral Shape
Tom-shine is a unique desk lamp with a spiral-shaped design. It brings a touch of elegance to your dining room, living room, bedroom, home office or office. The round lamp base measures 5.1 inches in diameter while the overall lamp height is 16.3 inches.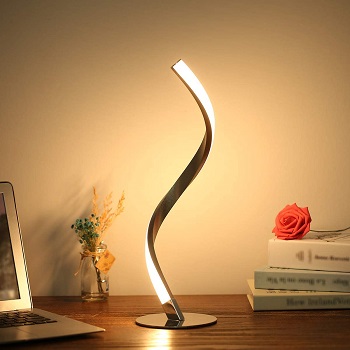 Durable Lamp
This stainless steel desk lamp comes with a power cord of 4.9 feet. The lamp base is equipped with non-slip material, so you don't have to worry about the lamp's stability. Tom-shine lamp is made from stainless steel, aluminum and iron, it is very sturdy and durable.
60 LEDs
There are built-in 60 pieces of LEDs that provide eye caring illumination. It won't hurt your eyes and cause eye strain or eye fatigue. Tom-shine is a decorative desk lamp that offers a color temperature of 3000K, it is a warm white light.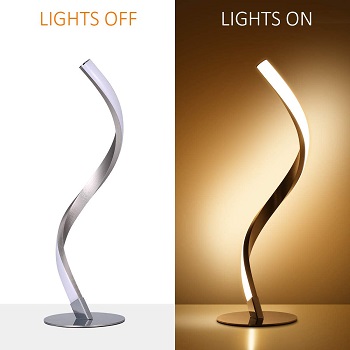 Cozy Atmosphere
It creates a comfortable and cozy atmosphere, ideal for relaxing, reading, watching TV and similar activities. You don't have to replace the bulb, it will last for decades. This is a nice looking lamp if you looking for something unique for your room.
Highlighted Points:
unique desk lamp
spiral-shaped design
the color temperature of 3000K
built-in 60 pcs LEDs
stable and non-slip lamp base
made of stainless steel and aluminum
BEST VINTAGE METAL DESK LAMP
Co-Z Adjustable Desk Lamp
Stylish Lamp
Co-Z is a beautiful vintage desk lamp that suits industrial, contemporary and rustic home decors. The lampshade measures 8 x 5 inches, the round base is 1.5 inches tall and the lamp height is adjustable. Adjust the height between 25 inches to 29 inches.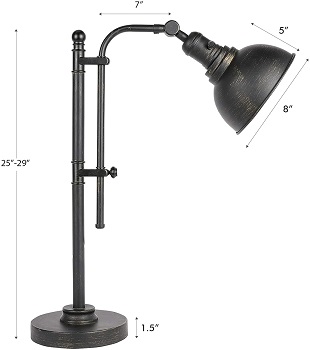 LED Bulb
The package includes 5 feet long power cord and a 9W LED bulb. This desk lamp is compatible with E26 socket type A bulbs with a max wattage of 40W. It works with LED and CFL lightbulbs. LED light is more energy-efficient and lasts longer than other light bulbs.
Swivel Head
Co-Z is a vintage reading lamp that is backed with a 1-year warranty. The lamp head is adjustable so you can direct the light exactly where needed. Swivel the lamp head 180-degree for uplight and or downlight to create custom lighting modes.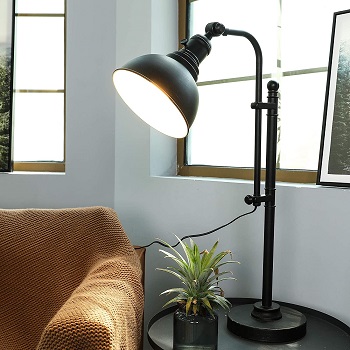 Sturdy Lamp
This vintage metal desk lamp is made entirely of metal then lightly distressed and finished in aged bronze with gold highlights. It is sturdy, durable and adds a touch of elegance to any room. Its quality is proven by the ETL certificate. The price is affordable.
Highlighted Points:
elegant vintage desk lamp
made from quality metal
distressed finish with gold highlights
ETL certified lamp
adjustable height and lamp head
compatible with CFL and LED bulb
BEST ALUMINUM METAL DESK LAMP
BYB E430 Metal Architect LED Desk Lamp
Architect Desk Lamp
BYB is a high-quality architect desk lamp, model number E430. This elegant and sleek desk lamp is available in silver color only. It brings a touch of sophisticated look into your office, home office or any other room. This lamp has a high price.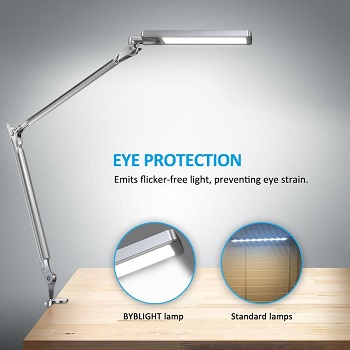 UL-listed Adapter
The box includes a lamp, UL-listed power adapter, metal clamp, user manual, 18-month warranty and lifetime friendly customer service. Made from premium aircraft-grade aluminum alloy with a sleek brushed finish. The portable clamp can be fixed anywhere.
Eco-friendly Lighting
BYB metal desk lamp uses high-efficient 144 LEDs which use 80% less energy than traditional light bulbs and last for up to 50,000 hours. This aluminum desk lamp ensures smaller electricity bills and a smaller carbon footprint. It is an eco-friendly lamp.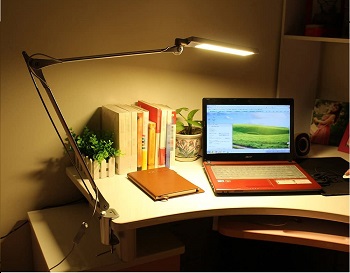 Many Lighting Modes
It emits flicker-free and glare-free light that prevents eye strain and eye fatigue. You can read, work and study longer than before without harmful effects on your eyes. Choose between four lighting modes and six levels of brightness and adjust the right illumination for your task.
Highlighted Points:
high-end and solid lamp design
uses 144 LEDs that last for up to 50,000 hours
flicker-free and glare-free illumination
four lighting modes
six levels of brightness
Ul-listed power adapter
BEST CLAMP METAL DESK LAMP
Phive LED Desk Lamp Architect Task Lamp
Clamp Lamp
Phive is a very popular lamp, it is a quality and powerful desk lamp that suits modern offices and home offices. It is ideal as a workbench lamp. This model arrives in black color only. You'll get a desk lamp, user manual, arm adjust tools, power adapter and metal clamp.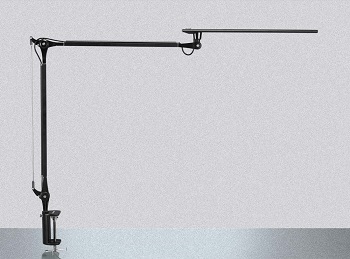 Highly Adjustable Design
Clip this strong metal clamp to any horizontal surface, it supports up to 2.3 inches of the tabletop. It doesn't require much space and you can easily move it to another surface. This metal desk lamp is highly adjustable, you can swivel the lamp head and adjust metal arms.
Energy-saving LED
Phive is an adjustable desk lamp that uses LED light which is rated for up to 50,000 hours. It isn't necessary to replace the bulb for the next 25 years. Phive emits soft light without ghosting, glaring or flickering. Work, read and study without eye strain.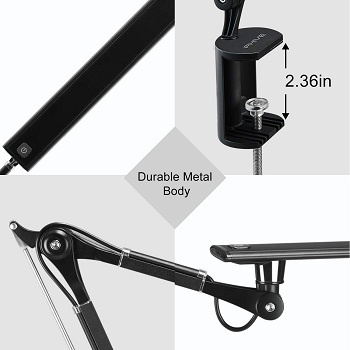 Touch Button
Its durable metal body ensures long-lasting use, this is a sturdy lamp. Phive is widely used in offices, for workbenches, reading, studying, craft or any other hobby. Change the level of brightness by tapping on the touch button.
Highlighted Points:
black elegant design
highly adjustable design
suitable for precise tasks, reading, studying, etc.
long-lasting LED light
space-saving clamp design
flicker-free and glare-free illumination
Things To Know About Metal Desk Lamp
There are some factors you need to take into account before buying a metal desk lamp. In this section, you'll learn more about metal lamp advantages, lightbulbs, lamp flexibility and other important features.
Metal Lamp – Metal is the most trusted and versatile material in manufacturing. There are many advantages that metal lamps have, such as durability, stability, quality, design flexibility, cost efficiency, recyclability and low emissions.
Flexible Design – There are desk lamps with flexible neck or swing arms that allow you to adjust accordingly so that you have the right illumination for whatever task you are performing at the moment. Lamps with adjustable design are suitable for large desks and precise work.
Lighting Modes – If you need a lamp for reading, working, studying, crafting or other precise tasks, consider a lamp with various lighting modes. Find a lamp with a whole range of lighting modes for different occasions and choose between warm, natural and cold light.
Attractive Design – This is one of the most important things to consider when buying a desk lamp. Choose the desk lamp that will fit your needs the best and has an eye-catching appearance that goes perfectly with your home/office interior.
LED Lightbulb – Almost all modern lamps are compatible with various lightbulbs. Each bulb type has its own advantages and disadvantages. The modern LED desk lamp has become very popular due to its energy efficiency, long-lasting use and low heat production.