Do you want to enhance your home or office decor with an elegant lamp that displays a beautiful warm atmosphere?
Then check out this article on small gold desk lamps! We selected the desk lamp with both, quality build and elegant design. Also, these lamps are divided into six categories, so pick the model that suits your needs and wishes. We covered some basic info in our guide.
Our Top Picks
Best 5 Small Gold Desk Lamps
BEST OF BEST SMALL GOLD DESK LAMP
Nova Juns Industrial Desk Lamp
Two Lamps
This package includes two lamps. Choose between gold, black, pink gold and rose cold colors. It is suitable for the bedroom, living room, dresser, coffee table, baby room, office, etc. This lamp is 16 inches tall and the base diameter is 5.5 inches.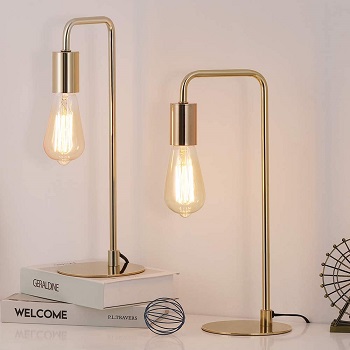 High-quality Materials
The power cord is included in the box and it's 61 inches long. Made of high-quality metal material with a rigid electric design. Its cord, socket and plug are UL-approved parts. The bulb isn't included in the package and the manufacturer suggest LED, energy-saving or incandescent bulb.
Edison Bulb
This small gold desk lamp can be equipped with a standard base bulb – E26. Also, the Edison bulbs are recommended to keep the lamp's industrial look. You can change color type whenever you want and change the atmosphere in the room.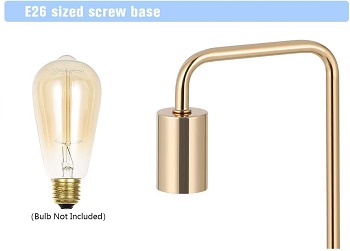 Exposed Light
The push-button is located near the lamp base, so you can turn it on/off with ease. This best light for home office features non-slip mat bottom, it stands stable in place.  There is no shade, the light is exposed, which is a very eye-catching solution.
Highlighted Points:
made of high-quality materials
cord, socket and plug are UL-approved
compatible with LED and incandescent bulbs
two lamps are included in the package
non-slip mat bottom
attractive exposed light
BEST MODERN SMALL GOLD DESK LAMP
Casilvon Gold Table Lamp
Set Of 2
The package includes two lamps for an affordable price. Its overall lamp height is 15.35 inches and the lampshade diameter is 7 inches. When these lamps arrive, you need to affix the lampshade. It is very simple, but you'll get detailed instructions.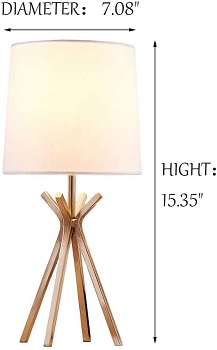 Standard Base Bulb
These small gold desk lamps have passed the authentication of the ETL and UL safety system of the EU. They require 110v – 120v and a standard E26 base bulb for a max of 60W. They feature a unique base style, it is very attractive and perfect for your home decorating.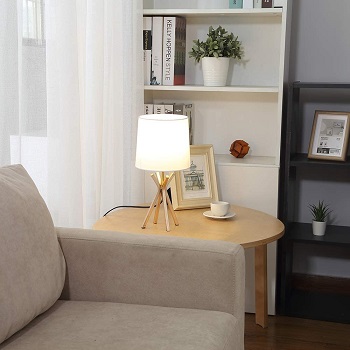 Cozy Atmosphere
The base is made of sturdy metal and finished in a brass gold color. A beautiful fabric shade will create a warm and cozy atmosphere for your living room, bedroom or office. The modern LED desk lamp has an on/off button on the power cord for your convenience.
Highlighted Points:
two lamps in the package
simple installation needed
ETL and UL approved lamp
requires standard base bulb – E26
made of sturdy metal and quality fabric
BEST LED SMALL GOLD DESK LAMP
Haitral Gold Table Lamp
Popular Lamp
Haitrail is a very popular lamp in the market. Its overall height is 13.8 inches, the lampshade width is 7.1 inches and the power cord is 67 inches long. The reviewed lamp comes with a gold base and white lampshade, but you can choose between more models – blue, black, grey and rose gold.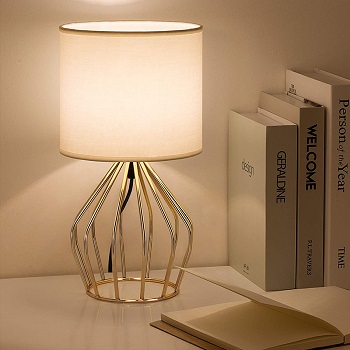 Fits Anywhere
This small gold desk lamp fits any size table, desk, end table, it occupies small space. Haitral is compatible with the standard E26 bulb base. You can use an LED bulb (4W-6W), an energy-saving bulb (8W-11W), incandescent bulb (15W-25W). The bulb isn't included in the package.
Basket Cage Style
It is constructed of a high-quality metal frame base and the white lampshade is made of durable fabric. This LED reading lamp is a perfect decor for modern spaces. Its basket cage style is never out of fashion. Also, its light creates a warm atmosphere.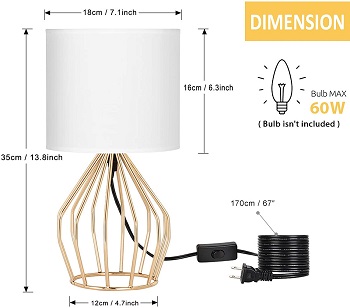 Installation Tips
The plug and cord are UL-listed, meaning they are 100% safe for use. There is an on/off button on the power cord. When this lamp arrives at your address, you need to install it. First, unscrew the plastic ring, place the lampshade on the base, tighten the fixing ring and install the bulb.
Highlighted Points:
white lampshade with a basket cage base
compatible with LED, energy-saving and incandescent bulb
made of high-quality metal and fabric
UL-listed cord and plug
on/off button on the power cord
simple installation needed
BEST VINTAGE SMALL GOLD DESK LAMP
Remy Table Lamp
Warm Brass Model
This is a beautiful vintage-inspired table lamp. Except for the warm brass model, there is a matte black version. Its height is adjustable and it ranges from 18.7 inches to 24.5 inches. The cord length is 5.5 feet. This lamp is designed in California and the manufacturer provides a 12-month warranty.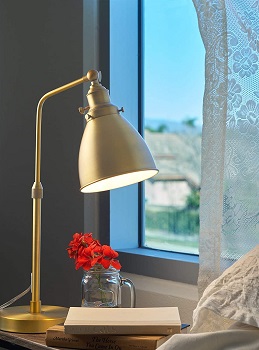 UL-approved Lamp
It is a versatile and stylish lamp that suits a wide range of decor, that includes industrial, contemporary, mid-century and traditional styles. Remy small gold desk lamp is UL approved for your safety. It contains many adjustable parts, like a swivel head and rotated base.
Adjustable Lamp
A swivel head can direct light vertically up to a 90-degree, and you can rotate the body for up to 180-degree. As we mention, its height is also adjustable. This adjustable reading lamp is ideal for hobbies, like reading, knitting, art, crafting.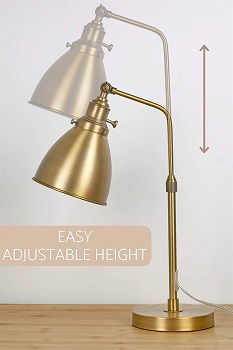 7W LED Bulb
Remy is compatible with CFL, LED and incandescent bulbs. 7W LED bulb is included in the package. It delivers warm white light with a color temperature of 3000K. Moreover, it is compatible with wall switch, timer and smart plug. Meaning, you can control it remotely.
Highlighted Points:
beautiful vintage-inspired lamp
two models available
covered with a 1-year warranty
UL-approved lamp
swivel head and rotatable base
warm white light with 3000K
BEST CHEAP SMALL GOLD DESK LAMP
Popity Teardrop Desk Lamp
UL-listed Lamp
Popity is a modern small gold lamp with a solid metal base and white drum lampshade. It blends modern and stylish offices, living rooms, bedrooms, guest rooms. This is a quality lamp that has passed the authentication of the UL safety system of the EU.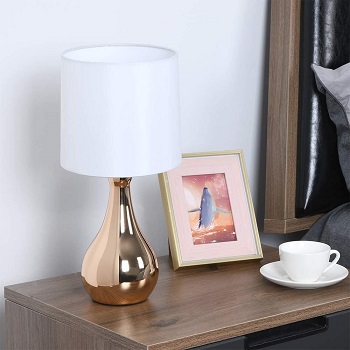 Teardrop Body
Its overall height is 14.4 inches, the lampshade is 6.7 inches wide and it weighs 2.25 pounds. The lamp body is teardrop-shaped, looks very elegant. Made of fabric, the lampshade comes in white color and emits a soft and warm light. Enjoy a relaxing and cozy atmosphere.
Standard Socket
This small gold desk lamp has a standard socket that fits an E26 bulb. It is compatible with CFL or LED medium base bulbs. This ambient desk lighting comes with a power cord of 82 inches in length. There is an on/off button on the plug-in power cord.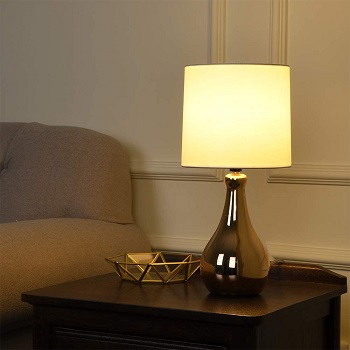 Non-flickering Light
Popity delivers soft, non-flickering and non-glare light that creates a warm and cozy atmosphere. Enjoy watching movies or reading. You can place it on end tables in the living room or nightstand in your bedroom. The maximum wattage is 60W. Also, its price is affordable.
Highlighted Points:
a modern small lamp with a white lampshade
elegant teardrop metal base
compatible with LED and CFL
UL-listed lamp
creates a warm and cozy atmosphere
Things To Know About Small Gold Desk Lamp
Before you buy any small gold desk lamp, you should consider some factors, so you'll be able to buy a suitable lamp for your room. Check the following guidelines.
Decorative Purpose – All of these lamps in the list above aren't designed for task lighting. They don't have powerful light for some precise works and crafts. So, they should be used purely for decorative purposes. Don't read or use them for your hobbies.
Light Bulb – Many of the reviewed lamps are compatible with LED, energy-saving and incandescent bulbs. Older table lamps use incandescent light bulbs, they have an affordable price, warm light, they're energy-efficient but don't last long. The LED lights provide much more benefits.
Color Temperature  – Because these lamps aren't designed for work or precise crafts, they have a low color temperature. This term measures the visual warmth or coolness of white light. The higher K, the colder the illumination. For example, 2700K is very warm white.
Lamp Material – Of course, once you buy a desk lamp, you want to use it for years. So, it is important to check which material it's made from. if lampshade is made of fabric, it will provide soft and homogeneous light. The base can be made of metal, glass, ceramic.
Lampshade Color – A small desk lamp with shade comes in various lampshade colors. The lampshade color can change all room atmosphere. The color will impact the light effect, for example, a cream-colored shade will create a romantic mood, the darker colors will reduce delivered light.