Do you want to equip your room with a compact reading lamp that makes your reading experience cozier?
Then keep reading! There are tons of options available in the market, so we've selected the 6 best small reading lamps that will help turn your reading spot into a comfortable bibliophile oasis. Also, check our buying guide, it is full of useful info.
Our Top Picks
Best 6 Small Reading Lamps
BEST OF BEST SMALL READING LAMP
TaoTronic LED Desk Lamp
Compact Lamp
TaoTronic is a small and compact lamp that fits any desk, end table, table, nightstand. It features a sleek and minimalist design that perfectly complements any home or office interior. The package includes a power adapter, a lamp and a user manual.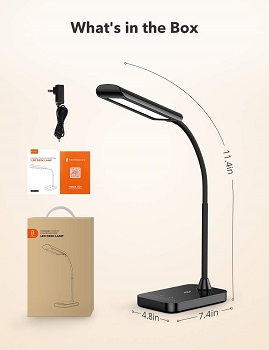 USB Charging Port
The manufacturer uses 1.7mm stainless steel to improve corrosion resistance and flexibility. This small reading lamp has a flexible gooseneck, you can bend it and direct the light where needed. On the lamp bottom, there is a USB charging port for your mobile phone, tablet, etc.
Long-lasting LED
This small modern desk lamp uses eye-friendly LED panel, it delivers flicker-free light that won't fatigue your eyes even after long hours of use. Long-lasting LEDs provide reliable illumination. Its lifespan expectancy is up to 50,000 hours. You don't have to replace LEDs.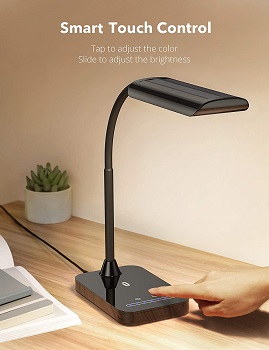 Touch Panel
Choose between five color modes and seven brightness levels. Set the warm light before you go to sleep and cold white when you reading. On the lamp base is a touch control panel, you need to tap to adjust color temperature and slide for brightness level setting.
Highlighted Points:
sleek and minimalist design
power adapter included in the package
flexible gooseneck
USB charging port
long-lasting LED panel
5 color modes and 7 brightness levels
BEST BEDSIDE SMALL READING LIGHT
Haitral Bedside Table Lamp
Elegant Lamp
Haitral is a perfect bedside lamp inspired by a vintage design. Its overall height is 15.5 inches, the lampshade width is 7.5 inches and the lamp base diameter is 5.5 inches. It comes with a power cord which is 67 inches long. This is a small reading light that fits on any nightstand.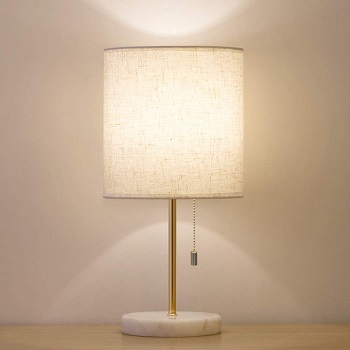 Standard E26 Bulb
It requires a standard E26 bulb and you can choose between an LED bulb (4W-6W), energy-saving bulb (8W-11W) and incandescent bulb (15W-25W). Also, it is important to note that the bulb isn't included in the package. You need to buy it separately.
Marble Base
The lamp base is made of quality and smooth marble, it provides a stylish appearance. Its lampshade is made of quality and durable fabric. It softens the light and ensures enough light for your room. The ambient desk lighting creates a cozy atmosphere.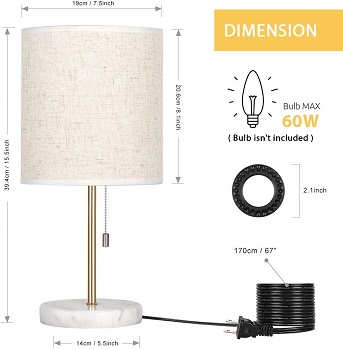 Pull Chain Switch
There is an on/off pull chain switch that is easy to turn on even when in a dark room. The cored and plug are safe for use, they are UL-approved. Use Haitral lamp for reading, for decoration purposes, as ambient light, etc. It delivers warm and soft light.
Highlighted Points:
marble base with fabric lampshade
the power cord is 67 inches long
requires a standard E26 bulb
compatible with LED bulb
on/off pull chain switch
BEST CLIP ON SMALL READING LAMP
Glocusent Mini Clip-on Light
Portable Lamp
Glocusent is a really small and lightweight lamp that fits anywhere. Thanks to its compact design, it is portable and easy to carry when traveling. It is a tested product and FCC, CE, RoHS, PSE and C-Tick approved. Glocusent comes with an 18-month warranty and friendly customer service.
USB-C Cord
The package includes a lamp, USB-C cord and user manual. The power adapter isn't included. Before use, remove the piece of film placed on the touch-screen panel. It prevents scratches during shipping. Its steady clamp comes with a max opening height of 1.8 inches.
Rechargeable Lamp
Clip this small reading lamp to your laptop, book, end table, and so on. Charge it with a USB cable and at min brightness setting, it will last for 80+ hours. The clamp is equipped with an anti-slip pad. This small clip-on light is steady and sturdy.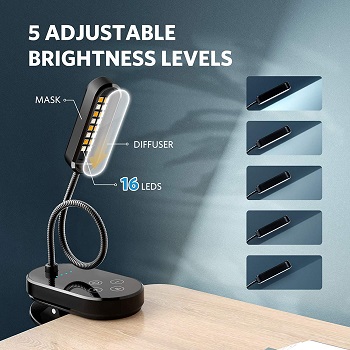 Three Color Modes
You can choose between three different modes – amber mode, warm mode and natural mode. Natural mode (5000K) is ideal as task lighting. Glocusent comes with a built-in 1000 mAh battery. Select the color mode and brightness level on the lamp base touch panel.
Highlighted Points:
built-in 1000 mAh battery
comes with a USB-C cable
lightweight and portable lamp
three color temperatures and few brightness levels
a clamp is equipped with an anti-slip pad
BEST LED SMALL READING LIGHT
Niclum Architect Lamp
Aluminum Alloy Lamp
Niclum is a modern and quality architect lamp convenient for working, reading, crafting, writing and other tasks. It is made of high-quality aluminum alloy. The package includes a light pole, light tube, power adapter, clip base, Allen key and user manual.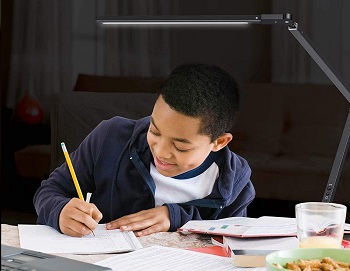 Detailed Instruction
You need to clamp the clip base to the edge of the table and tighten it. Then insert the lower end of the light pole into the base and lamp tube. All detailed instructions are included in the box. Install this small reading light on the edge of the desktop and save space.
Non-flickering Lighting
Niclum uses energy-saving LED lights that last for a long time. This adjustable LED desk lamp protects your eyes from a blue laser and reduces harmful effects. It provides non-flickering and non-glare light that covers your working area. It is safe for children, too.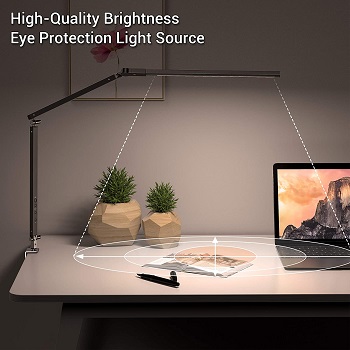 Remote Control
The lamp comes with remote control, so it can be remotely controlled within 5 meters. You can adjust the light from your bed according to your current needs. The lamp base is rotatable and each part can be adjusted up and down. Adjust the color temperature and brightness.
Highlighted Points:
modern and quality lamp
made of aluminum alloy
easy to install
comes with energy-efficient LEDs
non-flickering and non-glare light
remote control included
BEST WALL MOUNTED SMALL READING LIGHT
Alldio Reading Light
Wall-mounted Lamp
You'll get two wall-mounted small reading lamps in the package. The detailed instruction is included in the package, but there are few tips – install the screws on the iron plate, punch two holes on the wall, insert the white casing and screws, install the lamp body and tighten it.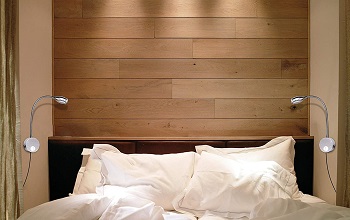 Metal Lamp
This small reading light is made of metal, it is durable and sturdy. The lamp holder base measures 2.75" x 1.2"., the gooseneck is 15.5 inches long and the lamp head has 2.2" x 1.2". The lamp cord is 70 inches long. Alldio requires 110v-240v outlets.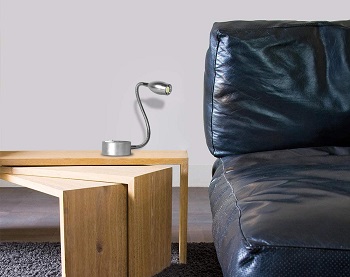 Flexible Gooseneck
The wall-mounted desk lamp is suitable for wall, wood or headboard installation. It is a perfect light for reading or close-up work. Except for the metal, the manufacturer uses aluminum, which ensures great heat diffusion. it provides warm white light which you can direct where needed.
Highlighted Points:
two small wall-mounted lamps
simple installation
made of metal and aluminum
delivers warm white light
requires 110c-240v outlets
BEST STUDY SMALL READING LAMP
Eyocean LED Desk Light
Clamp Lamp
Eyocean is a quality clamp lamp that comes with a 1-year warranty. The package includes a desk lamp with clamp, UL power adapter and user manual. This lamp is made of aviation-grade aluminum alloy with a matte black finish. Its cord length is 71 inches.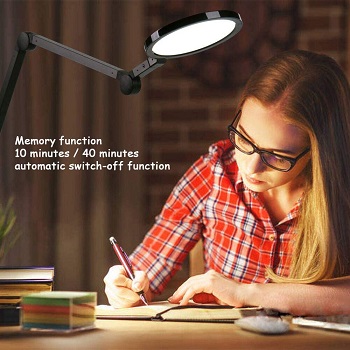 Eye-caring Light
This small reading lamp uses advanced edge-lit technology, there are two protection layers and three light processing layers that emit the soft light. There is no ghost, glare and flicker, just smooth light output. You can read, work or study for hours.
Color Temperatures
Attach the light with extra-wide metal clips. There are 112 LED beads that cover your entire desktop. This small task lamp has a lifespan of 50,000 hours. You can adjust the color temperature, they range from 3000 to 5500K. Set at least 4000K for reading and studying.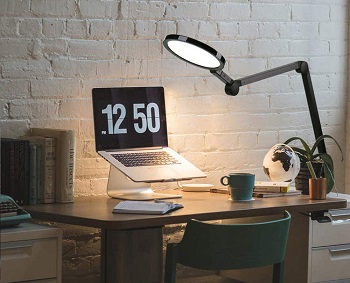 Delay-off Function
Also, you can adjust the brightness level, from 20% to 100%. A built-in delay-off function can be set to 10 or 40 minutes before you go to sleep, then it will automatically turn off. Moreover, there is a memory function that will return your last setting when you turn it on next time.
Highlighted Points:
clamp lamp with UL-listed adapter
covered with a 1-year warranty
advanced edge-lit technology
non-glare and non-flickering light
adjustable color temperature
delay-off function and memory function
Things To Know About Small Reading Lamp
The lamps for reading with small design are compact and useful for students and readers because they are designed to provide safe lighting for your eyes. To help you choose the best lamp for your needs, we're giving you a few tips below.
Clamp Lamps – Clip-on or clamp lamps are a great option if you need a space-saving lamp or don't have a permanent spot for reading or studying. You can install this lamp easily, also, it is a compact and portable reading lamp. Attach it to the side of your bed, end table, desk or other horizontal/vertical surface.
Eye-caring Light – If you need to spend many hours under a lamp, find a model with eye-caring light. That kind of light is soft and gentle to your eyes. It doesn't cause eye fatigue or eye strain. Also, it is important to adjust the light mode according to your needs.
Adjustable Arm – A small reading lamp with an adjustable swing arm is perfect for any task that requires targeted light. That kind of lamp allows you to adjust the lamp in different angles and positions to control the direction of light. Simple and easy.
Reading Color Temperature – The color temperature is measured in units of Kelvin (K). The higher K, the colder the illumination. The color temperature usually ranges from 2200K to 6500K. The cooler color temperature will stimulate your brain, so go for 4000K for reading.
Type Of Lighting – Each light source has its own advantages and disadvantages. There are LED light, halogen, incandescent, fluorescent light (CFL). LED lights have a long average lifespan, (around 25 years), they are cost-effective and use less energy.