Are you looking for a modern desk lamp for a girl's room, suitable for playing and learning?
Then keep reading!
We tested a range of girl's desk lamps to suit their needs. Check the list of the best lamps currently available in the market, read reviews and check images. They come in a variety of sizes, shapes, designs and prices, so there's a model for everyone's taste.
Our Top Picks
Best 6 Girls Desk Lamps
BEST OF BEST GIRLS DESK LAMP
Haitral Bedside Desk Lamp
Simple Design
Haitral is a simple, but modern and elegant desk lamp, perfect for teenage girls. There are different colors available – choose between grey, beige and white lampshade. Haitrail is 15.5 inches tall, base diameter is 5.5 inches and the lampshade measures 7.5 x 8.1 inches.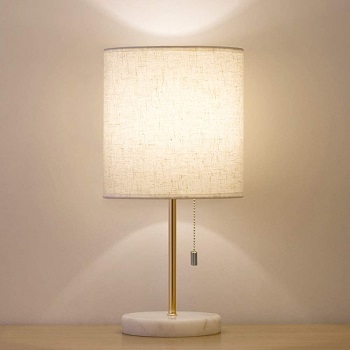 E26 Base Bulb
The power cord is 67 inches long. The bulb isn't included in the package, it's necessary to buy a standard E26 base bulb. Haitrail girls desk lamp is compatible with energy-saving (8W-11W), LED (4W-6W) and incandescent (15W-25W) bulbs.
Marble Base
This stylish desk lamp is suitable for the nightstand, end table, coffee table, desk, fits anywhere. The weighted marble base provides stability and creates a beautiful contrast to the lampshade. Its fabric lampshade softens the light and provides a warm and cozy atmosphere.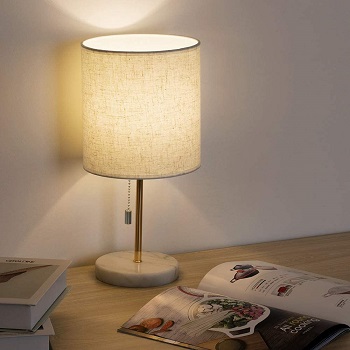 UL-listed Components
It is bright enough to illuminate the whole room, so it's suitable for reading, homework, crafting, hobbies, etc. There is a pull chain switch for convenient use, you don't have to look for a switch on the power cord. The cord and plug are UL-listed.
Highlighted Points:
stylish desk lamp
beige shade and white marble base
compatible with LED, incandescent and energy-saving bulb
provides a warm and cozy atmosphere
UL-listed plug and cord
suitable for reading, homework, crafting
BEST FOR STUDY GIRLS DESK LAMP
HDTime Desk Lamp
Slim Profile
HDTime is an elegant and slim-profile desk lamp that any girl will love. It is available in silver and pink color. The lamp pole is 16 inches high, the light bar length is 15 inches. The lamp base measures 9.5 x 2.6 inches. Its price is affordable.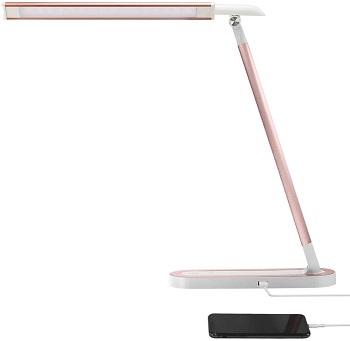 Multi-angle Adjustment
The rotation range of the lamp head can be adjusted vertically and horizontally. Moreover, the lamp body can be folded. HDTime girls lamp uses energy-efficient LEDs, there are 32 pieces. Their expected lifespan is approximately 40,000 hours.
Aluminum Alloy Body
This best reading lamp emits flicker-free and glare-free light, making it perfect for reading, studying, crafting, homework.  The lamp body is made from quality aluminum alloy, it dissipates heat effectively. This is a practical, safe and multi-functional desk lamp.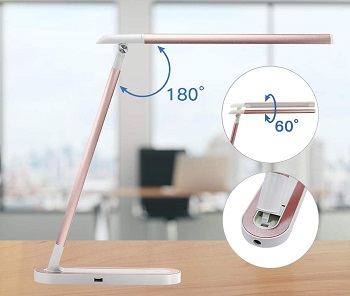 Multiple Mode Lights
HDTime desk lamp features a sensitive touch panel, press the button and choose between three levels of brightness and three lighting modes. This lamp is equipped with a USB port for smartphones. It is suitable for students to provide everything they need.
Highlighted Points:
sleek and modern desk lamp
available in pink and silver color
32 pcs LEDs emit flicker-free light
aluminum alloy lamp body
multi-angle adjustment
sensitive touch panel
BEST FOR READING GIRLS DESK LAMP
Jostic LED Desk Lamp
Sleek Design
Jostic desk lamp is available in three colors – pink, black and white color. It features a sleek and modern design that doesn't take up much space. The manufacturer provides 1-year warranty service for this desk lamp. It is made from plastic and metal.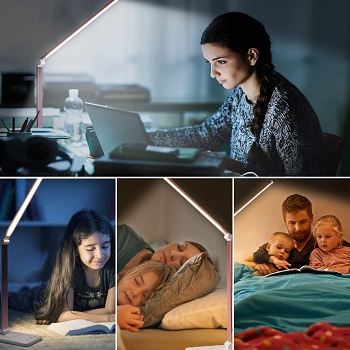 52 LED Bulbs
The package includes a lamp, USB cable and user manual. There are 52 high-quality LED bulbs, 26 for warm light and 26 for cold light. They providing large lighting coverage, ideal for reading, working, crafting, hobbies, drawing, writing.
Flexible Design
Jostic girls desk lamp features a multi-angle foldable design, there is a flexible arm and rotatable bottom axis. You can fold it and carry it with you. The non-slip pad keeps the lamp stable in one place. There is an additional USB port on the lamp base for smartphones or tablets.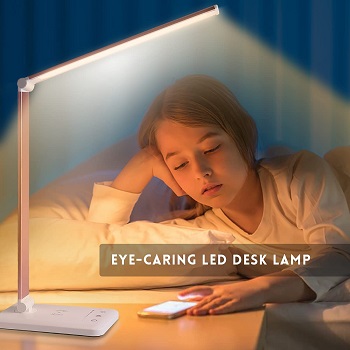 Memory Function
This small reading lamp has a wireless charging pad, just place your smartphone and it will start charging automatically. Before using, remove the phone case. The smart memory function will remember your last settings so it isn't necessary to adjust it next time.
Highlighted Points:
available in three colors
integrated 52 high-quality LEDs
multi-angle foldable design
USB charging port and wireless charger
smart memory function
ideal for reading and crafting
BEST MODERN GIRLS DESK LAMP
Amnimall Desk Lamp
Small Lamp
Amnimall is a small and compact desk lamp with a small footprint so fits anywhere. Its overall height is 14.6 inches, the lamp base has 4.5 x 4.5 inches and the shade is 9.8 inches tall. This is a modern lamp that fits on any nightstand, table, work desk, etc.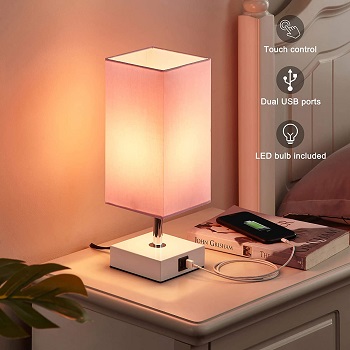 Modern Style
It features a white base and pink shade, it's the ideal lamp for the gift. It is suitable for a girl's room if there are pink room decorations. Also, it's suitable for nursery, dorm, study room, bedroom, etc. This girl's desk lamp comes with an included vintage LED bulb.
Dual USB Ports
This modern LED desk lamp provides a flicker-free and glare-free light, it's safe for eyes health. Amnimall desk lamp features dual USB ports, there are powerful 5V/2A USB ports for tablets, mobile phones, e-reader. Whether the lamp is on or off, USB ports working.
Touch Control
Amnimall desk lamp offers three levels of brightness – low, medium and high. Change the brightness by simply tap anywhere on the lamp base or pole. Low light is ideal for nursery, medium-light is ideal for daily use and high light provides bright light for reading.
Highlighted Points:
small and compact desk lamp
modern style – white base, pink shade
included vintage LED bulb
three levels of brightness
touch-sensitive base and pole
dual USB ports for charging.
BEST TEENAGE GIRLS DESK LAMP
Brightech Elizabeth Desk Lamp
Minimalist Design
Brightech is an eye-catching desk lamp ideal for teenage girls. It is 16 inches tall, the lamp base diameter has 6 inches and the lampshade measures 5 x 5.5 inches. This lamp features a simple upright design that suits well in a variety of room decors, from mid-century, modern and industrial.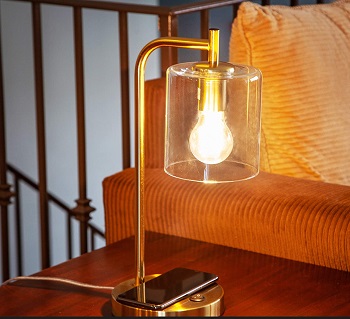 Glass Shade
The 3-year warranty is provided by the manufacturer. It covers any defect within those years. This girl's desk lamp has an elegant brass finish and glass shade. That shade provides elegance and adds a touch of modernity, it's very attractive.
Warm Light
A bright LED bulb is included in the package, it delivers 450 lumens and lasts for 20,000 hours. This LED lamp with wireless charger provides a warm and cozy atmosphere with a color temperature of 2700K.  It is a fantastic alternative to the unpleasant overhead light.
Wireless Charger
Brightech Elizabeth desk lamp is compatible with smart outlets, which includes Alexa, Google Home Assistant, Apple HomeKit. Also, there is a feature that teenage girls will love – the lamp is equipped with a built-in wireless charger and USB port for smartphones and tablets.
Highlighted Points:
elegant desk lamp with minimalist design
the brass finish and modern glass shade
compatible with smart outlets
USB charging port
wireless charger for smartphone
energy-efficient LED bulb
BEST LED GIRLS DESK LAMP
Co-Z Marble Desk Lamp
1-year Warranty
Co-Z is a mix of modern and antique styles, ideal for vintage lovers. Its overall height is 18 inches, the lamp base measures 1 x 7 inches and the lampshade diameter is 6 inches. This lamp is backed with a 1-year warranty from the manufacturer.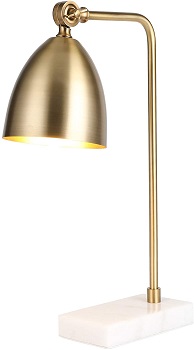 UL-certified Lamp
This girl's lamp is tested and it meets government-regulated safety standards in the USA. Co-Z features UL certification for all electrical components. This LED reading lamp requires one E12 bulb, it is compatible with LED, incandescent and CFL bulbs.
Adjustable Neck
Co-Z has an adjustable neck, that allows you to rotate the lamp head to achieve the optimum illumination angle. It is suitable as a reading light for a bedside table, end table or nightstand. But it can be used as an accent light when watching movies.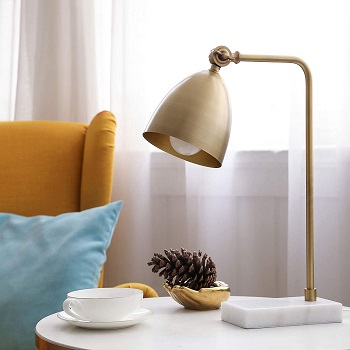 Marble Base
It is made from sturdy steel with a stunning antique brass finish. The lamp base is made from marble which makes a lamp stable and heavy. It will perfectly fit into modern and vintage-inspired rooms. The power cord is 6 feet long and it's transparent.
Highlighted Points:
covered with a 1-year warranty
UL-certificated lamp
requires one E12 bulb
compatible with LED, CFL, incandescent bulb
adjustable lamp neck
marble base and the brass lamp body
6-ft long transparent power cord
Things To Know About Girls Desk Lamp
The girl's desk lamps are available in a variety of sizes, shapes and designs. To help you find the best lamp, there is a buying guide with all the relevant info. Read about lamp design, eye-friendly light, light intensity and additional features.
Reading Light – If you don't want to use a lamp for accent lighting only, but for reading or crafting, check the lamp lighting modes. You should buy a lamp with adjustable brightness and color temperature. High light mode and color temperature of min 4000K make reading more comfortable.
Eye caring Light – You should pick the desk lamp that emits the gentle and soft light. Children and teenagers have more sensitive eyes than adults. Choose the lamp that ensures flicker-free and glare-free light and doesn't cause eye strain and eye fatigue.
Color Temperature  – If you looking for kids reading lamp, check the lamp brightness levels and color modes. High brightness and cool lighting mode are suitable for reading, studying, crafting, learning, homework. These features increase productivity and boost energy.
USB Port – Many modern desk lamps are equipped with USB ports. Meaning, you can charge your mobile phone, tablet, e-reader and other small electronic devices. For a teenage girl, this is a very important feature, she can watch videos and charge the phone.
Wireless Charging – Some desk lamps come with a wireless charging station. But before buying, check if the smartphone is compatible with a wireless charger. Then just place the smartphone on the lamp pad and it will start charging automatically.
Final Verdict
We would like to recommend the Haitral girl's desk lamp. It is suitable for any age, made of premium materials and provides bright light for reading and homework. If you want to check more lamps for kids, check the reviews on boys' desk lamps and fun desk lamps.