Are you looking for a lamp that will add a stylish look to your workplace as well as home decor?
Then you should check the glass desk lamps!
Here is the list of the top-rated desk lamps with glass shades, lens and bases. Various models are offered and classified to be easier for you to find a suitable lamp for your needs. In the end, don't forget to check several tips and tricks.
Our Top Picks
Best 6 Glass Desk Lamps
BEST OF BEST GLASS DESK LAMP
Brightech Elizabeth Desk Lamp
Lamp Size
Brightech is a very popular brand in the market, they produce this Elizabeth table lamp inspired by mid-century, modern and industrial styles. The lap height is 16 inches, the base diameter is 6 inches and the lampshade measures 5.5 x 5 inches.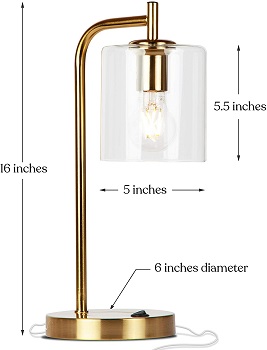 Glass Shade
The 3-year warranty is provided by the manufacturer. This glass desk lamp features a minimalist upright design with an elegant brass base and pole and clear glass shade. It provides extra elegance and adds a touch of modernity. Brightech is compatible with smart outlets.
5W LED Bulb
This desk lamp glass shade model comes with a 5-Watt LED bulb that lasts over 20,000 hours, so you don't have to replace the bulb. This modern LED desk lamp provides a warm white light with a  color temperature of 2700K. Use it in your living room, bedroom, dining room, home office, etc.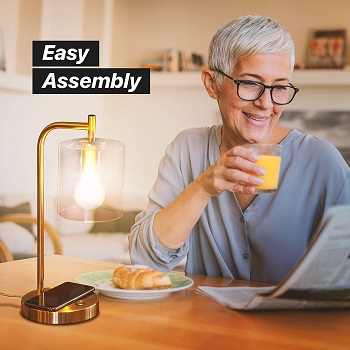 Wireless Charger
Elizabeth desk lamp with glass shade is equipped with a wireless charger and USB port, so you can charge your smartphone, tablet, e-reader and other small electronic devices. Just place your smartphone on the lamp pad and it will automatically start charging.
Highlighted Points:
minimalist desk lamp
inspired by industrial and vintage styles
clear glass shade
compatible with smart outlets
5-watt LED provide warm light
equipped with a USB port and wireless charger
BEST MAGNIFYING GLASS DESK LAMP
Goldston Magnifying Desk Lamp
Multifunctional Lamp
Goldston is a multifunctional desk lamp that can be used for a variety of occasions. It is perfect for reading, working, repairing, etc. Its construction is made of metal and glass. The lamp arms are 15 x 15 inches long and the lens diameter is 5.5 inches.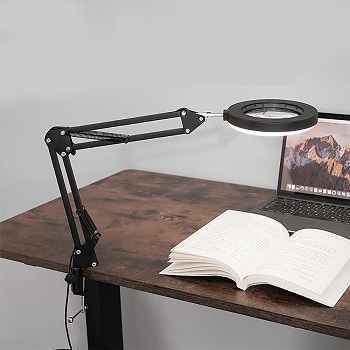 Clamp Design
It can be used anywhere, the strong clamp has a maximum opening of 2.1 inches. Clip this glass desk lamp to your desk, end table, workbench or shelf. It comes with a soft rubber pad that protects your desk from scratches and damage.
Swivel Lamp Arms
This clamp-on magnifying lamp is fixed with three knobs and four springs, they keep the lamp stable. There are swivel lamp arms, so adjust the light directly where needed. Goldston desk lamp with magnifying glass uses LED light which is non-replaceable and lasts for decades.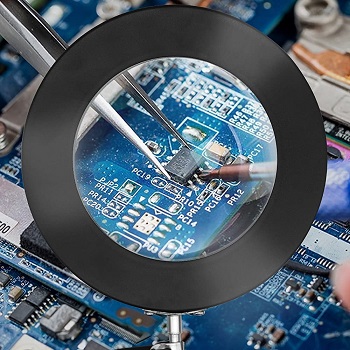 Real Glass Lens
Goldston lens is made from real glass with a magnification of up to 5 times. There is no optical distortion, you'll see all details clearly. The color modes and brightness are adjustable, there are three color temperatures to choose from. Set the cool white light for precise work.
Highlighted Points:
multifunction desk lamp
strong metal clamp design
real glass lens with 5x magnification
adjustable color modes and brightness
swivel lamp arms
energy-efficient LED bulbs
BEST GREEN GLASS DESK LAMP
Mlambert Green Glass Desk Lamp
Banker's Lamp
Mlambert is a beautiful desk lamp inspired by popular banker's lamps. Its overall height is 14 inches, the base diameter is 6.3 inches and the lampshade width is 10.3 inches. Its power cord is 5.1 feet long. Mlambert lamp weighs 5.9 pounds.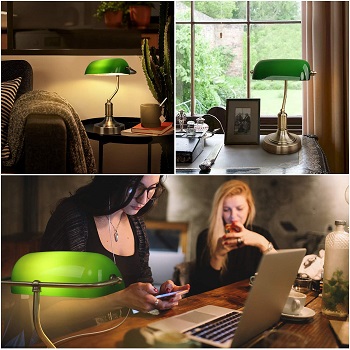 Satin Finish
This green glass desk lamp is made from quality iron and glass. It is covered with a satin finish providing a modern look. The shade is made from clear A-glass, it is durable and looks elegant. The green color is considered a tranquil and relaxing color.
Long-lasting LED
That green shade softens the light and provides warm and cozy illumination. It doesn't cause eye strain and eye fatigue. It uses an LED bulb which lifespan is over 25,000 hours. Also, this LED bulb uses less power than incandescent bulbs.
Dual USB Ports
It is equipped with two 5V/2.1A USB ports allowing you to charge two devices at the same time. Use it for smartphones, tablets, e-readers and other small devices. Choose between three light modes to create different ambient lighting.
Highlighted Points:
stunning banker's lamp
satin finish lamp body
green A-glass shade
energy-efficient LED bulb
dual USB ports
three levels of brightness
BEST STAINED GLASS DESK LAMP
Wisteria Stained Glass Desk Lamp
Tiffany-style Lamp
Wisteria is inspired by popular Tiffany lamps. It is 18 inches tall and the overall width is 12 inches. The lamp base is heavy, so it won't tip over easily. The manufacturer provides 90-day refund-free and 24/7 customer service. The lamp price is high.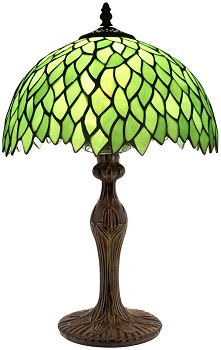 Handcrafted Lamp
This glass desk lamp is inspired by Art Nouveau's design, so each lamp is unique. The lampshade is hand-made from real stained glass and the lamp base is made from zinc with an antique finish. When the stained glass desk lamp arrives, you need to assemble it.
UL-listed Lamp
It is a tested lamp that comes with a UL certificate. Wisteria requires an E26 standard base bulb with a maximum wattage of 4W. It is compatible with an LED bulb, which is more energy-efficient and lasts longer than traditional light bulbs.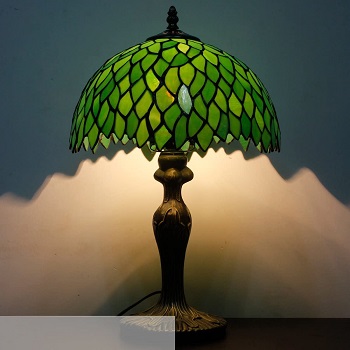 Warm Light
That colorful stained glass provides beautiful warm light to illuminate your living room, bedroom, dining room. It delivers a color temperature of 2700K. The switch button is located on the power cord. Use it as ambient lighting or for casual reading.
Highlighted Points:
UL-listed table lamp
the color temperature of 2700K
inspired by Tiffany lamps
compatible with LED bulbs
the handmade real glass shade
zinc base with antique finish
BEST GLOBE GLASS DESK LAMP
LMS Gold Desk Lamp
Elegant Design
LMS is a stunning desk lamp that adds a touch of elegance to any interior. This lamp is 22.8 inches high, the base diameter is 7 inches and the lampshade measures 6.1 x 6 inches. Use it as a bedroom lamp, living room lamp or office table lamp.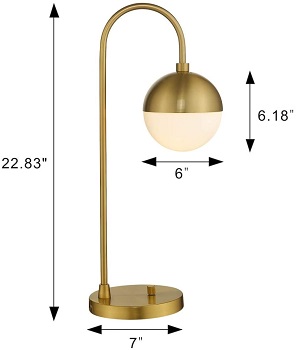 Globe Shade
Its price is high. LMS glass desk lamp is made from quality metal with a brushed gold finish. The globe shade is made from metal and white glass. This opal white glass shade emits warm light and creates a cozy and comfortable atmosphere.
Easy Assembly
This stylish desk lamp has a tall and slim profile with a stable base. LMS desk lamp requires an E26 LED Edison bulb, it isn't included in the package. When the package arrives, you need to assemble the lamp which can take up to 15 minutes.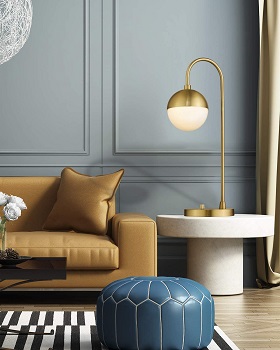 Dimmer Switch
LMS table lamp is equipped with a dimmer switch on the lamp base, allowing you to set a suitable brightness level. Set the low level of brightness when watching movies or high light when reading books or magazines. It is great for ambient/mood lighting.
Highlighted Points:
stunning desk lamp
made from metal and glass
opal white glass shade
brushed brass lamp body
compatible with LED Edison bulb
dimmer switch on the lamp base
BEST MODERN GLASS DESK LAMP
Marcus Coastal Table Lamp
Contemporary Design
Marcus table lamp features a contemporary design that suits modern, urban and minimalist room interiors. It is 30 inches tall, the base measures 18.2 x 6.7 inches and the lampshade has 11 x 14 inches. Marcus weighs 4 pounds, it is stable and won't tip over.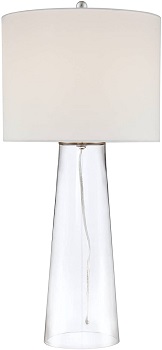 Clear Glass Body
This glass desk lamp is from the 360 Lighting brand, which is a very popular and quality brand.  It features a tapered, clear glass lamp body and a white drum lamp shade. When the lamp is on, this white lampshade has beige tones.
Standard Medium Base Bulb
Marcus uses one maximum 150W standard medium base bulb. It is compatible with incandescent, LED, halogen and  CFL bulbs. Each bulb type has its advantages and disadvantages but LED lasts much longer and it's energy-efficient.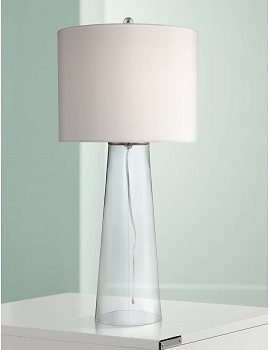 Rotary Switch
This decorative desk lamp has a rotary switch on the socket. Marcus Coastal table lamp is suitable for your living room, dining room, guest room, home office, bedroom. Its eye-catching design will uplift your room's interior and add a touch of elegance.
Highlighted Points:
contemporary designed table lamp
tapered clear glass lamp body
white drum lampshade
compatible with LED bulb
a rotary switch on the socket
emits a soft and warm light
Things To Know About Glass Desk Lamp
There are many glass desk lamps in the market, so it isn't easy to find a perfect lamp that meets your needs. We've prepared a few tips and tricks for a successful purchase. Learn about popular glass lamps, light bulbs, magnifying glasses, etc.
Glass Lamps – Glass is a very popular material, it adds a touch of elegance to any product. You can find a lamps with glass base, glass pole or glass shade. Usually, it is transparent/clear glass, but there are lamps with green glass (popular banker's lamp) or stained glass (Tiffany-style lamps).
Desk Light With Magnifying Glass – These kinds of lamps are multifunctional products. If you need to see details or letters clearly, these lamps are ideal for you. They combine good light and built-in magnification. The best magnification for hobbies is around 2-2.5x magnification power.
Ambient Lighting – If you looking for ambient lighting, then the lamps with classic drum shade will be a good solution for you. These lamps soften the light and deliver a warm and cozy atmosphere. If you can adjust the color mode, set it for 2700K, this is warm and dim light.
Banker's Lamp – The antique banker's lamp is the most popular and recognizable desk lamp in the world. It features a horizontal green glass shade and a single brass stand. Also, there is a classic pull chain switch. This green glass shade emits soft and warm lighting.
LED light – Older glass desk lamps use incandescent light bulbs, they aren't expensive, have a warm glow but they aren't energy efficient. LED light bulbs have more benefits – they produce low heat, last much longer than incandescent bulbs and use less power.