Are you interested in a file cabinet combo?
Then check out this review, it brings info about the combination file cabinet. Here is a list of best-rated file cabinets, check them and pick the model with the best features. Various items are offered to be easier for you to find what you need.
Our Top Picks
Best 5 Combination File Cabinets
BEST OF BEST COMBINATION FILE CABINET
Devaise Mobile File Cabinet
Personal File Cabinet
The Devaise is s compact personal file cabinet. You can choose between two colors – black and white. This file cabinet weighs 39 pounds and measures 23.6 inches in height, 15.4 inches in width and 18.9 inches in depth. If there is any damage or missing parts, call customer service.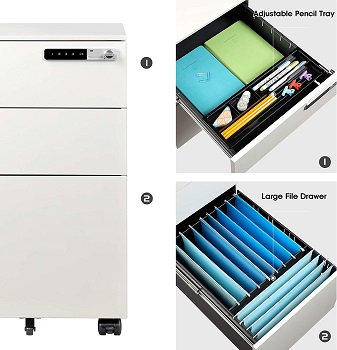 Solid Construction
The whole construction is made of high-quality metal. That solid construction supports the maximum weight of 330 pounds. When the product arrives, you need to assemble it. Actually, you need to affix the casters. That's pretty simple, follow the instruction.
Mobile Item
You can move this combination file cabinet with ease. There are four swivel casters, two of them come with brakes. Also, there is a small auxiliary caster that prevents tipping over. When you store your files and office supplies, tuck it under your office desk.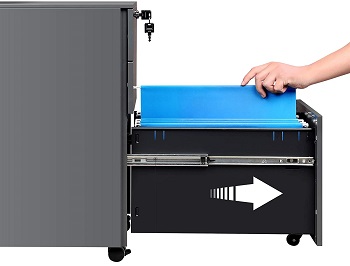 Smart Lock
There are two small drawers for office supplies and a file drawer that holds letter- and legal-size file folders. Hanging rails are included. Devaise small file cabinet with lock has a smart lock with a numeric keypad, so you can unlock the file cabinet with a four-digit code. There is a low battery alarm.
Highlighted Points:
construction is made of sturdy metal
available in white and black color
four rolling casters + anti-tip caster
smart lock with numeric keypad
three drawers for files and office supplies
BEST BOOKCASE COMBINATION FILE CABINET
Hirsh Industries Bookcase Storage Cabinet
Black Product
Hirsh Industries file cabinet combo is available in black color only. This is a neutral color that matches any office decor. This model weighs 150 pounds and has 60 inches in height, 36 inches in width and 18.6 inches in depth. The assembly isn't required.
Tested File Cabinet Combo
This filing cabinet bookcase combination is made of quality steel. This product is designed for long-term use, it is sturdy and durable. There are holes in the back where you can put cords and cables. Hirsh file cabinet is tested and it meets ANSI/BIFMA safety and quality standards.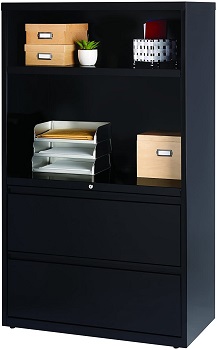 Recycled Materials
The manufacturer uses Greengard Gold certificated materials. So this lateral file cabinet with bookcase contains up to 28% recycled materials. There aren't toxic materials, it is safe for use in your home office. There is a file cabinet with drawers and a bookcase that meet different storage needs.
Plenty Of Storage Space
There are two file drawers with precision ball-bearing suspension. You can open and close them easily. The core-removable lock secures both drawers, so this item is suitable for sensitive files. Above the drawers, there is a fixed shelf and adjustable shelf. They both allow binder storage.
Highlighted Points:
made of durable metal construction
available in black color
meets ANSI/BIFMA standards
use Greengard Gold materials
two drawers glide on ball-bearing slides
one fixed and one adjustable shelf
BEST 4-DRAWER COMBINATION FILE CABINET
FireKing 4-drawer File Cabinet
Expensive Item
This FireKing model comes with four drawers, it is very heavy, there are 950 pounds. Its overall dimensions are 18.9 inches in depth, 56 inches in height and 31 inches in depth. This vertical file cabinet is available in black and grey color. It has a high price.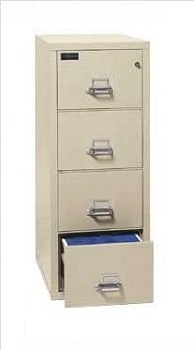 Free Fire Replacement
It is an attractive and functional asset to your office. FireKing comes with a lifetime limited warranty and free fire replacement. That means if fire catch this file cabinet, the manufacturer will replace it free. Also, you can easily replace any damaged panel.
Medeco Lock
This combination file cabinet features a high-security lock. It is equipped with a UL-listed high-security Medeco lock. Those keys can't be duplicated and they are resistant to picking and drilling. The two-position drawer catch allows access to one drawer, while others are closed.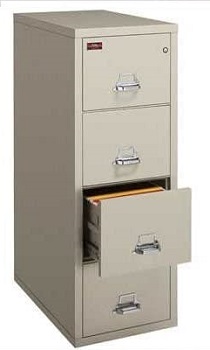 UL-impact Rating
There are four drawers that hold letter-size file folders. This fire and waterproof file cabinet is made of durable steel with an electrostatic powder-coated finish. It features UL 1-hour class 350 fire rating, UL impact rating, water-resistant.
Highlighted Points:
durable steel file cabinet with eco-friendly finish
lifetime limited warranty
free fire replacement
Medeco high-security lock
two-position drawer catch
four drawers for letter-size files
BEST FIREPROOF COMBINATION FILE CABINET
Phoenix Vertical File Cabinet
3-year Warranty
This file cabinet is available in three sizes. Also, you can choose between three colors – black, putty and grey. If you buy this file cabinet, your purchase includes 3-year parts and labor warranty on the entire file cabinet. Moreover, there is a lifetime after a fire replacement warranty.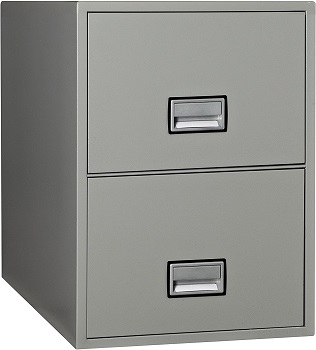 Certified File Cabinet
This combination file cabinet is certified to protect your documents, memory stick, USB drives, DVD/CD/Blue-ray. product dimensions are 28 inches in height, 31 inches in width and 19 inches in depth. Inside each drawer is 10.5" H x 15" W x 26" D.
Separate Insulated Drawers
Phoenix is capable of filing letter and legal size file folders. Both drawers have high-sides, so you can store hanging file folders. Follower blocks are included. These drawers have rugged three-quarter suspension to ensure stability. Each drawer is separately insulated with a steel jacket.

High-security Lock
This fireproof locking file cabinet features Fireproof-rated 350 1-hour for documents. It is tested for fire at 1700 degrees Fahrenheit. Also, it is impact, explosion and water-rated. There is a high-security lock that comes with two keys. It unlocks all drawers at the same time.
Highlighted Points:
choose between three sizes and three colors
lifetime after-a-fire-replacement warranty
two drawers for letter and legal-size files
follower blocks are included
protect your items from fire, water, explosion
high-security lock with two keys
BEST COMBINATION LOCK FILE CABINET
FireKing 3-drawer File Cabinet
Platinum File Cabinet
There is another FireKing model, it features three drawers. It is available in multiple colors like black, platinum, sand brown, taupe and others. Its dimensions are 43.8 inches in height, 19 inches in width and 31 inches in depth. This platinum file cabinet has a high price.
Combination Lock
FireKing features a two-position drawer catch, which means, you can open one drawer while others remain locked. Standard drawer locks provide general locking of all drawers with keys. You can choose the optional electronic lock, it automatically locks drawers when you close them.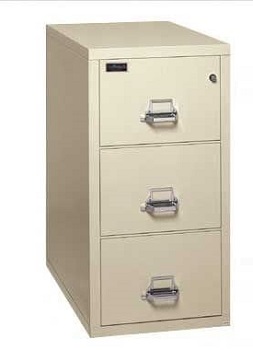 Separate Insulation
This metal file cabinet with lock is made of durable and sturdy metal with an eco-friendly and scratch-resistant finish. There are three high-side drawers and there is insulation between each drawer. So each drawer is a separate insulated container.
Hanging Files
Field replacement steel panels allow for easy replacement if a panel is damaged. Drawers are built for hanging files, so you don't have to buy additional hardware. Also, this combination file cabinet features UL-class 350 2-hour fire protection, it is resistant to impacts and water.
Highlighted Points:
sturdy metal construction with eco-friendly finish
three drawers designed for hanging files
each drawer is insulated
two-position drawer catch, optional electronic lock
resistant to water, impact, fire
Things To Know About Combination File Cabinet
After you check these brief combination file cabinet reviews, maybe you'll be interested in more info about some features. So, there are some guidelines that explain file cabinet characteristics. Read them then choose the suitable model.
File Cabinet Construction – The models on the list above are mostly made of durable steel/metal/iron materials. This is the most durable file cabinet material.  Also, many models come with an electrostatic powder-coated surface that is environmentally friendly.
File Cabinet Combo – If you aren't interested in a file cabinet with two or three drawers, you can find many file cabinet combos in the market. For example, there is a lateral file cabinet with a bookcase, file cabinets with shelves, a hutch and others.
Combination Lock – Not all, but most combination lock uses wheel pack, that is a set of wheels that work together. The number of wheels is determined by how many numbers are in the combination. Combination locks do not use keys.
High-security Key Lock – File cabinets with physical keys are still in use. They usually come with two keys, you should store the second key as a backup plan in case of loss. These keys cannot be duplicated unless you contact the manufacturer. When you close a drawer, it is automatically locked.
Resistant Products – For those who need to store confidential and sensitive documents, there are fireproof and waterproof combination file cabinet. These file cabinets are tested and certified, some models are impact-rated, fireproof, waterproof, explosion rated, etc.