On the search for a cool, modern and unconventional lamp for your desk?
If so, then keep reading this article on fun desk lamps!
These attractive and unique desk lamps will light up your room or home office and enhance your decor. Those models come in a variety of shapes, designs, styles and features. Pick the most attractive lamp for your room.
Our Top Picks
Best 6 Fun Desk Lamps
BEST OF BEST FUNKY DESK LAMP
Haitral Industrial Desk Lamp
Robot Water Pipe Design
Haitral is one of the funniest lamps on this list. This is a robot water pipe lamp with a water meter. It features an eye-catching design. Haitral guarantees for this lamp quality and ensures free replacement and return within 30 days. In case of a defect, contact customer service.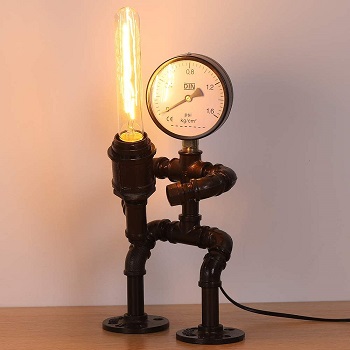 Edison Retro Bulb
This fun desk lamp is compatible with a standard E26 base bulb, that includes incandescent, halogen, LED or CFL bulbs. The maximum wattage is 60W and the manufacturer recommends the Edison retro bulbs. Edison bulb release heat, so do not touch it with bare hands.
Metal & Iron
Haitral lamp is 13 inches tall and 7.4 inches wide, so doesn't take up too much desk/table space. The power cord is 67 inches long. It is made from metal and iron with an antique brass finish. These materials make the lamp sturdy and durable.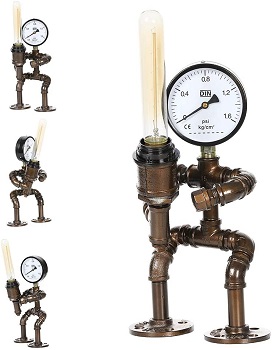 DIY Installation
This stylish desk lamp is suitable for bedrooms, living rooms, home offices, children's rooms. The package includes several water tubular parts, meaning you can install it in the way you want. Haitral is a fun decoration that will draw a lot of interest.
Highlighted Points:
interesting water pipe lamp
made from metal and iron
DIY installation
compatible with LED, CFL, incandescent bulbs
fun decoration
Edison retro bulbs
BEST ANTIQUE FUN DESK LAMP
Dale Tiffany Desk Lamp
Attractive Design
Dale Tiffany is a stunning desk lamp with modern and vintage elements. The lamp dimensions are 10 x 10 x 17 inches. If you are a cat lover, you'll love this accent lamp from Classic Mica Collection. A 1-year warranty is provided by the manufacturer.
Candelabra Bulb
It uses a candelabra bulb with a maximum wattage of 60W. Or you can use an equivalent LED bulb with a higher lumen. This funky desk lamp is made of metal with an antique bronze finish. It suits modern, urban, mid-century and retro-inspired space interiors.
Stable Base
Dale Tiffany lamp is small enough to fit just about anywhere – on the shelf, bookshelf, end table, coffee table, workbench, nightstand. It features an inline switch. The heavy base of this bronze desk lamp ensures it will not tip over.
Good Fortune
The cat has long been considered to be a symbol of good luck and fortune. Every Dale Tiffany table lamp is individually crafted, which makes every lamp more valuable. This lamp is an elegant classic and emits a soft and warm light.
Highlighted Points:
beautiful cat-shaped lamp
uses candelabra bulb
compatible with LED bulb
fits anywhere
symbol of good luck and fortune
covered with a 1-year warranty
BEST BEDROOM FUN DESK LAMP
Melunar Pineapple Lamp
Pineapple Design
Melunar is a fun desk lamp designed as pineapple. It's perfect for living room, dining room, bookshelf, nightstand in bedroom and coffee table, etc. The lamp height is 9.6 inches and the base measures 4.7 x 0.9 inches. It weighs 1.5 pounds.
Incandescent Bulb
This lamp is UL-approved, the cord, switch, socket and plug are tested and safe for use. It uses E12 incandescent bulb, which is included in the package. Melunar desk lamp requires 110V outlet. The golden mercury lamp bod is made of quality glass.
Metal Base
The lamp base is made from durable metal. Melunar features an attractive diamond-shaped pattern. An on/off switch is placed on the power cord. This black and gold desk lamp gives you a warm light that creates a cozy and comfortable ambiance.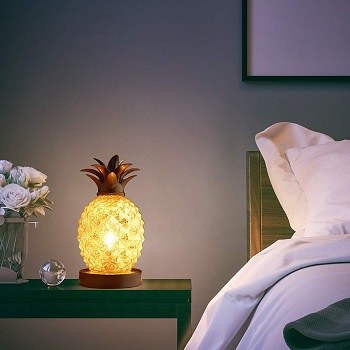 Night Light
This is a great gift idea for your friends and family. Melunar adds a touch of elegance to any room, it's perfect as a night light. The pineapple desk lamp doesn't have to be installed, you can use it directly, simply plug it in and turn it on.
Highlighted Points:
pineapple shade design
mercury glass material
black metal stable base
attractive diamond-shaped pattern
emits warm light
UL-listed lamp
BEST MODERN FUNKY DESK LAMP
Raven Table Lamp
Unique Lamp
This is a very interesting lamp especially for those who like birds and Edgar A. Poe fans. There is a raven that holds the bulb. This unique lamp fits on shelves, nightstands, coffee tables, end tables, bookshelf, etc.  All details look pretty realistic.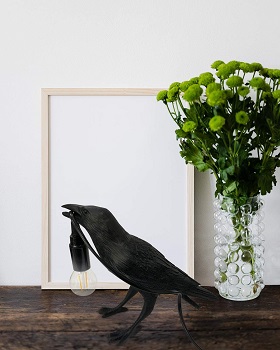 Natural Resin
It is made from resing carving, so this is a solid and stable funky desk lamp. The manufacturer provides a warranty and 100% free return. It uses an E-14 bulb, which is very bright. The bulb can be replaced and the maximum wattage shouldn't exceed 10-watt.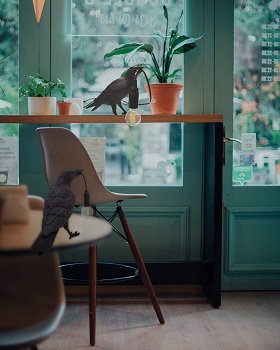 Stable Lamp
The weighted base prevents falling down and tipping over. It fits nicely in any room decor such as modern, urban, industrial, mid-century and others. Also, this is a great gift for someone who loves birds. This modern black desk lamp features an acceptable price.
Highlighted Points:
made from high-quality natural resin
a solid and stable lamp
acceptable price
uses E-14 base bulb
looks realistic and vivid
BEST INDUSTRIAL FUNKY DESK LAMP
Henn&Hart Modern Desk Lamp
Industrial Style
Henn&Hart is a modern, industrial-styled lamp suitable for any living room, office, dining room, studio, etc. The overall lamp height is 35 inches, the lampshade diameter is 12.5 inches and the base diameter measures 8.5 inches. Its price is high.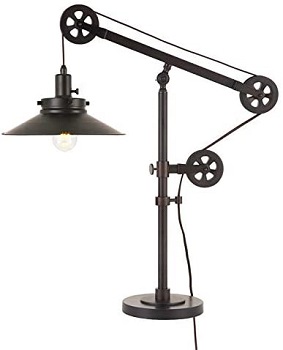 Premium Materials
The power cord is 6 feet long. Henn&Hart lamp matches modern, contemporary, urban, industrial, mid-century and farmhouse interiors. This fun desk lamp was made with high-quality materials, including metal for the shade and steel for the frame and base.
Standard E26 Bulb
All wiring components are UL-approved. Henn& Hart aesthetic desk lamp uses a standard E26 base bulb with a maximum wattage of 60 watts. Also, this lamp is compatible with LED bulbs, they last longer and use less power than traditional bulbs.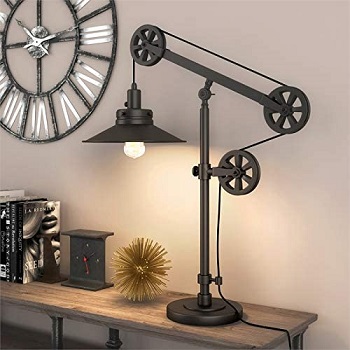 Smart Outlets
Henn&Hart is compatible with smart bulbs, which include Philips Hue, LIFX, IOTTY, TP-link, Flux, Samsung SmarThings, WiZ and C by GE. This eye-catching table lamp is designed to be the focal point of your bedroom, living room or home office.
Highlighted Points:
industrial-styled desk lamp
made from metal and steel
compatible with smart outlets
UL-listed lamp
works with LED bulbs
high price
BEST LED FUNKY DESK LAMP
Kiampon Spiral Table Lamp
Elegant Lamp
Kiampon is a modern desk lamp with a spiral design. It brings a touch of elegance in any living room, dining room, bedroom or home office. The overall lamp height is 16.5 inches and the base diameter is 5.1 inches. The power cord is 5.5 feet long.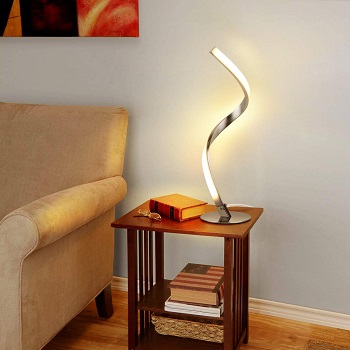 Aluminum Alloy
The 36-month warranty is provided by the manufacturer. Kiampon funky desk lamp is made of quality materials, the premium aluminum alloy made this lamp sturdy and durable. The power adapter is included in the package and it has ETL and FCC certificates.
Flicker-free Light
There is non-slip material applied on the lamp base, so it's stable and sturdy. This modern LED desk lamp uses 2835 SMD LEDs, they provide flicker-free and glare-free light which won't fatigue your eyes. It can be used by the elderly and children.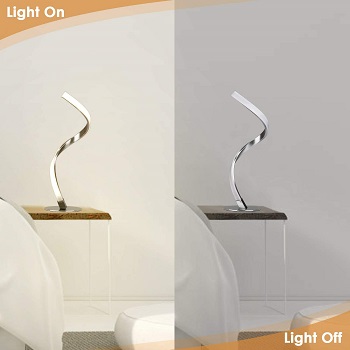 Touch-sensitive Lamp
Kiampon has high color rendering index – it's 85. That means you'll see true and accurate colors. It is easy to change the brightness levels, just touch the button on the lamp base. Adjust the brightness from 10% to 100%. Set warm yellow light for relaxation.
Highlighted Points:
elegant spiral-style lamp
covered with a 36-month warranty
non-slip lamp base
uses energy-efficient LEDs
high color rendering index
adjustable brightness
Things To Know About Fun Desk Lamp
These fun desk lamps look stunning and attractive, but it isn't all about appearance. Before buying, you should check some key factors for successful shopping. Read about lamp materials, light bulbs, illumination and more.
Bulb Type – Mostly, modern decorative desk lamps are compatible with a variety of light bulb types. They work with LED, incandescent, CFL, halogen and fluorescent light bulbs. Some lamps use Edison retro light bulbs only because of their attractive appearance.
Incandescent Light Bulb – Incandescent light bulbs have enhanced color definition and provide a uniform level of light. But one of the biggest disadvantages of this light bulb is that the lifespan is relatively short. It provides light for up to 1000 hours.
CFL Bulbs – The CFL stands for Compact Fluorescent Lighting, this is a smaller version of fluorescent tube. It contains a mercury vapor that lights when it's energized. An average CFL light bulb should last approximately 7000 hours.
Lamp Style  – There are many lamp styles available in the market, choose between modern, urban, industrial, contemporary, vintage/retro, mid-century and many other styles. One of the most popular are Tiffany lamps and banker's lamps.
Lamp Design – Be sure to consider the funky desk lamp size before buying. We recommend reading the product description carefully. It is important to select the proper lamp size for your desk, table, shelf, nightstand or workbench. The right size can make all difference.
Final Verdict
We highly recommend the Haitral fun desk lamp. It features an attractive robot water pipe design and it's compatible with a variety of light bulb types. If you like these a bit unusual desk lamps, don't miss the reviews on glam desk lamps and colorful desk lamps.