Do you want to equip your boy's studying space with a quality and safe desk lamp?
Then you need to read this article, which contains six boys' desk lamp reviews. These models are suitable for reading, studying, drawing, relaxing and playing. Before buying, there are several elements to consider, so read our useful buying guide and learn more about it.
Our Top Picks
Best 6 Boys Desk Lamps
BEST OF BEST BOYS DESK LAMP
Deeplite LED Desk Lamp
Compact Lamp
Deeplite is a small and compact desk lamp that fits on any desk or table. It is 10 inches tall, base diameter is 4.7 inches and lamp head measures 2 x 4.3 inches. This lightweight and portable lamp is covered with a 12-month warranty.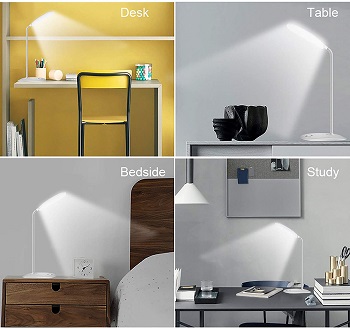 Built-in Battery
The package includes a 5W LED light, it delivers 400 lumens at full brightness. This flicker-free light will protect your kid's eyes from eye fatigue and eye strain. Perfect for college students and children. Deeplite boys desk lamp is equipped with a 1800mAh battery.
Lamp Runtime
It comes with a USB cable, so you can charge it with an adapter, power bank, PC/laptop, car charger. At low settings, Deeplite runs for 7 to 8 hours, but at the highest settings, it will last for 4-5 hours. Control the lamp with a touch-sensitive button on the lamp base.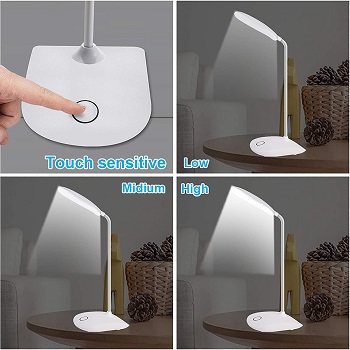 3-level Brightness
This kid's reading lamp offers three levels of brightness – low, medium and high. The lamp gooseneck is adjustable, it allows you to direct light where you need it most. Also, it can be folded into a small size, you can take it with you when traveling.
Highlighted Points:
the compact lamp fits anywhere
covered with a 12-month warranty
soft and flicker-free light
built-in 1800mAh battery
three brightness levels
lightweight and portable lamp
BEST CLAMP BOYS DESK LAMP
AmazLit LED Desk Lamp
Lamp With Clamp
AmazLit is a perfect lamp for studying and reading. This lamp comes with a clamp, so you need to attach it to the desk. Its extra-wide metal clamp comes with silicone pads, they are here to protect the desk or table from scratches and damage.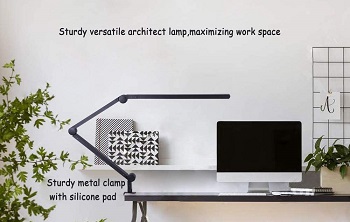 Large Lamp Head
That clamp supports up to 2.1 inches tabletop and holds the lamp securely in place. The package includes an adjustable reading lamp, UL power adapter and user manual. Its power cord is 71 inches long and the lamp head is 15.8 inches long, it illuminates a large desk area.
Three Flexible Joints
This boy's desk lamp is made of high-quality aviation-grade aluminum alloy with a brushed matte black finish. AmazLit is equipped with three flexible joints, adjust the lamp angles and position according to your current needs. Direct the light where needed.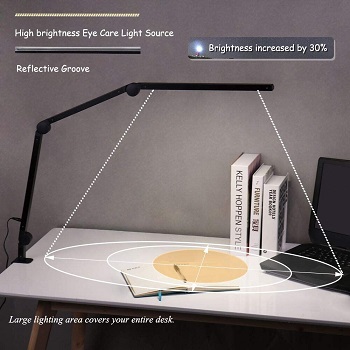 Memory Function
High efficient 98 LEDs consume less energy than traditional bulbs. Their lifetime is up to 50,000 hours. You can adjust the color temperature from 3000K to 5500K. Also, there is a memory and timing function. The memory function will remember your last used settings.
Highlighted Points:
perfect lamp for studying and reading
comes with an extra-wide clamp
UL-listed power adapter
made of quality aviation-grade aluminum
adjustable color temperature
memory and timing function
BEST LED BOYS DESK LAMP
Dott Arts LED Desk Lamp
Ideal For Students
Dott Arts is a modern and compact desk lamp perfect for students. It is available in black color only. The product dimensions are 11.2 x 14 x 7.1 inches. The USB cable is 4.9 feet long. You'll find a UL-certified power adapter included in the package.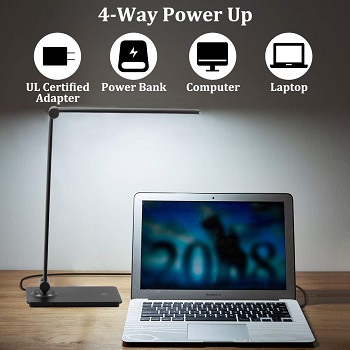 Non-glaring Light
Except for the adapter, you can charge this LED lamp for kids with a power bank, computer or laptop. This boy's desk lamp comes with a 1-year warranty. If there is any damage or defect, contact customer service. Its LED light eliminates glare and visual fatigue.
Foldable Design
Dott Arts emits soft and eye-caring light that is safe for your children. You can adjust the light direction in multiple positions, there is a flexible arm and rotatable base. If it's folded, you can store it in your bag, suitcases, backpack or drawer.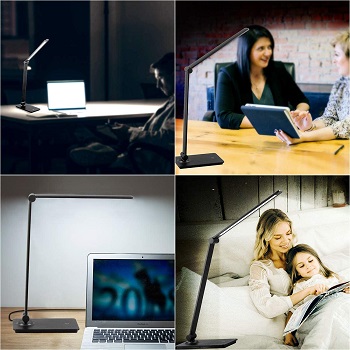 Cool White Light
There is a touch button on the lamp base for convenient control. Choose between three levels of brightness, there are low, medium and high. Dott Arts delivers a color temperature of 5000K, ideal for studying and reading. Also, it has a high color rendering index.
Highlighted Points:
lamp with compact foldable design
charge it with power bank, USB cable or computer
UL-certified power adapter
eye-friendly lighting
color temperature of 5000K
BEST FOR STUDYING BOYS DESK LAMP
HDTime Desk Lamp With USB
Silver Lamp
HDTime is a space-saving desk lamp suitable for reading, studying, crafting and even working. Choose between silver and pink colors. The lamp pole is 16 inches high, the lamp bar measures 15 inches in length and the lamp base has 9.5 x 2.6 inches.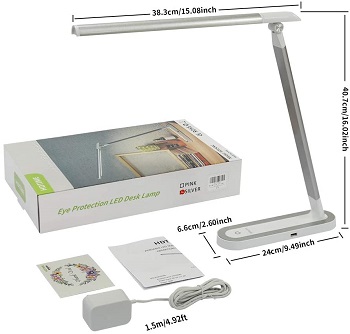 Multi-angle Adjustment
Made from high-quality aluminum alloy, it will last for a long time. HDTime boys desk lamp features multi-angle adjustment for optimized lighting. Direct the light exactly where needed. Its long light bar provides a large illumination area.
Charge Your Phone
This small reading lamp offers an additional USB port for charging a mobile phone, iPad, tablet. There is a 5V/1A USB output compatible with power bank, computer and other input power supplies. HDTime lamp comes with sensitive touch control.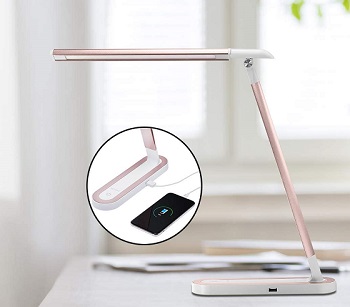 Color Modes
You can choose between three brightness levels and three color modes. There are warm light, white light and normal light. Set the normal light while studying and use warm light for relaxation. Control the settings with a touch-sensitive button, hold it for 2 seconds and change the color modes.
Highlighted Points:
small lamp made of aluminum alloy
multi-angle adjustment
USB charging port
available in pink and silver color
sensitive touch control
3 brightness levels and 3 modes
BEST BATTERY OPERATED BOYS DESK LAMP
RZ Kids Desk Lamp
Pencil Holder
RZ desk lamp for kids is available in light blue color. It is perfect for reading, studying, drawing, working. Place it on any nightstand, desk, table or end table. It features small dimensions so fits anywhere. Also, it comes with a pencil holder for writing tools.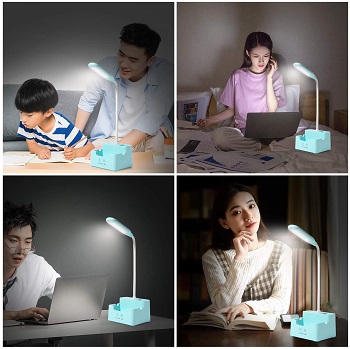 USB Output/Input
Moreover, there is a small phone holder where your kid can put his mobile phone during homework. Also, it will hold kid's mobile phone while watching videos. There are USB output and input, it will charge your mobile phone or tablet.
Rechargeable Battery
It is better the use USB output when the RZ boys desk lamp is fully charged. This battery-operated led table lamp has a built-in 1200mAh rechargeable battery. You need to charge this table lamp for at least four hours before use. Its run time is 4 to 12 hours.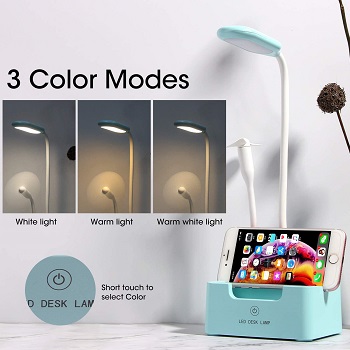 Bendable Lamp
RZ lamp delivers natural, flicker-free and non-glare light that doesn't cause eye strain. There is a bendable flexible gooseneck allowing you to adjust the light to any desired angle. You can fold the lamp, store and carry it with you when traveling.
Highlighted Points:
lightweight desk lamp
equipped with phone holder and pencil holder
USB charging port for mobile phone
built-in rechargeable battery
natural, flicker-free light
flexible gooseneck
BEST FOR READING BOYS DESK LAMP
MaxLite LED Desk Lamp
Reliable Lamp
MaxLite lamp is available in blue, black, white, red, pink and green colors. This lamp is reliable, it comes with a 5-year warranty. The lamp dimensions are 16 x 4.7 x 4.7 inches. It is suitable for any boy's desk, and table. The price is affordable.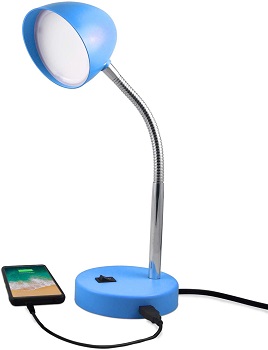 Energy Star Certificate
This boy's desk lamp is ETL listed, meaning it meets many safety and quality standards. It features an Energy Star certificate, so it uses less power than other desk lamps. Construction is made of plastic and metal. Its on/off switch is located on the lamp base.
Flexible Gooseneck
MaxLite has a flexible gooseneck, you can rotate it and direct the light where needed. That is perfect for homework or hobbies your kid has. This kid's reading lamp features an LED that is rated for up to 25,000 hours. It emits soft and eye-friendly light, safe for your children.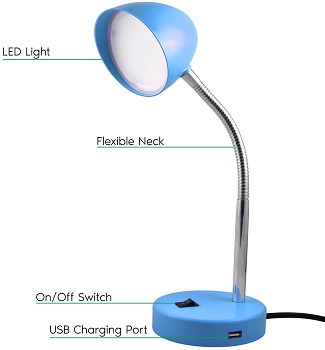 USB Charging Port
This is a plug-operated lamp that works on all 120V outlets. MaxLite features a convenient USB port, it is suitable for mobile phone, tablet or e-reader charging. The delivered color temperature is 3000K, this is warm white light ideal for casual reading and relaxing.
Highlighted Points:
ETL listed lamp
available in multiple colors
made of plastic and metal
long-lasting LED
convenient USB charging port
color temperature – 3000K
Things To Know About Boys Desk Lamp
The market is full of boys' desk lamps suitable for reading, studying and playing. But there are some factors you need to consider, such as eye-caring light, power source, color modes, lamp type, etc.
Lamp Type – The desk lamps are usually smaller than table lamps. Also, they use smaller bulbs. Desk lamps come in a variety of designs and functions. For small children pick the attractive colored lamps, while for teenagers choose a modern task lamp with several useful settings.
Color Modes – Traditional lamps have fixed color temperature, but modern lamps come with several settings. The color temperature measures in Kelvin. The higher the temperature the colder the light. The cold white light is perfect for reading, while the warm light is better for playing.
LED Light – There are many benefits of having a LED lamp in your children's room. It is worth knowing that incandescent bulbs heat up and burn out, while LEDs produce very low heat. So they stay cool to the touch. Also, this light uses less power than traditional ones.
Eye-friendly Light – Whether you want to buy a reading, studying, relaxing boys desk lamp for your kid, there is one important factor you need to consider. Check if the delivered light is safe for kids' eyes. Your future lamp shouldn't cause eye strain or eye fatigue.
Rechargeable Battery – There are two main types – lamps with power cords and lamps with batteries. If you want to have a portable and lightweight lamp,  then a model with a battery is the ideal solution. We suggest you buy a lamp with a rechargeable battery, that saves money.