Are you looking for the right lamp that makes your child's study space comfortable and productive?
Then this article is made for you! Here you can find six reviews on the best kids reading lamps. These models are equipped with quality performance and affordable prices. Also, you can check our tips and tricks for successful shopping.
Our Top Picks
Best 6 Kids Reading Lamps
BEST OF BEST KIDS READING LAMP
One Fire Kids LED Desk Lamp
Heavy Lamp Base
One Fire is a quality lamp available in white color. The lamp base is heavy, so it won't tip over easily. There is a 5400mAh capacity li-ion battery that provides powerful light. You can use it for up to 100 hours. Contact customer service if there is some defect.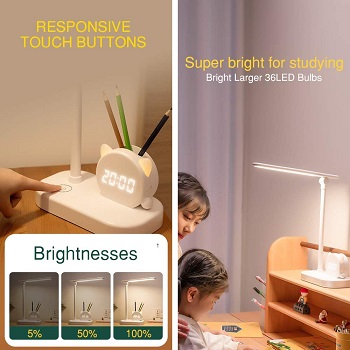 Pen Holder
This kid's reading lamp is equipped with an internal clock and pen holder. The clock will remind your kid when it's time for sleeping. Put your markers, scissors, pens and other writing tools in the pen holder. Your kid can have it all in one place.
Eye-caring Light
The One Fire lamp features eye-caring light, there is no glare or flicker light that is harmful to the eyes. If your kid is sensitive to bright light, change the light setting. There are three brightness levels, set the lamp from dim to high light.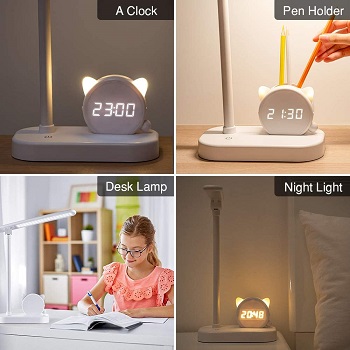 Memory Function
The small reading lamp provides natural soft light with a color temperature of 4000K. It is perfect for reading. One Fire is equipped with 36 LED bulbs. Change the brightness with a touch button placed in the lamp base. The memory function will remember the last-used settings.
Highlighted Points:
modern white lamp
equipped with 36 LEDs
comes with a pen holder and clock
5400 mAh battery
light touch switch
adjustable brightness
BEST FOR BOYS KIDS READING LIGHT
Chris.W LED Reading Lamp
Eye-friendly Light
Chris.W lamp is available in two colors  – blue and pink. its overall height is 16.9 inches, the lamp base has 5 inches and the light head diameter is 5.3 inches. This reading lamp is perfect for children, it provides eye-caring light, there is soft, natural and flicker-free light.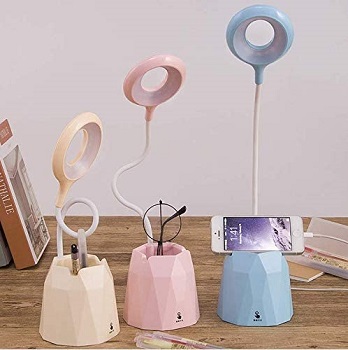 Mobile Phone Stand
This kid's reading light features a pen holder and phone stand design. Kids can place their writing tools in the pen holder and keep their desks tidy and organized. Also, there is a slot for mobile phones, tablets, e-reader, and more. The lamp's gooseneck is adjustable, the kid can direct the light where needed.
Battery-powered Lamp
Chris.W features a built-in rechargeable 2000mAh lithium battery, which is powered by a USB charger. Its working time at low brightness is 5-8 hours, if you set the highest brightness, the battery will last for 2 hours. At medium brightness, it lasts for 3-4 hours.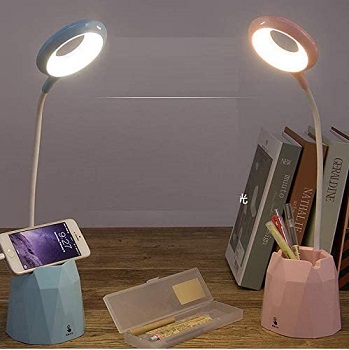 Night Light
This cordless reading lamp offers night light and three brightness levels. Set the highest brightness level when studying, learning or reading. Use the lower brightness when your kid playing games, it is a more comfortable light that reduces eye strain.
Highlighted Points:
available in two colors
built-in rechargeable 2000 mAh battery
natural and flicker-free light
powered by USB cable
three brightness levels
pen holder and mobile phone stand
BEST CLIP-ON KIDS READING LIGHT
Honwell Dimmable Desk Light
Small Lamp
Honwell is a small clip-on book light, ideal for reading books. It weighs 2.1 ounces only. Meaning, you can store it and take it on vacation, by bus, train, car, etc. Very practical and useful. Its maximum clamping distance is 25 mm. The price is affordable.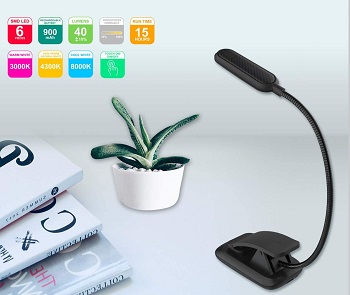 Rubber Mat
The clamp is equipped with a rubber mat, so it won't damage the book or notebook. Honwell kids reading lamp features a built-in rechargeable 900 mAh high capacity Li-ion battery. This battery provides a run time of 15 hours, which is pretty enough.
6 SMD LEDs
This adjustable desk lamp features advanced 6 SMD LED pieces. So this lamp delivers non-flickering and eye-protection light. Honwell protects kids' eyes from blue light and other harmful effects. It contains an 18-inch micro USB cable that requires 3 hours for charging.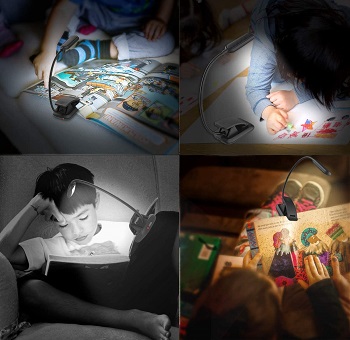 Adjustable Gooseneck
Honwell features an adjustable gooseneck, your kid can direct the light where needed. Also, it can choose between three different light modes – there is yellow light (4300K), warm white (3000K) and cool white light (8000K). Change the mode by clicking the button switch on the lamps' head.
Highlighted Points:
small  and portable lamp ideal for reading
built-in rechargeable battery
included micro-USB cable
6 SMD LEDs ensure eye-caring light
three lighting modes
BEST FOR BED KIDS READING LAMP
Merisky Rechargeable Light
Foldable Design
Merisky is quality and small lamp for kids. Thanks to its foldable design, it is compact and portable. There is a clamp design and its maximum clamping distance is 1.57 inches. You can attach it to any horizontal and vertical surface.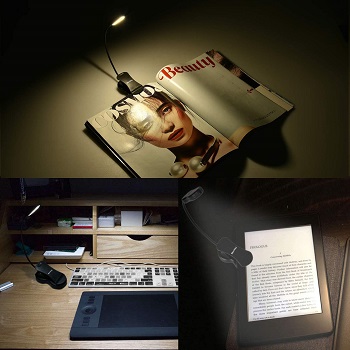 Up To 60 Hours
The clamp is equipped with double rubber pads, so it won't damage books or notebooks. Merisky kids reading light has a built-in rechargeable battery that lasts for up to 60 hours if you set it at the lowest brightness level. There is a rechargeable 1200mAh battery.
LED Indicator
A standard Android micro-USB cable is included in the package. You can charge it with a power bank, car charger or PC. The adapter isn't included in the box. While charging, the red indicator is on, when the lamp is fully charged, the green indicator is on.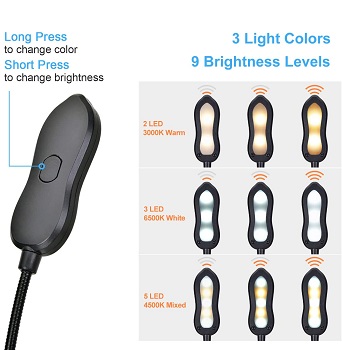 3-year Warranty
This adjustable reading lamp is covered with a 3-year warranty, you can rely on its quality. Its flexible gooseneck can be adjusted in multiple positions. Merisky delivers eye-friendly light, there are three light modes and 9 brightness levels.
Highlighted Points:
covered with a 3-year warranty
flexible gooseneck
eye-friendly light
three light modes and nine brightness levels
standard Android micro-USB cable included
BEST FOR STUDY KIDS READING LAMP
Maythank Cordless Desk Lamp
Long Light Head
Maythank is suitable for all kids, girls or boys, students, etc. The lamp base measures 3.5 x 4.7 inches, the stem is 13 inches high and the lamp head is 9.8 inches long. It includes rechargeable lithium 2000mAh battery. It can stand on a table, desk, nightstand, etc.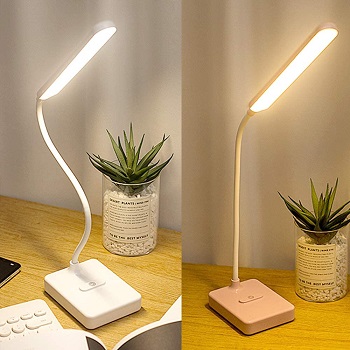 Cordless Lamp
This kid's reading light has a USB charging port, there is no need for the USB cable. Maythank cordless LED table lamp features flexible neck, adjust this lamp neck any angle you want. Also, you can use it anywhere because there is no power cord.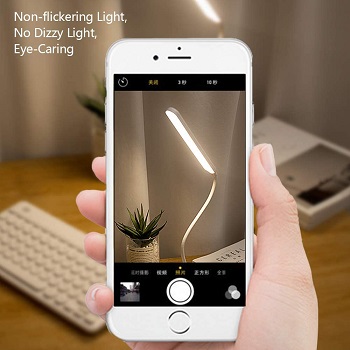 30 Pcs LEDs
There are 30 pcs LEDs that provide eye-caring and comfortable light. Click the touch sensor and choose between three modes of light temperature and six brightness settings. There are cool white, warm light, natural day white light, so choose the setting depends on the activity.
Highlighted Points:
sturdy and stable lamp base
cordless lamp with rechargeable battery
USB charging port
flexible lamp neck
30 pcs LEDs with eye-friendly light
BEST WALL READING KIDS READING LAMP
Blissporte Reading Light
Easy Installation
Blissporte is an affordable overhead storage light that is super handy. It is covered with a 12-month warranty and 24 hours customer service. Blissporte requires easy installation, there is a built-in magnetic back and 3M adhesive magnetic strip.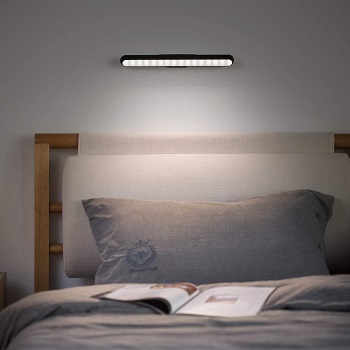 Rechargeable Battery
This kid's reading lamp also allows you to easily change/switch the location. It features a built-in rechargeable battery 2000mAh, that can be used for 3 years. If you use low light, this bedroom reading light wall-mounted model will last for 48 hours.
Aluminum Alloy Body
Its charging time lasts for 3 hours. This product is made of high-quality aluminum alloy, it provides good heat dissipation and prolongs service life. There are 8 LEDs that provide 3500K and 6 LEDs with a color temperature of 6500K.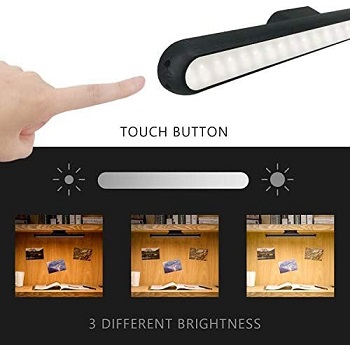 Touch Control
Blissporte supplies both, warm and cool light. There is a touch switch that allows you to change the brightness level. The first touch is low brightness, ideal for sleeping, the second touch provides medium illumination and the third touch ensures high brightness for learning and reading.
Highlighted Points:
made of quality aluminum alloy
charging time last 3 hours
built-in rechargeable battery
available three brightness levels
control the brightness with the touch panel
easy installation
Things To Know About Kids Reading Lamp
There are many kids reading lamps in the market, so it isn't easy to decide which model is the best for your kid. We've collected some important features you need to consider before buying.
Eye-friendly Light – Kids have more sensitive eyes than adults. So you should buy a lamp that offers soft and comfortable light that doesn't cause eye strain or eye fatigue. Also, it is important that the lamp features different lighting modes.
Lighting Modes – It is always a good idea to buy a lamp with additional features, such as lighting modes. Then, your kid can adjust the color modes and brightness level according to its activity. For learning and reading, the best setting is cool white light, it boosts energy and keeps the brain activated.
Safety Features – If the lamp requires an incandescent bulb, it isn't recommended to buy it. It produces heat, so the kid could burn their fingers. The best light bulb for reading is an LED bulb. The LED light produces a small amount of heat, it never gets hot, so this is a safer option.
Lamp Flexibility – There are two main models, lamps with flexible gooseneck or adjustable neck. Lamps with gooseneck allow you to adjust them in a variety of positions, they are bendable. Also, lamps with adjustable necks allow you to rotate and extend them.
Lamp Color – Unfortunately, many parents still buy a blue lamp for boys and pink lamps for girls. Usually, these lamps aren't quality and don't provide eye-friendly light. So, don't look for a color, check the kids reading lamp features and specifications and buy a quality lamp for your child.