Do you want to buy a desk lamp that mimics the natural light from the sun?
Then you should look for full spectrum desk lamps!
Fortunately, this article contains all relevant info about these desk lamps. Check out the list of the best six models currently available in the market. You'll learn how to find the ideal model for your needs by reading our buying guide.
Our Top Picks
Best 6 Full Spectrum Desk Lamps
BEST OF BEST FULL SPECTRUM DESK LAMP
Baseus LED Desk Lamp
Small Base
Baseus is an elegant, sleek and space-saving desk lamp available in grey and white color. It features a small base that measures 3.34 x 2 x 3.1 inches. It is a robust and high-quality desk lamp with a stable base, constructed of aluminum alloy.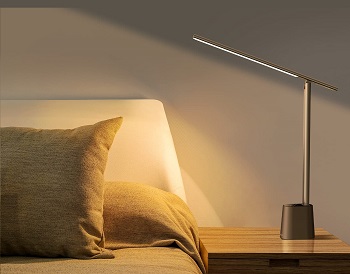 Rechargeable Battery
This full spectrum desk lamp is rechargeable, it features a built-in 2200 mAh battery. The charging time is approximately three hours, and the lamp is able to last up to 13 hours when fully charged. It is a portable lamp, so you can put it wherever you like.
32 Full-spectrum LEDs
Baseus is the best reading lamp that is equipped with 32 full-spectrum LEDs. This lamp produces a flicker-free and glare-free light that is similar to natural sunlight and has no negative impact on your eyes. The colors are more vivid and bright because of the high color rendering index.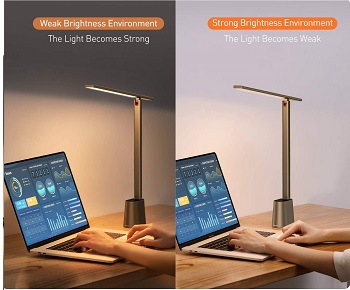 Foldable Design
There are three color modes to choose from – 3000 to 6000K. Baseus has a foldable and extensible light bar with a range of 0-180 degrees of angle adjustment. It has a wide range of lighting able to illuminate the entire desk. The ambient light sensor regulates the brightness automatically.
Highlighted Points:
sophisticated desk lamp
available in grey and white color
equipped with 32 LEDs
emits natural daylight
high color rendering index
ambient light sensor
BEST READING FULL SPECTRUM DESK LAMP
Verilux Smart Light Desk Lamp
1-year Warranty
Verilux is a modern desk lamp available in white color. The lamp base measures 5.7 x 10.5 inches and the lamp height is 22.2 inches. A 1-year warranty is provided by the manufacturer, if there is any defect within that period, contact customer service.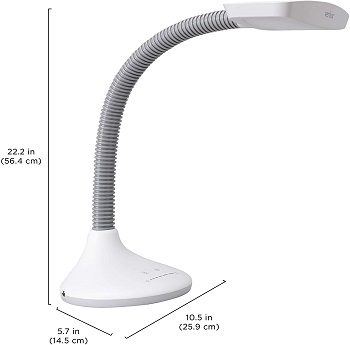 No Glaring
It is equipped with a USB port that keeps your devices charged and within arm's reach while you working or reading. Energy-efficient LED light mimics natural daylight which is safe for your eyes. Also, this full-spectrum desk lamp is equipped with an optic lens that reduces glaring.
3 Color Modes
Full-spectrum UV-free light has passed internationally regulated safety standards. Verilux LED reading lamp gives you a healthy lighting experience. It offers three color temperatures ranging from white light to warm light, suitable for different needs.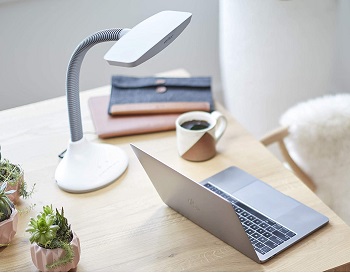 8 Levels Of Brightness
Choose between eight levels of brightness according to your current task. Also, you can adjust the lamp gooseneck at different angles. Direct the light exactly where needed. Verilux is perfect for office, home office, dorm, and great for studying, reading and hobbies.
Highlighted Points:
modern white desk lamp
covered with a 1-year warranty
full spectrum UV-free light
meets safety standards
adjustable color modes and brightness
flexible gooseneck
BEST LED FULL SPECTRUM DESK LAMP
JKSWT Eye-caring Desk Lamp
Aluminum Alloy
JKSWT is a compact white desk lamp that fits on any workbench, end table, shelf. Also, it is available in black color. It is made from aluminum alloy and metal. The aluminum alloy is a great material that effectively dissipates the heat produced by the LED.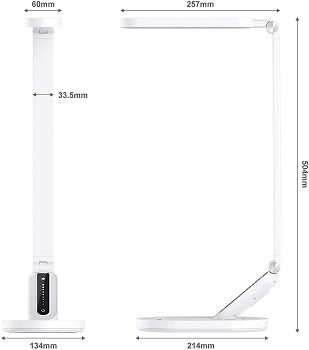 72 Pcs LED Beads
The lamp base is equipped with non-slip rubber that keeps the lamp stable. There are 72 pcs LED beads, 36 pcs beads emit warm light while the other 36 beads ensure cold light. These energy-saving LED beads use less power and last for decades.
5 Color Modes
This full spectrum desk lamp delivers 750 lumens, it's suitable for any occasion. You can choose between five color modes and nine brightness levels. Choose the color temperature of 3500K for relaxation while 6000K is perfect for reading or studying.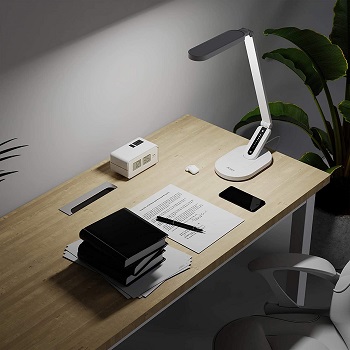 USB Charging Port
JKSWT white LED desk lamp is designed to emit flicker-free light which is safe for your eyes. On the lamp base, there is a USB port, meaning, you can charge your mobile phone, iPad and other devices. The lamp has a foldable design, easy to store or carry with you.
Highlighted Points:
available in white and black color
stable lamp base with non-slip rubber
72 pcs LED beads
five color modes and nine levels of brightness
USB charging port for smartphone
foldable design
BEST MODERN FULL SPECTRUM DESK LAMP
Adesso Modern Desk Lamp
Satin Steel Finish
Adesso is an attractive desk lamp made from metal, acrylic and alloy steel. It is finished with satin steel that brings a touch of elegance and professionalism to your office or home office. The base diameter is 5 inches and the lamp height is adjustable.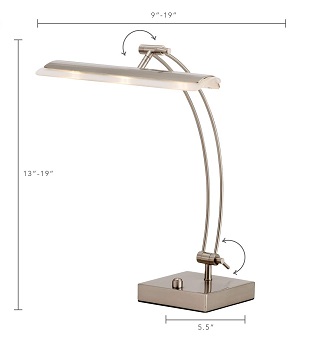 Approved Lamp
You can extend the lamp from 13 to 19 inches. This full spectrum desk lamp is tested and approved. The UL certificate verifies that the lamp complies with government-regulated safety standards. It is safe for both elderly and children.
Super Bright LED
This small modern desk lamp uses a super bright 9-watt full-spectrum LED. It simulates natural daylight and provides natural and glare-free light which doesn't cause eye strain or eye fatigue. It is perfect for reading, working, homework and hobbies.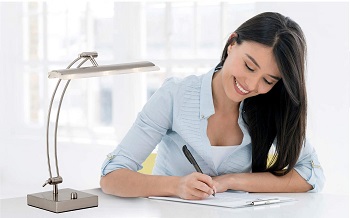 Toggle Button
Adesso lamp is inspired by a vintage banker's lamp which is one of the most recognizable lamps in the world. You can adjust the lamp angle and move the light closer or farther away. The toggle button is located on the lamp base for your convenience.
Highlighted Points:
made of metal, alloy steel and acrylic
elegant satin steel finish
meets safety standards
9-watt super bright LED
adjustable height
BEST STUDYING FULL SPECTRUM DESK LAMP
Bell And Howell Desk Lamp
Fits Anywhere
Bell And Howell desk lamp is a very popular lamp due to its quality and functionality. The lamp dimensions are 5 x 5 x 3 inches and it weighs 5 pounds. There is a small round base that fits on any nightstand, office desk, end table, workbench and shelf.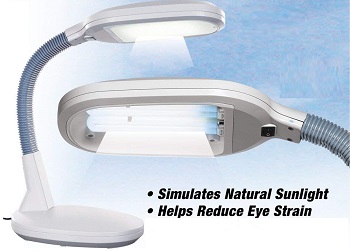 New Lighting Technology
The 27-watt LED bulb is integrated into this full spectrum desk lamp. It provides 1300 lumens which are pretty enough for any detailed work. Bell And Howell use new lighting technology that simulates outdoor lighting, this is clear, bright and comfortable light.
Flexible Gooseneck
With a high color rendering index of 80-85, you'll see accurate, true and vivid colors. This balanced light will make your reading, working and crafting more easier. Also, this sunlight desk lamp has a flexible gooseneck, it is fully adjustable to any angle.

Glare-free Light
It helps reduce eye strain and eye fatigue, you can read or work longer without harmful effects on your health. Bell And Howell desk lamp is suitable for computer work, it emits glare-free light. The lamp provides a color temperature of 6500K.
Highlighted Points:
small and compact desk lamp
high color rendering index
new lighting technology
provides natural daylight illumination
flexible gooseneck
no harmful effects
BEST WHITE FULL SPECTRUM DESK LAMP
Newhouse White Table Lamp
5-year Warranty
Newhouse desk lamp is available in white and black color. It is 14 inches high and the base diameter measure 7 inches. This quality lamp is made from plastic, making it durable and sturdy. A 5-year warranty is provided by the manufacturer.
Flexible Neck
The package includes a LED table lamp and power adapter. Newhouse full spectrum desk lamp is tested and safe for use. There is a flexible gooseneck, you can rotate and bend it in various positions. Direct the light exactly where need it at the moment.
Natural Daylight
Newhouse is a modern white desk lamp that emits crisp, bright, flicker-free and glare-free light. It mimics daylight. which is perfect for reading, working and maintaining focus. Place this lamp on your workbench, office desk, end table, it fits anywhere.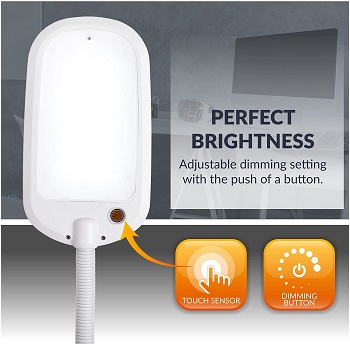 Dimmable Lamp
With a touch dimmer button, you can easily change the brightness level. Integrated LED light is rated for up to 50,000 hours and uses less energy than traditional light bulbs. Newhouse provides a color temperature of 5000K, perfect for highly detailed tasks.
Highlighted Points:
available in black and white color
touch dimmer button
equipped with LED light
flicker-free and glare-free light
flexible gooseneck
the color temperature of 5000K
Things To Know About Full Spectrum Desk Lamp
The full spectrum desk lamps have many advantages. To learn how to pick the best model for your needs, check out some factors such as "natural daylight" light, lamp design, color temperature, CRI, etc.
Natural Daylight – Some LED modern desk lamps mimic natural daylight, this illumination is similar to sunlight. There are many benefits of it – this light is able to boose your energy and enhance your productivity and creativity keeping you focused. This is the best desk lamp for the eyes.
Color Rendering Index – Also known as CRI feature. These lamps in the list above have high color rendering index, over 80. People perceive colors more accurately under a desk lamp with a higher CRI. It renders colors how we see them under natural daylight.
Color Temperature – The lamps come with a dimmer switch or knob, so you can easily adjust the color temperature. It is measured in units of kelvin (K). The higher the K, the cooler the light is. Cool color temperatures boost brain activity and increase your productivity.
Working Area – Choose a tall and large desk lamp if you own a large desk. Tall lamps are able to illuminate a wider desk area. But the light shouldn't be focused directly on you. If you can, choose the lamp with adjustable height and flexible gooseneck, it meets different lighting needs.
Additional Features – Many modern full spectrum desk lamps don't just illuminate your workbench or room, they could be equipped with additional features such as a USB port. The USB charging port will keep your mobile phone, tablet or e-reader charged and within arm's reach.