On the search for a new desk lamp with a bit unusual yet modern design?
Then keep reading!
There is plenty of fantastic, futuristic desk lamps available for reasonable prices worth taking a peek at. They provide great illumination, contemporary design and awesome features. Check our list and find a perfect lamp that suits your needs.
Our Top Picks
Best 6 Futuristic Desk Lamps
BEST OF BEST FUTURISTIC DESK LAMP
BenQ LED Desk Lamp
First E-reading Lamp
BenQ is a very popular lamp in the market, there are three colors you can choose from – blue, gold and silver. The base diameter is 8.7 inches, lamp arms measure 14.6 x 14.6 inches and the light bar is 15.2 inches long. This is the world's first e-reading lamp.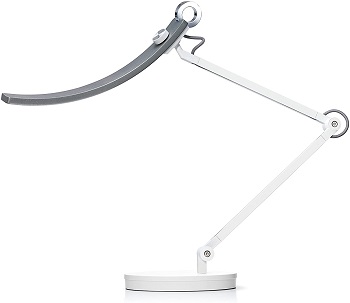 Aluminum Alloy
Construction is made from aluminum alloy, it's a durable and quality lamp. The aluminum alloy dissipates the heat effectively. This futuristic desk lamp meets international safety standards. Equipped with ball joints, the BenQ lamp is highly flexible.
Ambient Light Sensor
Adjust the light to the angles that you need. The flicker-free LED light provides constant and even lighting. BenQ has an integrated ambient light sensor that detects the environment's illumination. It features a wider lighting range than other desk lamps.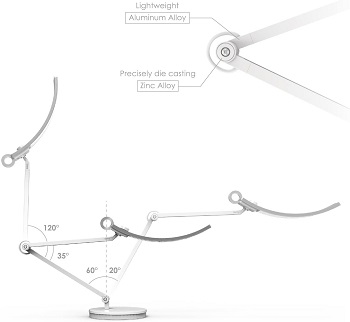 Adjustable Color Temperature
This adjustable reading lamp is perfect for offices and multi-screen setups. With a knob, you can adjust the color temperature modes and brightness level. Choose between cool and warm color modes. BenQ desk lamp is safe for your eyes.
Highlighted Points:
highly adjustable desk lamp
available in three colors
flicker-free LED light
perfect for multi-screen setup
wide lighting range
meets international safety standards
BEST BATTERY OPERATED FUTURISTIC DESK LAMP
Luxe Cordless Desk Lamp
Popular Colors
This elegant and modern lamp comes in four different two-tone color variations. There are gold, silver, rose gold and space grey colors. Luxe desk lamp is suitable for indoor and outdoor use. The lamp's case is made of high-grade aluminum with a soft rubber-like material.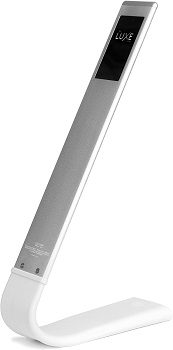 Water-resistant Lamp
This futuristic desk lamp is resistant to water. Luxe comes with 28 LEDs and this light panel will last over 50,000 hours. It provides natural lighting, glare-free, flicker-free, no UV and low heat. Also, it helps reduce eye strain and eye fatigue while reading or working.
2000mAh Battery
The built-in 2000mAh Li-polymer battery is rechargeable. Use a micro USB cable, it's included in the package. Luxe offers up to 40 hours of continuous run time. Its charging time lasts three hours. This battery-operated reading lamp has a fully adjustable design.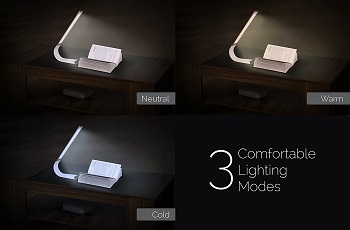 Touch Panel
For the ideal lighting direction, you can bend, twist and rotate the lamp. Also, choose between three lighting modes and six levels of brightness, control the lighting modes by a touch panel on the lamp base. Luxe desk lamp has an acceptable price.
Highlighted Points:
modern clean-line lamp design
built-in 2000mAh battery
40 hours of continuous run time
included micro USB cable
equipped with 28 LEDs
two-tone color design
BEST LED FUTURISTIC DESK LAMP
Kiampon Modern LED Desk Lamp
Affordable Price
Kiampon is a modern desk lamp with a small footprint that fits on any nightstand, desk, table, end table, coffee table, etc. Its overall height is 15.7 inches, the base diameter is 5.1 inches and the shade dimensions are 8.6 x 11.6 inches. The price is low.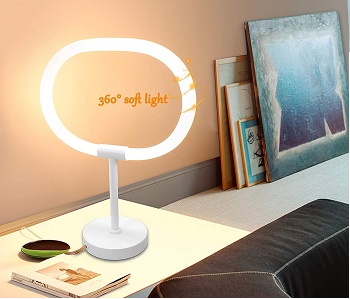 Anti-slip Base
The power cord is 66.9 inches long. Kiampon features an ellipse design that gives a unique visual impression. It is made from solid iron and premium aluminum, these materials guarantee a long lifespan. The anti-slip base provides stability.
2835 SMD LEDs
Kiampon futuristic desk lamp is equipped with 2835 SMD LEDs which emit soft light without flickering, glaring and reflection. This modern LED desk lamp has a high color rendering index, it's over 85, you'll see true, accurate and vivid colors.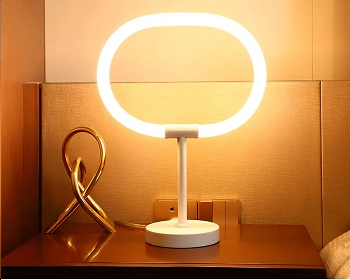 Brightness Levels
Press the dimmer switch and change the brightness level easily. There are bright, medium, dim and on/off modes. Set the different brightness for bedtime, reading and relaxing. The medium lighting mode is suitable for reading. Use the dim level as a night light.
Highlighted Points:
modern desk lamp with ellipse design
made from solid iron and aluminum
equipped with 2835 SMD LEDs
flicker-free and glare-free light
three levels of brightness
high color rendering index
BEST CLAMP FUTURISTIC DESK LAMP
Bemelux Dimming Desk Lamp
Ultra-wide Shade
Choose between gold, black, white and silver lamp models. The lamp arms measure 16.1 x 16.1 inches and the lamp head is 19.7 inches wide. The manufacturer provides a 3-year warranty. This wide lamp head illuminates large workbenches and tables.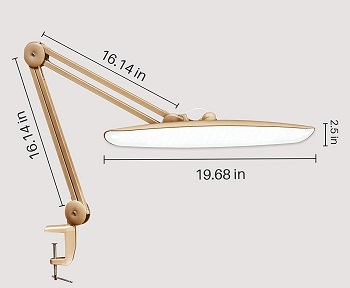 117 Pcs LEDs
It is made from premium metal, which makes it durable and sturdy. There are 117 pcs of Samsung LEDs that deliver 2200 lumens. It illuminates a bright beam of vivid light that doesn't cause eye fatigue or eye strain. Bemelux increases the concentration needed for detailed work.
Swivel Arm
This futuristic desk lamp comes with a clamp. Clip it on the desk, table, shelf, workbench and it won't take up much desk space. Bemelux is an adjustable LED desk lamp with swivel arms that easily cast light to the area you need it most.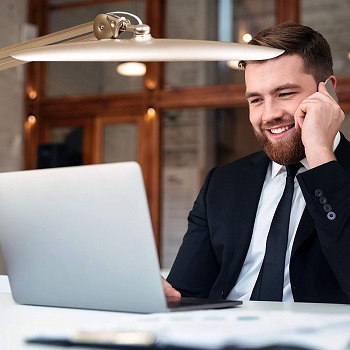 High Color Temperature
There are four levels of brightness you can choose from. The on/off dimmer is placed on the lamp head for convenient use. Bemelux provides a high color temperature of 6000K, it will boost your energy and enhance your productivity.
Highlighted Points:
made from premium metal
elegant gold finish
four colors avaialble
ultra-wide light bar
four levels of brightness
dimmer switch on the lamp head
BEST SWING ARM FUTURISTIC DESK LAMP
Baseus Eye-caring Desk Lamp
Minimalist Design
Baseus is a beautiful, minimalist and sleek modern desk lamp. Choose between grey and white color. It features a small base, measuring 3.34 x 2 x 3.1 inches. Construction is made from aluminum alloy, it is a durable and quality desk lamp with a stable base.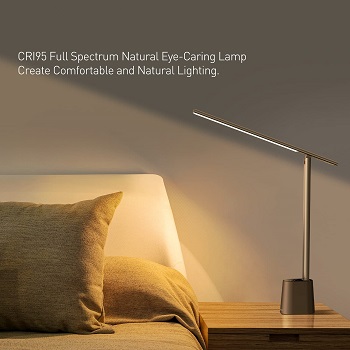 Rechargeable Battery
This futuristic desk lamp has a built-in 2200mAh battery, it is rechargeable. The charging time last 3 hours and when fully charged, Baseus runs for up to 13 hours. You can place it wherever you want, it's a portable lamp. It's equipped with 32 full-spectrum LEDs.
Natural Lighting
Baseus lamp emits flicker-free and glare-free light, the light is similar to natural daylight which doesn't cause harmful effects on your eyes. The high Color rendering index of 95 makes the color more vivid and accurate. Choose between three color modes (from 3000 to 6000K).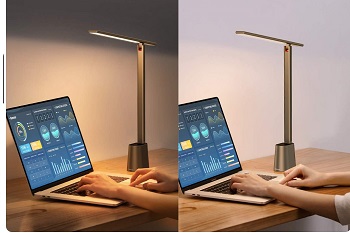 Ambient Light Sensor
The light bar is foldable, it is fully extendable providing 0-180-degree angle adjustment. Baseus adjustable arm desk lamp has a wide illumination range, it is able to light up your entire desk. The ambient light sensor automatically detects the brightness of the room and optimizes the light.
Highlighted Points:
elegant and sleek desk lamp
uses 32 full-spectrum LEDs
runs on a rechargeable battery
high color rendering index
foldable design
ambient light sensor
BEST READING FUTURISTIC DESK LAMP
Kenroy Black Table Lamp
Black Lamp
Kenroy is a modern desk lamp available in white and black color. The overall lamp height is 13 inches and the width is 12 inches. This lamp has sleek curves and an elegant black finish that makes it look like it belongs on a luxury space cruiser.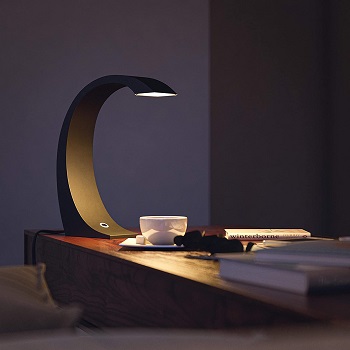 LED Bulbs
It is suitable for modern and contemporary designed home offices or offices. The power cord is 6 feet long. There are LED bulbs integrated into this futuristic desk lamp. They are rated for up to 20 years. You don't have to replace bulbs.
Dimmer Switch
This modern reading lamp provides bright task lighting ideal for reading, studying and working. The metallic dimmer switch is located in the lamp base. When the lamp is off, a glowing blue halo glows around the dimmer button.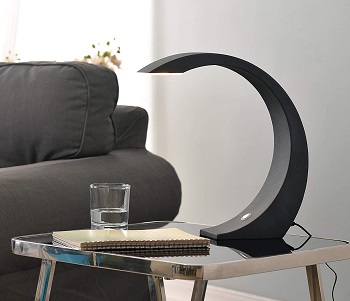 UL-listed Lamp
A metallic dimmer switch allows you to customize the lighting depending on your current needs. Additionally, it has a memory function to return the brightness which you used previously. A 1-year warranty is provided by the manufacturer. Also, it features a UL certificate.
Highlighted Points:
UL-listed lamp
customizable lighting modes
covered with a 1-year warranty
metallic dimmer switch
long-lasting LED bulbs
complements modern and contemporary interiors
Things To Know About Futuristic Desk Lamp
These futuristic desk lamps offer great design and functionality. Before buying, you should take some factors into account, that includes, color temperature modes, flexibility, eye-caring light, etc.
Modern Design – Modern desk lamps don't look like traditional lamps at all. You can find them in all sizes and shapes. They could have curved, round, ellipse, clean-line designs. These lamps complement modern and contemporary room interiors.
Task Lighting – Probably, you don't want to buy a lamp for decoration purposes only. These aesthetic desk lamps light up a specific area to make it easier for you to read, write, study or do other activities. The task lamps should have bright, uniform and even lighting.
Dimmable Desk Lamps – Dimmable desk lamps do double duty – bright and direct task lighting and soft, ambient lighting.  They are ideal for office work and relaxing read. For task lighting, go for greater kelvin, at least 4000K. It is more effective and increases your energy level.
Flexibility – Desk lamps with flexible gooseneck or adjustable arms can be adjusted to provide the proper amount of illumination for whatever task you are working on at the time. Move the light source closer or farther away from your workbench.
LED Light – All of these futuristic desk lamps in the list above are compatible with LED bulbs, beads or panels. LED lamps are able to provide bright and clear light, use less power, produce low heat, have no UV emissions and last much longer than regular light bulbs.
Final Verdict
We would like to recommend the BenQ futuristic desk lamp. It is made from a quality aluminum ally, has a smart ambient light sensor and has a highly flexible design. If you looking for attractive and unusual desk lamps, you should check the reviews on art deco desk lamps and cool office lamps.