Are you looking for a desk lamp that will make your room even more charismatic?
Then this article on the best glam desk lamps is made for you!
There is a list of best-rated lamps that adds an element of elegance and sophistication to every interior. Check the list and pick the model with the size, shape, design, material and function you like the most. Don't forget to check our buying guide.
Our Top Picks
Best 6 Glam Desk Lamps
BEST OF BEST GLAM DESK LAMP
Mersenne Crystal Desk Lamp
High Price
Mersenne is an expensive desk lamp with an impressive contemporary design. It is a tall lamp, the overall height is 26 inches and the lampshade measures 13 x 16 x 10 inches. Mersenne desk lamp suits modern, contemporary and urban home styles.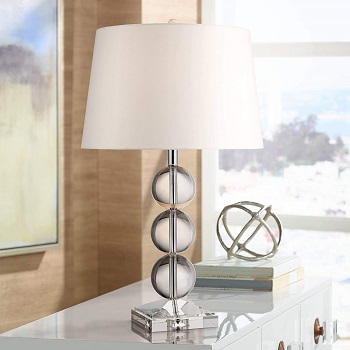 Stable Lamp
You don't have to worry about this lamp toppling over because it's quite substantial. Mersenne glam desk lamp belongs to the 360 Lighting collection. There you can find lamps with expressive modern profiles and distinctive designer finishes.
Crystal Balls
It doesn't have a standard lamp pole, there are three crystal balls and a rectangular crystal pedestal. The metal pole comes in silver color. This decorative desk lamp has a white tapered drum shade that emits soft and warm lighting and creates a comfortable atmosphere.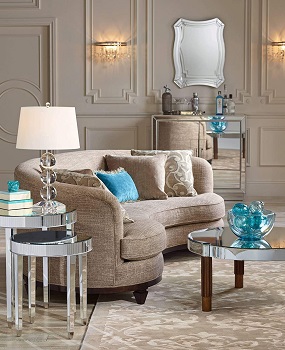 100W Bulb
Mersenne uses a standard medium base bulb with a  maximum wattage of 100W. The on/off switch is located on the socket. The bulb isn't included in the package, so you can choose between LED, CFL, incandescent and halogen bulbs. Also, you can buy dimmable bulbs.
Highlighted Points:
impressive timeless design
suits modern and contemporary decors
stable lamp base
three crystal balls on the pole
white tapered lampshade
uses standard-medium base bulb of max 100W
BEST GLASS GLAM DESK LAMP
Stella Luxury Table Lamp
Extraordinary Lamp
Stella is an outstanding desk lamp, it features a beautiful and timeless design. This is a big lamp so it will draw attention wherever you place it. Its overall height is 30 inches, the lampshade dimensions are 15 x 17 inches. The price is high.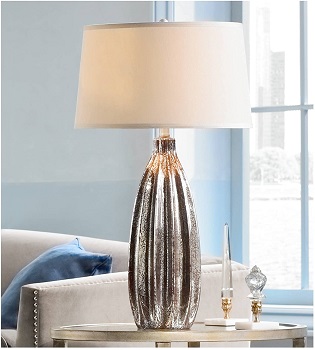 Glass Body
It is a great addition to your living room, dining room, office, home office, guest room and other places. The lamp body is made from fluted mercury glass that provides a bright shimmering look. It is perfect for modern and urban room interiors.
Classy Look
A taupe drum lampshade is made of premium fabric. This glam desk lamp provides a classy and elegant look. The on/off switch is located on the socket. Stella glass desk lamp uses a standard medium base bulb with a maximum wattage of 150W.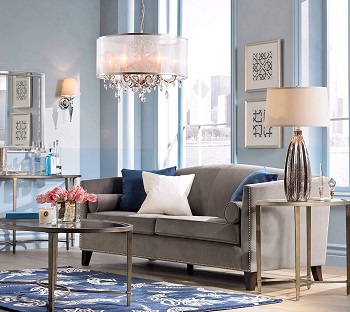 Compatible With Dimmable Bulbs
The bulb isn't included in the package, but Stella is compatible with LED, halogen, incandescent and CFL light bulbs. If you buy compatible dimmer bulbs, you can adjust the level of brightness and enjoy warm and soft light so as bright light.
Highlighted Points:
stunning tall desk lamp
provides a classy and elegant appearance
fluted mercury glass body
taupe drum lampshade
requires the standard medium base bulb
compatible with LED, CFL, incandescent bulbs
BEST MID-CENTURY GLAM DESK LAMP
Elka Mid-century Desk Lamp
Tall Lamp
Elka is an eye-catching desk lamp that complements modern offices and rooms. It is 28 inches high and the overall width is 14 inches. The base is 5.7 inches wide while the lampshade measures 14 x 10 inches. Elka table lamp weighs 5.2 pounds.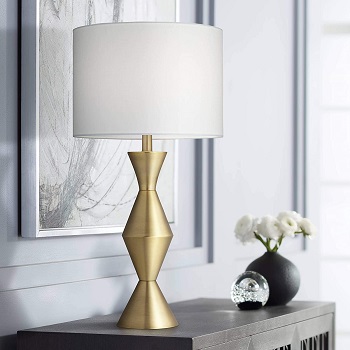 Metal Construction
Its construction is made from metal and covered with an elegant brass finish. The white drum shade is made of durable and quality fabric. The geometric frame and rich golden look provide vintage touch in any room. It's the perfect lamp for your bedroom, living room, dining room, office,  guest room, etc.
150W Bulb
This brass reading lamp uses one maximum 150-watt standard medium base bulb. It isn't included in the package, so you need to buy it separately. Also, this desk lamp is compatible with energy-efficient LED bulbs. The on/off switch is located on the power cord.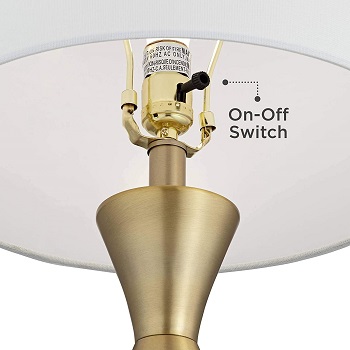 Pricey Item
Also, this glam desk lamp is a perfect gift idea, it will uplift and home or office decor. You can place it on your workbench, office desk, coffee table, end table, shelf, etc. But check its dimensions twice, the Elka table lamp isn't so small. Furthermore, it is a pricey item.
Highlighted Points:
metal construction with brass finish
white fabric lampshade
requires 150W standard medium base bulb
compatible with LED bulb
inspired by mid-century design
BEST MODERN GLAM DESK LAMP
Boncoo Crystal Table Lamp
Silver Lamp
Boncoo is a small yet elegant table lamp. Choose between gold and silver models. This lamp is 16.9 inches high, the base measures 5.5 x 1.3 inches and the lampshade has 8.5 x 6.9 inches. Its power cord is 59 inches long, you can connect it conveniently with the socket.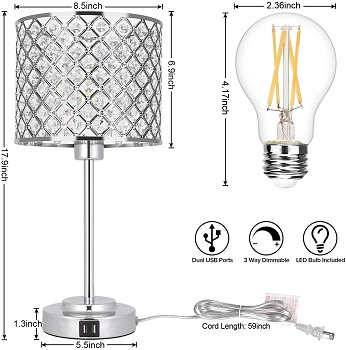 180 pcs Of Crystal
This is a crystal desk lamp made of 180 pieces of K9 crystals. When the lamp is turned off, clear crystals refract a lovely rainbow under sunshine. When the lamp is turned on, it casts sparkling light and creates a warm and romantic atmosphere.
Edison LED Bulb
It comes with a 6W Edison LED bulb which ensures a color temperature of 4000K. Boncoo glam desk lamp provides flicker-free and glare-free light, it's safe for your eyes. Also, this lamp is equipped with 2 USB ports meaning you can charge two devices at the same time.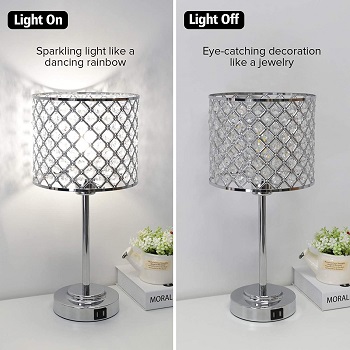 3-way Dimmable Lamp
These USB charging ports work whether the lamp is on or off. Control the level of brightness by touching the lamp base. There are three levels – low, medium and high. High mode provides bright light, enough for relaxing reading. Low light ensures perfect ambient lighting.
Highlighted Points:
elegant silver desk lamp
made from 180 pcs of crystal
included 6W Edison LED bulb
color temperature  – 4000K
two USB charging ports
three levels of brightness
BEST LED GLAM DESK LAMP
Jonathan White Table Lamp
Eye-catching Lamp
Jonathan is a stunning desk lamp that uplifts any decor. It complements contemporary, modern, glam and minimalist room interior. The lamp height is 23 inches and the lampshade measures 12 x 9 x 14 inches. Its price is high.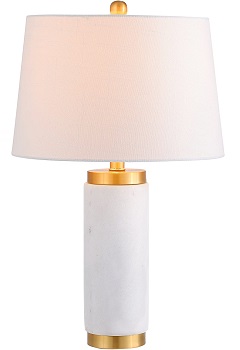 Indoor Use
It comes with a 30-day manufacturer's warranty for defects. If the lamp comes broken, contact customer service. This glam desk lamp is designed for indoor use only. Jonathan white LED desk lamp is suitable for the living room, bedroom, office, coffee table, bookcase, etc.
ETL-listed Lamp
The heavy-duty base is made from marble with brass accents. It won't tip over easily. Jonathan drum shade is made of 100% cotton with a slightly tapered shape. This lamp is tested and safe, it's ETL listed and meets UL safety standards.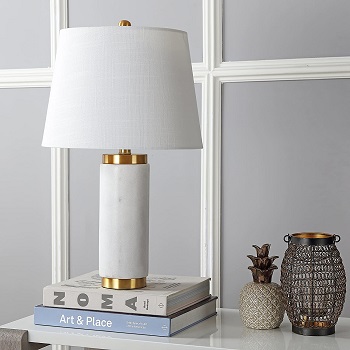 LED Bulb
Jonathan desk lamp comes with included LED bulb which is rated for up to 25,000 hours. An LED bulb that runs 6-8 hours a day can last up to ten years. This eco-friendly bulb uses less power than traditional incandescent bulbs. It is compatible with smart outlets.
Highlighted Points:
pricey desk lamp
designed for indoor use
ETL-listed lamp meets safety standards
included energy-efficient LED bulb
compatible with smart outlets
heavy-duty marble base
BEST SMALL GLAM DESK LAMP
Letra Rose Gold Table Lamp
Mini Lamp
Letra is a modern desk lamp that complements contemporary and rustic farmhouse office or home interiors. It is 15.5 inches high, the base diameter is 7 inches and the lampshade measures 8 x 7.5 inches. Its black power cord is 6 feet long and has a convenient inline switch.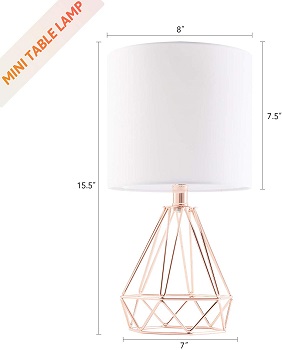 Rose-gold Base
The hollow lamp base is made from premium metal. This rose gold base of the lamp's open-frame design is both sturdy and attractive. It adds an appealing modern vibe to your home decor. Letra is a glam desk lamp with a standard E26 socket, use a max wattage of 60W.
White Drum Shade
This small desk lamp with shade is compatible with LED, CFL, incandescent and other light bulbs. Its minimalist white drum shade is made from durable and quality fabric. Letra emits a soft and warm light which makes your room comfortable.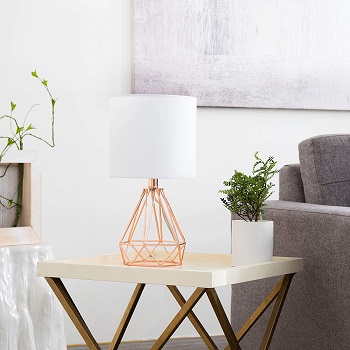 Easy To Assemble
Letra table lamp is suitable for any desk, table, end table, coffee table, shelf. It's small and fits anywhere. When this lamp arrives at your address, you need to unpack and assemble it. It is perfect for a nightstand in the bedroom and late-night reading.
Highlighted Points:
mini table lamp fits anywhere
open cage rose gold base
white fabric drum shade
compatible with LED, CFL and incandescent bulbs
emits a soft and warm light
comes with a black power cord of 6′
Things To Know About Glam Desk Lamp
Before you buy one of these glam desk lamps, there are some factors you need to consider before purchase. So, here, you'll learn all relevant info important to know – light bulb types, lamp design, size, lighting, etc.
LED Light Bulb – Most of the lamps come with included LED bulbs. LED bulbs have an extremely long lifespan, they are able to last an estimated 20,000 hours or even 50,000 hours. Compared with other light bulbs, LEDs are cheaper and more energy-efficient.
Lamp Styles – Nowadays, you can buy vintage, retro, modern, urban, contemporary, farmhouse lamps for your room interior. It is important to match it with your room or office decor. These glam desk lamps will uplift your interior and bring a touch of elegance.
Lamp Size – Most lamps range between 24 to 31 inches in height. But on our list, you can find mini and small lamps that fit on any nightstand, end table or coffee table. It is important to measure your desk and check the lamp dimensions twice if needed.
Lampshade Design – When buying a classic lamp, the shade is frequently the first thing that wears out. So, you can buy a lamp with a neutral shade and replace it easily. You can choose between oval, drum, empire, square, bell, rectangular and other variants.
Level Of Brightness – Usually these aesthetic desk lamps have fixed illumination. But some of them come with adjustable brightness. That's very useful, you can use low light when relaxing and high light when reading books. A lamp with three levels of brightness will meet your needs.