Are you looking for a simple, modern and neutral lamp that will brighten up your table or workbench?
We'll introduce you to our favorite contemporary and modern white desk lamp models. Pick the lamp that looks good while providing adjustable settings and ample light for your desk or room. More useful info find in our buying guide below.
Our Top Picks
Best 6 Modern White Desk Lamps
BEST OF BEST MODERN WHITE DESK LAMP
BenQ Touch Control Lamp
Lamp For E-reading
BenQ is a popular brand thanks to its quality and performance. This is the world's first lamp for e-reading. BenQ meets the restrictions in the EU directive, it has passed international safety standards to provide safety and quality. The warranty lasts for 1 year.
Protect Your Eyes
If you looking for a lamp while you are sitting in front of your laptop or PC and working or reading, this modern white desk lamp is the ideal solution for your needs. Developed especially for the usage of monitors, kindles, tablets and other devices.
Flexible Desing
BenQ is an adjustable reading lamp with a highly flexible design. It has a ball joint to optimize the flexibility of the lamp cap. You can easily adjust the LED light to the angles that you need. The lamp is made of high-quality aluminum.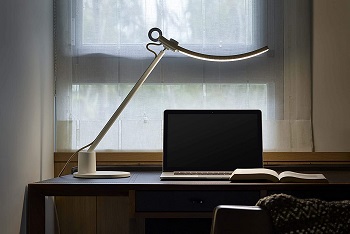 Smart Technology
This lamp provides has wider lighting coverage, helping you to see everything from your keyboard to your entire desk. Integrated smart technology detects ambient lighting and adjusts to optimize balance and reduce glare. You can easily customize brightness and color temperature.
Highlighted Points:
a popular and quality lamp
first world's lamp for e-reading
highly flexible design
ensures wider lighting coverage
integrated smart technology
BEST CLAMP MODERN WHITE DESK LAMP
Tomsoo Dimmable Lamp Clamp
3-year Warranty
Tomsoo is a modern lamp with a clamp design. The lamp arms measure 15 x 15 inches, the lamp head diameter is 7.2 inches. For detailed lamp dimensions, check the image below. The manufacturer offers a 3-year after-sales service plus 90 days' money back if you aren't satisfied.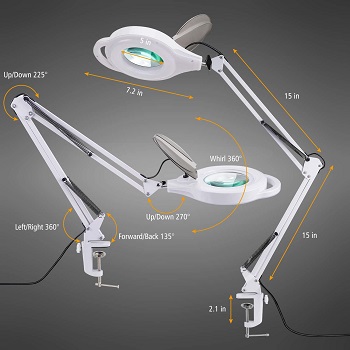 Easy To Install
This modern white desk lamp comes with a sturdy metal clamp and the maximum clamping distance is 2.1 inches. Clip it on your workbench, desk, table and other flat surfaces. Tomsoo features four springs to fix and two knobs to adjust.
Adjustable Arm
Tomsoo adjustable desk lamp features an adjustable swivel arm, you can position the lamp where needed. It comes with 138 SMD LEDs and a plug that requires 110V – 220 V outlets. Except for the quality lighting, this lamp comes with a lens.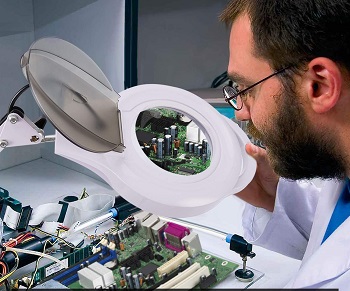 Real Glass Lens
There is a real glass lens that magnifies up to 2.25 x. It provides a clear view, without optical distortion. Lens protects your eyes from strain and fatigue. Also, there is a  dust cover that protects the lens from dust and scratches. Clean it with a soft cloth.
Highlighted Points:
modern white lamp with lens
real glass lens with 2.25x magnification
maximum claiming distance up to 2.5 inches
features 138 SMD LEDs
adjustable swivel arm
BEST LED MODERN WHITE DESK LAMP
MaxLite Adjustable Lamp
Multiple Colors
MaxLite lamp is a small and compact lamp that fits on any desk, table, workbench and nightstand. The lamp base diameter is 4.7 inches, the gooseneck is 10.8 inches long and the lamp head diameter is 3.9 inches. You can choose between blue, black, white, pink, green and other colors.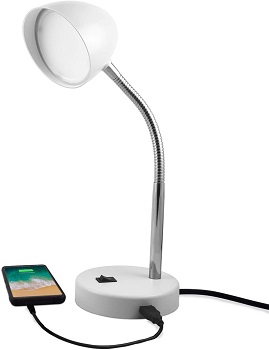 5-year Warranty
This modern LED desk lamp has an on/of a switch placed on the lamp base. MaxLite is a reliable lamp that comes with a 5-year warranty. It is plug operated lamp that requires 120V outlets. MaxLite modern white desk lamp is made of quality metal and plastic.
USB Port
MaxLite features an Energy Star certificate and it's EL-listed item. It uses only 3.5 watts of power, so you can use it for up to 25,000 hours. On the lamp base, there is a convenient USB charging port for your mobile phone, tablet, e-reader, etc.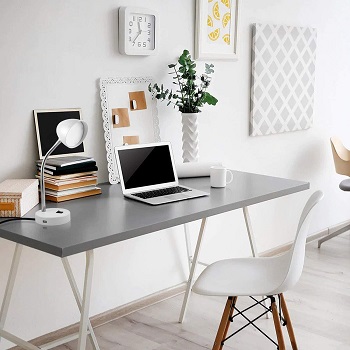 360-degree Rotation
You can adjust the lamp neck, MaxLite features a flexible gooseneck, rotate the lamp 360-degree to any direction you need. Adjust the lighting according to your needs. It provides a warm light with a color temperature of 3000K. This is cozy and comfortable ambient lighting.
Highlighted Points:
Energy Star certificate
covered with a 5-year warranty
convenient USB charging port
flexible gooseneck
the color temperature of 3000K
multiple colors available
BEST BEDSIDE MODERN WHITE DESK LAMP
Albrillo Modern Table Lamp
Ring Design
Albrillo lamp features a modern ring design that will uplift your room. The lamp base has 4.7 inches in diameter, the overall lamp diameter is 13 inches and the lamp height is 14.2 inches. The non-slip material is applied to the lamp base, so it won't fall.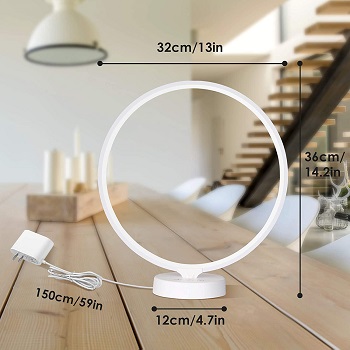 Ideal For Bedroom
It is made of solid iron and high-quality silicone material. This modern white desk lamp provides a soft lighting environment and a comfortable atmosphere. Albrillo is ideal for the bedroom. It fits on any nightstand, coffee table, end table, etc.
Touch Button
There are three touch buttons on the lamp base. Here you can control the brightness level, color temperature and turn the lamp on/off. This nightstand lamp with a USB port allows you to adjust the color temperature from 3000 to 6500K.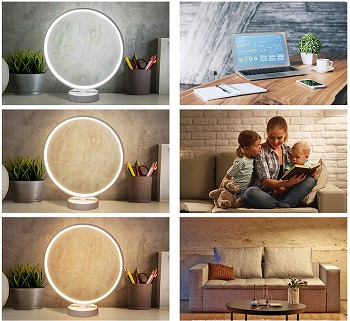 1-hour Timer
Albrillo features quality LEDs, this lamp gets high color rendering index light that is able to simulate sunlight. It reduces eye strain and eye fatigue and improves mood. There are more options, use a 1-hour timer and USB port and charge your devices.
Highlighted Points:
modern ring design
made of iron and silicone
provides soft lighting
adjustable color temperature
1-hour timer
convenient USB port for charging
BEST SWING ARM MODERN WHITE DESK LAMP
AmazLit Desk Lamp With Clamp
Strong Clamp
AmazLit is a large, quality and durable lamp with a clamp design. Available in white color only. It features a 6-axis design and freely adjustable angles. This modern white desk lamp features a strong metal clamp that supports up to 2.1 inches of table.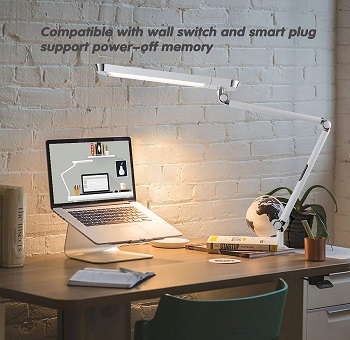 LED Chips
The sturdy clamp comes with silicone pads, it protects your desk from scratches and damages. This space-saving desk lamp comes with a 24-month warranty. It features 224 pcs eye-caring SMD LED chips, they protect your eyes from eye fatigue and strain.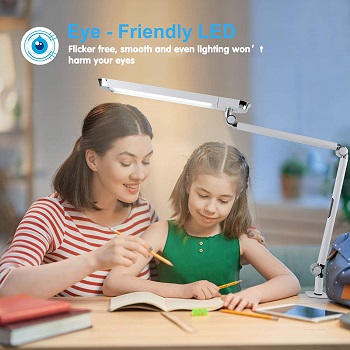 Memory Function
This swing arm clamp lamp is compatible with smart outlets. The memory function will remember the last used setting, so you don't have to adjust the lamp every time when turning it on. Also, there is a built-in automatic delay function.
Highlighted Points:
lamp with clamp and swing arm
timing function
automatic delay-off function
eye-care SMD LED chips
compatible with smart outlets
reduce eye strain
BEST WIRELESS MODERN WHITE DESK LAMP
Luxe Cordless LED Lamp
Unique Design
Luxe is a unique desk lamp, it doesn't take up too much desk space and comes in gold, white, rose gold and grey color. Constructed of high-grade aluminum and the bar is made of a soft rubber-like material that is water-resistant. Charging cable is included in the package.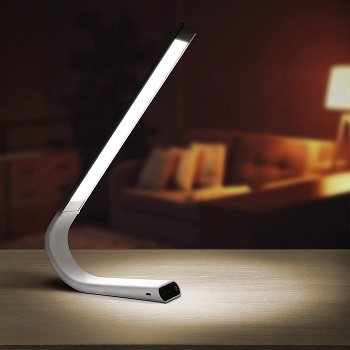 Rechargeable Battery
This modern white desk lamp is suitable for your nightstand, workbench, desk, table, end table, etc. There is a built-in 2000mAh high-quality Li-polymer battery whose run time is from 3 to 40 hours. That depends on the settings you use.
Glare-free Lighting
The charging time lasts up to 3 hours. There is a LED panel with 28 LEDs, they are energy efficient and provide natural lighting. That light doesn't cause eye fatigue and eye strain. You can read, work or study for many hours without harmful effects.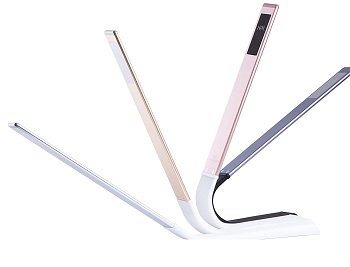 18 Settings
This rechargeable reading light offers three lighting modes and six levels of brightness. Control the settings by a touch panel at the lamp base. There are 18 settings, so you can adjust the perfect lighting when you're reading, learning, relax, etc.
Highlighted Points:
contemporary appearance
18 lighting settings available
LED panel with 28 LEDs
eye-caring lighting
built-in 2000mAh battery
available in four modern colors
Things To Know About Modern White Desk Lamp
Finding the best modern white desk lamp can be tricky. There are so many lamps on the market, they come in a variety of sizes and shapes and with so many functions. Here, we'll explain some basic features.
White Color – Lamps with white color blends any home or office decor. White means minimalism and simplicity. White-colored lamps bring a simple, fresh and clean look to your room. This is a neutral color that fits with all other colors.
LED Bulb – We highly recommend you buy a lamp that is compatible with LED bulbs. The LED bulbs are more energy-efficient, produce low heat and last longer than traditional bulbs. That means you don't have to replace them for many years.
Clamp Design – If you don't have a permanent spot for reading or studying, lamps with a clamp design are a good option. It is easy to clip it on a desk and move it when needed. Also, these space-saving lamps require less desk space than other lamps.
Flexible Design – Modern white LED desk lamps come with flexible gooseneck or adjustable arms. Meaning, you can direct the light in multiple positions and angle. That is practical for crafting, reading, studying and other precise tasks that require focused lighting.
Power Source – There are modern white desk lamps with a battery and power cord. If you want to buy a lamp with a power cord, check its length. But if you want to buy a more portable lamp, choose a model with a rechargeable battery. Then you can charge it and save your money.