Are you seeking a lamp that produces natural, bright light that isn't harmful to your eyes?
Then look no further!
You can find the best sunlight desk lamps in this article, which emit light that is similar to real sunlight. To learn why this lamp is better for your eye health, read those six reviews and our buying guide, which includes all relevant info.
Our Top Picks
Best 6 Desk Sun Lamps
BEST OF BEST DESK SUN LAMP
Bell And Howell Sunlight Desk Lamp
Small Lamp
Bell And Howell desk lamp is one of the best on the market that provides natural sunlight. It is a small lamp that fits on any table, desk, end table and workbench. Made from quality plastic and it's available in seven finishes to suit any room or office decor.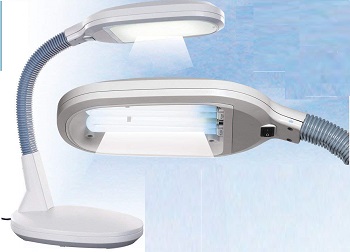 Natural Light
This desk sun lamp uses a high-efficient LED that is rated for up to 5,000 hours. It will reduce your electricity bills due to low power consumption. Bell And Howell lamp emits bright, natural light that improves visibility and reduces eye strain.
Direct The Light
Bell And Howell bright desk lamp is perfect for reading, working, studying, crafting, homework, drawing and other activities. It features an adjustable gooseneck, so you can direct the light exactly where needed at the moment. It covers a large desk area.

CRI – 95
The high color rendering index of 95 allows you to see vivid and accurate colors. It delivers a color temperature of 6500K, which boosts your energy and improves your productivity. Bell And Howell helps reduce eye fatigue, so you can read or work longer without harmful effects.
Highlighted Points:
high-quality desk lamp
available in seven finishes
suitable for reading, working studying
high color rendering index
the color temperature of 6500K
adjustable gooseneck
BEST FOR READING DESK SUN LAMP
Lavish Adjustable Desk Lamp
Variety Of Colors
Lavish desk lamp measures 7 x 9 x 22 inches in size. It is available in six different colors, such as black, grain, metallic silver, silver, white, etc. The power cord is 64 inches long, it allows you to reach any outlet with ease. Its price is affordable.
150-watt Bulb
It requires simple installation, so follow the instructions included in the box. Also, the 150-watt CFL bulb comes in the package. Lavish desk sun lamp is made of quality plastic, it is a lightweight lamp with 4.5 pounds. But it is stable and won't tip over easily.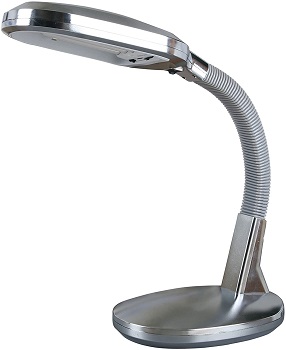 Adjustable Gooseneck
The lamp's adjustable gooseneck makes it easy to put it in the most convenient position for you. Move it up and down, from left to right, rotate, etc. The on/off switch is located below the light bulb. There is no need to search for a switch on the power cord.
Bright Light
Lavish is an adjustable reading lamp that provides bright and natural light, it produces the same amount of light as a standard sunny day. It won't cause eye strain or eye fatigue. use this lamp for reading, working, studying crafting and any other detailed project.
Highlighted Points:
requires simple installation
150-watt light bulb included
adjustable gooseneck
provides natural bright light
ideal for reading, studying, working
affordable price
BEST LED DESK SUN LAMP
Litom Eye-caring Desk Lamp
2-year Warranty
Litom is a modern desk lamp available in a grey color. It is made of premium aluminum alloy which effectively dissipates heat caused by LED. The package includes a lamp, user manual and power adapter. A two-year warranty is provided by the manufacturer.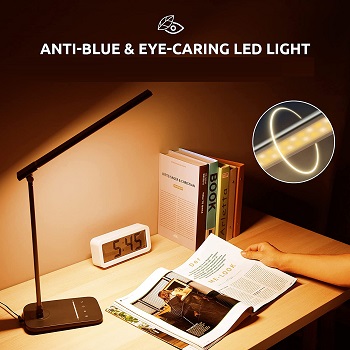 Anti-blue Light Bulbs
This desk sun lamp is suitable for both offices and homes. You can adjust the lamp angle and tilt it in many directions. Litom LED lamp uses anti-blue light bulbs that block 99.4% of blue light. It reduces eye strain and eye fatigue.
High Color Rendering Index
Litom adjustable LED desk lamp produces a light that is similar to that of natural sunshine, allowing the actual colors and details of objects to be seen. Its color rendering index is 96. The longer arm and full-spectrum beads produce 600lm of brightness and illuminate a bigger area.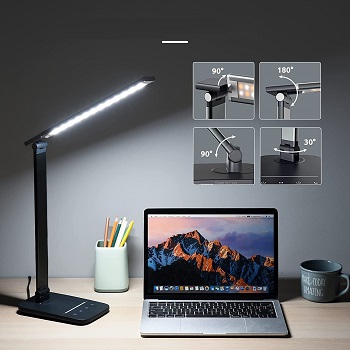 50 Light Modes
It features five color modes and each mode allows ten levels of brightness. The touch control allows you to easily adjust the brightness and lighting mode. Set the light for working, reading, studying, crafting, sewing, homework, relaxing and other activities.
Highlighted Points:
modern grey LED lamp
made from premium aluminum alloy
anti-blue light bulbs
high color rendering index
a total of 50 light modes
illuminate a large desk area
BEST MODERN SUNLIGHT DESK LAMP
Ottlite LED Desk Lamp
Two-tone Lamp
Ottlite is a two-tone lamp with a large lampshade. The base diameter is 6 inches and the lamp neck is flexible. Adjust the lamp height from 4 inches to 18 inches. You can easily move the lamp arm and rotate the lampshade in the desired position.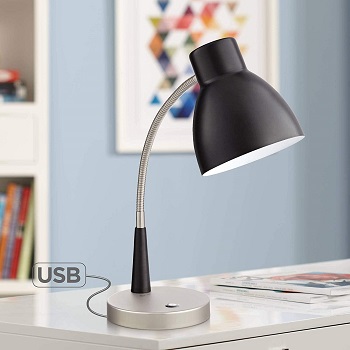 USB Charging Port
The sunlight desk lamp has a built-in powerful 5V/2.1 A USB port. This charging port guarantees that tablets, phones and other gadgets are fully charged. On the lamp base is a touch-sensitive switch, it controls all light functions. With a touch of a finger, you can easily change color modes and brightness.
40,000 Hours
Ottlite is a modern LED desk lamp whose LEDs are rated to last up to 40,000 hours. Also, it provides uniform light with a high color rendering index of 97. Meaning, Ottlite renders accurate and true colors. Use this lamp for reading, crafting, relaxation and other activities.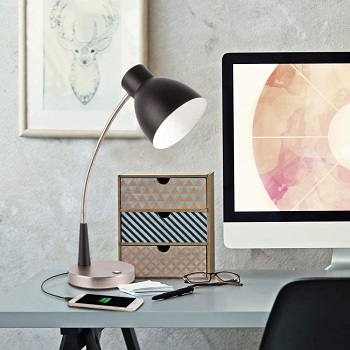 Natural Daylight
There are three color modes you can choose from. The warm white light (2700K), bright white (3500K) and ClearSun natural daylight (5000K). This ClearSun LED technology reduces eye strain by 51%. This mode is great for reading, studying and concentrating.
Highlighted Points:
two-tone desk lamp
flexible gooseneck
built-in powerful USB port
long-lasting LEDs
high color rendering index
ClearSun LED technology
BEST CLAMP SUNLIGHT DESK LAMP
Trond LED Desk Lamp
ETL-listed Adapter
Trond desk lamp comes with a 6-feet ETL-listed power adapter and user manual. If you notice any defect when the lamp arrives at your address, contact customer service. This is a clamp lamp that supports up to 1.65-inch of the tabletop.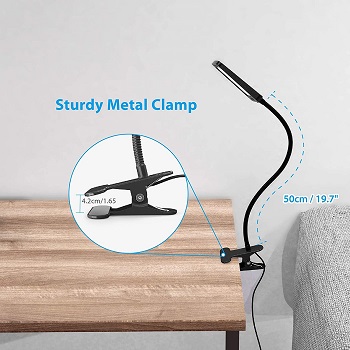 Flexible Gooseneck
Clip this sunlight desk lamp on the workbench, table, end tabler, shelf, on any vertical or horizontal surfaces. Construction is made from aluminum and metal. This extra long flexible gooseneck (19.7") allows you to easily adjust and direct the light anywhere you want it.
9w LED Light
The 9W LED light creates flicker-free light without ghosting. This soft light reduces eye strain, eye fatigue and increases your productivity. Trond ambient desk lamp has a single button on the lamp head, it is touch-sensitive.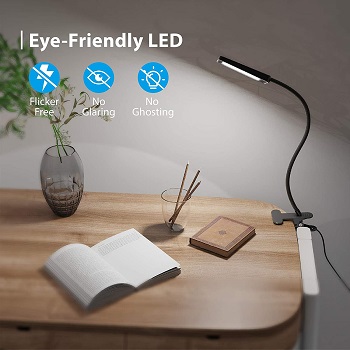 3 Brightness Levels
This super bright lamp emits natural light (5800K to 6000K), which is perfect for precise tasks such as reading, working, drawing, sewing, etc. To meet your varying lighting demands, choose from three different brightness settings.
Highlighted Points:
6-feet ETL-listed power adapter
clamp lamp suits vertical and horizontal surfaces
long flexible gooseneck
reduce eye fatigue and eye strain
three levels of brightness
touch-sensitive lamp head
BEST SWING ARM SUNLIGHT DESK LAMP
Otus Metal LED Lamp
Contemporary Design
This desktop lamp's contemporary and retro design fits wonderfully into any home or modern office. Otus lamp base diameter has 8 inches and lamp arms measure 18 x 21 inches. This Otus model comes with a stable stand, but you can replace it with a clamp lamp model.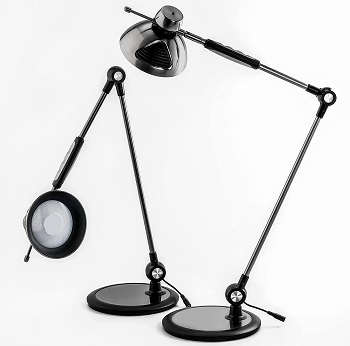 Infrared Sensor
It is made of quality metal, so this desk sun lamp is durable and quality. The vintage round lampshade is equipped with high-efficient LEDs. They are rated for up to 25 years. There is no replacement. To turn on/off this adjustable arm desk lamp, simply wave your hand over it.
Angle Adjustment
These quality LEDs produce a pleasant, flicker-free light that helps to reduce eye strain during a long period of work, reading or crafting. The classic swivel shade and swing arm enable excellent height and angle adjustment for ideal illumination when needed.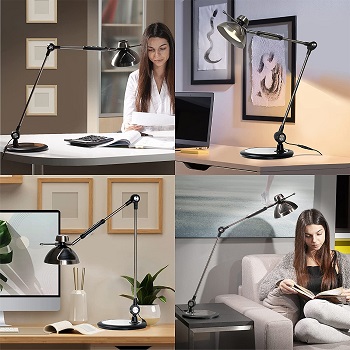 Lighting Modes
You can choose how much light you want to utilize. There are three lighting modes – work, reading and relax mode and dimmable brightness adjustment. The high color rendering index (80) allows you to see true and accurate colors. Otus has a high price.
Highlighted Points:
contemporary and retro design
made from quality metal
vintage round lampshade
high-efficient LEDs
flicker-free light
three color modes and customizable brightness
Things To Know About Desk Sun Lamps
On the light above, you can read about the best desk sun lamps. In this section, you'll learn more about natural light benefits, lamp design, light bulb type and other important info to be easier for you to pick the perfect lamp for your needs.
Health Benefits – The lamps that emit natural sunlight in your home or office have many benefits. That bright natural light boosts your energy level, keeps you awake, makes you more productive, helps you to concentrate. It is perfect for reading, working, crafting, homework, hobbies, etc.
Color Temperature – This is a very important factor you need to take into account when looking for the quality best desk lamp for the eyes. The visual warmth or coolness of white light is measured by color temperature (K). The higher K, the colder the illumination. Choose the lamp with at least 4500K.
LED Light Bulb – Modern desk lamps are usually compatible with numerous light bulb types. That includes CFL, LED, halogen and incandescent. They all have advantages and disadvantages, but LEDs are more energy-efficient, have a longer lifespan than other bulbs. Also, they produce low heat.
Working Area – Do you have a small or large desk? This is very important if you want to properly illuminate your workbench. The taller the lamp is, the more the area it can light up. Invest in a lamp that can be tilted in a variety of directions.
Charging Station – Some sunlight desk lamps are equipped with additional features, like a built-in USB port. Usually, they have a charging station built-in their base, so you can charge your smartphone, e-reader or tablet easily. Choose the lamp with 2A output, it's faster.