Do you want to buy a lamp that instantly adds a touch of vintage style to your interior?
Then you could be interested in elegant brass bankers lamps suitable for everyone's budget and decor. These lamps will easily bring the antique style, highlight your unique style and light up the interior. Check the reviews and our guide, we've covered some basic info.
Our Top Picks
Best 6 Brass Bankers Lamps
BEST OF BEST BRASS BANKERS LAMP
Tenlong Traditional Bankers Lamp
Stylish Lamp
Tenlong is a high-quality lamp available in two variants – with brass or gold lamp body. It is 14.9 inches tall and the lampshade width is 10.6 inches. This beautiful lamp with upgrade any desk, office desk, nightstand, end table and the entire room.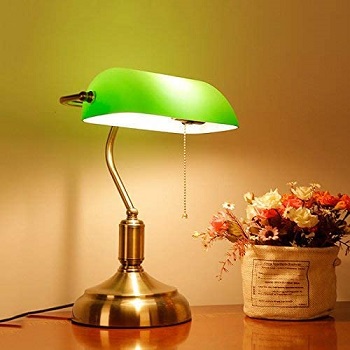 E27 Base Bulb
Use it in your bedroom, living room, study room, office or dining room. This brass bankers lamp requires 110v-240v outlets. The package doesn't include a bulb, so you need to buy an E27 base bulb with a max power of 40W. Tenlong is compatible with LED.
Retro Look
This vintage reading lamp has a quality green glass lampshade. It is made of iron with imitation cooper effect. Tenlong is designed in the original retro look of the 20s. There are many small details that make this antique lamp even more attractive.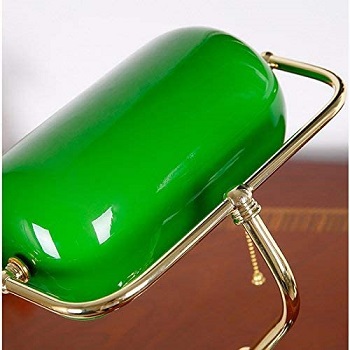 Relaxing Atmosphere
Tenlong emits warm light through the green lampshade, it creates a relaxing and enjoyable atmosphere wherever you place it. Control the light via a convenient on/off switch on the lamp base. It is important to note that this isn't a dimmable lamp.
Highlighted Points:
available with brass or gold lamp body
the bulb isn't included in the package
requires E27 bulb with max 40W
compatible with LED bulbs
made of quality iron
on/off switch on the lamp base
BEST LED BRASS BANKERS LAMP
Mlambert Green Bankers Lamp
Popular Lamp
Mlambert is a popular brand in the market thanks to its unique and quality products. This lamp is 14 inches tall, the lampshade width is 10.3 inches and the base diameter is 6.3 inches. The power cord length is 5.09 feet. It requires 110V-130V.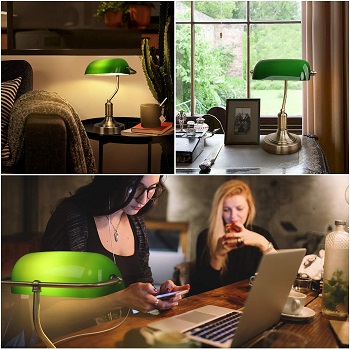 Metal Construction
This brass bankers lamp requires a medium E26 base bulb and there is a 6W T45 LED bulb included in the package. It features all-metal construction with a satin brass finish. Also, there is a clear emerald glass shade that provides sophistication and elegance.
2 USB Ports
Mlambert brass task lamp fits any type of office desk, end table, table, nightstand, etc. It is equipped with two USB 5V/2.1A ports. You can charge your mobile phone, tablet, power banks, e-reader and other USB-powered electronic devices.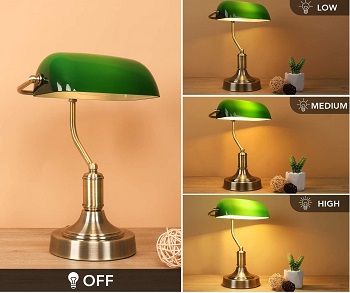 Sensitive Touch Control
There are three setting modes you can choose from – soft, medium and high and create different lighting for various occasions. When you want to change the mode, just tap on the base surface. Mlambert emits soft 2700K light that is gentle for your eyes.
Highlighted Points:
requires 110V-130V
included 6W T45 LED bulb
all-metal construction with satin brass finish
clear emerald glass
equipped with two USB ports
sensitive touch control
BEST ANTIQUE BRASS BANKERS LAMP
Asoko Handmade Bankers Lamp
Antique Style
Asoko is a beautiful vintage desk lamp that will easily bring the antique style into your house. Its overall height is 15.2 inches, the base diameter is 6.7 inches and the lampshade width is 10.2 inches. This lamp weighs 5.1 pounds, so it stays securely in place.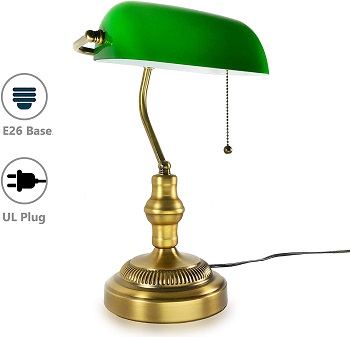 Widely Used Lamp
This antique bankers lamp can be widely used for your living room, dining room, bedroom, study room, guest room, etc. The maximum wattage is 60W, you need to buy a bulb, it isn't included in the package. Asoko requires a standard E26 base, it's compatible with LED, incandescent and halogen bulbs.
A-grade Green Glass
Asoko comes with a 12-month warranty, UL-listed plug and 5.9 feet long power cord. This brass bankers lamp features A+ green lampshade, meaning this is strictly selected glass with a minimum flaw. It features a nice and clean surface.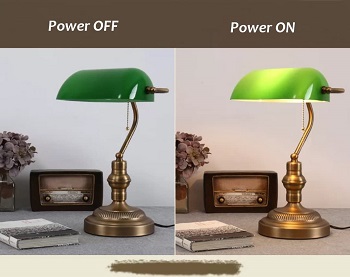 350-degrees Rotate Shade
This vintage lamp features a rotatable lampshade, it allows 350-degree rotation. Rotate the shade where needed and direct the light as you wish. Asoko lamp arrives well packaged, so it is protected very well. If there is any damage, you'll get a new lamp.
Highlighted Points:
widely used desk lamp
covered with a 12-month warranty
5.9 feet long power cord
requires standard E26 base
compatible with LED/incandescent/halogen bulbs
rotatable lampshade
BEST SOLID BRASS BANKERS LAMP
Liylan Bankers Desk Lamp
UL-listed Plug
Liylan lamp is covered with a 2-year warranty, so if there is any defect in that period, contact customer service. The package includes a UL-listed plug, so a safe and trustworthy operation is assured. Also, there is an Edison 6W dimmable LED bulb.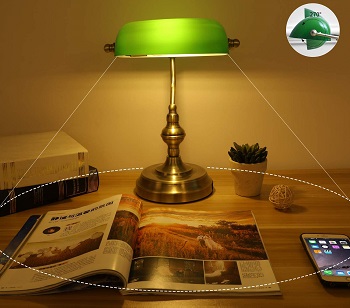 Dimmable LED Bulb
This brass bankers lamp uses a durable LED bulb, its expected lifespan is over 25,000 hours. Liylan emits soft, flicker-free and non-glare natural light which is safe for your eyes. The delivered color temperature is 2700K, which is warm and comfortable light.
Glossy Green Shade
Liylan lamp has a stable and sturdy metal base finished in classic antique brass color. There is a green glass lampshade that adds a touch of retro style to your interior. It is 14.5 inches tall, base diameter is 7 inches and lampshade width is 10.5 inches.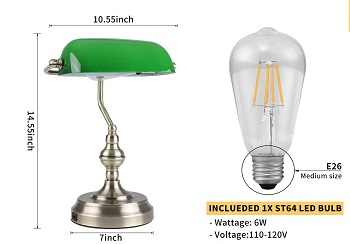 USB Charging Port
This LED desk lamp with a USB port offers three levels of brightness. Choose between low, medium and high brightness and adjust it to your current lighting needs. Touch any metal part of the lamp and control the settings. The 5V/2.1A USB port will charge your devices quickly.
Highlighted Points:
covered with a 2-year warranty
comes with a UL-listed plug and 6W LED bulb
sturdy metal base with green glass shade
fast-charging USB port
three levels of brightness
touch-sensitive control
BEST HOME BRASS BANKERS LAMP
Barton Bankers Desk Lamp
Compact Lamp
This is a compact and space-saving desk lamp that fits on any desk, table, end table or nightstand. Ideal for the traditional and vintage-inspired interior. It makes any desk picturesque. Barton bankers lamp is an attractive lamp made of quality materials.
Hand-polished Finish
Barton measures 14.5 inches in height and 10.2 inches in width. This brass bankers lamp is made from quality and solid steel that is electro-plated with brass. Also, it is hand-polished into a shine reflection finish. The lampshade is made of durable green glass.
40W Bulb
This green shade desk lamp is detailed with a classic pull chain that turns the lamp on/off. It is a decorative and functional lamp suitable for any desk. The bulb isn't included in the package, so you need to buy a standard E26 base bulb. Designed for use with 40W bulb.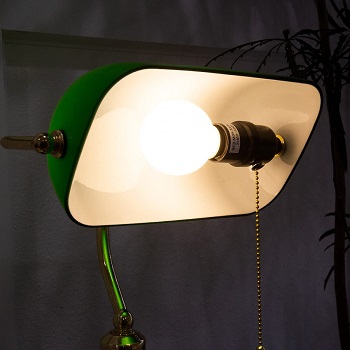 Long Power Cord
Barton lamp is compatible with LED and incandescent bulbs. Its lampshade is adjustable, so you can move it in different lighting directions. This lamp will boost your decor with its elegant and sophisticated look. The power cord is 70 inches long.
Highlighted Points:
the attractive lamp fits any desk size
the solid green glass shade
standard E26 bulbs
adjustable lampshade
classic pull chain switch
polished brass-plated metal base
BEST SMALL BRASS BANKERS LAMP
Newrays Green Glass Desk Lamp
Pricey Item
Newrays green bankers lamp has a high price. It is a quality and durable item that you can use for decades. The overall lamp height is 14 inches, the base diameter is 7 inches and the lampshade width is 10.4 inches. This is a UL-listed lamp, safe for use.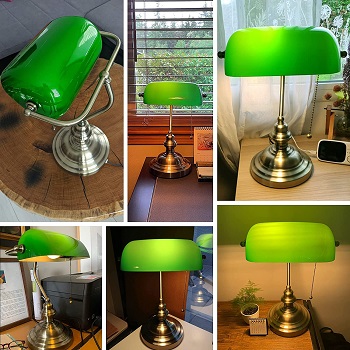 Standard E26 Base Bulb
The bulb isn't included in the package, so you need to buy a standard E26 base bulb with a maximum wattage of 60W. This brass bankers lamp is compatible with incandescent and LED bulb types. Also, you can use a color-changing LED Edison bulb.
Well Packaged
This small desk lamp with shade arrives well packaged in styrofoam and a strong carton. But if it comes damaged, contact customer service immediately. There is a convenient gold pull-chain switch, so you can turn on/off the lamp with ease.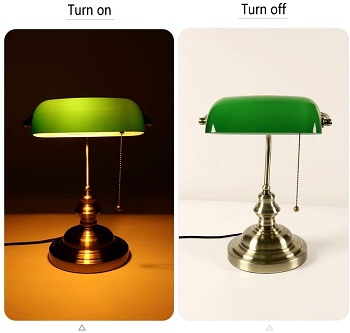 Adjustable Design
The lamp came fully assembled, just plug it into the socket. Newrays banker's lamp ensures warm light, ideal for relaxation or casual reading. There are adjustable points, so you can maximize the lighting potentials by adjusting the lampshade angle.
Highlighted Points:
lamp with a high price
arrives fully assembled
it supports a 60W bulb
compatible with LED and incandescent bulb types
convenient pull chain switch
adjustable lampshade
Things To Know About Brass Bankers Lamp
If you want to buy a bankers lamp with brass parts for the first time, there are some factors you need to consider before purchase. Here you can find useful tips about this lamp type, its parts, suitable light bulb and more.
Iconic Lamp – These lamps are one of the most recognizable lamp designs in the world. You may notice them in many American movies in libraries, banks, offices, etc. Nowadays they come in different colors, but the classic green lampshade is by far the most popular option.
Brass Base – While the lampshade is made of durable glass, the lamp base is made of brass. The brass is part of a category of metals known as red metals. Brass is a combination of copper and zinc, so it is a strong and stiff alloy with a wide array of applications.
Evolution Of Banker's Lamp – The evolution of the banker's lamp is divided into four periods in which the original design underwent some changes. The lamp's usual height was 8.5 inches, but now you can find taller lamps. Also, the lampshades are now available in multiple colors.
Pull-Chain Switch – Authentic banker's lamps are operated by a pull-chain switch. They are very easy to use if you want to turn the lamp on, pull the chain. If you want to turn the brass bankers lamp off, pull the chain again. It is very simple and easy.
Light Bulb – Some brass reading lamps come without bulbs, so you need to get one. The most important thing is to buy a bulb that fits within the lampshade. You can buy an energy-efficient bulb that ensures warm light, but many modern bankers' lamps are compatible with LED bulbs. LED is durable and doesn't produce heat.