Are you looking for a suitable lamp with a swing arm to equip your workbench with great illumination?
There is a wide market for swing arm desk lamps with clamps out there, so we've prepared this list with the best-rated models. Check those reviews and then read our buying guide. Our tips and tricks will help you to find a suitable lamp for your workbench.
Our Top Picks
Best 6 Swing Arm Clamp Lamps
BEST OF BEST SWING ARM CLAMP LAMP
Phive LED Desk Lamp
Metal Body
Phive is one of the most popular desk lamps on the market. This is a modern, architect task lamp that comes with a metal clamp, arm adjusts tools, power adapter and user manual. It features a sleek surface and a durable metal body designed for long-term use.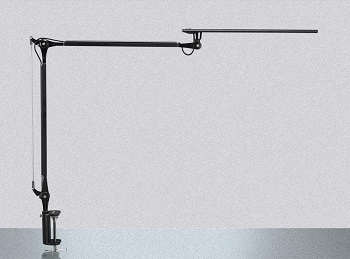 Contemporary Style
This contemporary-designed lamp fits any modern and stylish office or home. It is great for computers, workbench, craft, hobbies, and so on. There is a touch button on the lamp head, a quick tap will turn the light on/off and a long press will change the brightness.
50,000 Hours
This swing arm clamp lamp uses energy-saving LED light with a 50,000-hour lifespan. Phive uses less energy than traditional incandescent bulbs. Adjust the lamp according to your current task, you can adjust lamp arm, body and lamp head.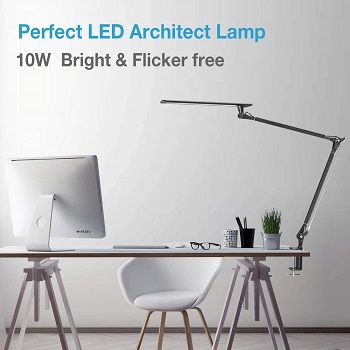 Daylight Illumination
Strong metal clamp supports up to 2.36-inch tabletop. Phive emits eye-friendly natural daylight, there is no flickering or glaring. The modern task light has a memory function, so when you turn on the lamp, you don't have to adjust the settings.
Highlighted Points:
durable and sturdy desk lamp
energy-saving LED bulbs
rated for up to 50,000 hours
eye-friendly LED light
memory function
highly flexible design
BEST LED SWING ARM DESK LAMP WITH CLAMP
Bostitch Office Swing Arm Lamp
All-metal Construction
Bostitch lamp is available in black, silver and white colors. Its all-metal construction is durable and sturdy, you can use this lamp for many years. There is a fully versatile and functional clip-on base. The clamp allows you to attach the lamp to your desk, workbench, table, etc.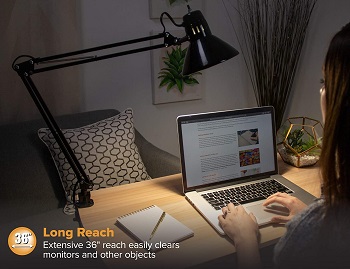 Fully Adjustable Arm
The swing arm desk lamp with clamp is fully adjustable, it provides custom directional lighting zones. Adjust the swing arm exactly where you need bright light. Also, it is gentle for your eyes, there are no flickering, glaring or halos.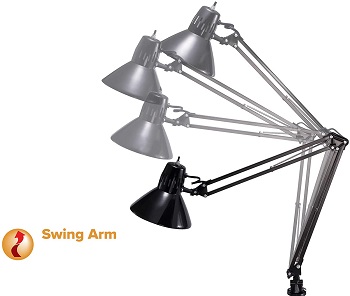 Replaceable Bulb
This adjustable LED desk lamp has an on/off switch located on the lamp's head for easy access. It includes 7-watt LED bulb, it is a replaceable LED bulb. But it will last for few years. The multi-joint arm allows you to adjust the lighting in any position.
Highlighted Points:
durable all-metal construction
available in three colors
versatile clip-on base
non-flickering light
7-watt replaceable bulb
BEST METAL SWING ARM DESK LAMP WITH CLAMP
Byb Metal Swing Arm Lamp
Aircraft-grade Aluminum
Byb is a sleek and modern desk lamp with a bit higher price. The package includes a lamp, UL listed AC adapter, metal clamp, user manual, 18-month warranty and customer service. It is built with sturdy aircraft-grade aluminum alloy. Available in silver color.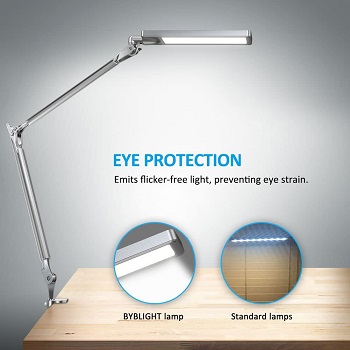 LED Panel
This bright office lamp has a sleek brushed finish. Byb lamp complements any professional workspace. It uses an exclusive light guide panel that emits glare-free and flicker-free illumination. Also, there is a rotating base, double-hinged arm and swiveling LED panel.
Long Lifespan
There are 144 energy-saving LEDs that have a lifespan of up to 50,000 hours. That is approximately 20 years of use. Byb uses less energy than traditional incandescent bulbs. Choose from four color modes and six brightness levels to suit your needs.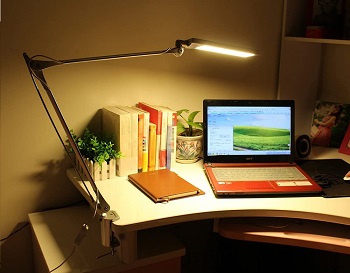 Advanced Materials
The touch control system of this swing arm desk lamp with clamp allows you to adjust the lighting condition with ease. There is a memory function that remembers the last used mode. The manufacturer uses advanced and premium components to produce the best clamp lamp for any office.
Highlighted Points:
comes with UL listed AC adapter
made of aircraft-grade aluminum alloy
features exclusive light guide panel
flicker-free and glare-free illumination
rotating base and adjustable lamp arm
BEST FOR READING SWING ARM CLAMP LAMP
Torchstar Adjustable Table Lamp
Three Colors
Torchstar desk lamp comes with both, steady base and clamp. You can choose between three colors – black, red and white. Its clamp supports up to a 1.96-inch tabletop. This architectural style lamp adds a vintage charm to your office or home.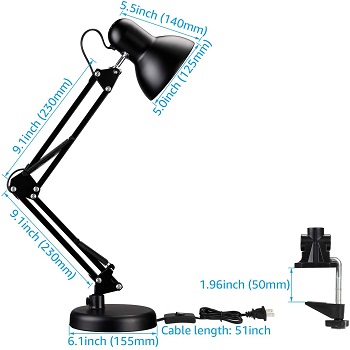 Large Lighting Area
It offers a large lighting area that meets different needs. The manufacturer uses sturdy metal, so this swing arm desk lamp with clamp is durable. if you use a clamp, mount the lamp on your desk, table, shelf, it suits any flat surface and provides great illumination.
Extendable Arm
There is a flexible, spring-balanced adjustable arm that can be extended up to 18 inches. Moreover, there is a rotatable base and lampshade. Direct the light with ease where needed. This small reading lamp comes with a UL-listed power plug.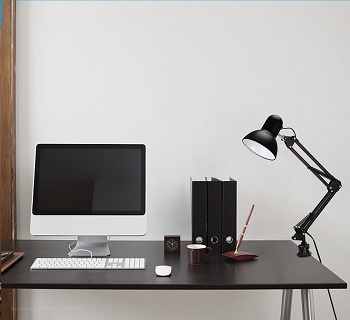 40W Max Bulb
Its power cord is 51 inches long, so it's definitely not too short. There is an easy-to-use on/off rocker switch. Torchstar lamp uses a 40W max bulb and it requires E26 or E27 bases. The bulb isn't included in the package, you need to buy it separately.
Highlighted Points:
comes with a steady base and clamp
three colors available
made of sturdy metal material
flexible and adjustable lamp arm
rotatable body and shade
covered with a 1-year warranty
BEST MODERN SWING ARM DESK LAMP WITH CLAMP
Psiven LED Architect Lamp
2-year Warranty
Psiven is a modern desk lamp suitable for offices and homes. Its strong clamp supports up to a 2.3-inch tabletop. This lamp is covered with a 2-year warranty. Psiven uses LED bulbs, they are rated for up to 25 years and have low energy consumption.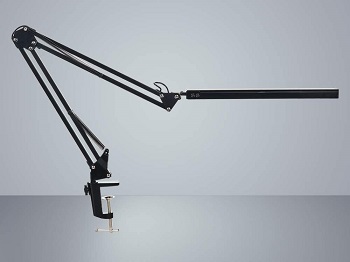 No Eye Strain
It is suitable for reading, working, knitting, sewing, crafting, repair, etc. Also, this swing arm clamp lamp emits eye-friendly light, there is no flickering, glaring, ghosting. You can work for hours without eye strain or eye fatigue. Adjust the light condition according to your tasks.
Light Options
There are three lighting modes – cool white, daylight and yellow. You can change the brightness, too. Set the dim light for relaxation and bright light when you working. Direct the light where needed, Priven features an adjustable metal arm and rotatable body.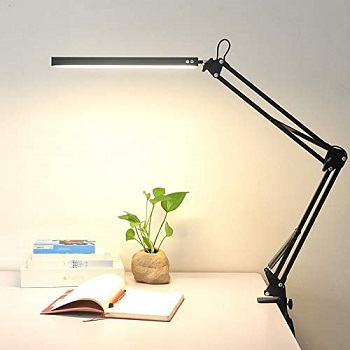 Memory Function
This modern LED desk lamp has a memory function, it will remember your last used function. So, you don't need to set your favorite setting every time you turn the light on. The power button and brightness/color buttons are on the cord.
Highlighted Points:
modern desk lamp for your office
LED light improves your productivity
rated for up to 25 years
adjustable color modes and brightness
memory function
eye-friendly light
BEST FOR STUDYING SWING ARM CLAMP LAMP
Youkoyi Metal Desk Lamp
Strong Clamp
Youkoyi is a quality desk lamp with a clamp, its strong clamp is made of durable metal. It can be clipped on any flat surface which thickness is less than 2". This space-saving item is easy to install and attach to any table, workbench, desk. Also, it's suitable for reading, working crafting, etc.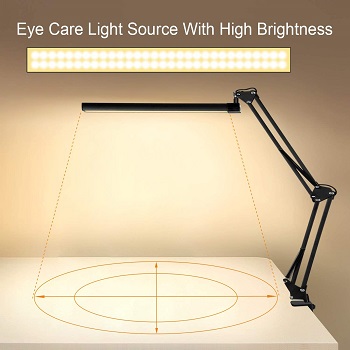 Aluminum Alloy
This swing arm desk lamp with clamp is made of aluminum alloy. It is solid and durable and provides heat dissipation. The package includes a desk lamp, metal clamp, AC adapter and user manual. Youkoyi adjustable arm desk lamp ensures soft, eye-friendly light.
Highly Adjustable Lamp
The lamp head can be adjusted 180-degree up and down, left and right 350-degree swivel. Its 13.7" x 13.7" long arm is extendable. Adjust the angle you need for your work. Also, there are some options, such as color temperature and brightness level.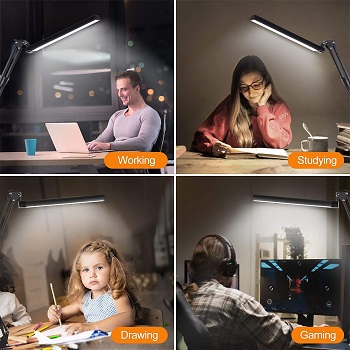 Touch Control
There are three color modes – arm light, natural light and cold light. Use the cold light when working or reading. It is easy to operate with touch control, one-click for turn on/off and double click for switch between color temperatures. Long press adjusts brightness.
Highlighted Points:
made of quality aluminum alloy
solid clamp for any flat surface
adjustable lamp head and arm
set color temperature and brightness
easy control with touch panel
Things To Know About Swing Arm Clamp Lamp
If you want to check more info about this type of desk lamp, here are some tips and tricks, so you'll be able to find the best model for your workspace. Read about the lamp size, swing arm and clamp mechanisms, bulb types and more.
Lamp Size – The lamps with adjustable and extendable arms are perfect for larger desks. They are able to light the entire workbench. Before buying, consider the lamp size, its height and max clamp distance. The right lamp size makes all the difference for your individual needs.
Swing Arm – Desk lamp with adjustable and extendable arm is versatile and practical. The swing arm allows you to adjust and direct the light closer or farther away, depends on your needs and current tasks. Usually, you can rotate and adjust the lamp base, too.
Clamp Design – These clip-on or clamp lamps are very practical, you can affix them to your desk, shelf, table. Also, it is practical if you don't have a permanent spot for working or crafting. It is easy to relocate it. They usually have a clip or c-clamp.
Light Bulb – There are different light bulb types suitable for swing arm clamp lamps. You can choose between halogen, incandescent, CFL, LED, etc. Each type has its pros and cons, but LEDs are very popular thanks to their efficiency and durability.
Color Temperature – The color temperature of light refers to its warmness or coldness. It is measured in kelvin. The higher the color temperature, the colder the light is. Architect lamp clamp lighting for precise tasks or work is typically best served by the use of cool light.