Do you need a laminator that supports 10 mil pouch to keep your documents protected?
This post might help you to get the right decision about which model to buy. Here are 6 different machines with detailed descriptions so you can see which one meets your needs. You can also learn some things to know about 10 mil laminators.
Our Top Picks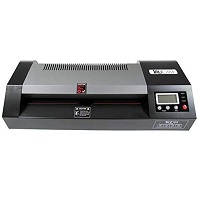 TruLam Office Laminator
OVERALL RATING: ★★★★★
The machine is adjustable, fast, and powerful enough to be the best option for laminating with 10 mil pouches.
Jump To Review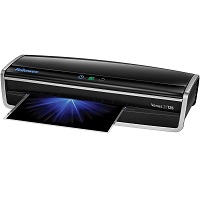 Fellowes Laminator Venus
OVERALL RATING: ★★★★☆
The Fellowes model for home use enables you to achieve the superior quality of materials covered with 10 mil pouches.
Jump To Review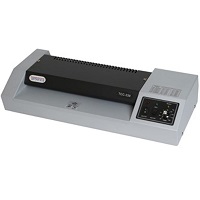 Tamerica TCC330 Professional Laminator
OVERALL RATING: ★★★★☆
The fast and quality laminating system of the Tamerical laminator makes it ideal for industry or small business.
Jump To Review
What Does 10 Mil Laminating Entail?
10 mil laminating means that the laminator makes 254 microns thick laminated projects. This thickness makes laminated projects that will be hard to break or bend.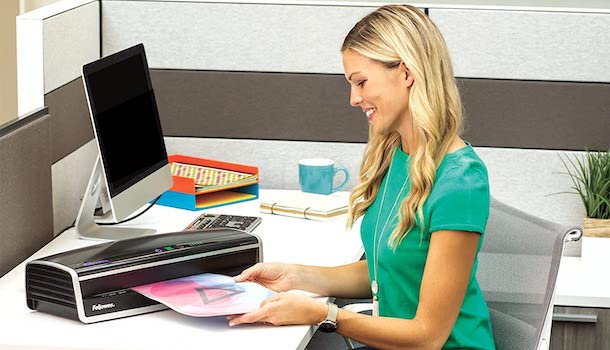 What Does Mil Mean In Laminating?
The thickness of the laminating pouch film is measured in thousands of an inch (0.001″). This thickness is refered to as mil. The higher the mil is, the harder and thicker the laminating turns out. Usually, you will find pouches in the following thickness: 1.5 mil, 3 mil, 4 mil, 5 mil, 7 mil, and 10 mil. The thickness recommendation depends on how often you will be handling the document once it has been laminated. For example:
3 mil – for minimal handling
5 mil – for moderate handling
7 to 10 mil – for frequent handling
What Is The Thickest Laminating Paper?
When it comes to laminating pouches, the thickest you will find is 10 mil. The thickness of a pouch indicates how thick one side of the pouch is. Thus, a 10-mil pouch is actually 20 mil thick.
Purposed For Three Formats
There are 3 formats of the 10 mil laminating pouches you can buy on the market. The 2×3 pouches are made for ID cards, the 9×11 pouch is for letters and the biggest size is 11×17 inches. Therefore, the laminators that support 10 mil thick pouches are usually 4-13 inches long.
High Temperature Needed
The thick pouches are suitable for a laminator that can reach a high temperature. That's because a thick pouch is harder to melt than thin 3 or 5 mil pouches. The temperature of about 150 °C which means about 300 °F. Most models offer temperature adjustment settings you can set using the control panel.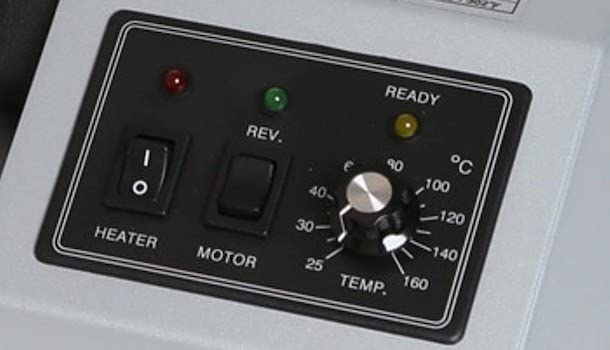 What Are 10 Mil Laminators Good For?
As 10 mil is the thickest you can choose, this means that they are ideal for:
Frequently handled documents protection – laminating documents into thick projects is great if they are going to be handled frequently as this will protect them and keep them durable at the same time
No creases and bends – with 10 mil laminating, the laminated project will be hard to crease or bend for extra durability
Cards – if you need some kind of identification cards, then a 10 mil model will offer great lamination solution
Luggage tag – besides ID cards, luggage tags will also turn out great and stay durable for any many trips
Choosing The Best 10 Mil Machine
Before you order or go and buy a 10 mil machine for laminating, you have to take some specifications into consideration.
How Often Are You Going to Use It?
Depending on how often you will be using your laminator, you will be able to choose a different model:
Occasional home use – less expensive models will be enough for use a few times a month in your home
Moderate use – for school or office use a couple times a week, choose a model that allows smaller and bigger projects
Heavy daily use – if you are going to be using the laminator in your office or at school every day, choose one with high temperature and long run time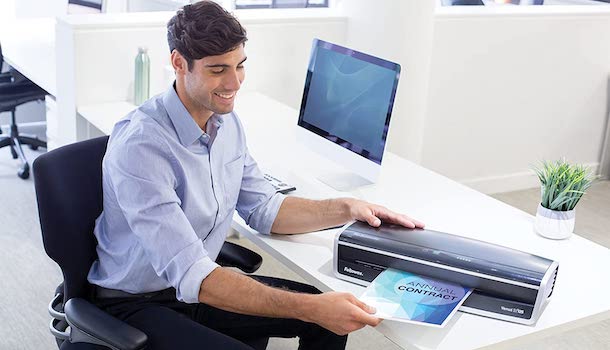 Cold Vs. Heat Laminator
The main difference between the two is that one uses heat to laminate a project, while the other one uses adhesives that are activated by pressure. Moreover, they are newer on the market and some models do not even require power so you can use them even on the go without the use of electricity. Moreover, laminators that work cold are safer to use as they do not get hot.
The Size Of Documents For Lamination
Depending on how big the documents you will be laminating are, you will have to choose a machine with a bigger or a smaller entry width. For instance:
For small to medium documents – pick up to 9.5-inch laminator width
For large documents – pick even up to 12-inch laminator entry width
Lamination Speed
Generally, all laminators are quite slow. For instance, you will be happy with one that moves 15 inches per minute. The standard speed is usually 12 inches per minute. However, if you spend more money, you can get even a laminator running over 20 inches per minute.
Can I Use Any Laminating Pouch With Any Laminator?
If you have an ordinary laminator, just about any standard-size pouch is going to work with it. However, do not expect really big pouches in size to work with laminators that are not extra big.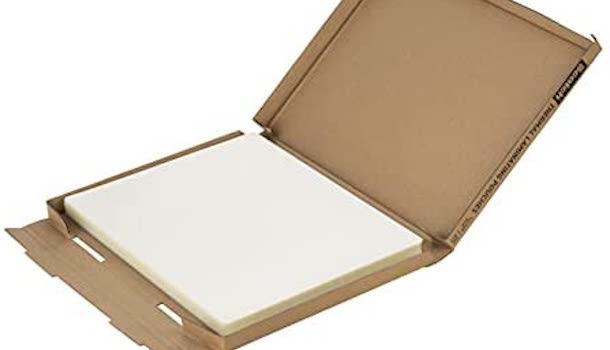 Warm Up Time
Before it can be used, the laminator needs to be turned on to heat up. The standard time it takes a laminator to warm up is usually around 5 minutes. However, some of the latest models might take only 1 minute to do so.
Heat And Run Time
As most laminators use heat for lamination, they have to turn off after some time so they do not overheat. The most common heat and run time will be around 20 to 30 minutes. So once you purchase it and start using it, always keep an eye on it and do not place it on a flammable surface.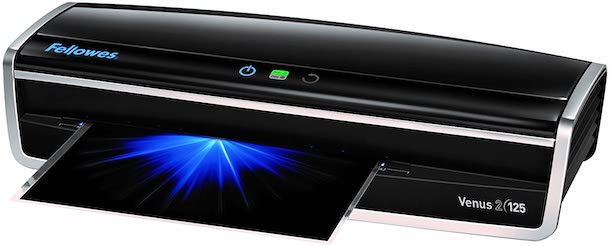 Sheets Vs Pouches
Some laminators are made to work with sheets and some with pouches. Most usually, smaller-sized models will work with pouches. On the other hand, commercial models will work with sheets. Make sure to check if your model needs pouches or sheets. Pouches are also more expensive than sheets.
Is It Better To Laminate Paper Or Cardstock?
Both paper and cardstock can be laminated. However, you will usually get a better finished product if you laminate cardstock. It will have a more professional look and be more long-lasting. However, if you want to protect a piece of paper, then you can also laminate that, too.
Jam Release
A quick jam release is a very important feature to look for. Laminators jam all the time and jams can even cause fire. Moreover, it is hard to rip out a jammed project. The release feature is good thing to have.
Handles
If you have to carry your laminator from one place to another, then you need a carry handle. However, it will also help to invest in a model that is lightweight instead of very heavy.
6 Best 10 Mil Laminating Machines
TruLam Office Laminator
SPECIFICATION:
Thickness:3 mil – 10 mil
Dimensions:22 x 10 x 6 inches
Weight: 18 pounds

Temperature: 212-335°F
Speed: 23 inch/min
Warm-Up Time: 1 min
Not Only 10 Mils
The TruLam laminator is a desktop black color designed machine with a length of 12 inches approximately. The machine can laminate the materials using the pouches that are up to 10 mils thick. The minimal thickness of the pouches is 3 mils. You can use various pouch types using this model.
High Speed For Quick Laminating
The laminator works with a speed of about 23 inches per minute which is around 580 mm per minute. With this high speed, the machine laminates a document for a few minutes. The overall laminating time depends on the size and thickness of the material.
Multi Option Control Panel
There is an LCD display placed on the multi-option control panel. There is a temperature button so you can adjust the heat easily. You can also choose the button for the cooling system. It provides a superior finish of the laminated materials which makes it a nice look.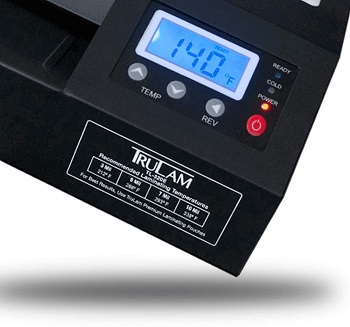 Adjustable Heat Level
There is also the reverse button that removes the jam. You can press this button to save your documents and cards you laminate. The temperature control option adjusts the heat of the pressure rollers to be optimal for various laminating materials. This 10 mil model has a heavy-duty construction that makes it stable and resistant.
Overall:
Safety:
Power:
Size:
Weight:
Funcionality:
PRICE
approx:$199 – $289
determined by online offer (Amazon, Walmart, Sears) and seasonal sales
Highlighted Points:
up to 12 inches wide materials supported
10 mil pouch thickness is the biggest
minimal supported pouch thickness is 3 mils
temperature control option on the control panel
reverse button for the jam built-in
the laminating speed of about 23 inches/580 mm per minute
Fellowes Laminator Venus
SPECIFICATION:
Thickness: 10 mil
Dimensions: 21 x 8 x 5 inches
Weight: 15 pounds

Temperature: Automatic
Speed: 31 inch/min
Warm-Up Time: 30-60 sec
Marked Positions Of Materials
The Fellowes Venus model comes in black color. The switch on/off and reverse functions are built-in on the top surface. The inlet includes the marks for various laminating materials. There are marked positions for papers, photos, letters, and ID cards. You should follow the marks to achieve the best results.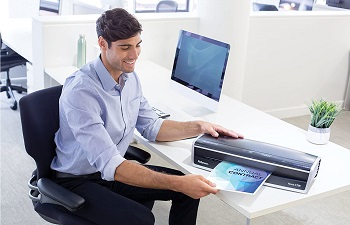 Ultra-Fast Machine
The machine is ultra-fast which means it heats up quickly and also laminates fastly. It takes 30-60 seconds for the laminator to be ready to laminate. The speed is 31 inches per minute which is equal to about 780 mm per minute. The speed and warm-up time allow you to finish your job on time.
For Papers And Cards
The biggest size of the pouch you can use is about 9 inches in the width. The maximal thickness is 10 mils which means the lamiantor is practical for making ID cards using the usual 10 mil butterfly pouches. You can use also thinner pouches and wider documents such as A4 paper.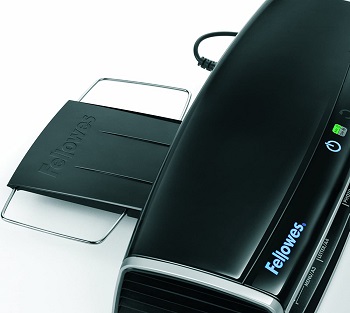 Warm 6 Rollers Built-In
The automatic temperature control function detects the pouch thickness and adjusts the heat. This laminator uses 6 rollers to warm and stick the pouch to the material. The machine has an auto shut-off option that activates if you forget to turn off the lamiantor.
Overall:
Safety:
Power:
Size:
Weight:
Funcionality:
PRICE
approx:$298 – $398
determined by online offer (Amazon, Walmart, Office Depot) and seasonal sales
Highlighted Points:
preheating time lasts for about 30-60 seconds
automatic pouch detection technology included
supports the hot pouches of up to 10 mils
6 roller laminating system in use
switches off automatically when it's not in use
works with a speed of 31 inches per minute
marks for a material position on the inlet
Tamerica TCC330 Professional Laminator
SPECIFICATION:
Thickness: 3 – 10 mil
Dimensions: 21 x 12 x 8 inches
Weight: 21 pounds

Temperature: 25 – 160°C
Speed: 36 inch/min
Warm-Up Time: 3.5 – 4.5 min
Heavy-Duty Inside And Outside
The Tamerica 10 mil model has the inlet of the size that supports the up to 13-inch materials. This machine has a strong construction that consists of a metal cover and 4 high-pressure rollers inside. The strong construction makes it stable but also not so practical for often carrying.

A3 And Smaller Formats
While the maximal pouch thickness this lamiantor supports is 10 mils, the minimal thickness is 3 mils. You can laminate not only ID cards using the 10 mil pouch but also the A3 papers and smaller formats. The control panel allows you to regulate the temperature according to the material you laminate.
Fast And Quality
This strong constructed machine provides fast lamination. The speed of 26 inches or 660 mm per minute enables you to make a lot of jobs for a short time. Therefore, it's practical for commercial use. You can make a lot of quality materials which is the aim of every business.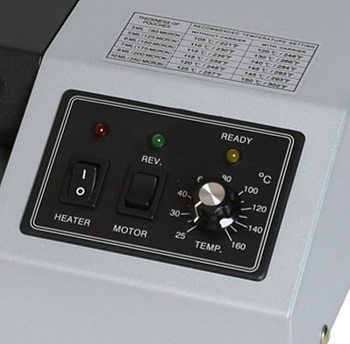 Ready For Short
Four silicon rollers get warm for about 3 or 4 minutes making the machine ready for work. The indicator lights show you when the machine is ready. When the machine is preheated well, the jam occurs rarely. If you notice the material stuck during the laminating process, the reverse button releases it immediately.
Overall:
Safety:
Power:
Size:
Weight:
Funcionality:
PRICE
approx:$253 – $397
determined by online offer (Amazon, Newegg) and seasonal sales
Highlighted Points:
laminating speed is 26 inches per minute
warm-up time lasts 3-4 minutes
the anti-jam function included in the control panel
4 silicon heat rollers stick 10 mil pouches
maximal document width is 13 inches
Sky 335R6 Photo Pouch Laminator
SPECIFICATION:
Thickness: 3 – 10 mil
Dimensions: 22 x 10 x 5 inches
Weight: 35 pounds

Temperature: Up to 300°F
Speed: 60 inch/min
Warm-Up Time: 5 min
Four Pouch Thicknesses
Just like some models that I reviewed above, this laminator also includes 6 silicon rollers. Four of them are heated melting the 10 mil pouches well. Not only 10 mil laminating pouches but the laminator supports also the pouch thickness of 3 mils, 5 mils, and 7 mils.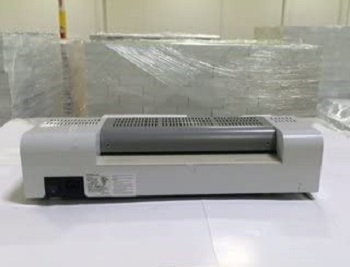 Wider Than A4 Paper
The thickness and other options are available to adjust using the control panel. You can regulate the temperature and laminating speed manually. The lamiantor inlet has a length of about 13 inches. It's suitable for the documents with A3, A4, A5, and A6 formats. Not only papers, but you can laminate also photos and ID cards.
Red Button On The Panel
You can see the red button on the control panel. This button is purposed for the case the jam happens. It's a release button that prevents the damages of the material that stuck in the machine. The control panel has clear instructions so it should be simple to use.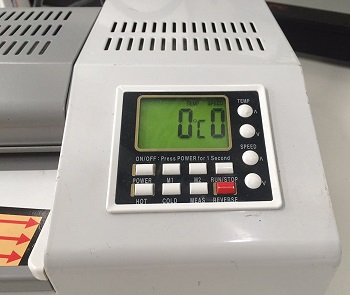 Cooling Prevention System
The heavy-duty motor ensures a high laminating speed of almost 60 inches per minute. The machine can reach high temperatures but the strong air cooling system prevents overheating. The lamiantor requires about a 5-minute preheating time. The cold mode is also available and it doesn't need heating.
Overall:
Safety:
Power:
Size:
Weight:
Funcionality:
PRICE
approx:$491 – $503
determined by online offer (Amazon, Kmart) and seasonal sales
Highlighted Points:
laminator for 10 mil pouches and 13 inch wide materials
laminates with the speed of around 60 inches/min
both thermal and cold laminating systems available
heavy-duty motor and 6 silicon rollers included
air cooling system for overheating prevention
supports papers, photos, and cardstock
Royal Sovereign 1651Lsh Laminator
SPECIFICATION:
Thickness: Up to 10 mil
Dimensions: NL
Weight: NL

Temperature: Up to 120°C
Speed: 16 feet/min
Warm-Up Time: NL
Portability And Stability
The Royal lamiantor for 10 mil pouches is attached to the stand with castors. It's practical to use in the industry or a print shop because you can relocate it easily by pulling. Four castors provide the portability while the stand ensures the stability of the machine.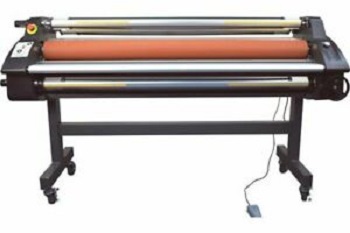 Wide And Thick Formats
It's a wide-format laminator that can hold the materials of 65 inches of the width maximally. The machine includes double pouch rolls you need to purchase separately. Not only the big size but the laminator supports also the big thickness of the pouch. The thickness of 10 mils is maximal.
About 16 Feet Fast
Since it's a large lamiantor, it has a powerful motor that ensures fast and quick lamination. The speed is 16 feet per minute. The pouch thickness doesn't influence the speed of the laminator. You can use from 1 to 10 mil thick pouches. The temperature is about 120 °C while laminating.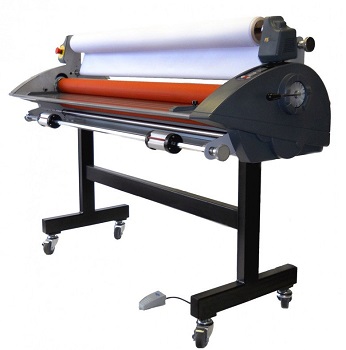 Safe And Smooth Process
The rollers are made of silicon rubber just like most laminating rollers. They provide smooth laminating so the bubbles are less possible to happen. Quality is especially important in the industry so it's an ideal model for commercial purposes. If an error happens, you have to push the red button purposed for an emergency.
Overall:
Safety:
Power:
Size:
Weight:
Funcionality:
PRICE
approx:$9,000 – $17,400
determined by online offer (Amazon) and seasonal sales
Highlighted Points:
self-standing machine
double pouch rollers of up to 63 inches of the width
silicon rubber rollers inlcuded in the system
easily portable thanks to four castors
emergency button for the case the error happens
laminating speed of 16 feet per minute
reaches the temperature of 120 °C on average
Brainstorm ID Card Laminator
SPECIFICATION:
Thickness: 7 and 10 mil
Dimensions: 8.5 x 3.5 x 3 inches
Weight: 1.7 pounds

Temperature: Hot/Cold
Speed: NL
Warm-Up Time: 5 min
Card-Sized Inlet
The Brainstorm laminator has a much smaller size than the previous model. Its inlet can hold the material of up to 4 inches of the width. The machine is designed for the ID cards. You can make name badge using the Teslin paper and 10 mil laminating pouches.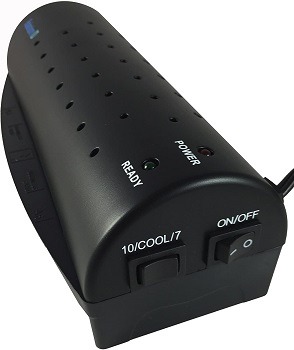 Button With Double Functions
On the side part of this machine, there is a button with double functions. You can press it to choose if you want to laminate using the 7 mils or 10 mil thick pouches. It's also possible to choose the laminating in cold mode.
Five Minutes Maximally
It's important to choose the right option because the lamiantor adjusts the temperature. If you laminate in heat mode, you need to watch the indicator lights on the top surface. The machine will be ready for about 5 minutes. You will see the green light which is the sign for start.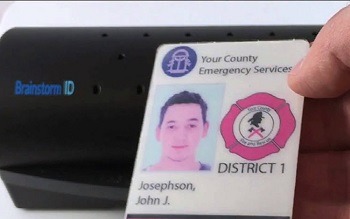 Rollers With Heat And Pressure
This small laminator uses double rollers for sticking the pouch to the material. If it's in a hot mode, the rollers get heat which melts pouches. In the cold mode, the rollers stay cool and use only pressure. For that reason, it's important to use the adhesive pouches made for cold lamination.
Overall:
Safety:
Power:
Size:
Weight:
Funcionality:
PRICE
approx:$49 – $70
determined by online offer (Amazon, Sears, eBay) and seasonal sales
Highlighted Points:
the small size of 4 inches in the length
purposed primarily to make ID cards with Teslin paper
7 and 10 mil pouch thickness options
cool or hot laminating modes offered
preheating time lasts for about 5 minutes
How To Laminate With A Machine?
To use a laminator, there are some steps you will have to follow to ensure proper sealing.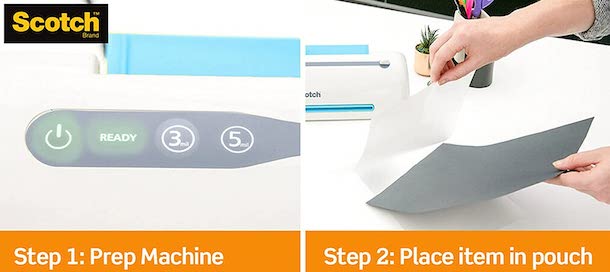 Choose a pouch that fits inside your laminator and that is big enough for the paper you want to laminate.
Trim the paper to the desired shape before laminating it.
Put the paper inside the laminating pouch. Close the pouch. Do not cut out the pouch before lamination as you might cause a jam.
If you are laminating multiple small items, space them out so that each item has an edge. Do not laminate multiple items at once if your laminator does not allow it. Consult the manual book.
Turn the laminator on. Leave it to heat up. The indicator light will let you know when the laminator is ready.
Use the proper heat for a 10 mil thick pouch. You will need higher temperature to laminate it properly.
If you have to adjust the speed, choose a slower speed for a 10 mil thick pouch.
Place the folded edge inside the machine. Make sure to feed it straight.
Wait until the whole pouch has gone through the laminator.
Leave the page to cool off before trimming it.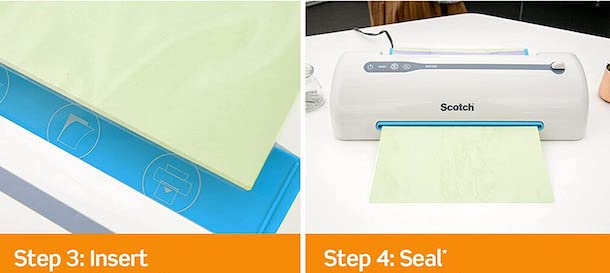 Laminating Without The Machine
If you want to laminate a project but do not have a machine, there are some ways you can still do it.
Iron And Wax Paper
With the wax paper and an iron, you can laminate flat papers (dry flowers, autumn leaves) without using a laminator. Put the item you want to laminate between two sheets of wax paper, and make sure the waxy sode is facing in. Use craft paper as a base, then put the wax paper with an item between on top. Then, cover it with another sheet of paper. Take an iron to seal it. Use low setting without steam.
What Will You Need?
You will need the following to laminate paper without a machine:
Iron for clothes
Ironing board
Craft paper/paper bag
Scissors
Final Verdict
When choosing a laminator with 10 mil thickness, you need to pay attention to the size, whether it can achieve high enough temperature, and make sure the quick jam release option is available. The best option for buying is TruLam laminator since it supports all 3 sizes of 10 mil pouches. Moreover, it is a really fast model, laminating up to 23.6 inches per minute. The guide with recommended temperatures for the thickness of your project is also included to make operation as easy as possible.