Are you interested in high-tech desk lamps designed with intelligent features to make your work easier?
Then keep reading!
In this article, we'll introduce you to several smart desk lamps. Besides upgraded lighting features, these top-rated lamps do everything for dimming on voice commands to charge your electronic devices. To learn more about these models, read the reviews and check out our tips and tricks.
Our Top Picks
Best 6 Smart Desk Lamps
BEST OF BEST SMART DESK LAMP
Xiaomi Desk Lamp
Minimalist Design
This Xiaomi desk lamp has a modern white and minimalist design. It fits modern and contemporary designed offices. The box includes the lamp itself and a quick start guide. The Xiaomi lamp consists of two metal rods, one is fixed to the stand while the other is adjustable.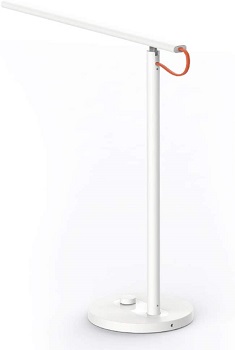 Rotary Knob
It is easy to rotate the LED strip from the upright position to an obtuse angle. The stand has a small footprint and there is only one knob. Press the knob if you want to turn the lamp on/off, rotate it to adjust the brightness, press and rotate for color temperature adjustment and click it twice to turn on the focus mode.
4 Lighting Modes
This modern white desk lamp features four lighting modes, so choose between focus mode, read mode, kid mode and computer mode. In focus mode, for example, after a long period, the lamp will start to change the brightness to remind you to take a rest.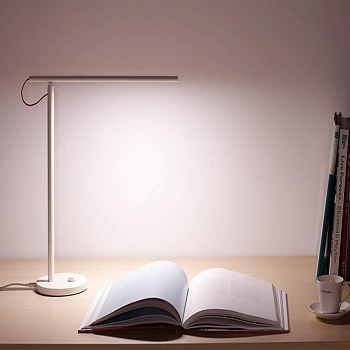 Xiaomi's Home App
You can install Xiaomi's home app to switch between lighting modes. The app is available on iOS and Android. If you install the app on your smartphone, then you can use Google Home/Assistant to control the lamp with your voice. This smart light desk lamp will withstand heat and the test of time.
Highlighted Points:
modern white, minimalist design
consists of two metal rods
flexible design
a single knob for all operations
four lighting modes
download Xiaomi's home app
BEST ALEXA SMART DESK LAMP
Hifree Smart Table Lamp
Affordable Price
Hifree is a small smart table lamp that has an attractive ball design. The lamp dimensions are 5.1" x 5.1" x 4.8". Its price is affordable. You can use it in our living room, bedroom, children's room. It is 100% safe for your kids, Hifree is made from ABS and PC material.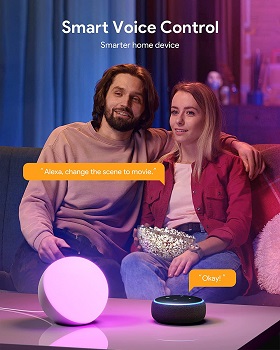 Voice Control
If you want to control the lamp via voice commands, then connect this lamp with Alexa or Google Assistant through WiFi or Bluetooth. You can change brightness, color, choose between multiple modes and lighting effects. There are 8 different lighting scenes.
Lighting Scenes
Some of the lighting scenes include working, gorgeous, reading night light, etc. Also, you can choose the light effect speed (0-90%). Four lighting modes are warm white, cool white, RGB color changing circle and sleep night mode. Adjust the brightness for each of these modes.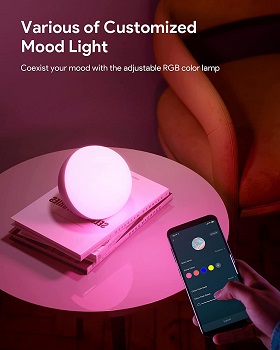 Smart Life App
Hifree is an RGB desk lamp that can be controlled by voice, app or touch. It features a touch-sensitive surface, so you can change modes by touching the lamp. Download the Smart Life app on your smartphone and control it by choosing the options on your smartphone,
Highlighted Points:
small and compact table lamp
works with Alexa and Google Assistant
eight lighting scenes
four lighting modes
sleep night mode
control it with touch, app, voice
BEST WITH GOOGLE ASSISTANT SMART DESK LAMP
Hugoai LED Desk Lamp
Small Lamp
Hugoai is a small smart desk lamp with dimensions 3.9 x 3.9 x 7.1". The package includes a lamp, power cord and user manual. Construction is made from ABS material, it is safe for you and your family members. The LED light bulb is integrated and lasts for many years.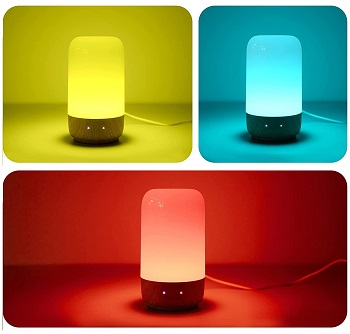 iOS & Android App
It features a high color rendering index, that allows you to see true and vivid colors. This small reading lamp provides flicker-free light, gentle to your eyes. Connect this lamp with your WiFi, the app is compatible with iOS and Android devices. Then you can control your lamp remotely.
Milion Colors
Also, it works with Alexa and Google Home, meaning you can control the lamp with your voice. Turn on/off the lamp, change color modes and brightness levels according to your mood and tasks. Choose some of the 16 million colors available and decorate your room.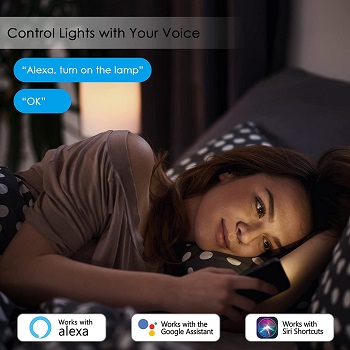 Set Timers
The app's name is "Smart Life". Hugoai table lamp allows you to set timers and schedules. Meaning you can automate your light to wake you up in the morning or even help you sleep. Also, it is bright enough for reading, but it doesn't cause eye strain or eye fatigue.
Highlighted Points:
small smart desk lamp
ABS construction
provides flicker-free light
high color rendering index
the app is compatible with iOS and Android
works with Alexa and Google Home
BEST OFFICE SMART DESK LAMP
Ottlite Command Desk Lamp
White Desk Lamp
Ottlite is a sleek and modern white desk lamp with an acceptable price. It measures 8.6" x 5.6" x 18.7". Ottlite features a small rounded lamp base that fits nicely on any office desk. The lamp construction is made from aluminum and plastic.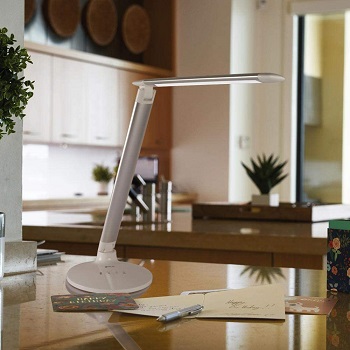 Flexible Design
It provides a powerful USB charging port (5V/2.1A) that ensures full charging of tablets, phones, e-readers and other electronic devices. Ottlite features two points of articulation and pivoting shade so you can easily adjust various lamp positions and direct light where needed.
Voice Control Lamp
Ottlite is a bright office lamp that is compatible with both Google Home and Amazon Alexa devices. With your voice, you can control the lamp on/off, color temperature and brightness level. Choose between five brightness levels and three color temperatures.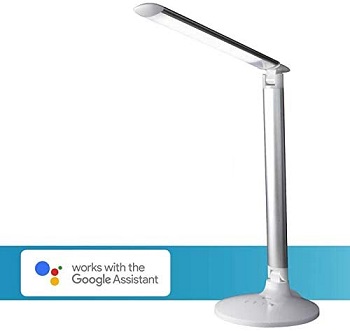 ClearSun LED Technology
This smart lamp uses revolutionary ClearSun LED technology. This is a gold standard for balanced light. The three-color modes are warm white (2700K), bright white (400K) and daylight (5000K). The previous mode is perfect for reading and focus. It reduces eye strain by up to 51%.
Highlighted Points:
sleek and modern desk lamp
made from aluminum and plastic
powerful USB charging port
provides angle adjustment
compatible with Google Home and Alexa
revolutionary ClearSun LED technology
BEST READING SMART DESK LAMP
Cevitor Smart Home Desk Lamp
Simple Design
Cevitor looks like an ordinary table lamp, it features an elegant rounded wooden base and tall drum lampshade. The lampshade is made of quality linen and arrives in off-white color. The lamp dimensions are 5.5" x 5.5" x 12.6". It fits on any bedroom nightstand, end table, side table, etc.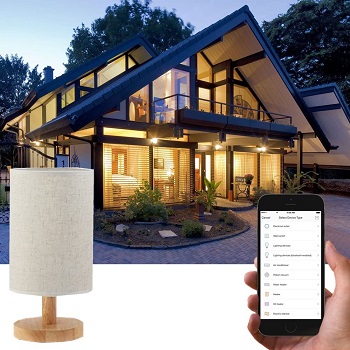 12-month Warranty
The manufacturer claims that demanding quality control produces are made and the lamp is backed by a 12-month warranty. This smart desk lamp creates a nice and comfortable atmosphere wherever you place it. The linen fabric shade softens the delivered light.
Free App
Cevitor is a desk lamp with a shade that comes with an E26 bulb. Use the free app, download it on your smartphone. It is compatible with both – iOS and Android. The app allows you to control the light from anywhere. Customize lighting modes to suit your current mood.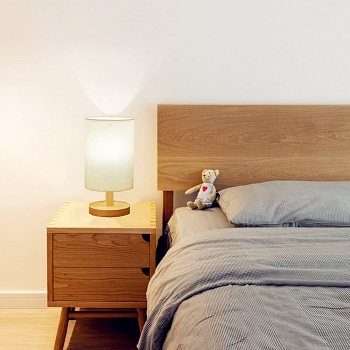 Over 16 Million Colors
With Alexa voice assistant, you can turn on/off the lamp, change color and brightness easily. Cevitor offers a color palette of over 16 million colors, every color is dimmable. Create different lighting modes when watching movies, reading books, cooking, working, etc.
Highlighted Points:
elegant rounded wooden base
off-white color lampshade
backed by a 12-month warranty
comes with an E26 bulb
free app available
compatible with Alexa
BEST TOUCH SMART DESK LAMP
Ezvalo Professional Desk Lamp
Super Soft Light
Ezvalo is a smart and elegant desk lamp made from quality aluminum. The lamp dimensions are 6.3" x 6.3" x 15.7". One lithium metal battery is included in the package. It is available in black color and uses a LED for illumination. Ezvalo delivers super soft light, flicker-free and without harmful blue light.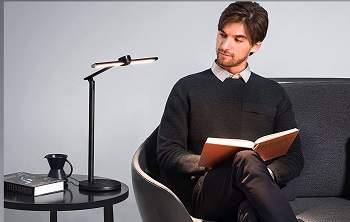 PIR Motion Sensor
Because of the high color rendering index, this touch control table lamp shows true vivid colorful objects. Built-in motion sensor automatically detects when you are near the table and turn on the light. Also, it will shut off the lamp 15 min after you leave to save energy.
Smart Voice Control
Ezvalo smart light desk lamp works with two voice assistants – Amazon Alexa and Google Assistant. Meaning, you can easily control the light with your voice. Turn the lamp on/off and change the lighting modes easily. Also, you can control the lamp with your smartphone, just download the app.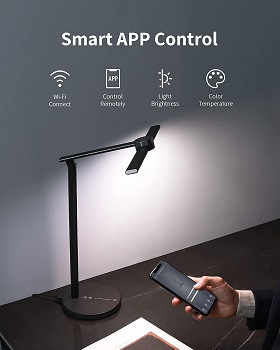 Color Temperatures
Choose between three color temperatures and many brightness levels. Color temperatures range from 2700K to 6500K. You can easily adjust the color temperature and brightness according to your current mood or task. Tap the touch-sensitive lamp base and change the settings.
Highlighted Points:
elegant aluminum desk lamp
super soft light, flicker-free light
high color rendering index
works with Amazon Alexa and Google Assistant
download the app
three color temperatures
touch-sensitive lamp base
Things To Know About Smart Desk Lamp
The word smart in "smart desk lamps" can mean a lot of different things. So make sure to read this buying guide carefully, then you'll be able to find the best lamp that meets all your needs.
Voice Assistant – Some desk lamps are compatible with apps or smart home assistants like Amazon Alexa or Google Assistant. If you have a smart assistant-compatible model, you need to connect the lamp with a smart assistant through WIFI or Bluetooth. Then control the lamp features with your voice.
Smart LED Lights – Smart desk lamps use LED light sources for illumination and it provides a lot of advantages. It uses less power than halogen and fluorescent bulbs. By scheduling features, the lamp will automatically turn on/off the light when needed.
Lighting Modes – All of the reviewed desk lamps offer many lighting modes. Meaning you can adjust the light intensity according to your current task or mode. They usually have more than basic three lighting modes. For example, there are computer mode, kid mode, focus mode, ambient mode, etc.
Smart Lamp Price – Smart desk lamps range in price from $30 all the way up to $200 or even more. Lamps that provide ambiance cost even more. But you can find smart lamps that aren't from well-known and popular brands for lower prices.
USB Charging Port – Many modern LED desk lamps come with built-in USB charging ports. That feature allows you to charge your smartphone, tablet or e-reader conveniently. Some lamp models feature wireless chargers, you need to put your smartphone on the lamp base and it will start charging automatically.