Do you want to equip your room with an advanced lamp that you can control by simply touching?
Here are top-rated touch sensor table lamps that offer the perfect combination of design and functions. Read those six reviews, check the lamp images and learn how to choose the best lamp for your needs by reading our useful buying guide.
Our Top Picks
Best 6 Touch Sensor Table Lamps
BEST OF BEST TOUCH SENSOR TABLE LAMP
OttLite Soft Touch Flex LED Lamp
Attractive Lamp
OttLite is a multifunctional desk lamp with an attractive design. This modern lamp suits any stylish and contemporary designed office or home office. It is available in white color only. The lamp dimensions are 3.5 x 2.5 x 10.7 inches.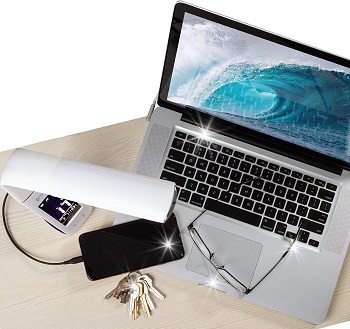 Patented Technology
This touch sensor table lamp features patented SpectraClean technology that is proven to continuously clean and sanitizes your workspace. There are three modes you can choose from – ClearSun Only, ClearSun + SpectraClean and SpectraClean Only. It reduces harmful bacteria.
Fast USB Charging Port
You can adjust the lamp height from 10 to 18.5 inches with a flexible neck. OttLite has a powerful 5V/2.1A USB charging port that allows you to charge your mobile phone, tablet, e-reader and other devices. This adjustable arm lamp uses LED light.
Digital Display
This LED light reduces eye strain and eye fatigue, so you can do your work or hobby for longer. On the lamp front side, there is a digital display that shows a day of the week, date and time. Moreover, there is an alarm feature. Use touch-activated control to set the brightness and modes.
Highlighted Points:
multifunctional task lamp
reduce eye strain and eye fatigue
patented SpectraClean technology
5V/2.1 A USB charging
digital display
built-in alarm
BEST BEDSIDE TOUCH CONTROL TABLE LAMP
GKCI Touch Lamp
Lifetime Technical Support
GKCI is an elegant lamp perfect for your bedroom nightstand, end table or shelf. The manufacturer provides lifetime technical support, an 18-month warranty and a 30-day-money-back guarantee. If there is any defect, contact customer service.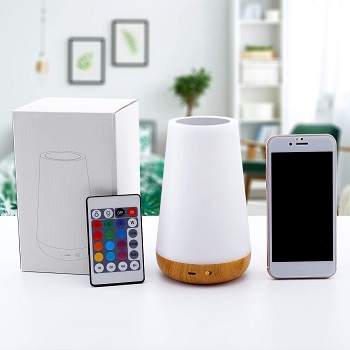 Lightweight Lamp
This bedside lamp touch control model requires 1 lithium-ion battery and it is included in the package. The lamp dimensions are 5.9 inches in height, 3.5 inches in length and 3.5 inches in width. This is a lightweight lamp, weighing 8.5 ounces. Made of ABS, aluminum and plastic.
Remote Control
This touch control table lamp has an affordable price. GKCI is a battery-operated lamp, charge it via USB cable. It comes with remote control with multicolor settings. There is over 250 combination, so this lamp is perfect for special events such as parties, birthdays, etc.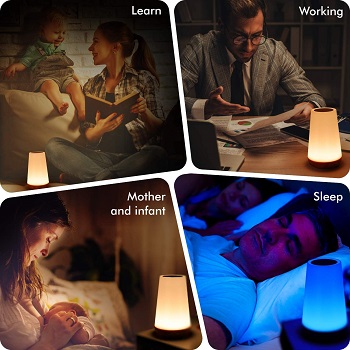 Sensitive Touch Button
GKCI is a cordless LED table lamp that features a sensitive touch button at the top of the lamp. Just tap it and change the color modes or turn on/off the lamp. It provides gentle, eye-caring light that creates a comfortable and cozy atmosphere.
Highlighted Points:
small and compact lamp for nightstand
battery operated lamp
comes with remote control
sensitive touch panel at the top
eye-caring light
BEST WITH USB PORT TOUCH DESK LAMP
Boncoo Touch Control Table Lamp
Traditional Design
Boncoo is a vintage-inspired lamp that fits traditionally decored rooms. Its height is 21.9 inches, the lamp base diameter is 5.5 inches and the lampshade diameter is 11 inches. It comes with a power cord which length is approximately 60 inches.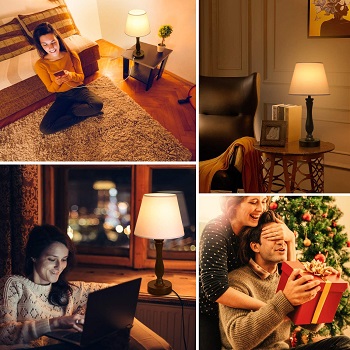 5V/2.1 A USB Port
This touch table lamp with USB ports is available in two sizes – a small and a large one. If you have a small nightstand, select the smaller lamp. The solid resin base is equipped with a built-in USB 5V/2.1A charging port. It is convenient to charge your mobile phone, tablet, and other electrical devices.
E26 LED Bulb
You can use a USB port whether the lamp is on/off. You can keep your smartphone within arm's reach. This touch sensor table lamp comes with included E26 LED bulb. It is an energy-efficient bulb that produces low heat, flicker-free and non-glare lighting.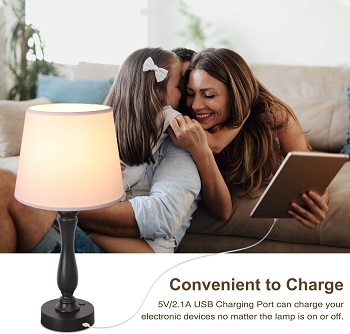 Three Brightness Levels
This LED desk lamp with a USB port has a touch-sensitive switch on the lamp base. Just tap it and change the brightness settings. Choose between low light, medium light and high light. Set the low light for relaxation and before sleeping.
Highlighted Points:
vintage-inspired table lamp
two lamp sizes available
built-in fast-charging USB port
compatible with E26 LED bulb
touch-sensitive switch
three brightness levels
BEST BATTERY OPERATED TOUCH SENSOR TABLE LAMP
Deeplite LED Desk Lamp
Cordless Lamp
Deeplite is a compact and portable lamp suitable for bedrooms, dorms, tables, workbench, nightstands, coffee tables, end tables, etc. This small lamp fits anywhere. It is equipped with a battery, so it's perfect for spaces where there are limited outlets or no outlets at all.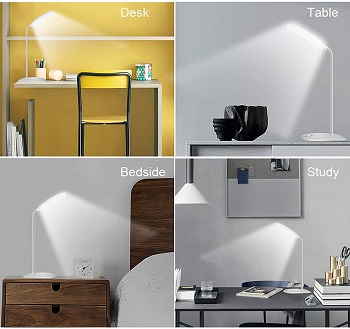 Universal USB Cable
The manufacturer provides a 12-month warranty, so email customer service if there is an issue. This is a rechargeable desk lamp that is equipped with a universal USB cable, you can charge it with a power bank, car charger, PC, laptop, etc.
Light Indicator
This battery-operated LED table lamp has a light indicator that turns red while charging and turns blue when it's fully charged. It uses 5W LED bulb that delivers flicker-free light, gentle to your eyes. Also, it protects your eyes from stain and eye fatigue.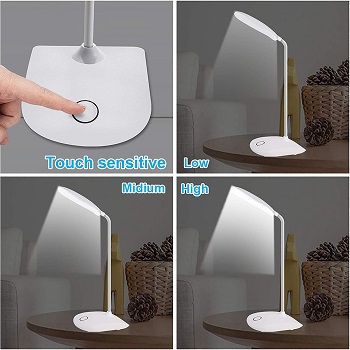 Flexible Gooseneck
Deeplite touch sensor table lamp has a flexible gooseneck that allows you to rotate, bend and twist the lamp neck in multiple directions. Adjust the light where needed. With the touch-sensitive button, you can adjust the suitable brightness level for your current activity.
Highlighted Points:
modern and portable white lamp
comes with a rechargeable battery
included universal USB cable
light indicator on the base
5W LED bulb ensures flicker-free light
BEST DIMMABLE TOUCH CONTROL TABLE LAMP
Albrillo Spiral Design LED Table Lamp
Spiral Design
This is a unique lamp with an attractive spiral design. It suits modern and stylish offices, living rooms, tables and desks. The lamp base diameter is 5.5 inches, while the lamp height is 16.3 inches. It is a small and compact lamp that doesn't require much space.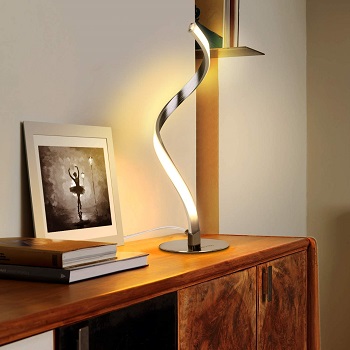 Iron & Aluminum
It is covered by the Albrillo product warranty up to 24 months after the purchase. It is made of solid iron and high-quality aluminum. This touch desk lamp base comes with non-slip material, it stands stable on your desk or table.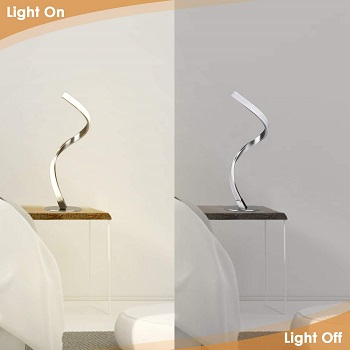 SMD LED
This aesthetic desk lamp uses an advanced SMD LED light that protects your eyes from strain and fatigue. Albrillo provides a soft warm light ideal for relaxation. Change the brightness by a simple touch near the lamp base, there are 3 levels of brightness.
Highlighted Points:
unique spiral designed lamp
the space-saving lamp fits anywhere
covered with a 24-month warranty
base with non-slip material
made of iron and aluminum
BEST FOR READING TOUCH DESK LAMP
Phive LED Desk Lamp Architect Task Lamp
Quality Design
Phive is a very popular and quality task lamp suitable for offices, home offices, or any other workbenches. It provides multiple settings and quality lighting. This is a perfect combination of design and function. Its strong clamp is made of metal, white the lamp arm is made of aluminum alloy.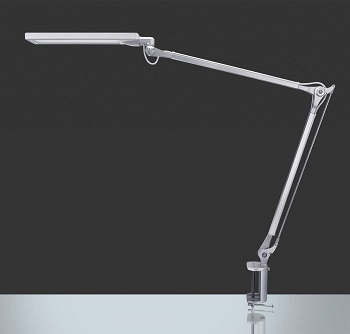 Natural Daylight
It features a fireproof rectangle head that provides bright light over your workbench or crafting table. Phive touch sensor table lamp features Ra85 high CRI LED and 144 pcs LED bulbs. It ensures lighting close to natural light, also soft and even light. The touch control panel is on the lamp head.
Flexible Design
This adjustable reading lamp features a flexible design, there is a 360-degree swivel head, 170-degree adjustable long arm and rotatable body. Its strong clamp supports up to 2.36 inches tabletop. Choose between four lighting modes according to your current activity.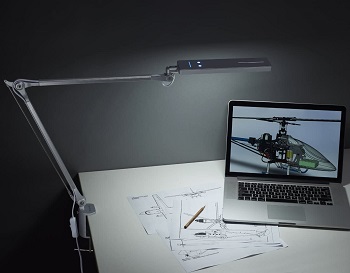 6-level Dimmer
There are work, reading, relax and bedtime modes. Of course, the work mode provides the brightest cool white light. Phive features a 6-level dimmer with a memory function. The memory function automatically remembers and returns the light setting of your last use.
Highlighted Points:
very quality and functional lamp
features adjustable body and arm
choose between four lighting modes
6-level dimmer with memory function
the touch control panel is located on the lamp head
LED light provides natural daylight
Things To Know About Touch Sensor Table Lamp
Unlike traditional lamps, the touch control table lamps allow you to adjust the power, brightness and other settings by simply touching or tapping them. Before buying, check out our guidelines and you'll find a perfect lamp for your needs.
Touch Control – Touch desk lamps are popular for use as night lamps or desk lamps. They don't have a mechanical switch or push button, but a more convenient touch panel or button. You need to tap it and turn on/off the lamp or adjust lighting modes or brightness levels.
Dimmable Feature – If your desired lamp offers dimmable settings, then you can use it for different occasions. Most lamps come with three brightness levels – low, medium and high. The high brightness is suitable for reading, crafting and other precise tasks.
Light Bulb – Many lamps are compatible with a variety of bulb types, like incandescent, CFL, halogen or LED bulbs. All types have their own advantages and disadvantages. Nowadays, LEDs are very popular thanks to their energy efficiency, low heat and long-lasting usage.
USB Port – Some table lamps come with additional features such as a USB port. This feature is very practical, you can have your electronic device within arm's reach. Choose a touch table lamp with a USB port that features 5V/2.1A, because it will charge your devices quickly.