Are you looking for a desk lamp that offers wider and larger lighting coverage?
Then you should look for tall desk lamps!
In this article, you can find the top-rated desk lamps suitable for large workbenches and multi-monitor setups. The reviewed models are divided into various categories to be easier for you to find the model that suits you the best. We offer some tips and tricks for a successful purchase at the end of the post.
Our Top Picks
Best 6 Tall Desk Lamps
BEST OF BEST TALL DESK LAMP
Phive LED Desk Lamp
Ultra-wide LED Panel
Phive is an architect overhead desk lamp suitable for wide desks and multi-monitor settings. It is 31.5" high and the light panel measures 31.5" in width. Phive features an ultra-wide LED panel that provides wider and larger lighting coverage. This lamp is available in black and silver color.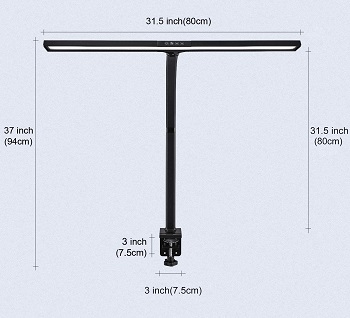 20W LED
This is the best desk lamp for computer work suitable for large workbenches. Equipped with a 20W LED, it will easily light up your desk and provide flicker-free, non-gare and ghost-free illumination. This soft lighting won't harm your eyes or cause eye strain.
Durable Gooseneck
Phive features a durable and flexible gooseneck, that allows flexible height adjustment and multiple lighting angles. You can easily set optimal illumination for various tasks. Phive has four lighting modes and five levels of brightness. Set the cold white light when working or reading.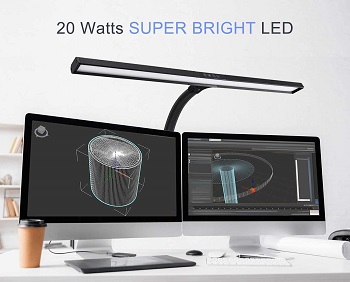 Two Way To Install
This extra tall desk lamp has two ways of installation. You can clip it on the desk or fix it on the wall. The clamp supports up to 3-inch of desk thickness. So it fits for desks of various thicknesses. The controls are set right in front of you, on the LED light panel.
Highlighted Points:
architect overhead desk lamp
suitable for wide desks and multi-monitor settings
ultra-wide LED panel
flicker-free, non-gare light
flexible height adjustment
4 lighting modes
two ways of installation
BEST READING TALL DESK LAMP
Lepower Metal Desk Lamp
Metal Construction
Lepower is an eye-catching desk lamp with a black and bronze design. It has a beautiful classic design. The lamp dimensions are 23.6" x 9.1" x 27.6". The construction is built with high-quality metal, making it durable and sturdy. A heavy-duty base provides stability and prevents tipping.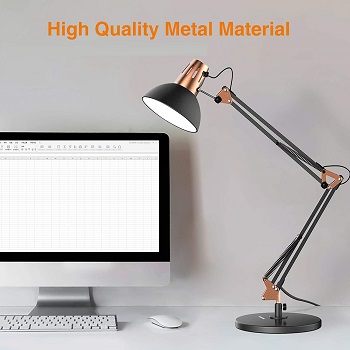 Two Ways Of Using
The package includes a stand and adjustable clamp. it can stand on your desk, or you can clip it with a clamp. The max gap of the clamp is up to an inch. Clip the lamp onto the shelf or desk. The bulb isn't included in the package. Lepower has E26 sized screw base, so use LED, incandescent or energy-saving bulbs.
Flexible Design
This LED reading lamp is flexible and the lamp head is adjustable. You can focus the light wherever you want. This is the perfect tall desk lamp for office desks, it covers a large desktop area. Heat dissipation design solves heat issues that LED or other light bulbs produce.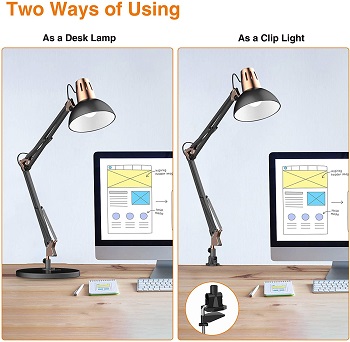 Functional Lamp
Lepower is a nice and functional desk lamp that meets your basic lighting needs, it's perfect for reading, working, studying, sewing, knitting and other tasks. The package includes a lamp, AC cord, clamp and user manual. This metal lamp needs to be assembled.
Highlighted Points:
requires assembly
eye-catching desk lamp
high-quality metal construction
heavy-duty base
comes with a stand and adjustable clamp
flexibel design
BEST ADJUSTABLE TALL DESK LAMP
Jukstg Adjsutable Desk Lamp
Silver Desk Lamp
Jukstg is a sleek and modern silver desk lamp that suits any office or home office setting. The lamp dimensions are 12.6" x 7" x 17.7". This lamp is tested and meets ETL standards. Jukstg meets your various lighting demand and you can buy it for an affordable price.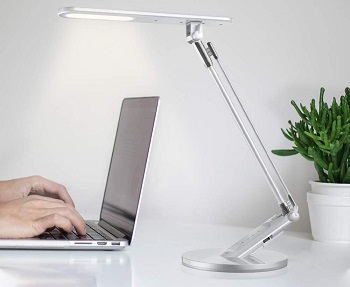 Multi-angle Adjustment
Featuring a 180° adjustable arm and 90° rotating axis base, you can easily adjust the lamp for an ideal illumination angle to cover your entire workbench. Also, when not in use, fold the lamp so it won't take up much space. Jukstg has a non-slip base and won't fall over.
4 Lighting Modes
This adjustable reading lamp has a touch-sensitive base, just lighting touch the panel and set your preferred lighting mode. Choose between four lighting modes and seven levels of brightness. This tall adjustable lamp is equipped with a handy USB charging port for your smartphone, tablet or e-reader.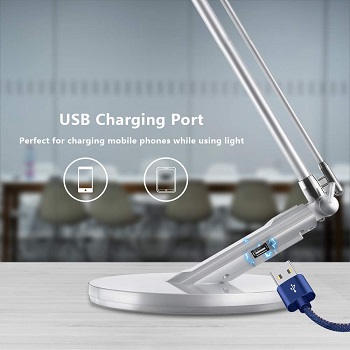 Auto-off Switch
Jukstg features a 1-hour auto-off timer, perfect for electricity saving if you doze off over your work at night. This mode automatically turns the light off and saves on your electricity bill. Unifor, soft and flicker-free light doesn't cause eye fatigue and eye strain.
Highlighted Points:
sleek and modern silver desk lamp
meets ETL standards
180° adjustable arm
90° rotating axis base
touch-sensitive base
four lighting modes
1-hour auto-off timer
BEST BANKERS TALL DESK LAMP
Mlambert Green Glass Desk Lamp
Metal Base
Mlambert produces high-quality antique bankers lamps and this model is one of those. The lamp size is 14.09" in height, the base diameter has 6.3" and the lampshade measures 10.4" in width. The power cord is 5-foot long. The lamp body is made of durable metal, the base is stable and sturdy.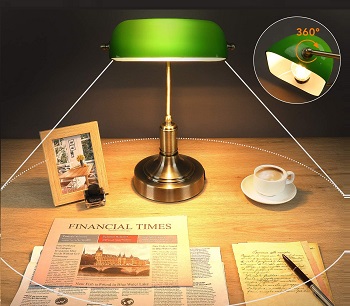 A-grade Green Glass
The beautiful lampshade is made from clear A-grade green glass. This old-fashioned glass lampshade brings a touch of sophistication and elegance to any room. This lamp type is very popular and famous. Place it in your home office, bedroom, living room or children's room.
Two USB Ports
Mlambert is equipped with two USB ports (5V/2.1A) that provide fast charging. You can charge two devices at the same time. This is great for charging your smartphone, tablet, e-reader and keeping them in your arm's reach. This tall lamp uses a T45 bulb which lasts over 25,000 hours.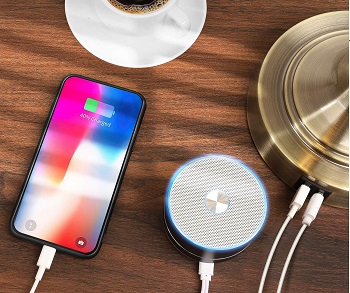 Three Lighting Modes
The lamp base is touch-sensitive, so you can smoothly change the level of brightness. There are three lighting modes – soft, medium and high. It's easy to create different ambient lighting according to your current mood, tasks, and so on. The delivered light is flicker-free and gentle for your eyes.
Highlighted Points:
attractive bankers lamp
metal base and green glass lampshade
equipped with two USB ports
included T45 bulb
touch-sensitive base
three levels of brightness
BEST WITH USB PORT TALL DESK LAMP
Ouesen Desk Lamp With USB
Battery-operated Lamp
Ouesen is a modern desk lamp which lamp body is 11.1" high and the light panel is 9.6" long. This lamp is cordless, so you can move it anywhere you want to use it. It is equipped with a 2000 mAh battery, when fully charged it will run for days. Very practical and convenient.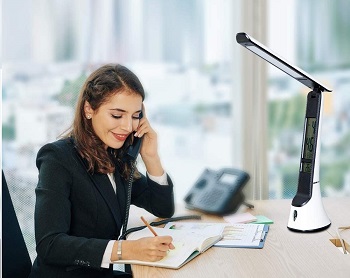 Energy-efficient LED
Built-in LED will last for approximately 50,000 hours. It consumes less energy and provides flicker-free and glare-free illumination that allows you to work or read longer. The lamp head is adjustable, you can move it up and down depending on your needs.
Anti-slip Base
This tall desk lamp has a stable anti-slip base with a built-in USB charging port (5V/1A). The touch-sensitive base allows you to change the level of brightness with simple finger touch. The USB LED desk lamp comes with an LCD screen that displays clock, temperature, calendar and alarm.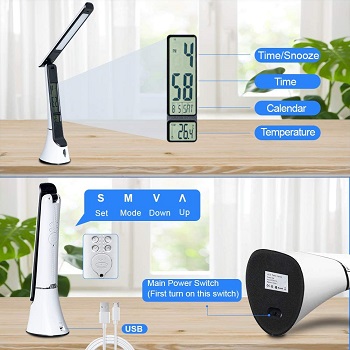 Cold White Mode
All three functions are easy to set up and use. Choose from three lighting modes to create a comfortable environment. There are warm, natural and cold white modes. Choose the cold white mode when working, it will keep your concentration at a higher level.
Highlighted Points:
modern desk lamp
battery-operated lamp
equipped with a 2000 mAh battery
flexible lamp head
anti-slip base
built-in USB port
convenient LCD screen
BEST OFFICE TALL DESK LAMP
Otus Architect Desk Lamp
Architect Style
Otus is a high-quality architect desk lamp with a sleek and minimalist design. When the lamp arrives at your address, you need to install the lamp, but all necessary hardware and instruction are included in the package. Otus is ideal for offices and large desks.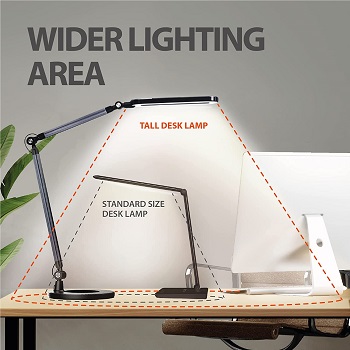 Adjustable Design
This adjustable LED desk lamp has an adjustable arm and swivel head that meet a variety of needs and allow you to direct the light exactly where needed. A long swing arm gives the right light from any position and easily light up the entire work surface.
Wireless Charger
Otus uses advanced eye care technology that provides glare-free illumination. A quality LED bulb will last over 25 years and consume less energy than traditional light bulbs. Otus is equipped with a wireless charger, it's placed on the lamp base. Just place your smartphone on it, and the phone starts charging.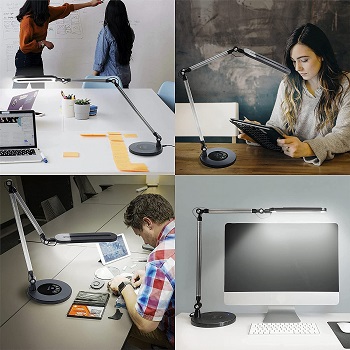 Color Temperature Modes
This tall desk lamp offers three dimmable brightness levels that give you a huge range from dim to bright light. There is work light, read light and warm light when you want to create a comfortable atmosphere. The memory function will remember your last lighting settings.
Highlighted Points:
high-quality architect desk lamp
sleek and minimalist design
adjustable arm and swivel head
advanced eye care technology
equipped with a wireless charger
three dimmable brightness levels
Things To Know About Tall Desk Lamp
The reviewed tall desk lamps will illuminate the large workbenches, but there are some factors you need to consider before buying. Keep reading and learn more about the best lamp size, light bulb, lighting modes and more.
Lamp Size -There is no specific rule for this, but there is a general tip you can follow. The ideal desk lamp needs to be proportionate to your desk or workspace. So, if you have a large desk, a larger and taller lamp is a must. It will easily illuminate your whole workbench. The tall lamps usually are 14-30 inches and extra tall models are over 30 inches.
Flexible Design – Adjustable arm desk lamps are perfect for tasks that required targeted light. That might be studying, reading, working, repairing, sewing or other precise tasks. A swing lamp arm allows you to put the lamp in different positions and direct the light exactly where needed.
Lamp Type – A wide variety of styles and types are available in the market. there are some basic lamp types – adjustable arm lamps, gooseneck lamps, clip-on lamps, banker's lamps, magnifying lamps and many others. Read the product specifications carefully to pick the best lamp for your needs.
Color Temperature – This feature represents a measurement of visual warmth or coolness of white light. It is measured in units of kelvin (K). The higher K, the cooler the light. For task lighting, go for greater kelvin, at least 4000k and above.
Energy-efficient LED – All modern lamps are compatible with LED light bulbs. LED offers many advantages, that include less maintenance, long-lasting lifespan, low heat production, acceptable price, flicker-free and glare-free illumination. They usually last 20,000 to 50,000 hours.
Final Verdict
If you have a multi-monitor setup in your office, we recommend the Phive tall desk lamp. It offers an ultra-wide LED panel with integrated 20W high-quality LED and provides multiple lighting choices. If you want to check more lamps for large workbenches, read the reviews on large desk lamps and overhead desk lamps.