Are you looking for the perfect desk lamp with shade to elevate your space?
Then keep reading!
Having a great desk lamp can not only improve your lighting condition but give your desk much-needed pop of style and color. In this article, you'll find dozen of beautiful and efficient desk lamps to choose from. Follow our guidelines and find the perfect lamp for your space.
Our Top Picks
Best 6 Desk Lamps With Shades
BEST OF BEST DESK LAMP WITH SHADE
Torchstar Metal Office Lamp
Black Desk Lamp
Torchstar is a tall desk lamp suitable for office and task lighting. It is available in black, red and white colors. The power cord is 51 inches long. Its power plug is UL-listed and safe for use. The round base diameter is 6.1 inches and the lampshade measures 5.5 x 5 inches.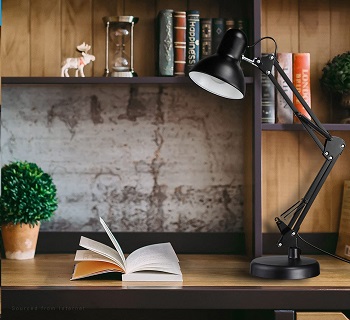 2-in-1 Item
This desk lamp with shade comes with a sturdy heavy base and adjustable c-clamp. If you decide to use a lampstand, you should know it's stable and won't tip over easily. Or you can use a clamp equipped with an anti-scratch pad. Clamp it on a vertical or horizontal surface up to 2" wide.
Flexible Design
The bulb isn't included in the package and this black metal desk lamp is compatible with max 40W E26 or E27 bases. Torchstar works with an LED light bulb. Flexible spring-balanced arms extend up to 18", you can adjust the lamp in many positions. Also, the lampshade is rotatable.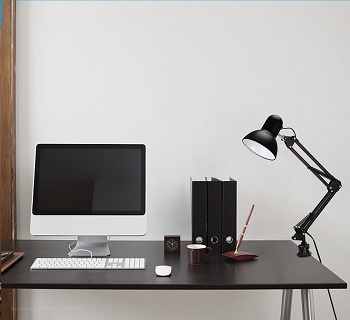 1-year Warranty
Torchstar is perfect for office, dorm, children's room, fitting on any desk or table. The on/off rocker switch is located on the power cord. This office desk lamp has an affordable price and the manufacturer provides a 12-month warranty and friendly customer service.
Highlighted Points:
ideal for office use
available in three colors
UL-listed plug
comes with a heavy base and adjustable c-clamp
compatible with max 40W
swing arms
1-year warranty
BEST GLASS DESK LAMP WITH SHADE
Brightech Elizabeth Desk Lamp
Elizabeth Desk Lamp
Brightech creates this attractive Elizabeth desk lamp, inspired by industrial, mid-century and farmhouse styles. The lamp height is 16 inches, the lamp base diameter is 6 inches and the shade measures 5.5 x 5 inches. This is a small lamp that fits any desk or table.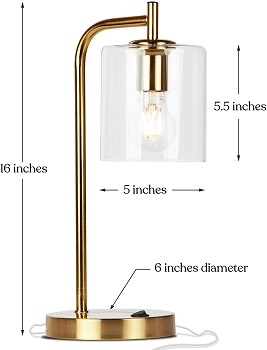 Minimalist Design
This table lamp with shade is backed by a 3-year warranty. It features a minimalist upright design with an elegant brass finish. Its glass shade provides extra elegance and adds a touch of modernity. The 5W LED bulb is included in the package, it's rated at 20,000 hours.
Wireless Charging Station
It delivers warm white light with a color temperature of 2700K. This glass desk lamp contains a wireless charging station and USB port, so you can charge your devices quickly. This wireless charger is compatible with QI-enabled devices. It's the perfect workbench lamp.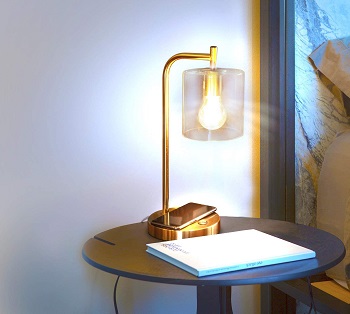 Alexa Compatible
Elizabeth desk lamp works with smart outlets, which are Alexa, Google Home Assistant or Apple Home kit enabled. Meaning, you can control the lamp by your voice or app. If you want to use smart outlets, you need to buy them separately.
Highlighted Points:
inspired by industrial and mid-century design
a small desk lamp that fits anywhere
backed by a 3-year warranty
minimalist upright design
5W LED bulb is included
warm white light
wireless charging station and USB port
BEST GREEN DESK LAMP WITH SHADE
Mlambert Banker's Desk Lamp
Lamp Size
Mlambert desk lamp has a very popular banker's lamp design. But it is equipped with some modern features. First, the lamp size, its height is 14.1", the lampshade width is 10.3" and the lamp base measures 6.3". The power cord length is 5.1 feet. This model is available with green or white shade.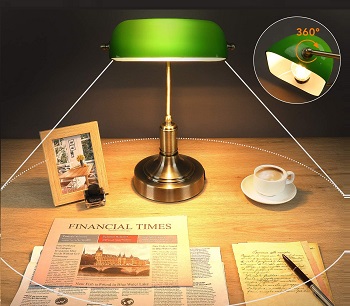 Satin Brass Finish
Featuring all-metal construction with a satin brass finish, this desk lamp with shade looks old-fashioned and classic. it will bring a touch of sophistication and elegance to any room. Fits almost any type of office desk, nightstand, end table, coffee table or console table.
Dual USB Ports
Mlambert green glass desk lamp comes equipped with dual USB charging ports (5V/2.1A). They allow you to charge your mobile phone, tablet, e-reader or other electronic devices. Charge two devices at the same time. Also, these ports work whether the lamp is on or off.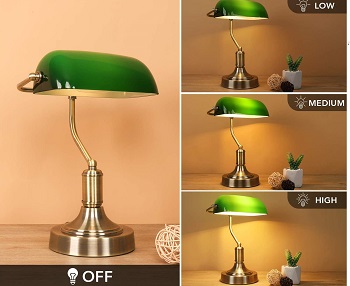 Sensitive Touch Control
This lamp has a touch-sensitive base, so tap on it and adjust the brightness level. There are three levels you can choose from, low medium and high to create different ambient lighting. The lampshade is adjustable, so set the perfect angle according to your needs.
Highlighted Points:
all-metal construction
satin brass finish
popular banker's lamp design
comes with two USB ports
touch-sensitive base
three levels of brightness
BEST SMALL DESK LAMP WITH SHADE
Haitral Modern Table Lamp
Black & White
Haitral is a very popular desk lamp available in various styles. This model is available in different colors – with black pole, gold pole, and with white or black shade. Choose the style that complements your home office decor. Haitral lamp has an affordable price.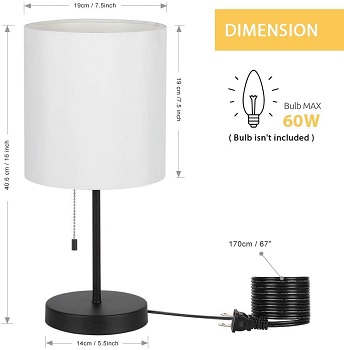 Quick Installation
The power cord length is 67" long, the base diameter has 5.5", the shade is 7.5" x 7.5". The lamp height measures 16 inches. When this desk lamp with shade arrives at your address, you need to unscrew the fixing ring on the lamp holder, fix the lampshade, tighten the fixing ring and install the bulb.
Recommended Bulbs
The bulb isn't included in the package, so the manufacturer suggests buying one of these – an LED bulb (4W-6W), an energy-saving bulb (8W-11W) or an incandescent bulb (15W-25W). This is a small desk lamp with a shade that can be used as a bedside lamp, nightstand lamp, reading lamp, home office lamp.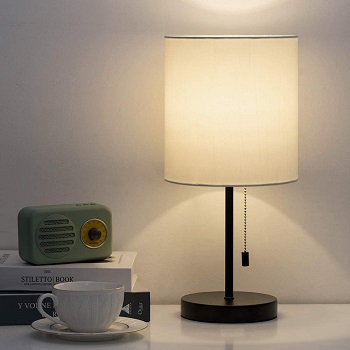 Fabric Lampshade
It is designed with a stylish pull chain switch, making it easy to turn the lamp on or off. The lampshade is crafted from quality white fabric, while the lamp body and base are made from durable and sturdy metal. It is an aesthetic, durable and quality desk lamp.
Highlighted Points:
black and white desk lamp
simple installation needed
the bulb isn't included in the package
works with LED, energy-saving and incandescent bulbs
stylish pull chain switch
white fabric lampshade
BEST ANTIQUE DESK LAMP WITH SHADE
Asoko Traditional Table Lamp
Iconic Style
This traditional desk lamp has the most iconic desk lamp design, also known as banker's lamp style. The overall lamp height is 15.2 inches. It features a small footprint that fits on any end table, side table, coffee table or nightstand. Its price is acceptable.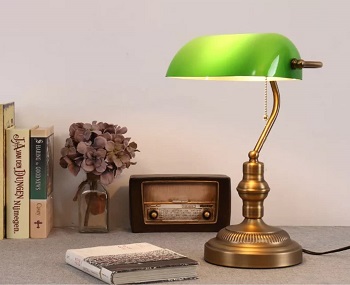 Well-packaged Lamp
Asoko lamp with shade comes well packaged, so the lamp is protected from damage. If there is any defect within 1 year, contact the customer service. The lamp base and body are made from copper and metal and finished in elegant brass. It looks classic and vintage.
A-grade Glass
A weighted lamp base provides stability and reduces the risk of tipping over. Its beautiful green shade is made from A-grade handmade glass. The shade has a nice and clean-cut surface, that won't hurt your hands. This antique banker's lamp has a pull chain to turn the lamp on/off.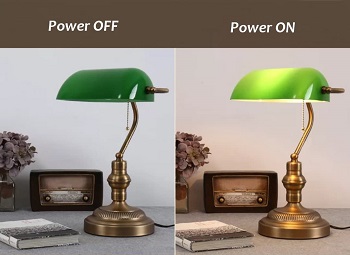 Rotatable Lampshade
Asoko features a 350° rotatable lampshade allowing you to adjust the desired angle. It requires a 60watt bulb maximally and the lamp is compatible with LED, incandescent and halogen light bulbs. LED light bulb consume less energy than traditional bulbs and has a long lifespan.
Highlighted Points:
iconic desk lamp design
1-year warranty
stable weighted base
A-grade handmade glass shade
pull chain switch
rotatable lampshade
BEST BRASS DESK LAMP WITH SHADE
Melunar Vintage Desk Lamp
Eye-catching Design
Melunar is a beautiful vintage-inspired desk lamp ideal for those who like an old-time charm in their rooms. The overall lamp height is 19 inches, the base diameter is 5.5 inches, and the shade measures 5.5 x 6.5 inches.  The power cord length is 56 inches.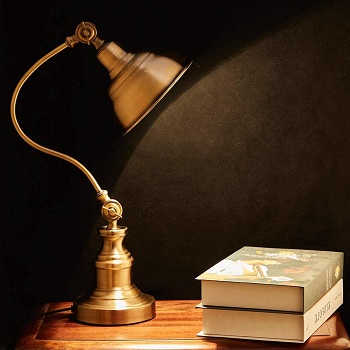 UL-approved Lamp
This desk lamp with shade has both decorative and practical effects. If you want to decorate your room, you can use this lamp without a bulb. Melunar is a tested lamp that comes with a UL certificate. It isn't fragile, cheap or made of plastic, but sturdy and durable.
Metal Construction
The lamp construction is made from quality metal and finished in attractive matte brass. This antique brass desk lamp has adjustable height. The shade angle also can be adjusted to your needs.  Don't worry about tipping over, it features a sturdy and weighted base.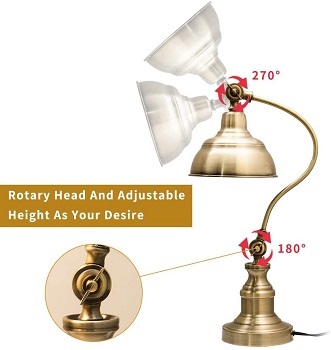 Flexible Adjustment
It is suitable for type A 40W bulb, it isn't included in the package. If you want to adjust the lamp head or height, it's necessary to unscrew the button to adjust the position. This attractive desk lamp is good for reading and creating a comfortable atmosphere.
Highlighted Points:
sturdy and durable metal construction
adjustable height and shade angle
antique matte brass finish
the weighted base ensures stability
suitable for type A 40W bulb
UL-certified lamp
Things To Know About Desk Lamp With Shade
When choosing the best desk lamp with shade, there is a lot to think of in terms of functionality and aesthetics. Learn more about lamp designs, construction, lighting modes and more.
Lamp Size – Many people forget to think about this factor, but it's very important. Depending on the size of your space and desk, choose the appropriate lamp size. If you want to buy a lamp for decorative purposes, the size doesn't matter. For office use, follow the rule  – the larger the desk, the taller the lamp.
Lampshade Design – Lampshades come in various designs, styles, sizes, materials, etc. They can be made from linen, glass, fabric, etc. Choose the material you like the most. Also, there are many shapes you can choose from – drum shade, empire, square, and more.
Banker's Lamp –  Antique banker's lamps are the most popular lamps that feature timeless design. They have a high-quality weighted metal base that provides stability. It is characterized by an antique brass finish, green lampshade made from durable glass. and pull chain switch.
Light Bulb – Many modern desk lamps are compatible with a variety of light bulbs. That includes incandescent, halogen, CFL and LED light bulbs. Each type has its pros and cons, so learn more about them. Nowadays, the most popular are LED bulbs thanks to their long lifespan and low energy consumption.
Adjustable Lamp Design – If you want to use your desk lamp with shade for various occasions, then consider a lamp with an adjustable design. These lamps allow you to move the light source closer or farther away depending on your needs and workspace. They are perfect for large desks.