On the search for a perfect lamp for you piano that will improve your playing experience?
The read this article on the piano desk lamps!
In this article, you can read about various desk lamps with brass, bronze, gold, antique and modern styles. Check these six reviews and pick the model that complements your room the best. In the end, check our buying guide.
Our Top Picks
Best 6 Piano Desk Lamps
BEST OF BEST PIANO DESK LAMP
House Of Troy Piano Lamp
Polished Brass Model
House Of Troy is a popular and stylish desk lamp available in three colors. Choose between black with brass accents, black with satin nickel accents and reviewed polished brass model. Pick the model whose finish complements your piano room decor.
Handcrafted Lamp
For more than 40 years, House Of troy has handcrafted desk lamps and has an excellent reputation. The manufacturer uses quality materials and has friendly customer service. The base diameter is 5.3 inches the arm length is 4 inches and it is 16 inches high.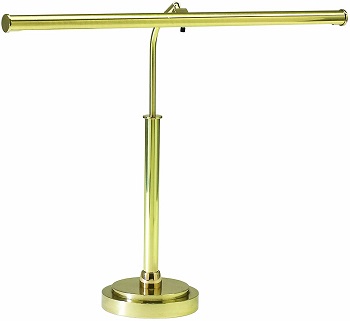 Pricey Item
The piano desk lamp has an on/off switch located in the center of the light bar for your convenience. The black power cord is 10 feet long, meaning, you can place this lamp wherever you want. House Of Troy is a small modern desk lamp with a high price.
Long-lasting LED
It uses long-lasting and energy-efficient LED which lifespan is rated for up to 30,000 hours. Therefore, you don't have to replace the bulb ever again. This lamp is tested and UL-listed, meaning, it meets many quality and safety standards.
Highlighted Points:
available in three colors
polished brass finish
durable metal construction
a UL-listed and pricey item
long power cord
long-lasting LED
BEST ANTIQUE PIANO DESK LAMP
Regency Hill Table Lamp
Traditional Style
Regency Hill is an attractive desk lamp inspired by traditional and vintage styles. This model is 12 inches high and the lampshade width is 9.5 inches. Its round base diameter is 6 inches, so fits on any piano, shelf, desk or end table. The price is reasonable.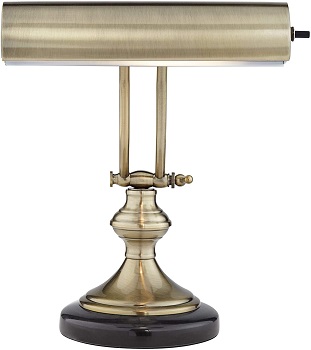 Marble Accent
The desk lamp weighs 5.5 pounds, it is stable and won't tip over. Constructed of durable and quality metal with antique brass finish and black marble accent on the lamp base. It features high-end details that add a touch of elegance to your room.
40-watt T10 Tube Bulb
This antique piano lamp uses one maximum 40-watt T10 tube bulb, but it isn't included in the package. Regency Hill is compatible with incandescent, LED, halogen or CFL lightbulbs. If you use a halogen bulb, avoid touching the bulb when installing.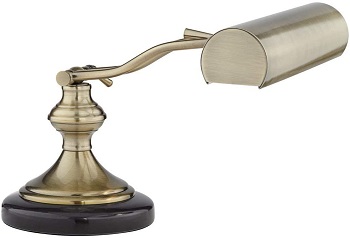 Flexible Design
Its lamp arm and shade are adjustable. You can point the light where you need it at the moment. This is a great-looking, classic desk lamp that sheds completely adequate light on your piano. It casts a warm and nice illumination without eye fatigue effect.
Highlighted Points:
inspired by vintage styles
durable and quality metal construction
antique brass finish
compatible with LED, halogen, CFL bulbs
adjustable lamp arm and shade
casts warm and nice illumination
BEST BRASS PIANO DESK LAMP
Cocoweb Antique Desk Lamp
Antique Brass Finish
This elegant Cocoweb adjustable brass lamp works as an upright lamp and has a stunning, sophisticated appearance. You can choose between black brass, mahogany bronze, satin nickel and this one – antique brass model.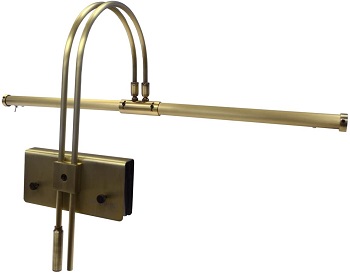 Lamp Size
Cocoweb is a renowned company with an excellent reputation for making this kind of lamp. This is a very popular model evident from buyers' reviews. The lamp dimensions are 8 x 22 inches. Cocoweb lamp produce minimal heat and protect your eyes from fatigue.
Adjustable Height
This brass piano lamp has a height-adjustable range from 12 to 16 inches, meaning, you can adapt it to your piano and notes. It is easy to get the right angle of light onto your piano. The shade is also fully adjustable and can be rotated.
Advanced LED Technology
Its LED lightbar has a color temperature of 2700K, it is energy efficient and provides ample lighting. The estimated LED lifespan is approximately 50,000 hours. You don't have to change the bulb ever again. The used LED lighting array is a cutting edge of lighting technology.
Highlighted Points:
available in many colors
adjustable height and lampshade
prevents eye strain and fatigue
energy-efficient LED light
rated for up to 50,000 hours
metal construction with antique brass finish
BEST BRONZE PIANO DESK LAMP
Lite Source Table Lamp
Attractive Lamp
Lite Source is an eye-catching desk lamp that suits vintage, contemporary and industrial-designed rooms. Its overall height is 16 inches, so fits anywhere. Place it on your piano, shelf, end table, wherever you need it. The lamp base diameter is 2.5 inches.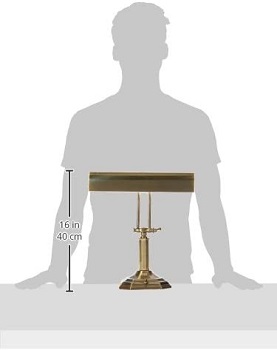 1-year Warranty
A 1-year warranty is provided by the manufacturer, so if you notice any damage or defect within that time, contact customer service. This piano desk lamp is crafted from high-quality metal making it durable and sturdy. The on/off switch is located on the power cord.
CFL Bulbs
It uses two 40-watt Compact Fluorescent Light or CFL and they aren't included in the package. Lite Source is finished in elegant and attractive bronze inspired by a vintage design. This bronze desk lamp provides bright illumination.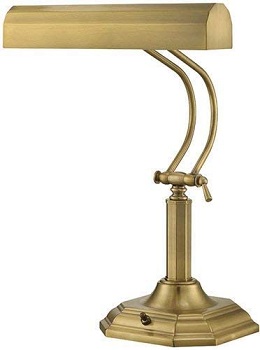 Adjustable Shade
Lite Source desk lamp features shade and arm, so you can position the lamp and direct the light exactly where you need it. Adjust the shade up and down by raising or lowering the arm then lock it into place. That is very practical when playing.
Highlighted Points:
metal desk lamp with antique bronze finish
on/off switch on the power cord
backed by a 1-year warranty
uses two 40W CFL light bulbs
adjustable lampshade and arm
stable lamp base
BEST GOLD PIANO DESK LAMP
Bravodeal LED Piano Lamp
Gold Finish
Bravodeal desk lamp is available in gold and black colors. Pick the model that suits your piano and home decor. This model weighs 3.3 pounds and there is padding under the base that prevents tipping over and keep the lamp stable. The price is acceptable.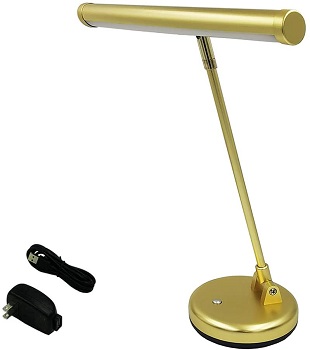 Three Ways Of Power
This piano desk lamp offers three power options – wall-plug, USB cable or three AA batteries. If you want to use batteries, there is a cover underneath the base and here you need to place these three AA batteries. A battery-powered lamp is more portable.
Integrated 28 LEDs
On the back of the base is a slot for an AC adapter. The AC adapter is included in the package, so you don't need to buy it separately. Bravodeal is a small gold desk lamp that uses 28 LEDs, they provide adequate and bright illumination.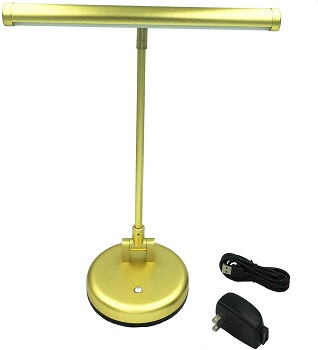 Adjustable Arm
Bravodeal desk lamp has a flexible arm, so you can adjust the angle of the lampshade and direct the light where you need it most. This lamp is a perfect gift for your family member, friend or colleague who plays piano. Bravodeal is 14 incehs high.
Highlighted Points:
metal construction with gold finish
three power options
the anti-slip pad protects piano
AC adapter included in the package
integrated 28 LEDs
flexible lamp arm
BEST MODERN PIANO DESK LAMP
Nuled Dimmable Desk Lamp
Black Model
Nuled is a modern desk lamp available in two colors – black and silver. It features a sleek and slim design that fits on any piano, table, end table, shelf, etc. The lamp pole is 13.8 inches high and the light bar is 11 inches long. A 1-yer warranty is provided by the manufacturer.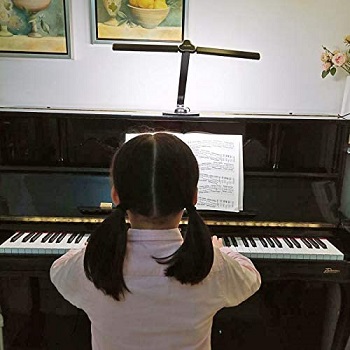 Aluminum Alloy
Made of high-quality aluminum alloy with a black polish finish. There are built-in 56 LEDs that use less power than traditional bulbs, last longer and protect your eye health. Its heavy metal base provides stability, it won't tip over easily.
Dual LED Tube Arms
You can stretch and rotate these dual LED tube arms for the optimal lighting direction and position. This piano table lamp allows you to tilt the base joint and upper joint. The base is equipped with 5V/2A USB port so you can charge your smartphone while playing.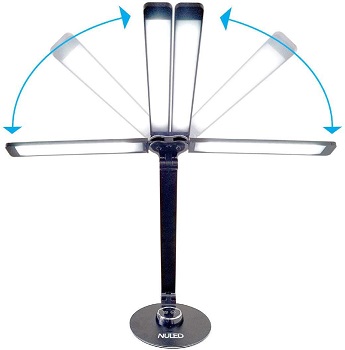 Lighting Modes
This black table lamp with a USB port offers three dimmable lighting modes. Touch the M button on the touch control panel and change the color temperature. Choose between bright, dim or warm. The long press on M changes the level of brightness.
Highlighted Points:
modern black table lamp
made of aluminum alloy
integrated 56 LEDs
heavy and stable metal base
dualLED tube arms
adjustable color temperature
Things To Know About Piano Desk Lamp
Buying a piano table lamp shouldn't be an impulse purchase. You should take time to research, so you can read this buying guide and learn more about good quality, well constructed, reasonably priced desk lamps to suit your needs.
Desk Lamp – This lamp type comes in a variety of styles, sizes and designs. The desk-style table lamp is the most popular type. It is designed to be mounted or placed at the top of the piano. You can choose between cheap plastic models and high-end brass desk lamps.
Adequate Illumination – A good desk lamp should provide uninterrupted illumination without glare. Also, it should provide enough light so you can clearly see notes and keys. Some modern models offer various lighting modes, so you can change the level of brightness when needed.
Eye-caring Light – Playing piano without light or with bad light can cause eye strain, eye fatigue and headache. Good vision plays an important function when it comes to playing. It is highly important to invest in a piano lamp that will improve your visual field.
Battery-operated Lamps – These cordless desk lamps operate on battery power. They are usually smaller in size when compared to other desk lamps for pianos. But they have many benefits – they are portable, so you can place them and transport them easily.
Lamp Design – The market is full of various lamp styles, sizes and shapes. So, would you like the traditional or modern LED desk lamp? Also, you can choose lamp color, but many piano desk lamps come in gold, brass, bronze and silver colors.