Do you want to buy an elegant lamp for your piano, so you can play and practice at night?
If you do, then just keep reading. Since there are a lot of brass piano lamps on the market, it is a bit difficult to find the perfect one. We evaluated many lamps and pick the best 5 piano lamps that will light up your music room for many years.
Our Top Picks
Best 5 Brass Piano Lamps
BEST OF BEST BRASS PIANO LAMP
Bravodeal LED Piano Light
Heavy-duty Base
Bravodeal is a  compact and elegant lamp available in gold and black color. Match the lamp with your piano or writing desk. It features a heavy-duty metal base equipped with rubber padded, meaning this lamp is stable and has a non-slip base.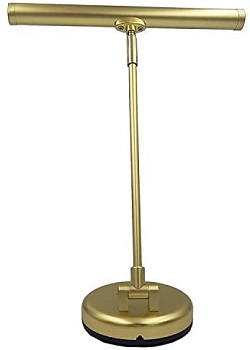 Power Supply
You can use two options for power, AA batteries or AC adapter. The AC adapter is included in the package, so you don't need to buy it separately. If you want to use batteries, you'll need 3 AA batteries. Then you can have a portable brass piano lamp.
3 AA Batteries
There is a cover underneath the lamp base, here you need to put these batteries. On the back of the base is a slot for an AC adapter. This classic desk lamp is a perfect accessory for any piano, writing desk, end table or coffee table. Bravodeal fits anywhere. It uses an LED bulb.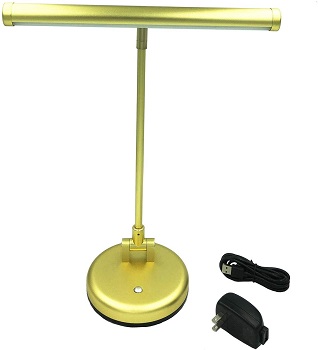 Perfect Gift
If you have a family member or friend who plays piano, this will be a great gift. Also, this lamp is good for casual reading, but don't use it for studying, it doesn't provide that bright light. The overall lamp height, from base to top of the lamp is 14 inches.
Highlighted Points:
available in gold and black color
two power options – batteries or AC adapter
requires 3 AA batteries
AC adapter is included in the package
perfect gift for musicians
BEST ANTIQUE BRASS PIANO LAMP
Regency Hill Traditional Piano Lamp
Attractive Appearance
Universal Lighting and Decor made this Regency Hill brass piano lamp. It features a stunning and attractive look. Place it on your piano or desk and it will uplift any room decor. Its overall height is 12 inches, so this is a pretty small lamp.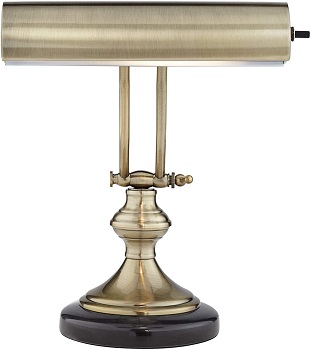 40W T10 Bulb
Its round base is 6 inches wide and the shade is 9.5 inches wide. There is a 10.5 extension from the back of the base to the front of the shade. Regency Hill weighs 5 pounds. It uses one 40W T10 tube bulb and it is important to note that the bulb isn't included in the package.
Convenient On/Off Switch
This antique brass desk lamp has a convenient on/off switch placed on the shade. Regency Hill is ideal for music areas, office desks, living rooms, dining rooms, etc. It isn't just a functional lamp, but a decorative lamp that provides a stunning appearance.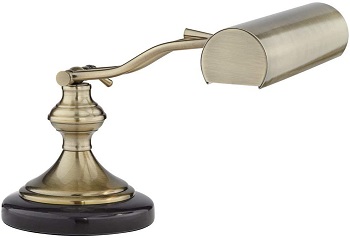 Black Marble Accent
Constructed of high-quality metal with elegant brass finish. Also, there is a black marble accent on the bottom of the lamp. It features an adjustable lamp arm and shade, so you can direct the light exactly where needed. Regency Hill is compatible with LED, incandescent, halogen and CFL bulbs.
Highlighted Points:
attractive piano lamp
high-quality metal construction
elegant brass finish
black marble accent
compatible with LED, CFL, halogen and incandescent bulbs
BEST LED BRASS PIANO LAMP
Cocoweb Piano Desk Lamp
Plug-in Lamp
You can choose between two models  – plug-in operated and battery operated. Also, there are three colors available – black brass, antique brass and satin nickel. Choose the color that matches your piano. This lamp is made in the United States, it is a quality and durable lamp with a high price.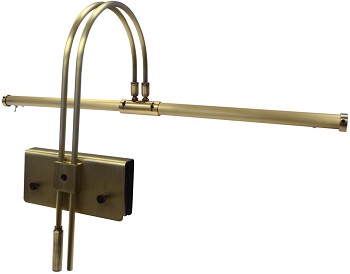 Elegant Look
Cocoweb brass piano lamp is 22 inches long, its overall height is 13 inches and the light bar is 0.75 inches high. This elegant lamp will accent grand pianos in rich style. It is a handcrafted lamp made of high-quality brass, aluminum and metal.
Advanced Technology
This modern LED desk lamp uses advanced LED technology. It features an integrated LED lighting array, it produces minimal heat. These LEDs are tested to last over 50,000 hours, which means you don't have to change the bulb.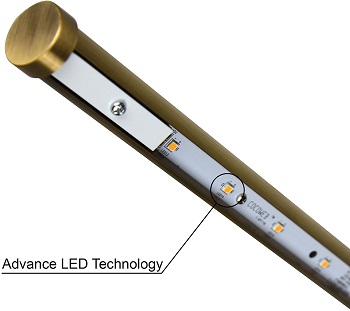 Fully Adjustable
Cocoweb is fully adjustable at 5 points, this lamp has the ability to light any part of the piano you would need. The shade is installed on the ball joint for full flexibility. You can set it vertically and horizontally, up and down. Also, you can rotate the shade for 45 degrees.
Highlighted Points:
choose between plug or battery operated lamps
available in three colors
handcrafted lamp made of brass, aluminum, and metal
advanced LED technology
fully adjustable design
BEST PORTABLE BRASS PIANO LAMP
House Of Troy Piano Lamp
Handcrafted Lamp
House Of Troy lamp is a pricey piano lamp, but this is a handcrafted product that meets the highest quality standards. This lamp is a CA Title 20 Compliant when you use it with a CFL (Compact Fluorescent Light) bulb. It will last a lifetime.
Polished Brass Finish
This brass piano lamp has a polished brass finish, it is covered with a clear lacquer coat. This layer protects and seals the finish for long-lasting use. House Of Troy lamp measures 12 x 10 x 14 inches in size. Also, it weighs approximately 5 pounds.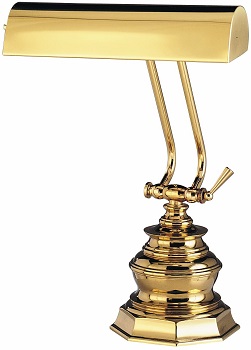 Incandescent Bulb
House Of Troy portable desk lamp is guaranteed against defects in manufacturing for two years. If you notice any damage, contact customer service. It requires one medium base T10, 60W (that's maximum) incandescent bulb. Also, there is a 9-foot brown cord and polarized plug.
Adjustable Arm
Its metal components should be cleaned with warm water and a soft cloth. The manufacturer doesn't recommend glass cleaners or soaps. House Of Troy light fixture features a hinged adjustable arm that you can adjust for up to 14 inches.
Highlighted Points:
handcrafted piano lamp
polished brass finish
sturdy metal construction
2-year warranty
uses incandescent bulb
BEST SMALL BRASS PIANO LAMP
Lite Source Piano Lamp
Lamp Dimensions
Lite Source is a beautiful piano lamp that will upgrade your room decor. Here are detailed lamp dimensions – it is 20 inches tall and 12 inches wide. The lampshade is 12 inches long, 2.5 inches wide and 2.5 inches high. The base measures 12 inches in depth and 2.5 inches in width.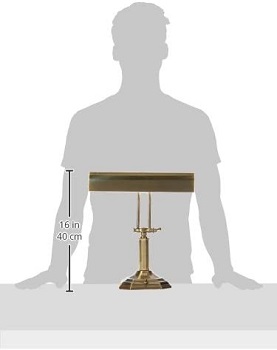 Well-packaged Lamp
This brass piano lamp requires two maximum 40-watt or T-type incandescent bulbs. Two CFL bulbs are included in the package. It arrives well-packaged in two boxes and styrofoam. Also, this small gold desk lamp is covered with a 1-year warranty.
Matte Brass Finish
Its construction is made of high-quality metal and finished in antique brass. There is a matte finish that provides a sophisticated look. You can use it as a piano lamp or desk lamp, it fits on any table, desk, piano, end table or coffee table.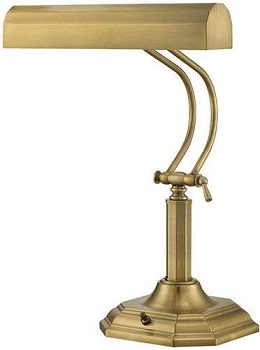 Flexible Design
This classic piano lamp has an adjustable lampshade. You can adjust it up and down by raising or lowering the lamp arm and when you find the perfect position, lock it. On the lamp base is a convenient on/off switch. The lamp weighs 8 pounds, so it won't fall easily.
Highlighted Points:
beautiful small piano lamp
comes with two CFL bulbs
covered with a 1-year warranty
made of metal and covered with matte antique brass
adjustable lampshade
Things To Know About Brass Piano Lamp
Before you buy a brass piano lamp for your piano, it is important to learn some essential things that an ideal piano lamp should have. Here are few things you need to consider – light bulb, piano lamp type, power source, etc.
Piano Lamp Type – The first feature that you should look into is the style of the piano lamp that you want to buy. These lamps differ in their type of illumination and design. You can choose between classic style piano lamps, such as bronze desk lamps,  clip-on lamps or battery-operated lamps.
Lamp Design – Buy a lamp that complements the style of your piano, so it won't be a distraction to the overall aesthetic. Check the lampshade, it should provide uninterrupted lighting without glare or annoying brightness levels that will disturb you.
Battery-operated Lamp – There is one battery-operated lamp in the list above. These lamps have several benefits. They have no plugs or cords, instead, they operate on battery power. These lamps are smaller than other piano lamps, portable and practical.
Incandescent Bulb – These bulbs have enhanced color definition and provide a uniform level of light. They are great for ambient lighting applications but not good for task lighting purposes. One of the biggest cons of this bulb is its short lifespan.
LED Bulb – Some of these brass piano lamps use LED bulbs for illumination. They provide many positive features – generate very little heat, contain no mercury, there aren't infrared or UV emissions, there are minimal CO2 emissions. Furthermore, LEDs last much longer than other light bulbs.