Do you want to have a 2-in-1 product, lamp, and USB charger for your smartphone?
Then consider black table lamps with a USB port, they provide much more than just the right amount of light. Choose between different models from our list below. To understand some terms, read our buying guide with laic explanations.
Our Top Picks
Best 6 Black Table Lamps With USB Port
BEST OF BEST BLACK TABLE LAMP WITH USB PORT
O'Bright Flexible Lamp
6-ft Power Cord
O'Bright is a high-quality LED desk lamp with a USB charging port. It is 22 inches tall and the base diameter is 6.5 inches. The adapter isn't required, use the 6 feet power cord with a standard two-prong plug. It is built with an advanced LED module that provides a lifespan of 50,000 hours.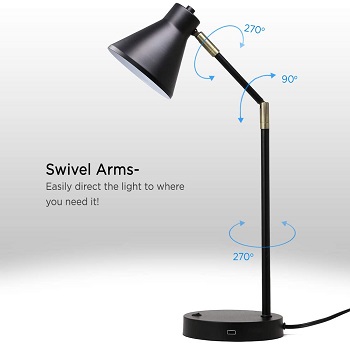 Metal Lamp
The high-efficient LED provides 400 lumens. Also, it uses only 4.5 watts of power consumption. This black table lamp with a USB port is made of durable metal, its metal lampshade prevents heat radiation. That prolongs modern task light lifespan.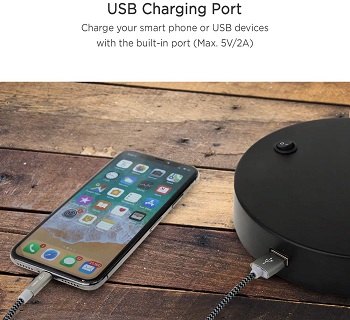 Fast Charging
There is a swivel arm allowing you to focus the light where needed. It provides 270-degree rotation. Because of the light head, it will stay in any position you need. A built-in smart USB charger ensures fast charging. Charge the phone without turning on the light.
Highlighted Points:
metal lamp with 6-ft power cord
the adapter isn't required
comes with a standard two-prong plug
advanced LED module
long lifespan – about 50,000 hours
swivel arm allows 270-degree rotation
BEST VINTAGE BLACK TABLE LAMP WITH USB PORT
Aooshine Bedside Lamp
Attractive Design
Aooshine is a mix of modern and traditional lamp styles. Because of its attractive design, it will fit almost any home or office decor. It is 12.3 inches high, its base is 7.8 inches wide and 4.7 inches deep. After it arrives at your address, you need to assemble it.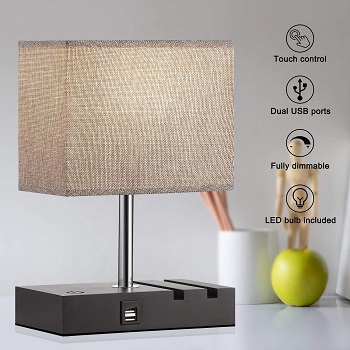 Instalation Instruction
First, you need to unscrew the fixing ring, install the lampshade, tighten the fixing ring and install the bulb. Very simple. The previous model could use only a low voltage lamp, but the manufacturer upgrades it, so now you can install a 5W 2700K LED bulb.
Solid Wood Base
Moreover, the manufacturer ensures a 2-year warranty for that special LED bulb. Aooshine has a grey lampshade and solid wood base. The lamp base features two slots where you can put your mobile phones. This black table lamp with a USB port is suitable for any room.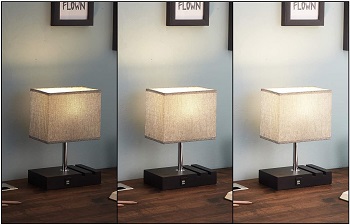 Fully Dimmable
The box includes a 2-pin plug, so you can use a USB plug or a two-pin plug. This vintage reading lamp has a touch control. If you want to dim the light,  hold your finger on the power button. Adjust the brights according to your home/office environment.
Highlighted Points:
solid wood base with a lampshade
the assembly is required
compatible with low voltage bulbs
adjustable brightness
dual USB charging ports
two slots your four mobile phones
BEST MODERN BLACK TABLE LAMP WITH USB PORT
OttLite LED Desk Lamp
ClearSun LED Technology
OttLite is a modern desk light that brings the power of natural daylight into your home or office. ClearSun LED technology provides unparalleled light output, more similar to natural sunlight than other LEDs. It reduces eye strain and provides advanced color rendering.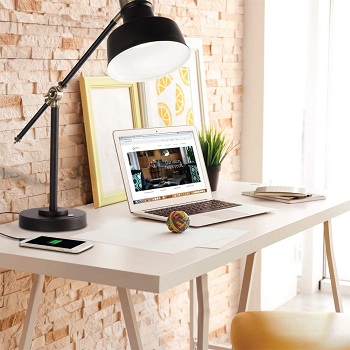 USB Port
There is a 5V, 2.1A USB port for your smartphone, tablet, e-reader charging. Ottlite black table lamp with USB port is rated to last up to 40 00 hours. The lamp height is adjustable, there is a counterbalance arm with a turnkey that allows you to lock the lamp in the position.
One Switch
The height is adjustable from 4 to 18 inches. On the lamp base is a one switch that controls all functions. Change the settings with a finger touch. There are three color modes – warm white, bright white and ClearSun daylight. The warm white mode provides ambient lighting.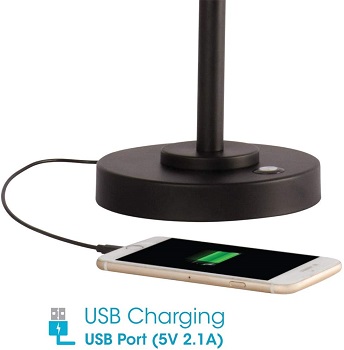 Maximum Output
This modern LED desk lamp has a maximum output of 428 lumens. You can use memory features, it will remember your last used setting, so you don't have to adjust the lamp modes and temperature every time. Ottlite provides a Color Rendering Index of 97, for great color accuracy.
Highlighted Points:
modern desk light with USB port
uses ClearSun LED technology
adjustable lamp height
adjustable arm with turnkey for stability
three color modes and three brightness settings
BEST WIRELESS BLACK TABLE LAMP WITH USB PORT
Jeuneu Wireless Functional Lamp
Incandescent Bulb
Jeuneu is a modern and functional desk lamp with an overall height of 22.6 inches, the base diameter is 5.9 inches and weighing 3.9 pounds. This lamp is made from metal and it doesn't require batteries. Jeuneu uses incandescent bulbs of 60 watts.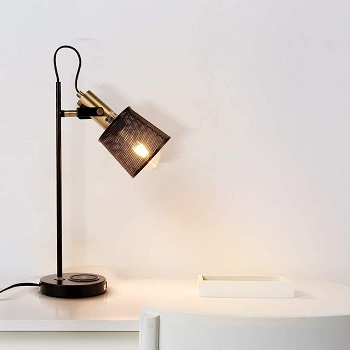 Wireless Charging
Also, the black table lamp with a USB port is compatible with LED, CFL and halogen lamps. You can use dimmable bulbs, too. Jeuneu uses AC and plug switch. It is important to note that the bulb isn't included in the package. Its base supports wireless charging.
Adjustable Lamp Base
Put your smartphone on the lamp base and charge it wirelessly. In addition, there is a USB charger for other electrical devices, like a tablet, Kindle, etc. You can adjust the lampshade at almost any angle. This wireless charging bedside lamp allows you to direct light where needed.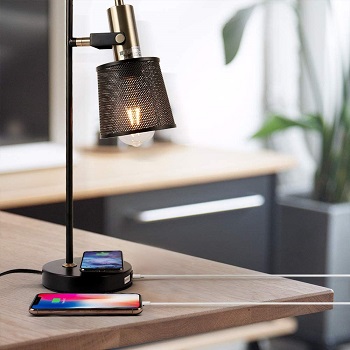 Metal Mesh Lampshade
You can use wireless charging and a USB port at the same time. This lamp doesn't have to be on when you want to charge your phone. Use this lamp while you reading, knitting, watching TV, etc. Jeuneu features a metal mesh lampshade, so it's good for ambient lighting.
Highlighted Points:
functional desk lamp made of metal
metal mesh lamp shade for ambient lighting
compatible with LED, CFL, halogen bulbs
supports wireless charging
USB port for electronic devices
adjustable lampshade
BEST LED BLACK TABLE LAMP WITH USB PORT
Taotronic Metal Lamp
Stylish Models
TaoTronic is a very popular and quality brand. They produce lamps with quality performances. This TT-DL16 model features a stylish and modern design, that doesn't require much space. Choose between iron grey, gold and silver colors. All models are elegant.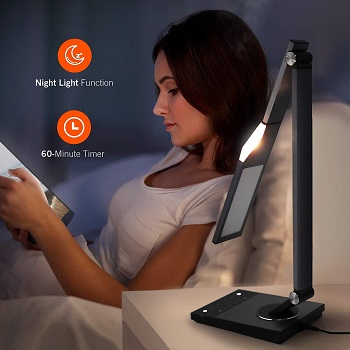 Solid Design
This black table lamp with a USB port is constructed of premium aluminum alloy, it is durable and scratch-resistant. The package includes a lamp, user manual and power adapter. TaoTronic is a member of the Philips EnabLED Licensing Program for LED luminaires.
Versatile Table Lamp
Taotronic is a versatile lamp, you can rotate its base, neck, head and set the lamp in almost any position. A built-in USB port is able to charge your smartphone, eReader, tablet, etc. The adjustable LED desk lamp comes with an advanced memory function, it saves your favorite settings.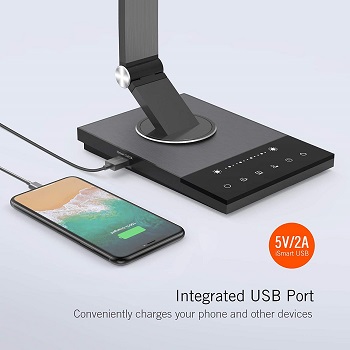 Glass TouchPad
You can choose between five color modes and six brightness levels. You can easily dim or brighten up the light and adjust it to your different needs. if you want to change the color, slide your finger on the glass touchpad and change the scale.
Highlighted Points:
industry-leading LED manufacturer
available in three colors
made from aluminum alloy
rotate the lamp neck, base and head
advanced memory function
built-in USB charger
BEST FOR READING BLACK TABLE LAMP WITH USB PORT
Ganiude Metal Lamp
Wide Application
Ganiude is a practical table lamp with an overall height of 15.7 inches. The base diameter is 7.09 inches. It features wide application, so use it as nightstand lamp for bedroom, in your office, for reading, studying, knitting, sewing, etc. Its price is affordable.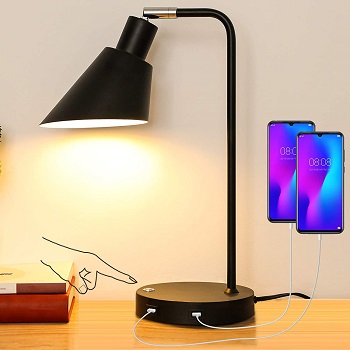 Industrial Design
The length of the wire is 59 inches. Ganiude is made from durable and quality materials. This black table lamp with a USB port features an industrial design, it fits any office, home, dorm decor. The lamp base isn't large, even if you have a small desk, it will fit.
Dual USB Ports
Ganiude adjustable reading lamp is designed with dual USB fast charging ports. Meaning you can charge two electronic devices at the same time. The lamp head is adjustable, you can adjust the lighting angle and direct the light where needed.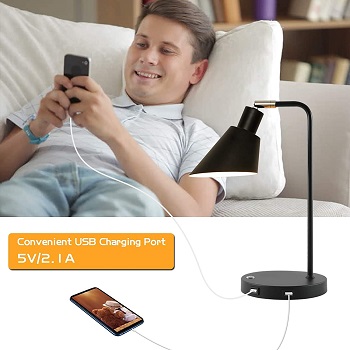 Warm White Light
The LED bulb is included in the package, its color temperature is 2700K. You can change the brightness level, there are three modes – low, medium and high. The low level is good for reading and relaxing. This non-flickering and anti-dazzle light are safe for your eyes.
Highlighted Points:
practical lamp occupies a small area
made from quality materials
the lamp head is adjustable
LED bulb included
three brightness levels
Things To Know About Black Table Lamp With USB Port
To understand some terms from the reviews above, we have prepared this buying guide. Read about USB charging ports,
USB Port – The desk lamps with USB ports are incredibly useful. They can help you to charge your mobile phone and keep your room well-lit. You can charge your smartphones, tablets, e-readers, etc. That's practical because your phone is at your arm's reach if you need it. Be sure it's compatible with your phone.
Eye-caring Feature – Whether you use a lamp for reading, work, knitting, sewing, some precise work or other activities, it is necessary to buy a lamp with eye-protecting features. LED bulbs reduce eye strain and eye fatigue, so consider them.
Brightness Level – Nowadays, many LED reading lamps have at least three brightness levels. That features will make your work easier. You can adjust the brightness according to your activities. Choose the warm light for ambient lighting and cool white for some precise work.
Range Of Motion – Lamps need to be adjustable, so the larger the range of movement, the better. That wide range of motion allows you to move and focus the lamp light direct where you need it. You can clearly see details or read the book wherever you want.
Energy Efficiency – If you need to use the black table lamp with a USB port all day, some energy-efficient model will save your electricity bills. You can look for Energy Star certified lamps that use 90% less energy than traditional bulbs.