Do you want to uplift your room with a gold lamp that offering instant elegance style?
Here you can find the best gold task lamps currently available in the market! We've divided these six models into categories, so you can find your perfect lamp easier. Our buying guide examines all key factors you need to take into account before your purchase.
Our Top Picks
Best 6 Gold Task Lamps
BEST OF BEST GOLD TASK LAMP
Co-Z Adjustable Desk Lamp
Modern Lamp
Co-Z is a modern desk lamp inspired by few vintage elements. This beautiful lamp is covered with a 1-year warranty, so if there is any defect or damage within that time, contact customer service. There are many positive reviews from buyers.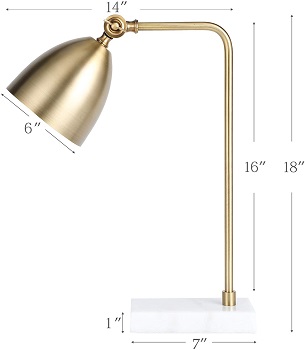 Tested Lamp
Its price is high. This gold task lamp is heavily tested and approved to meet many safety standards in the USA. Moreover, Co-Z features UL certification for all-electric components. It is compatible with LED, incandescent and Compact Fluorescent Light (CFL) bulbs.
10W LED Bulb
One 10W LED bulb is included in the package. This brass reading lamp is constructed from sturdy steel and finished with attractive brass. The lamp base is made of quality and sturdy marble, it provides a modern look. The rocker switch is on the power cord.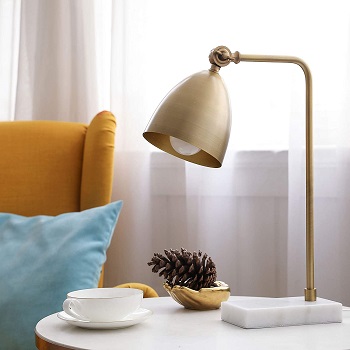 Adjustable Neck
Co-Z lamp has an adjustable neck allowing you to rotate the lamp head at multiple angles. You can direct the light exactly where needed. It is the perfect light for reading a book. The lamp dimensions are 18 inches in height and the base measures 4 x 7 inches.
Highlighted Points:
modern gold desk lamp
comes with a quality marble base
included 10W LED bulb
made of sturdy steel
adjustable lamp neck
tested lamp, safe for use
BEST FLOOR GOLD TASK LAMP
Brightech Regent Task Floor Lamp
Sleek & Modern Design
Brightech is a sleek and modern floor lamp that fits in the smallest rooms. It features adjustable height, so its minimum height is 55 inches. But you can extend it up to 68 inches. This beautiful lamp is covered with a full 3-year warranty.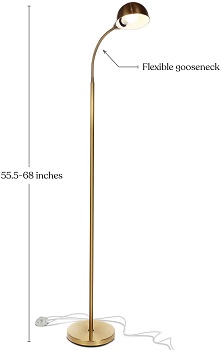 Compatible With Smart Outlet
Its skinny profile allows you to tuck it behind your couch, beside your sofa, or in a corner. Brightech gold task floor lamp is compatible with Alexa/Echo, Apple Home Kit/Siri, Google Home Assistant. But that requires a smart outlet, that you can buy separately.
Heavy-duty Base
This floor reading light suits contemporary, modern, vintage and mid-century styles. Its heavy-duty base keeps it stable and safe for your family members. The package includes 9-watt, energy-saving LED bulb. Its expected lifespan is up to 20,000 hours.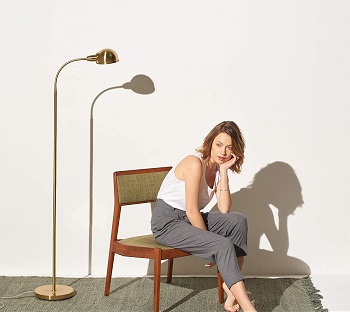 Pleasant Atmosphere
It is important to note that this bulb isn't dimmable. That LED bulb delivers a color temperature of 3000K, this is a warm white light that creates a pleasant atmosphere. You can enjoy reading your favorite book, e-reader, newspaper or magazine under this beautiful gold task lamp.
Highlighted Points:
sleek and modern floor lamp
heavy duty base prevents tipping
compatible with smart outlets
included 9-watt LED bulb
the color temperature of 3000K
BEST BLACK AND GOLD TASK LAMP
Jonathan Metal LED Lamp
Elegant Look
Jonathan is an elegant, contemporary-designed lamp finished with high-end details. This is an EL-listed lamp that meets standards for safety and quality. This lamp is 22.5 inches tall, its lamp base diameter is 7 inches and the lampshade width is 6 inches.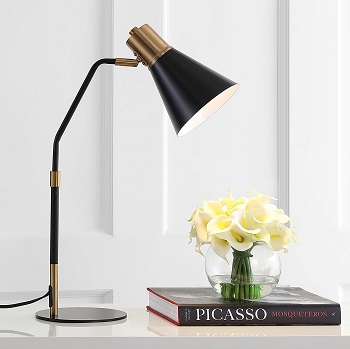 Quality Materials
The cord is 60 inches long and it is made of plastic. Jonathan black and gold task lamp is made of quality materials, but if there is any defect contact customer service. This black and gold desk lamp comes with an LED bulb, it uses less power than traditional bulbs.
Flicker-free Light
This light doesn't have harmful effects on your eyes. It doesn't cause eye fatigue or eye strain. You can read or work much longer than before. LED bulb lifespan lasts up to 25,000 hours. It provides flicker-free light. Jonathan lamp is compatible with Philips Hue and Alexa smart outlets.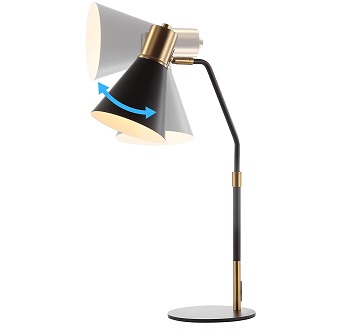 Adjustable Shade
Thanks to its small base dimensions, you can place this lamp wherever you want, it fits on your nightstand, desk, table, end table. Place it on your table beside the reading sofa and adjust the lampshade in the direction you need. It will meet your different needs.
Highlighted Points:
elegant lamp with black and gold elements
comes with an energy-efficient LED bulb
eye-caring light
compatible with Philips Hue and Alexa
adjustable lampshade
BEST ROSE GOLD TASK LAMP
Nova Juns Rose Gold Lamp
Stylish Lamp
Nova Juns lamp has a stylish design with industrial elements. It is available in rose gold, black and gold colors. The power cord is 61 inches long. It is 16 inches tall and the lamp base is 5.5 x 4.9 inches. Place it on your nightstand, end table, coffee table, etc.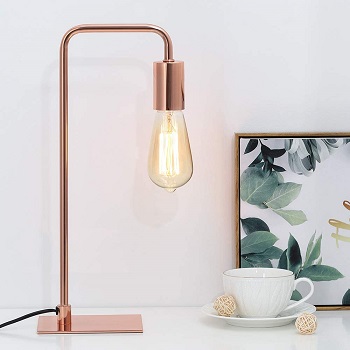 Metal Construction
To avoid overheating, the manufacturer recommends LED bulbs (4W – 6W), energy-saving (8W – 11W) and incandescent bulbs (15W – 25W). It requires an E26 base bulb. This rose gold task lamp features a metal frame and metal base.
Exposed Bulb
Its tubular metal body with an exposed bulb creates an industrial look.  At the bottom of the base is a non-slip mat, it provides stability. It is portable, compact and lightweight, there is a convenient on/off switch on the power cord. It requires 110V – 130V.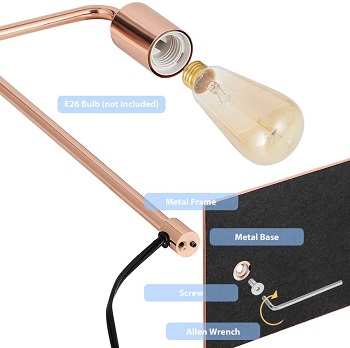 In The Package
If you want to keep the industrial look, buy an Edison bulb. This small modern desk lamp comes with an Allen wrench, screw and industrial instructions. For your bedroom, you can buy two of these stylish lamps to use as bedside lamps.
Highlighted Points:
stylish design with industrial elements
modern rose gold color
compatible with LED, Edison, energy-saving bulbs
non-slip base
on/off switch on the power cord
BEST WHITE AND GOLD TASK LAMP
Haitral Modern Table Lamp
Popular Lamp
Haitral is a very popular lamp brand. This lamp has a gold base and pole and a white lampshade, it suits modern and stylish rooms. Also, this lamp is available in different colors – white shade and black base, grey shade and black base. The price is affordable.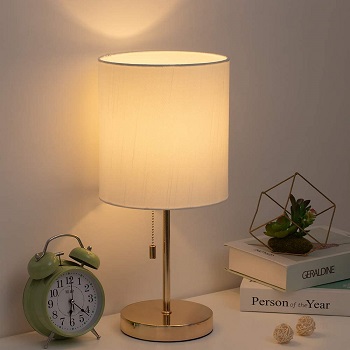 Lamp Size
The overall lamp height is 16 inches, the lampshade width is 7.6 inches and the lampshade base diameter is 5.5 inches. Its power cord is 67 inches long. This white and gold desk lamp fits the US standard and passed UL certification.
Pull Chain Switch
This lamp has a pull chain switch inside the fabric lampshade. There is a UL plug, so this is a reliable task lamp.  Haitrail is compatible with many bulb types – incandescent, halogen, LED, CFL. The maximum wattage is 60W. The bulb isn't included in the package.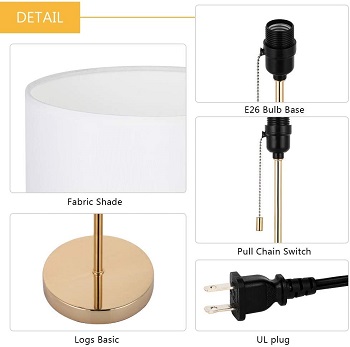 Standard Bulb Base
Haitral gold task lamp needs to be equipped with a standard E26 bulb. It will provide warm light and create a cozy and comfortable atmosphere. When the lamp arrives at your address, you need to assemble it. Don't forget to install the black fixing ring, it will stabilize the lampshade.
Highlighted Points:
elegant and modern desk lamp
gold base and pole with white shade
convenient pull chain switch
compatible with incandescent, halogen, LED and CFL
UL certificated lamp
BEST VINTAGE GOLD TASK LAMP
Melunar Brass Desk Lamp
Vintage-inspired Design
Melunar is a beautiful vintage-inspired desk lamp. This small lamp fits on any nightstand, desk, end table. It is 19 inches tall, the lamp base diameter is 5.5 inches and the lampshade measures 5.5 x 6.5 inches. The power cord is 56 inches long.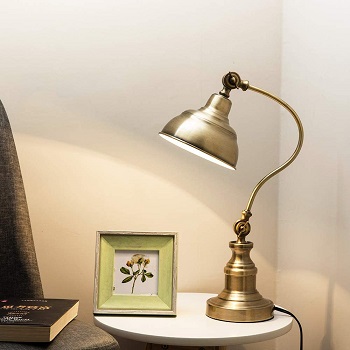 Quality Material
This gold task lamp has both decorative and practical purposes. It suits modern and traditionally designed rooms. Melunar is made of quality metal and finished in matte brass. Its sturdy metal base is very stable and prevents tipping.
UL Certificate
Melunar has a UL certificate, so this is a quality and tested vintage reading lamp. The on/off switch is located on the power cord. Melunar is suitable for type A 40W bulbs, but it isn't included in the package. You need to buy it separately.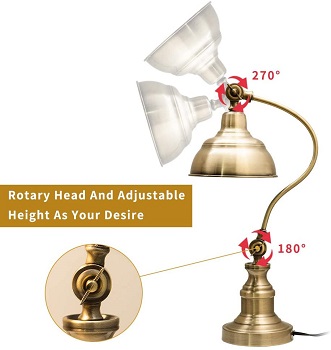 Adjustable Lamp
It is a bit unusual but this lamp has a flexible design. It features a rotary head and adjustable height. There are two buttons, one is located near the lamp head and the other is above the lamp base. You need to unscrew the buttons and then you can adjust the height and lampshade angle.
Highlighted Points:
vintage-inspired desk lamp
made of quality metal material
UL certificated lamp
it requires a type A 40W bulb
adjustable head and height
Things To Know About Gold Task Lamp
There are a variety of styles and sizes of gold desk lamps in the market. It isn't easy to find a quality lamp that will last for many years. So, in the section below, you can check a few tips and tricks for the best shopping.
Lamp Size – You can choose between desk lamps and floor lamps. If you don't have space on your desk, the floor lamp can be a good solution. Desk lamps are better for precise tasks, like studying, sewing, crafting. The floor lamps are perfect for casual reading and relaxing.
Flexible Design – Whether you want to buy a floor lamp or desk lamp, a flexible design is always welcome. That means you can adjust the lamp neck or rotate the lamp head in multiple positions. Direct the light exactly where needed at the moment.
Intensity Of Light – The best modern task lamp for productivity and studying provides enough light, so you can clearly see details without eye strain. We recommend the LED lamps, they are generally the best suited for task lighting. The 5 or 10 watts are ideal for most desks.
Eye-friendly Light – If you need to spend a lot of time under your lamplight, you should consider a gold task lamp without harmful effects on your eyes. Your desired lamp should deliver a flicker-free, non-glare and soft light that doesn't cause eye strain or fatigue.
Light Source Type – Nowadays, many desk lamps are compatible with several bulbs. That includes incandescent, halogen, LED, CFL bulbs. if you are looking for a long-lasting bulb, that doesn't use much power and doesn't heat, then the LED bulb is the perfect solution.