Are you looking for an original and decorative desk lamp to enhance your room decor?
Then the novelty desk lamps are the best solution for you!
Here you can find beautiful desk lamps with various styles, so choose between modern, vintage and elegant models. They offer different illumination and create a cozy atmosphere in your room. Before your decision, check our buying guide with few tips for successful shopping.
Our Top Picks
Best 6 Novelty Desk Lamps
BEST OF BEST NOVELTY DESK LAMP
Werfactory Boho Table Lamp
Eye-catching Lamp
Werfactory is a very popular brand that produces high-quality and eye-catching desk lamps. This model is 18 inches tall and the overall width is 12 inches. The manufacturer provides a 90-day refund free and replacement parts if the lamp arrived broken.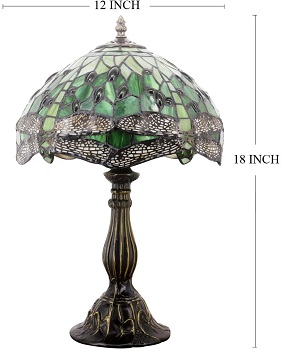 Sophisticated Look
This is a beautifully handcrafted novelty desk lamp that adds elegancy and sophistication in your living room, dining room, home office or office. The LED bulb is included in the package, it emits warm yellow illumination, ideal as ambient lighting.
UL-listed Lamp
It provides soft warm lighting and a warm cozy ambiance. This ambient desk lighting has a zinc lamp base and stained glass lampshade. This lamp is UL-approved, meaning, it is tested and meets high safety and quality standards.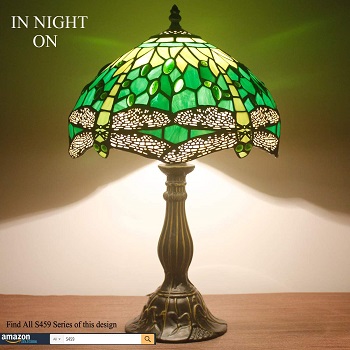 Long Power Cord
The power cord is 1.9 meters long and the push buttons switch is located on the cord. When the lamp is on, it shows beautiful and vivid colors. The delivered color temperature is 2700K, this is the warm light. It is handmade and has a high price.
Highlighted Points:
eye-catching desk lamp
zinc lamp base and stained glass shade
the color temperature of 2700K
UL-approved desk lamp
emits a soft and warm light
The LED bulb is included in the package
BEST VINTAGE NOVELTY DESK LAMP
Capulina Tiffany Table Lamp
Tiffany Style
Capulina is an attractive desk lamp inspired by the Tiffany style. This model is available in amber mission, blue beige (reviewed), blue victorian, orange dragonfly and read cream version. The overall lamp height is 22.8 inches, the base diameter is 6.3 inches and the overall width is 16 inches.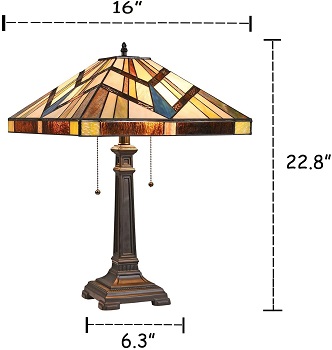 Resin Base
This lamp looks a bit different when not illuminated, as you can see in the image above. Its resin base weighs 2.6 pounds, meaning, it is stable and won't fall easily. The manufacturer provides a 90-day refund free or exchanges if you aren't satisfied.
Edison LED Bulb
Capulina is a novelty table lamp that requires simple installation, but the instruction is included in the package. The bulb isn't included in the package, you can choose between different light bulbs. A manufacturer suggests using an Edison LED bulb to maintain a vintage look.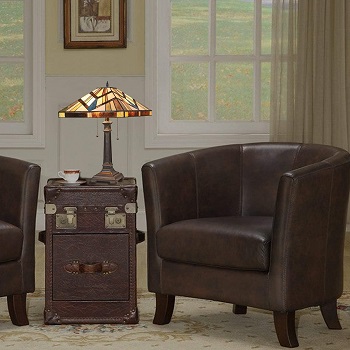 Stained Glass Lamp
This vintage reading lamp is compatible with LED, incandescent and CFL bulbs. Its lampshade is handmade by small pieces of stained glass, they never fade and look vivid and beautiful when the lamp is on. Capulina is a pricey desk lamp.
Highlighted Points:
inspired by Tiffany styled lamps
available in many colors
simple installation needed
compatible with various light bulbs
the handmade stained glass shade
warm and soft illumination
BEST MODERN NOVELTY DESK LAMP
Albrillo Modern Desk Lamp
Ring Design
Albrillo desk lamp has a modern ring design that makes your home or office classy and elegant. The lamp dimensions are 14.2 inches in height, the round base diameter is 4.7 inches and the overall lamp diameter is 13 inches.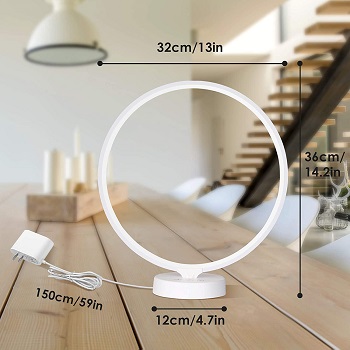 Solid Construction
The power cord is 59 inches long. Albrillo novelty desk lamp has a non-slip material applied to the base, so it's very stable. Solid iron and high-quality silicone make this lamp durable and sturdy. Albrillo creates a soft lighting environment that protects your eyes.
Dimmable Settings
This modern LED table lamp offers dimmable settings. So, choose between three color temperatures – cold white is suitable for reading, it keeps you concentrated. The warm white light is ideal for relaxation, while the neutral light is perfect for daily use.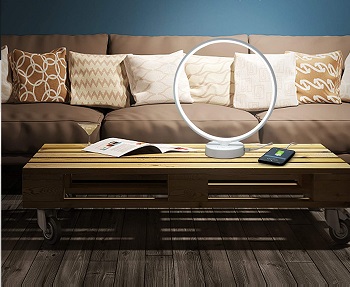 High CRI
High Color rendering index of 95+ allows you to see clear and accurate colors, it provides more realistic color reproduction. Moreover, this lamp is equipped with 5V/2A USB port for your smartphone charging and a 1-hour timer and memory function.
Highlighted Points:
attractive ring design
small but stable lamp base
dimmable settings
high Color rendering index
1-hour timer and memory function
solid and durable construction
BEST BEDSIDE NOVELTY DESK LAMP
Kiampon Spiral Desk Lamp
Spiral Design
Kiampon is a modern spiral-shaped desk lamp that brings a touch of elegance and sophistication to your room. The overall lamp height is 16.5 inches, the base diameter is 5.1 inches and the power cord is 5.5 feet long. Kiampon has an affordable price.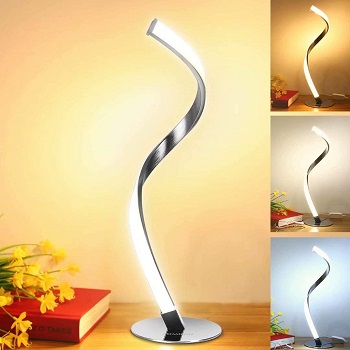 Unique Appearance
Crafted from aluminum alloy and stainless steel that makes the lamp sturdy and durable. Place it in your bedroom, living room, home office or office. There is a small round base that fits any table, end table or coffee table. Its silver color gives a unique visual impression.
Three Color Temperatures
The novelty table lamp features three different color choices and you can toggle through them. Its switch has a touch sensor, easy to operate and sets the brightness level you want. There are warm light (3000K), natural (4000K) and cold white (5000K) lights.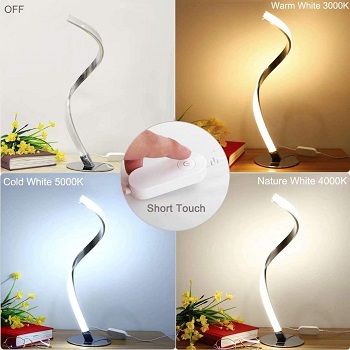 Night Light
Kiampon is an aesthetic desk lamp with integrated 9-watt LED, it is energy efficient, lasts longer than traditional light bulbs and doesn't produce UV emissions. Also, this lamp features a night light mode, making it perfect for your bedroom.
Highlighted Points:
made of aluminum alloy and stainless steel
attractive spiral design
integrated 9W LED
three levels of brightness
night light mode
easy to operate
BEST LED NOVELTY DESK LAMP
iEGrow Flexible Desk Lamp
Pen Holder
iEGrow desk lamp features an interesting plant design. It is available in green, dark green, pink and purple colors. Its creative novelty design is suitable for kids and teens. The sapling plant table lamp has a pencil holder, use it for pens, rulers and other small writing accessories.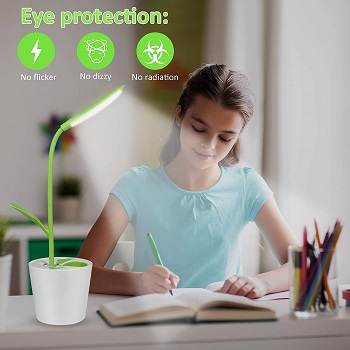 Battery-powered Lamp
This novelty desk lamp features a built-in rechargeable lithium battery powered by a USB port. The charging period lasts about three hours. After fully charging, this adjustable LED desk lamp will last 15 hours at the lowest brightness setting.
Flexible Gooseneck
The integrated LED bulb emits eye-caring light without flickering, glaring and other harmful effects. It doesn't cause eye strain or fatigue. You can even use this lamp for reading. iEGrow desk lamp has a 360° adjustable gooseneck, it's easy to adjust the light direction.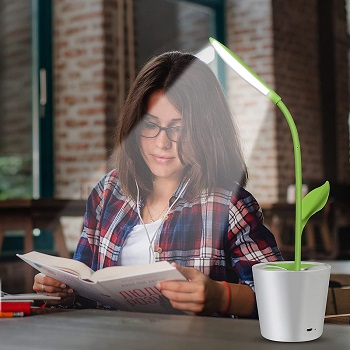 Touch-sensitive Base
You can choose between three levels of brightness – low, medium and high. Set the low light when you watching movies and relaxing. Control the settings by touching the power sign on the lamp base. The USB charging cable is included in the package.
Highlighted Points:
sapling plant table lamp
equipped with pen holder
touch-sensitive control
three levels of brightness
flexible gooseneck
built-in rechargeable battery
BEST BANKER NOVELTY DESK LAMP
Mlambert Banker Table Lamp
Popular Design
Mlambert desk lamp is inspired by popular banker's desk lamps. This is the most recognizable lamp in the world. Its overall height is 14.1 inches, the base diameter is 6.3 inches and the lampshade width is 10.3 inches. Its power cord is 5 feet long.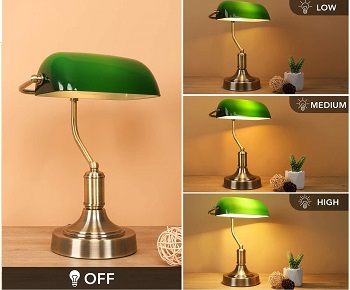 A-grade Glass Shade
The modern banker's lamp featuring all-metal construction with a satin brass finish. Mlambert has a stable and durable base, that prevents tipping over. Its lampshade is made from A-grade green glass that brings elegance to your space.
6W LED Bulb
This novelty table lamp comes with a 6W LED bulb included. Its lifespan is rated for up to 25,000 hours, so lasts for many years. It is energy efficient and produces low heat. Mlambert produces a warm color temperature of 2700K muted by a green shade.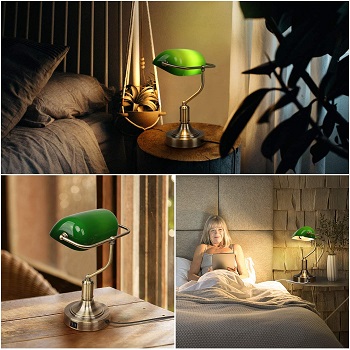 Two USB Ports
You can create different ambient lighting, choose between three setting modes – soft, medium or high. Change the level of brightness with a simple tap on any part of the lamp base. Mlambert is equipped with two USB ports allowing you to charge your mobile phone, tablet, e-reader.
Highlighted Points:
metal construction with green glass shade
satin brass finish
equipped with two USB ports
three levels of brightness
warm color temperature – 2700K
6W LED bulb included
Things To Know About Novelty Desk Lamp
The novelty office lamps come in a variety of sizes, shapes and styles, they are very attractive and have a unique appearance. But learn more about their purpose, styles and features, so you'll be able to find the best lamp that suits your room's interior.
Novelty Lamp Type – While many desk lamps are meant to help you see better, this kind of lamp is just for fun. They will add some light into your room, but you can't use them as task lighting. These kinds of lamps are banker's, Tiffany, vintage and other attractive lamp models.
Decorative Purpose – These lamps have decorative purposes, don't use them for reading, working, crafting, homework, studying and other activities that require precise and detailed work. These decorative desk lamps provide warm yellow illumination that creates a cozy atmosphere.
Vintage-inspired Designs – On the list above, you can find three lamps inspired by an old-fashion, vintage design. These are Tiffany-style lamps and banker's lamps. Tiffany's lampshade is made of stained glass, while the banker's lamp has a popular green shade with a pull-chain switch.
Lighting Modes – Some of these lamps offer dimmable settings. They meet different lighting needs, so you can choose between low, medium and high illumination. Low mode is perfect for relaxation, medium for daily use and high light for reading.
LightBulb Type – The novelty desk lamps could be compatible with various light bulbs, that includes incandescent, CFL, halogen, LED bulbs. All bulbs have their advantages and disadvantages but LED bulbs are the most energy-efficient, last longer than other bulbs and produce low heat.