Do you want to upgrade your contemporary home or office with an elegant bankers lamp?
If you do, then check out this article about modern banker's lamps!
Here is the list of the best-rated banker's lamps with modern designs, check it and pick the model with size, shape, material and color you like. Various lamps are offered and divided into six categories to be easier for you to decide and find what you need.
Our Top Picks
Best 6 Modern Bankers Lamps
BEST OF BEST MODERN BANKERS LAMP
Lavish Amber Bankers Lamp
Attractive Design
Lavish lamp is an eye-catching item inspired by vintage banker's lamps. Its overall height is 14 inches, base diameter is 9 inches and the lampshade measures 10 x 4 x 5 inches. It comes with a power cord, which length is 6 feet, it's easy to reach any outlet.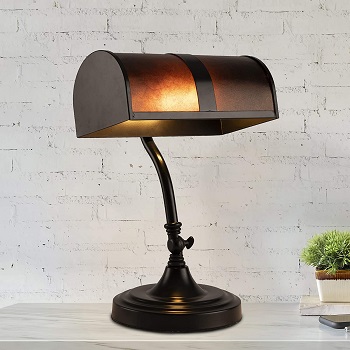 LED Bulb Included
On/off rotary switch is located on the power cord. Lavish modern bankers lamp comes with a replaceable T10 4W LED bulb with 400 lumens. This LED bulb is ETL listed and its expected lifespan is rated for up to 25,000 hours. meaning, you don't have to replace it for many years.
Quality Build
This modern LED desk lamp has a beautiful amber-colored finish and natural mica shade. It provides a warm and cozy atmosphere in your room or office. Lavish construction is made of iron, metal and glass. It is built to stand the test of time.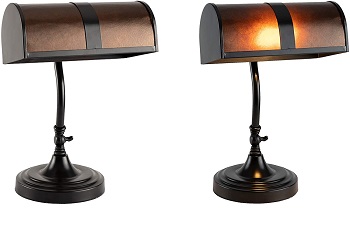 Versatile Lamp
It is important to note that shade color appears darker and less vibrant when the lamp is off. The lampshade is adjustable, so set it at desired lighting angle. Just adjust the joints of the lamp. Use this elegant lamp as a bedside lamp, piano lamp or living room accent light.
Highlighted Points:
made of iron, metal and glass
beautiful soft ambient amber light
adjustable lampshade
the rotary switch is on the cord
comes with ETL-listed LED
stable and heavy base
BEST LED MODERN BANKERS LAMP
O'Bright LED Bankers Lamp
2-prong Plug
O'Bright lamp is an attractive and stylish table lamp inspired by traditional designs. It comes with a two-prong plug, so connect the plug to the electrical outlet and the lamp is ready to use. O'Bright doesn't require a power adapter. Its price is acceptable.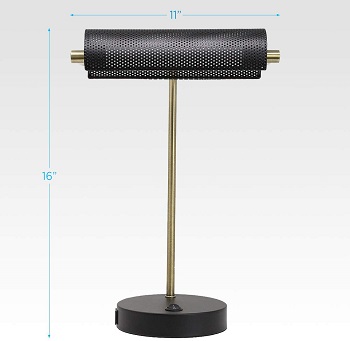 Metal Lamp
This modern bankers lamp is made of metal that provides durability and sturdiness. A solid base and strong metal pole firmly hold the lamp. The metal lampshade ensures efficient heat-release, that feature prolongs LED lamp lifespan.
Rotatable Shade
O'Bright lamp features a rotatable lampshade, you can easily adjust the light to your desired direction by moving the shade. There are more useful features – this LED reading lamp has a built-in 5V/2A fast USB port, you can charge your phone quickly even if the lamp is off.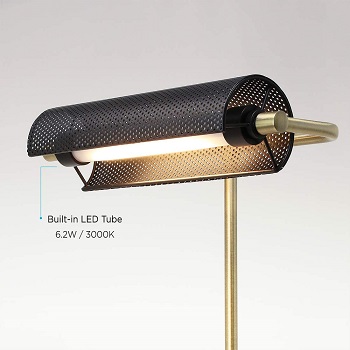 400 Lumens
The manufacturer uses the most advanced LED tube which expected lifespan is up to 30,000 hours. These high efficient LEDs deliver 400 lumens. They will reduce your electric bills and minimalize the lamp power consumption. The lamp size is 11 inches in width and 16 inches in height.
Highlighted Points:
100% metal table lamp
solid base and strong pole
rotatable lampshade
built-in 5V/2A USB port
high-efficient LEDs
no adapter required
BEST OFFICE MODERN BANKERS LAMP
Grady Adjustable Bankers Lamp
Classic Profile
Grady is a beautiful desk lamp that comes in a black bronze finish. The construction is made of quality and durable metal. It features a modern and handsome look that complements any contemporary, urban and retro offices, studios and homes.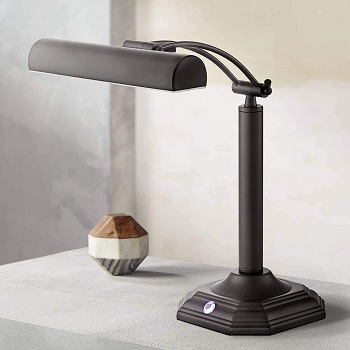 Adjustable Height
The lampshade measures 10 x 2 inches, the base is 7 inches wide and the lamp height is adjustable. You can extend it to 18 inches. Grady modern bankers lamp weighs 4.1 pounds. There is a built-in 5-watt LED that delivers 375 lumens. Its color temperature is 3200K.
Adjustable Lamp Head
This black metal desk lamp provides low energy consumption and produces low heat. The lamp head and column can be adjusted up and down for better lighting direction. The on/off switch is located on the lamp base, you'll notice it quickly, it is silver-colored.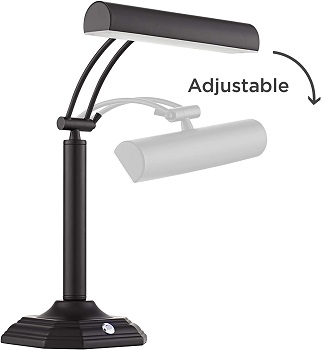 8-ft Cord
Grady desk lamp is ideal for living rooms, dining rooms, bedroom, office, etc. You can place it on the end table or next to your reading or sitting area. Its power cord is 8 feet long, so you can easily reach any outlet. Grady lamp has a high price.
Highlighted Points:
durable metal construction
black bronze finish
complements almost any room decor
built-in 5W LED
low energy consumption
adjustable lamp head
BEST SMALL MODERN BANKERS LAMP
12Vmonster Slim Bankers Lamp
Sleek Design
12Vmonster is a unique lamp inspired by a banker's lamp. These are the lamp dimensions – it is 17.7 inches tall and the light bar is 17 inches long. This table lamp is perfect for study, bedroom, office, reception area, living room, dining room, etc.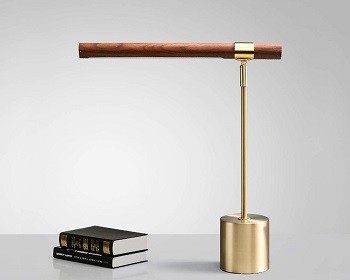 Gold Table Lamp
This gold table lamp is made from wood and polished brass. It will complement any modern, contemporary or industrial designed interior. Th 12Vmonster modern bankers lamp features a stable and sturdy lamp base, it won't tip over easily.
Premium LED Chips
12Vmonster small modern desk lamp uses high power LED chips, they are rated for up to 60,000 hours. Meaning you don't have to replace them, they last for decades. The color rendering index is high – 85 – so you'll see vivid and accurate colors.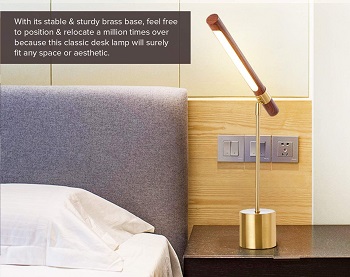 Adjustable Light Color
This attractive desk lamp has built-in three color modes you can choose from – warm white (3000K), neutral white (4500K) and cool white (6000K). Set the cool white light if you want to read and need concentration. Warm white light use for relaxation.
Highlighted Points:
sleek and modern lamp
made from wood and polished brass
stable and sturdy lamp base
uses energy-efficient LED chips
three light color modes
high color rendering index
BEST HOME MODERN BANKERS LAMP
Cuican Black Bankers Lamp
Black Lamp
Cuican lamp looks like a traditional banker's lamp, but this model comes in black color. Also, the manufacturer offers one more model – a green shade lamp with a white base. This stunning table lamp measures 15.3 inches in height, the base diameter is 7 inches and the lampshade width is 10.6 inches.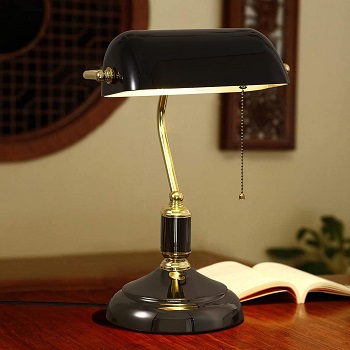 Stable Lampholder
The bulb isn't included in the package, it's recommended to use E26 type A or type T. It matches retro, traditional, classic, elegant and modern home or office interiors. Its lamp holder is stable and heavy, the lamp won't tilt or fall easily.
Handmade Glass
This modern banker's lamp features A-class handmade glass, there are fewer bubbles on the surface. Cuican is a modern black desk lamp that fits almost any size of a writing desk, it is slim enough not to take over the entire workbench.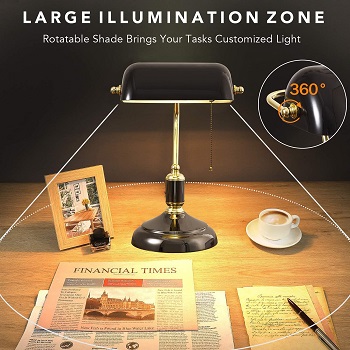 Adjustable Shade
Cuican table lamp allows you to rotate the lampshade to adjust various lighting angles. Use the maximum lighting potential of this lamp. It can illuminate a large workbench and makes your work or other tasks easier. There is a convenient pull chain switch for turning on/off.
Highlighted Points:
matches retro, modern and elegant decors
A-class handmade glass
heavy and stable lamp holder
rotatable lampshade
convenient pull chain switch
BEST TOUCH CONTROL MODERN BANKERS LAMP
Elegant Design Modern Bankers Lamp
Mini Lamp
Elegant Design made this mini modern bankers lamp. It suits modern, urban, vintage and industrial office or home interiors. The lamp dimensions are 6.2 x 9 x 13 inches. This lamp is very small so you can place it on your table, desk, shelf, nightstand, etc.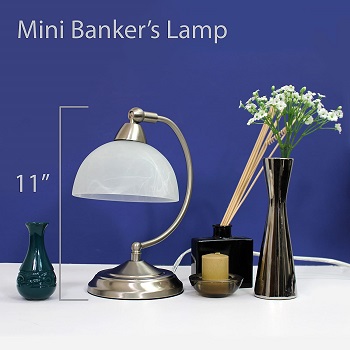 Brushed Nickel Finish
This charming and inexpensive desk lamp will meet your fashion lighting needs. Elegant Design is a white bankers lamp made of quality metal and finished in brushed nickel. Its lampshade comes in marble white and it's made of durable glass.
Recommended Bulb
Elegant Design lamp comes with a 1-year warranty against manufacturer defects. If you notice any damage, contact customer service. The recommended bulb is a 40W type G16.5 candelabra base bulb. But it isn't included in the package.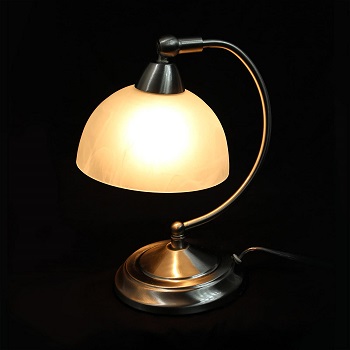 Touch Control Base
This modern lamp features a curved arm and touch control dimmer base. There are four settings you can choose from – low, medium, high and off. The lowest setting will put out a warm and soft light, while the highest setting ensures bright light.
Highlighted Points:
elegant and mini bankers lamp
covered with a 1-year warranty
requires candelabra base bulb
metal lamp body with brushed nickel finish
four light settings
Things To Know About Modern Bankers Lamp
These modern banker's lamps are inspired by traditional designs. They are attractive and offer great features. In the section below, we'll guide you on how to choose the perfect lamp that meets your needs. read about lamp size, design, light bulb type and other features.
Modern Vs Traditional Design – Even if you already decide to buy a modern lamp, there are some interesting things about a banker's lamp. They have been around for over 100 years. The original design includes a green glass shade and an antique brass finish.
Upgraded Lamps – Modern banker's lamps usually don't have green glass shade, there are white, brown, black or blue bankers lamps. Also, the construction is often made of metal and finished in a variety of colors. They differ in size and functions.
Light Bulb Type – The traditional table lamps use incandescent bulbs, they are inexpensive, provide a warm glow and have dim settings. But modern desk lamps use LED bulbs, chips or beads. They use less power, produce low heat and last much longer.
Illumination – Some banker's lamps use two bulbs for adequate illumination while others are designed for one bulb. Two bulbs usually produce more light, so you can find a model that can cover your entire workbench. Check which bulb type your desired lamp requires.
Pull Switch – The traditional banker's lamp design includes a pull string. This is a metal chain that is used to turn the lamp on/off. While some contemporary banker's lamps also have a pull chain switch, some models come with a rotary switch.