Are you looking for an affordable yet functional and quality desk lamp?
If you are, there is plenty of fantastic cheap desk lamps in this article!
It is easy to spend a ton of money on a great desk lamp, but we found perfect lamps available for reasonable prices that provide great lighting. In the section below, you can check our pick of the bunch of budget-friendly desk lamps.
Our Top Picks
Best 6 Cheap Desk Lamps
BEST OF BEST CHEAP DESK LAMP
Amazlit Desk Lamp With Clamp
For Precise Tasks
Amazlit is a quality yet affordable desk lamp suitable for studying, working, reading, crafting and other precise tasks. The package includes a lamp, UL power adapter and user manual. The manufacturer ensures a 180-day money-back guarantee.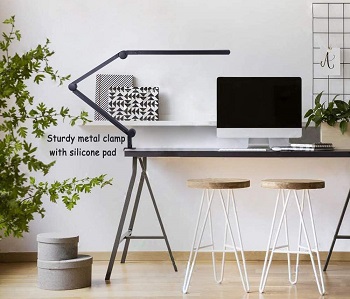 Aviation-grade Aluminum
This modern task lamp is made from aviation-grade aluminum with a brushed matte black finish. It is durable and safe for use. It features 15.8 inches long swivel lamp head that is able to cover a large workbench area. Amazlit is a great lamp for large desks.
Extra Wide Clamp
Amazlit cheap desk lamp comes with an extra-wide metal clamp that supports up to 2.1 inches tabletop. The clamp is equipped with silicone pads, so it won't scratch or damage your desk. Amazlit features a versatile three-axis design, adjustable arm and head.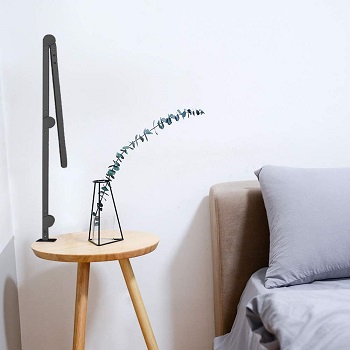 Additional Functions
This lamp uses 98 highly efficient LEDs, that consume less energy than traditional bulbs. Their expected lifetime is 50,000 hours. it is compatible with smart outlets. There are more useful features, such as automatic delay-off function and memory function.
Highlighted Points:
made from aviation-grade aluminum alloy
extra wide metal clamp with silicone pads
memory and timing functions
high efficient LEDs
large swivel lamp head
versatile three-axis design
BEST BANKERS CHEAP DESK LAMP
Catalina Banker's Desk Lamp
Traditional Lamp
Catalina is a traditional banker's lamp with an affordable price. It is 13.5 inches high, the shade dimensions are 8.75 x 3 inches. There is a power cord that is 60 inches long, it will reach any socket with ease. Catalina lamp requires assembly, follow the included instruction.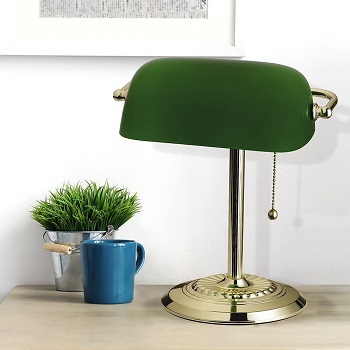 Type A Bulb
You don't have to use any tool for assembly. This cheap desk lamp has both decorative and functional purposes. The manufacturer offers a 1-year warranty if there is any defect within that time, contact customer service. It uses one type A 60W incandescent or LED bulb.
Compatible With Smart Outlets
The bulb isn't included in the box. This antique banker's lamp is safety listed by the NRTL laboratory. Catalina lamp is compatible with smart outlets or smart switches. Meaning, you can easily connect it with Alexa or other smart home devices.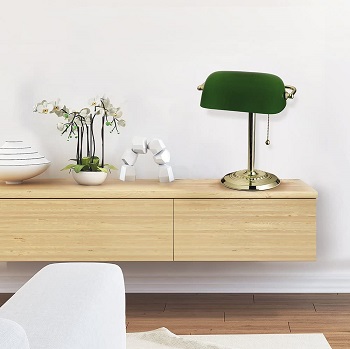 Pull Chain Switch
Catalina features a polished brass finish and elegant green glass shade. There is a convenient on/off pull chain for easy use. It doesn't produce heat, so this desk lamp is suitable for small rooms. Catalina is designed for indoor use only.
Highlighted Points:
elegant bankers lamp
decorative and functional purpose
covered with a 1-year warranty
polished brass finish
green glass shade
convenient pull chain switch
BEST FOR STUDYING CHEAP DESK LAMP
Lepower Metal Desk Lamp
Metal Lamp
Lepower made quality and durable desk lamps. This compact desk lamp is available in multiple colors – black, bronze, gold, silver, white. Pick the model that suits your room decor. It is made from high-quality metal, Lepower lamp is durable and aesthetic.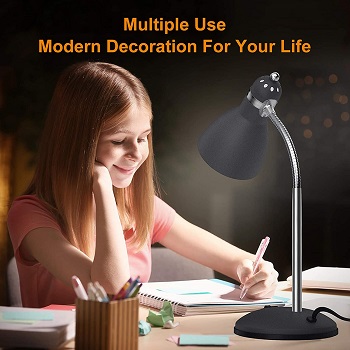 Dissipation Design
It features an excellent dissipation design, you can touch it without burning your fingers. Lepower cheap desk lamp has a beautiful and classic shade design, it's not only functional but decorative lamp. It is important to note that the bulb isn't included in the package.
E26 Base Bulb
This modern black desk lamp requires an E26 base bulb, you can buy an energy-saving bulb (8W-16W), LED (4W-6W) or incandescent (20W-40W) bulb. Lamp dimensions are 8.5 x 5.5 x 13.2 inches. Suitable for any desk, table or workbench.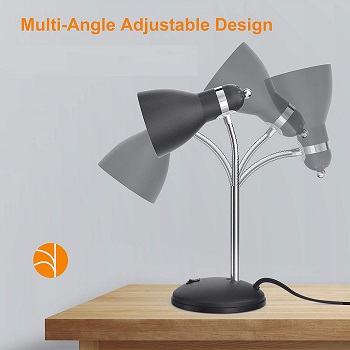 Multi-angle Adjustable Design
Lepower's switch is located on the lamp base for convenient control. It features a flexible swing arm which makes it easy to find your perfect lighting angle and direct light where needed. This lamp will meet your basic needs, it is an affordable and functional product.
Highlighted Points:
great dissipation design
made from quality metal
available in multiple colors
requires E26 base bulb
compatible with LED, energy-saving and incandescent bulb
flexible swing arm
BEST LED CHEAP DESK LAMP
Dott Arts LED Desk Lamp
1-year Warranty
Dott Arts lamp is available in two variants – a basic black lamp and a black lamp with a wireless charger. Here we reviewed the black lamp without a wireless charger. The manufacturer provides a 1-year warranty and friendly customer service.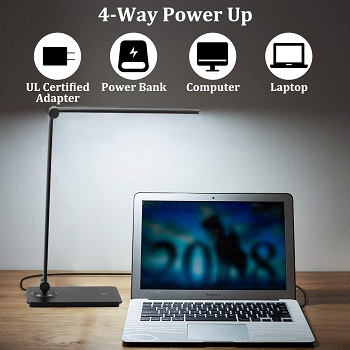 USB Power
This lamp features an affordable price. The package includes a lamp, USB cable, power adapter and user guide. You can power the lamp with power back, PC/laptop, adapter. The lamp base measures 7.1 inches in diameter, the light bar is 11.2 inches long and the lamp height is 14 inches.
Foldable Design
Dott Arts cheap desk lamp features a foldable design, there is a flexible arm and rotatable base. Adjust the lamp in the direction you need. Also, you can store it with ease, Dott Arts doesn't take much space. Fits in bags, suitcases, shelves, etc.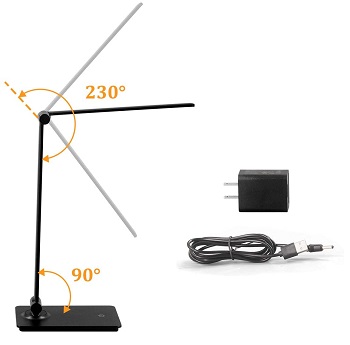 Eye-friendly Light
This adjustable LED desk lamp emits soft, flicker-free and non-glare light which is safe for your eyes. it eliminates eye strain and eye fatigue. Choose your desired light mode by touch switch. There are three brightness levels – low, medium and high.
Highlighted Points:
space-saving desk lamp
covered with a 1-year warranty
touch control panel
three brightness levels
flexible arm and rotatable base
eye-friendly LED light
BEST READING CHEAP DESK LAMP
Trond LED Desk Lamp
Compact Lamp
Trond lamp is a compact and stable item that fits on any desk, workbench, table, etc. The base width is 5.1 inches and it weighs 2 pounds. The shade dimensions are 3.4 x 5.3 inches. Construction is made from premium aluminum alloy with a matte black finish.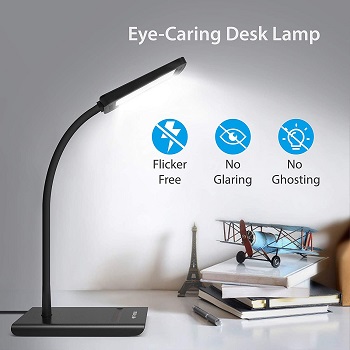 Ultra-slim Base
This adjustable reading lamp features a sleek and modern design. There is an ultra-slim base and low profile design. Use it in your office, dorm, bedroom or house office. Trond comes with a 10W LED bulb, it emits a beam of localized light and illuminates the area you need.
Embedded Bulbs
It is a perfect lamp for reading, studying, crafting or drawing. The LED bulbs are embedded, so you can't replace them. Trond cheap desk lamp is powered by power adapter, it is included in the package. There is a flexible and bendable gooseneck.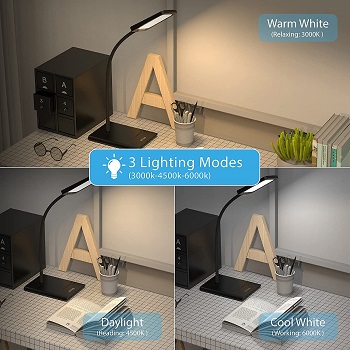 Touch Panel
You can bend, extend and adjust the lamp gooseneck and direct the light where needed. Trond is designed without physical buttons, if you want to set the brightness level just lightly slide your finger across the control panel. Also, you can choose the color temperature, there are modes for reading, relaxing and working.
Highlighted Points:
made from premium aluminum alloy
sleek and modern design
comes with embedded LED bulbs
perfect for reading and studying
flexible gooseneck
adjustable color modes and brightness
BEST SWING ARM CHEAP DESK LAMP
Torchstar Architect Desk Lamp
Lamp Size
Torchstar Architect lamp is available in three colors – red, black and white. The base measures 6.1 inches in diameter, lamp arms have 9.1 x 9.1 inches and the lampshade measures 5.5 x 5 inches. Its power cord has 51 inches in length.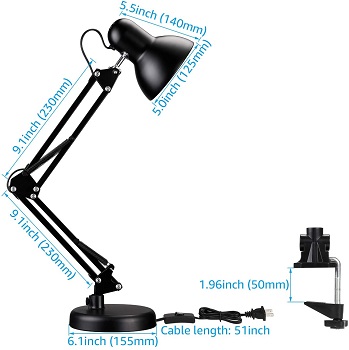 Clamp Or Base
This cheap desk lamp comes with both a sturdy heavy base and an anti-scratch sold clip. If you have a small desk, clip the lamp on it, it requires less space than the base. You can clamp it onto any surface either horizontal or vertical. The clamp supports up to 2" tabletop.
Flexible Arm
Torchstar swing arm clamp lamp is able to illuminate large workbenches, there is a flexible spring-balanced arm that can extend up to 18 inches. You can use it for decades, its construction is made from solid metal with a black finish. Torchstar suits any room decor.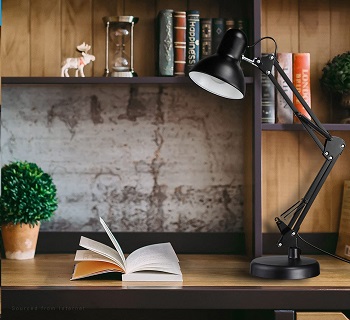 Compatible With LED
Also, Torchstar features a rotatable base and shade, you can easily adjust the light in the direction you want. Its power plug is UL-listed and safe for use. The on/off switch is located on the power cord. It requires E26/27 base bulbs, accepts LED.
Highlighted Points:
made from solid metal with a black finish
flexible spring-balanced arm
comes with a sturdy base and clamp
available in three colors
compatible with LED bulbs
rotatable base and shade
Things To Know About Cheap Desk Lamps
We've got you covered with the best cheap desk lamps on the list and here, you can find out what to look for when buying a desk lamp. There are some basic factors such as lamp size, light bulb type, color temperature, etc.
Lamp Size – Lamp size depends on several factors – how big your desk is, the purpose of the lamp, etc. If you have a large workbench and need a lamp for working or studying, check tall lamps with large lamp heads, also the flexible design is always a good option.
Color Temperature – The traditional lamps come with fixed color temperature, but modern lamps allow you to change the color temperature according to your needs. When reading, set the highest color temperature, it will boost your energy level.
Flexible Design – It is always a good idea to buy a lamp with a flexible gooseneck or adjustable arm. These adjustable task lights allow you to move the light source closer or farther away depending on your current needs. Adjustable lamps are suitable for large desks.
Lamp Price – There is a wide array of lamp prices in the market. You can find a lamp from $10 to $200 and more. So how to find an affordable but quality lamp? You need to check which material it is made from, buyer's reviews and the lamp's functions. You can find a quality lamp for $20.
Light Bulb Type – If the package of the cheap desk lamp doesn't include a bulb, you need to get the bulb type your lamp is compatible with. Different light bulbs are classified according to their shape. Also, there are different bulb technologies – incandescent, LED and CFL. LEDs are expensive but most energy efficient.