Are you looking for an authentic and attractive blue desk lamp that will decorate your desk/table?
Then we recommend the blue bankers lamps!
These eye-catching desk lamps feature an elegant appearance and create a cozy atmosphere in any room. Read these four reviews and check some useful info we've prepared in your buying guide.
Our Top Picks
Best 4 Blue Bankers Lamps
BEST OF BEST BLUE BANKERS LAMP
Fanhhui Classic Retro Lamp
Lamp Dimensions
This attractive desk lamp measures 14.9 inches in height, the base diameter is 7 inches and the lampshade width is 10.2 inches. It suits traditionally designed home offices, living rooms, dining rooms, guest rooms and other spaces. its price is high.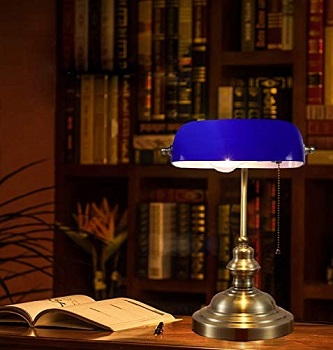 3-year Warranty
You can choose between green and blue lampshades. It is a safe and quality packaging lamp, so it shouldn't arrive broken. Fanhhui desk lamp is covered with a 3-year warranty. If there is any defect within that time, contact customer service.
Adjustable Lampshade
This brass bankers lamp comes with an E26 base bulb, also, it is compatible with LED, energy-efficient, incandescent light bulbs. You don't need to assemble this lamp, just install the bulb, plug in and use it. Moreover, you can rotate the lampshade to adjust various lighting angles.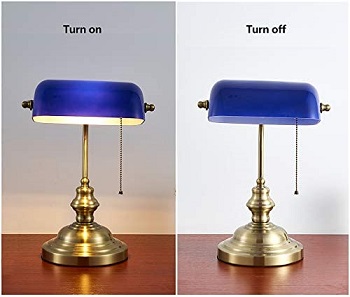 Durable Glass
The base of this blue bankers lamp is made of quality metal and the green shade is constructed of durable glass. Fanhhui lamp is suitable to be placed on the desk of your workspace or bedroom. Also, you can use it as a decorative lamp in your living room or dining room.
Highlighted Points:
metal base and glass lampshade
comes with a standard E26 light bulb
compatible with LED bulb
rotatable lampshade
covered with a 3-year warranty
BEST VINTAGE BLUE BANKERS LAMP
Marrakech Antique Desk Lamp
Unique Lamp
Marrakech desk lamp is a really eye-catching item, it will upgrade any living room, bedroom, dining room or guest room. There are two models you can choose from – blue and multicolored. The overall lamp size is 16 inches and the width is 10 inches.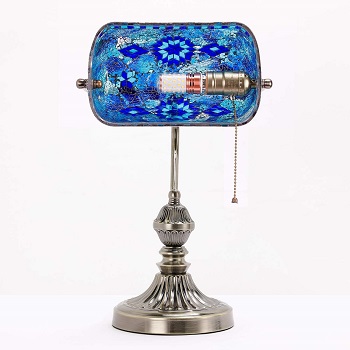 Pricey Item
This antique banker's lamp is a handmade Turkish mosaic lamp, so its price is high. The manufacturer uses a complex technological process to form this beautiful pattern. The craftsman cut the colors glass into small pieces and paste them on the transparent lampshade.
UL-listed Plug
Marrakech blue bankers lamp comes with UL listed plug and wire to support 110v. The lamp base and pole are made of high-quality metal material, so they match perfectly with a lampshade. This attractive lamp is suitable for standard E26 bulbs.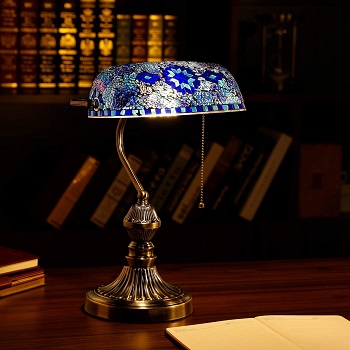 LED Bulb Type
The package includes a standard E26 bulb. It is important to note that this lamp is compatible with the LED bulb type. Marrakech desk lamp arrives in good protective packaging that provides safety during transport. It is easy to install and use.
Highlighted Points:
traditional antique brass lamp
pricey handmade lamp
UL-listed plug
suitable for standard E26 LED bulb type
mosaic glass lampshade
BEST BEDROOM BLUE BANKERS LAMP
LHFY Tiffany Style Bankers Lamp
Tiffany Style
LHFY lamp is a Tiffany-styled lamp and that name has become synonymous with all lamps of the same style. The original Louis Comfort Tiffany lamps weren't made after 1930 when the original store closed. Each Tiffany lamp should be unique.
Attractive Lampshade
This blue desk lamp is available with two different lampshades, you can choose between green and blue lampshades. It is perfect to use on a  desk, table, end table, coffee table, nightstand, it fits traditionally designed bedrooms, living rooms, dining rooms, etc.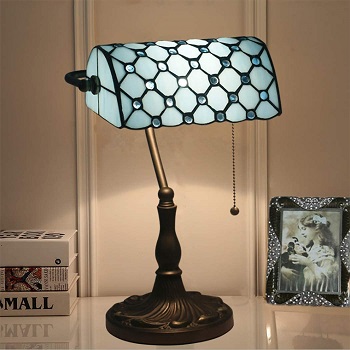 Certificated Lamp
Its overall height is 15 inches and the lampshade width is 10.6 inches. LHFY is safe and tested, it passed CE, UL, PSE, and ROSH certificates. The power cord length is 59 inches, it requires 110V – 220V outlets. The bulb isn't included in the package.
E26/27 Bulb
LHFY blue bankers lamp requires a standard E26/E27 light bulb. It creates a warm and cozy atmosphere. When you want to turn on/off the lamp, just pull the chain. If the lamp arrives broken, contact customer service and they will replace it quickly.
Highlighted Points:
Tiffany-styled lamp
available in green or blue-colored shade
meets many safety certificates
requires E26/27 light bulb
the bulb isn't included in the package
BEST FOR READING BLUE BANKERS LAMP
Ledu Traditional Bankers Lamp
Lamp Size
Ledu is a traditional lamp which lampshade is available in two colors – green and blue. The lamp dimensions are 15.7 x 11.7 x 8.7 inches. It weighs 4 pounds. Its overall height of 14 inches will fit on any work desk, table, nightstand or end table.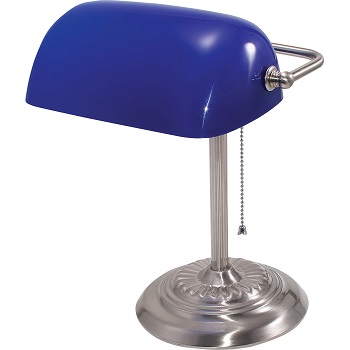 Glass Shade
This blue banker's lamp has a metal base and its lampshade is made of sturdy and durable glass. Its blue lampshade and chrome base adds a sophisticated look to your current room decor. It includes a 13-watt fluorescent bulb and accepts an incandescent bulb of 60W.
Tested Lamp
Ledu is a small desk lamp with a shade that is ETL listed, meaning it is a tested lamp that accepts national safety standards. You can rely on its quality. This lamp is a perfect gift for someone who looking for antique and vintage things.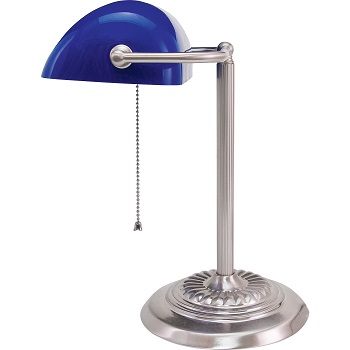 3-year Warranty
There is a convenient pull chain switch, so you don't have to look for a switch on the power cord. It is easy to use it. There are many positive reviews of this LED blue bankers lamp, it is bright and vibrant. Moreover, this lamp is covered with a 3-year warranty.
Highlighted Points:
ETL listed lamp
metal base and glass shade
included 13-watt fluorescent bulb
accepts 60W incandescent bulb
convenient pull chain switch
Things To Know About Blue Bankers Lamp
There aren't many blue bankers lamp currently available in the market, so we chose the best models and reviewed them. Before buying, you need to take some factors into account, that includes light bulb type, wattage, purpose, etc.
Banker's Lamp – Here are some interesting things about this lamp type – Banker's lamp was patented by its inventor Harrison D. McFaddin over 100 ago. Its original design featuring a green glass lampshade fitted to a brass base. There are many design changes over years, so now you can find a blue lamp with a metal base, white bankers lamps and other variants.
Light Bulb – If the light bulb isn't included in the package, you need to get one, so the most important thing is to get one that fits within the lampshade. You can buy energy-efficient light bulbs that provide warm light without giving off much heat. But some banker's lamps are compatible with LED and incandescent bulbs, too.
Wattage – Bankers lamps operate at different maximum wattages. It is very important not to use light bulbs with a higher wattage than what is given for a light fixture. If you don't know the maximum wattage of your lamp, you can find it written somewhere on a  sticker on the lamp.
Decorative Purpose – These lamps aren't designed for precise tasks, such as reading, working, crafting, drawing, drafting, etc. They have a decorative purpose and bring a cozy atmosphere to your living room, guest room or bedroom.
Where To Buy – The original company of bankers lamps was dissolved in the 1960s. You can find these lamps in the antique store, or in auction stores online. But if you just want a cool blue banker's lamp, there are plenty of retailers all around the world, like Amazon.com.
Final Verdict
We highly recommend the Fanhhui blue bankers lamp. It features a rotatable lampshade so you can adjust it in various lighting angles. If you are interested in blankets lamps, you can check the next two posts on amber bankers lamps and antique bankers lamps. Both of these variants create a cozy and warm atmosphere.