Do you want to outfit your home or office workspace with an elegant marble desk lamp?
Then read this article!
Here you can find top-rated desk lamp models divided into five categories, making it easy for you to find the best lamp for your needs. Furthermore, in our buying guide read about some factors you need to take into account before purchase.
Our Top Picks
Best 5 Marble Desk Lamps
BEST OF BEST MARBLE DESK LAMP
Co-Z Gold Desk Lamp
1-year warranty
Co-Z desk lamp is a high-quality product that comes with a 1-year limited warranty from the manufacturer. The overall lamp height is 18 inches, the base measures 1 x 7 inches and the shade diameter is 6 inches. Its price is acceptable.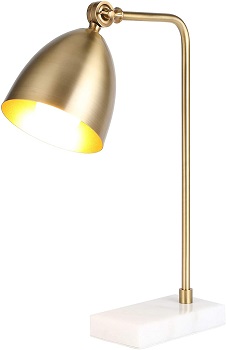 UL-listed Lamp
This marble desk lamp is heavily tested and approved to meets the highest safety and quality standards. It provides excellent and assured security for you and your family members or colleagues. Co-Z desk lamp has UL certification for all electrical components.
Max 60W Bulb
It requires one E12 bulb and works with LED, CFL and incandescent bulbs. The maximum wattage is 60W. The package includes one 10W LED bulb. Its transparent power cord is 6 feet long. This small gold desk lamp perfectly fits in any decor, modern and vintage.
Antique Brass Finish
The white marble base complements a golden bronze finish lamp body and head. Its steel construction with stunning antique brass finish transforms your place in an elegant and modern room. The lamp head is adjustable, rotate it and direct light where needed.
Highlighted Points:
steel construction with marble base
antique brass finish
heavy white marble base
compatible with LED, CFL and incandescent bulb
adjustable lamp head
10W LED bulb is included
BEST BASE MARBLE DESK LAMP
Rivet Modern Desk Lamp
Stylish Lamp
Amazon's brand Rivet offers mid-century and modern desk lamps at an acceptable price. This lamp is 14 inches high, and the overall width is 7.5 inches. It is designed for indoor use only. When the lamp arrives, you need to assemble it by following instructions.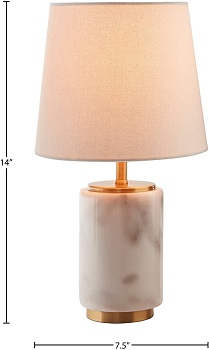 Marble & Brass Base
Its elegant base is constructed from white marble and brass accents. The white lampshade is made from high-quality fabric. This marble desk lamp adds a touch of glamour and elegance into your home office, office, living room, dining room or guest room.
9W LED Bulb Included
Rivet aesthetic desk lamp weighs 5 pounds, it features stable placement. It requires a standard E26 base bulb and Rivet is compatible with an LED lightbulbs. This 9W LED bulb is included in the package. LED uses less power and lasts longer than traditional bulbs.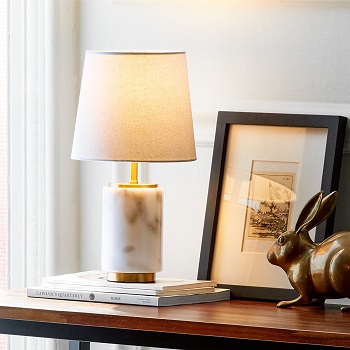 Warm Light
This white lampshade softens the light and delivers warm and comfortable accent light into your room. Place it on your side table, workbench, shelf, coffee table, office desk and other tables, it fits anywhere. The on/off switch is located on the power cord.
Highlighted Points:
white marble base with brass accents
a heavy and stable lamp
white lampshade made of fabric
on/off switch on the power cord
9W LED bulb is included
easy assembly
BEST MODERN MARBLE DESK LAMP
American Art Desk Lamp
Stunning Lamp
American Art Decor is a popular brand that produces attractive and eye-catching desk lamps. This model is 23 inches high and the base diameter is 7 inches. The sleek and stylish desk lamp weighs 7 pounds, it is stable and won't tip over easily.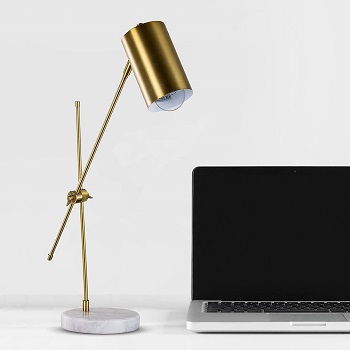 Padded Base
The power cord is 68 inches long and this marble desk lamp features an on/off toggle switch. Its lamp base is equipped with a non-slip pad on the lamp base, which provides stable placement and protects your desk or table from scratches and damages.
Incandescent Light Bulb
This modern reading lamp requires a standard E26 base bulb with a maximum wattage of 40W. It is compatible with incandescent light bulbs. It provides soft and warm illumination which is gentle to your eyes. It is suitable as a reading light and accent light.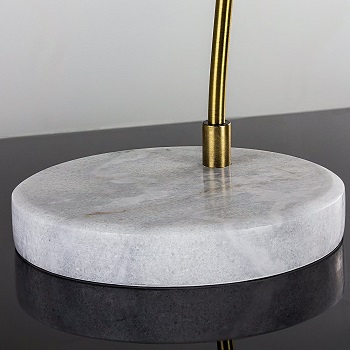 Flexible Design
The sophisticated gold lamp arm and shade are combined with an elegant white marble base. For the best experience, this lamp has an adjustable lamp head and body, allowing you to extend the lamp in height and adjust the light in many directions.
Highlighted Points:
eye-catching desk lamp
on/off toggle switch
the non-slip pad on the lamp base
standard E26 base bulb
works with an incandescent bulb
adjustable lamp head and body
BEST BLACK MARBLE DESK LAMP
Wingbo Industrial Table Lamp
Black Marble
Unlike other desk lamps on this list, Wingbo table lamp doesn't contain a white marble base or shade. Its round-shaped base is made from natural marble with pure black color. This neutral black color gives a touch of elegance and professionalism in any room or office.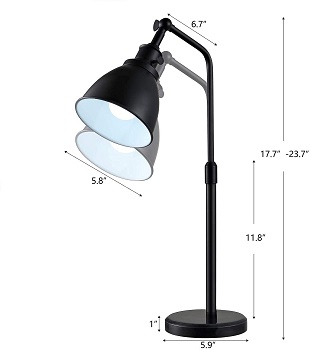 Fits Anywhere
The power cord is 5 feet long, the marble base measures 5.9 x 1 inch and the lampshade is 5.8 x 4.5 inches. It complements industrial, modern and rustic-inspired offices or homes. Place it on your desk, workbench, end table, shelf, coffee table, etc.
Adjustable Height
This marble desk lamp has an adjustable height, you can extend the lamp pole from 17.7 to 23.7 inches and create a perfect spotlight. Wingbo is a modern black desk lamp that has a convenient adjustable lamp head. Use the rotary switch and move the lamp head up and down.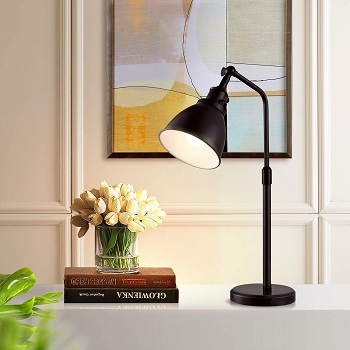 9W E26 LED
The package includes a 9-watt E26 LED bulb that emits flicker-free and glare-free light. This light doesn't cause eye strain and protects your eyes from fatigue. The lampshade is made of quality metal, it is durable and sturdy. Wingbo has an acceptable price.
Highlighted Points:
attractive black table lamp
round metal base made of marble
metal lampshade
adjustable height
9W E26 LED bulb is included in the package
flicker-free and glare-free light
BEST LED MARBLE DESK LAMP
Jonathan Modern Desk Lamp
Contemporary Design
Jonathan is a modern lamp that complements industrial, urban and contemporary designed interiors. The overall lamp height is 20.5 inches, the overall width is 11.2 inches and the lampshade measures 7 inches in diameter. Its price is acceptable.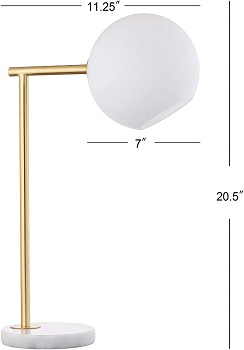 Marble Base
It weighs 6.5 pounds, so won't tip over easily. The lamp base is made from marble, while the lamp body is constructed from high-quality metal. The globe lampshade is made of quality glass. This gold and marble desk lamp brings a touch of modernity to any room.
Energy-efficient LED
The warranty is provided by the manufacturer so as free return and refund. This modern LED desk lamp uses LED bulbs whose expected lifespan is over 20,000 hours. Under normal use, these LEDs will last for up to ten years. They are energy-saving and produce low heat.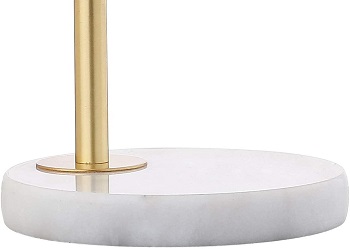 ETL-listed Lamp
LEDs produce flicker-free and glare-free light, safe for your eyes. Jonathan is ETL-listed and meets 120-volt Ul standards for safety and quality. It is compatible with Philips Hue and Alexa smart outlets. The on/off switch is located on the power cord.
Highlighted Points:
lamp with elegant and modern design
complements contemporary room style
marble base, metal pole and glass shade
energy-efficient LEDs
ETL-listed lamp
compatible with smart outlets
Things To Know About Marble Desk Lamp
The marble desk lamps come in a variety of colors, sizes, styles, and other factors. Here you can find some info about marble material advantages, lightbulb type, lamp design and more.
Marble Material – Marble as a material used in lamp manufacturing has many advantages. There are some of its qualities – it's a sturdy material, has an extraordinary polished finish, natural textures, variety and rich colors. It adds a touch of glamour to your office or home.
Lamp Size – The correct decorative desk lamp size depends on the room, the size of the table and the use of the lamp. It is important to find a balance between the size of the lamp and the furniture around it. It should be tall enough for the bottom of the lampshade to come to the eye level of the person.
Tips For Lampshade – There are many different lampshade styles in the market. So, there are few tips before purchase – the lampshade should be 40% to 60% of the height of your desired lamp. A lamp with 30" in height should have a 13" shade.
Light Color – The popular warm type of light today is 2700K, choose the 3000K lamp if you looking for more natural and comfortable light. The 4000K and up is a very cool white light that is often used as task lighting for work and hobbies.
Lightbulb Type – All modern marble desk lamps are compatible with LED bulbs or beads. They are energy-efficient, produce low heat, have no UV emission and last much longer than traditional bulbs. If they are rated for up to 20,000 hours, they will last at least 10 years, under normal use.